Tantalo Hotel revolutionized Casco Viejo. This hotel changed the norm of what a hotel was supposed to be. It also started the Casco Viejo rooftop bar frenzy, being the first of its kind to open. This hotel, located on Calle 8 east with Avenida B, was built in an old apartment building from the 1970s. Blesso Properties, from New York, developed this hotel which opened in 2012.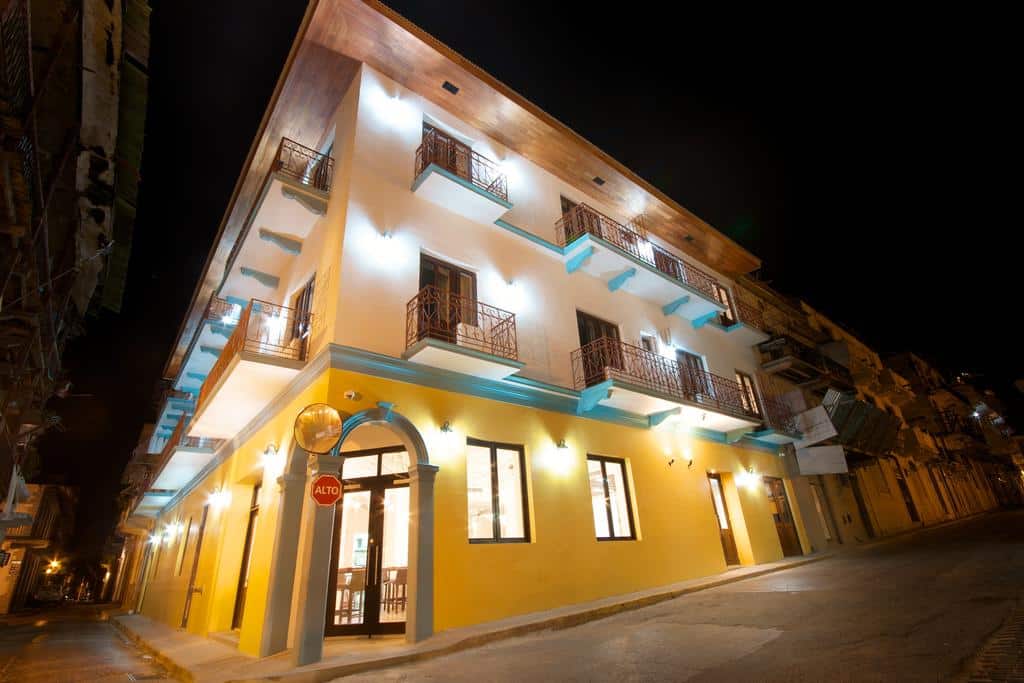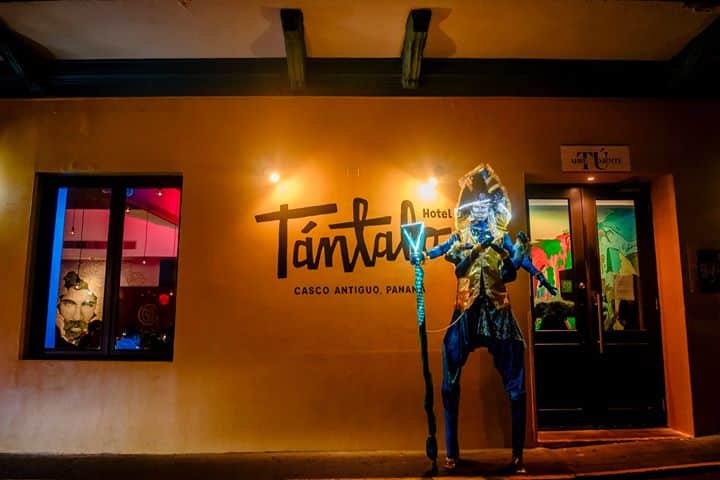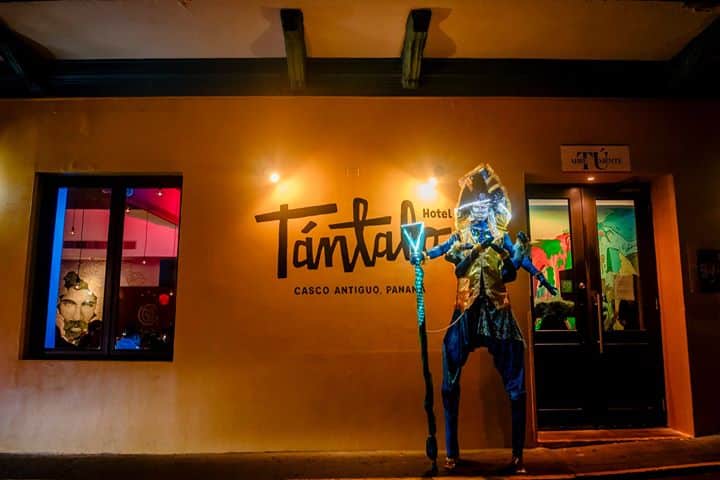 I remember going to the opening, which was quite a party. Each of its 12 rooms (now it only has 10 rooms) was given to a local artist. They used different techniques such as light boxes, graffiti and photography to decorate them. Throughout its existence, the hotel itself has been a canvas for artists, whose art has kept evolving.
Staying at any room or suite includes free access to Encima Rooftop Bar and Lounge, complimentary full breakfast, bike rental, 24 hour concierge, laundry and dry cleaning. Room service is available, as well as a minibar for in room snacks. Daily newspaper delivery and nightly turndown services are also offered to guests.
There are four room types at Tantalo Hotel
Superior: there are two rooms of this kind, with a size of 322 square feet (30 square meters). They can sleep two guests in two California twins or a king sized bed with down comforter. Each room has its own private terrace, flat screen television, blue tooth speakers, radio, alarm clock and walk-in shower in the bathroom.
"Nocturne" was decorated by photographer Stuart Hooper who took photos by candlelight seeing what could be achieved in the darkness. The other room is called "Purple King" which takes you under the ocean, diving with a giant octopus whose tentacles are wrap around the room.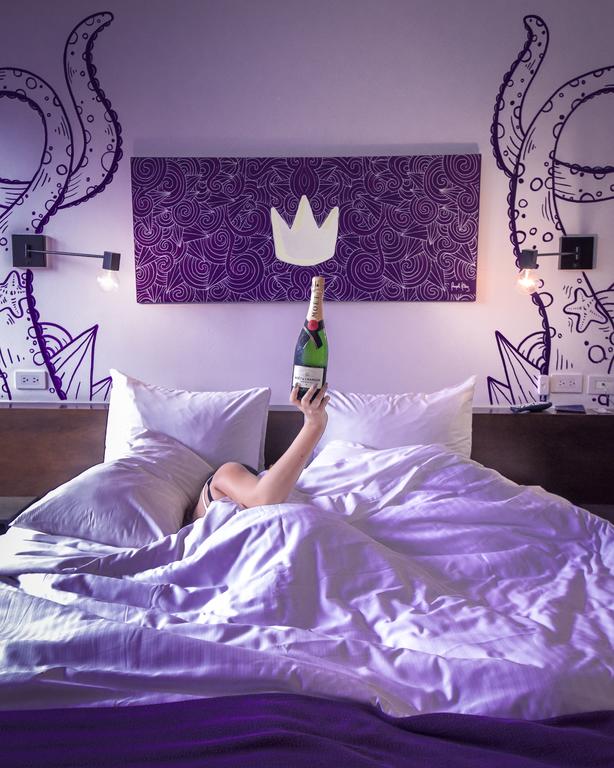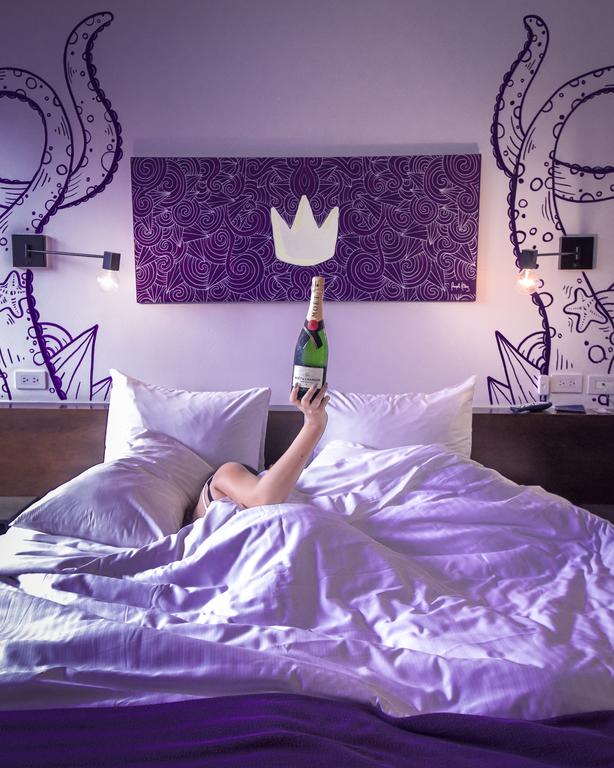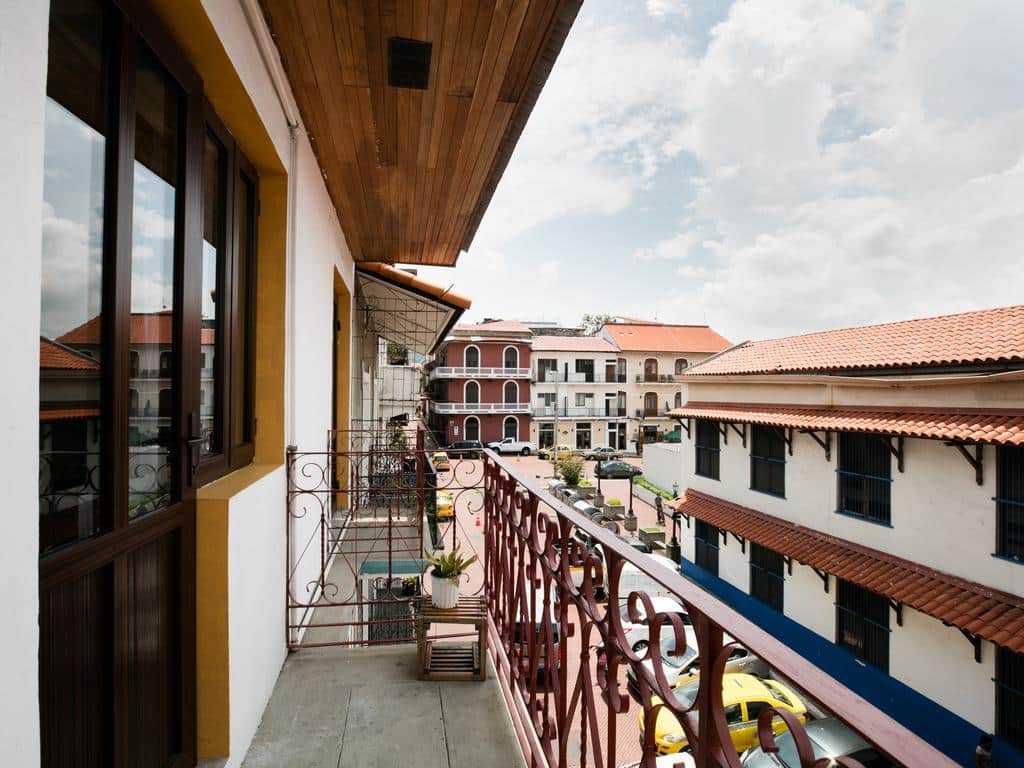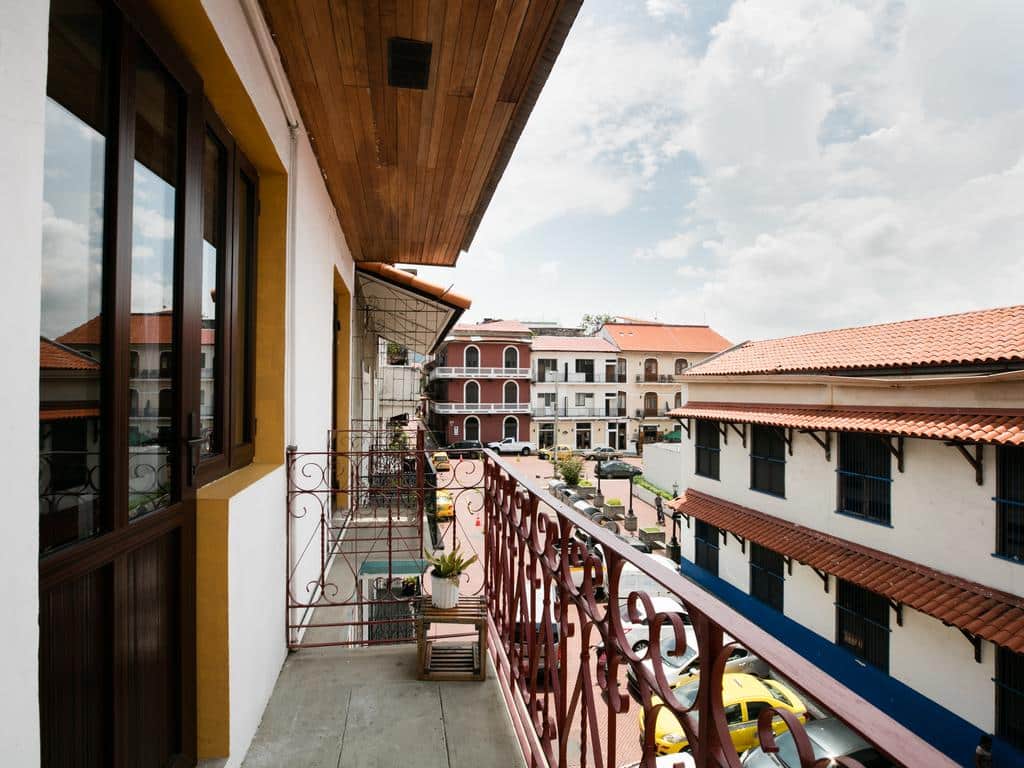 Grande: there are six rooms of the grande category at Tantalo Hotel in Casco Viejo. They range between 387 square feet (35 square meters) to 431 square feet (40 square meters). Two guests can be accommodated in a king sized bed or two twin beds. A third person can be accommodate in a roller bed upon request.
"Double Double" was done by the artist Christopher Allende who plays with a mixture of colors creating images that play with your senses the more you look at them.
"Be Color!" Was done by Argentinian artist Pabliu Lucero who was inspired on the color shades that our eyes perceive.
Gladys Turner decorated the "Love Ouch" room which plays a bit with S&M in red and black tones.
"Aruma" means night in Mayan, and this room was done by Day Rodriguez who created a beautiful fantasy princess room.
"Tropi Exotica" was done by Yanneth Albornoz who did a tacky but fabulous room with a tropical theme and fluorescent colors, including a mural with a Bengal tiger.
"Daydreaming" was done by Pape Ink who was inspired by Panama's tropical weather, the blue summer sky and fresh vibes of surf.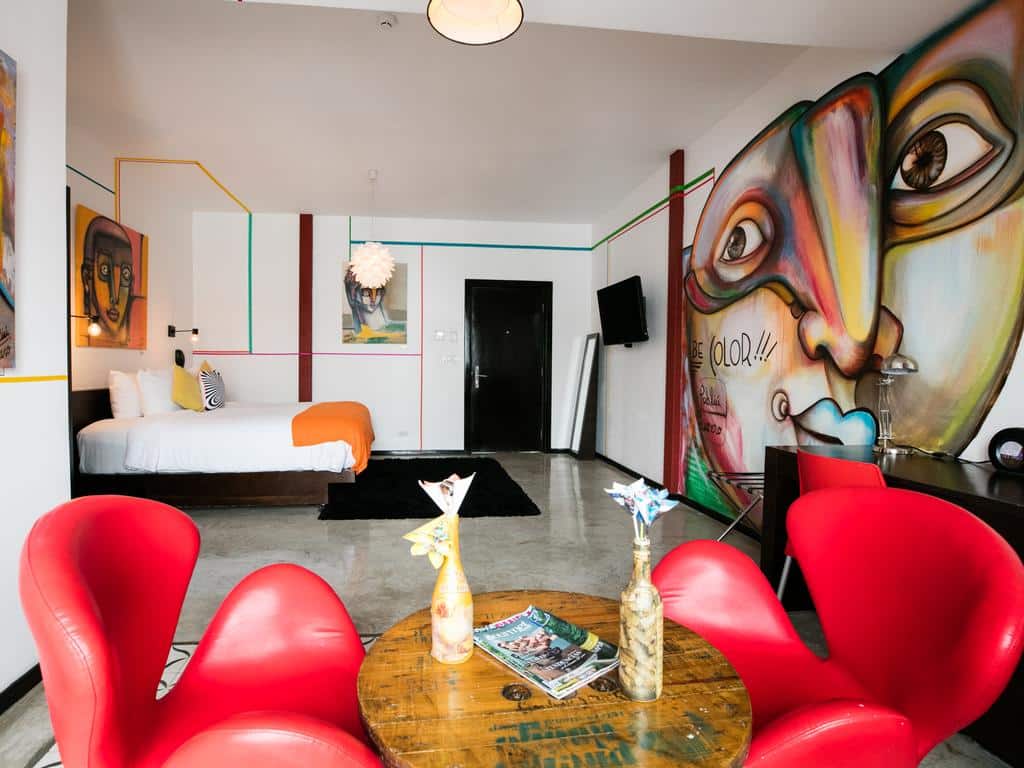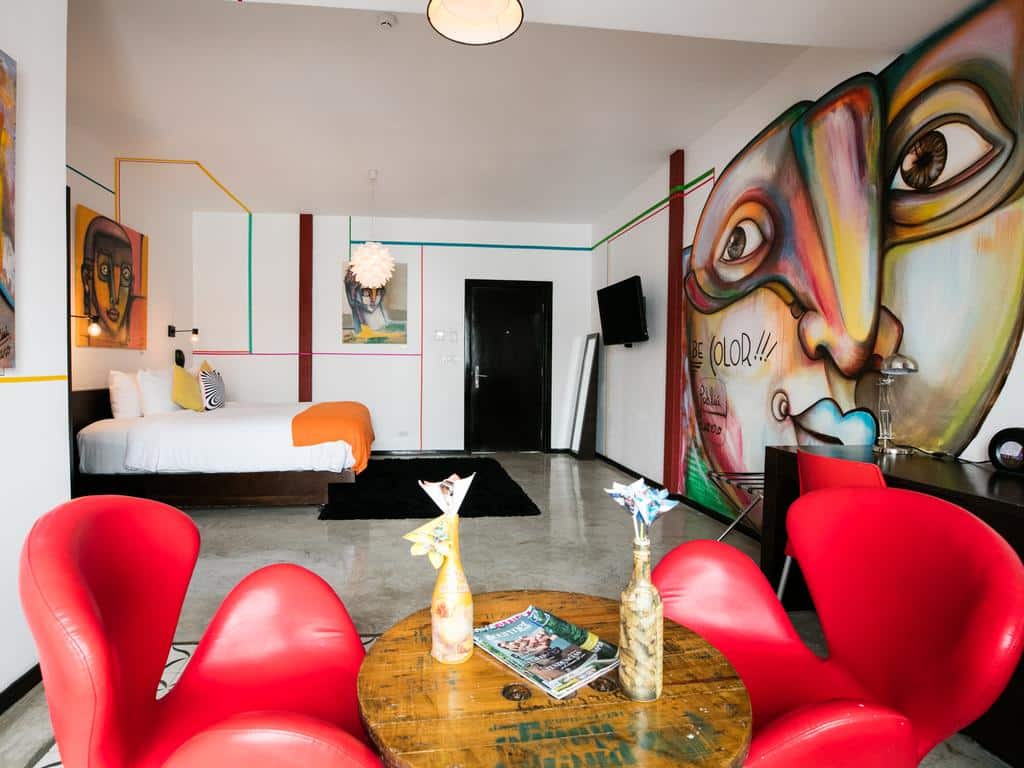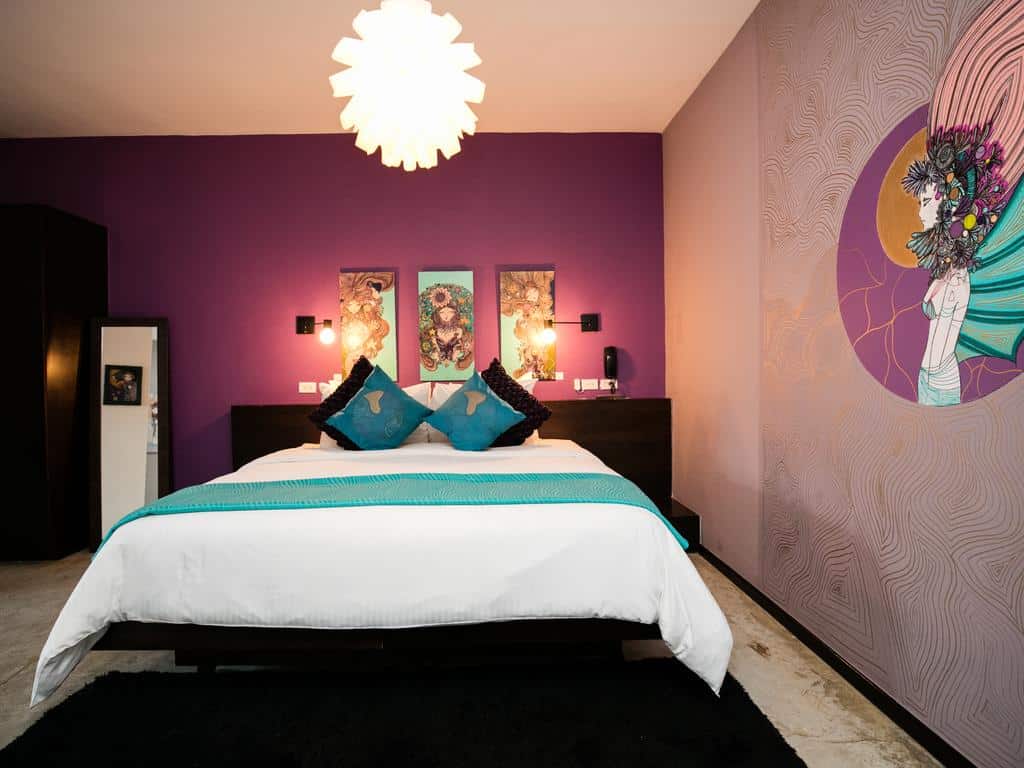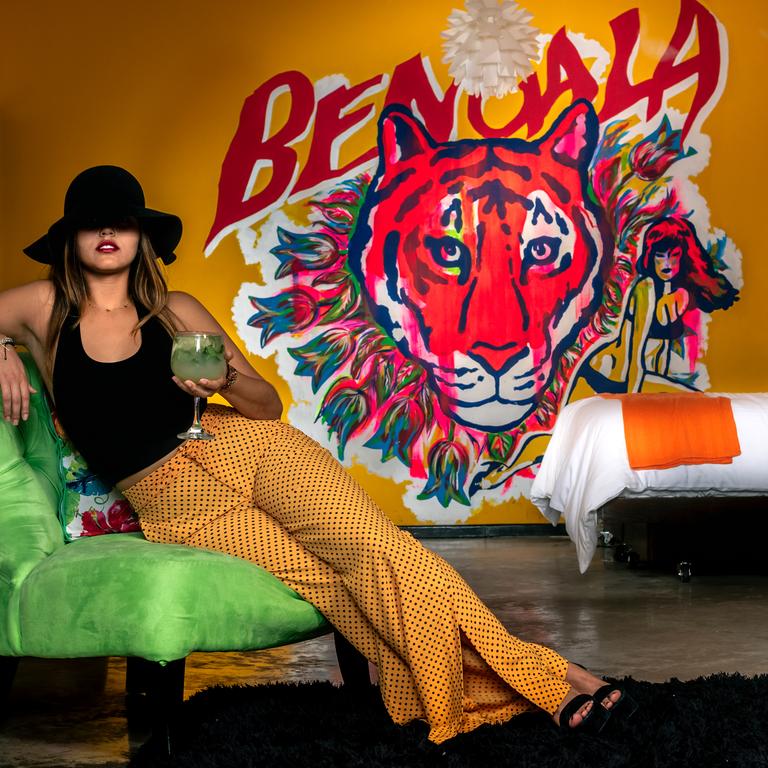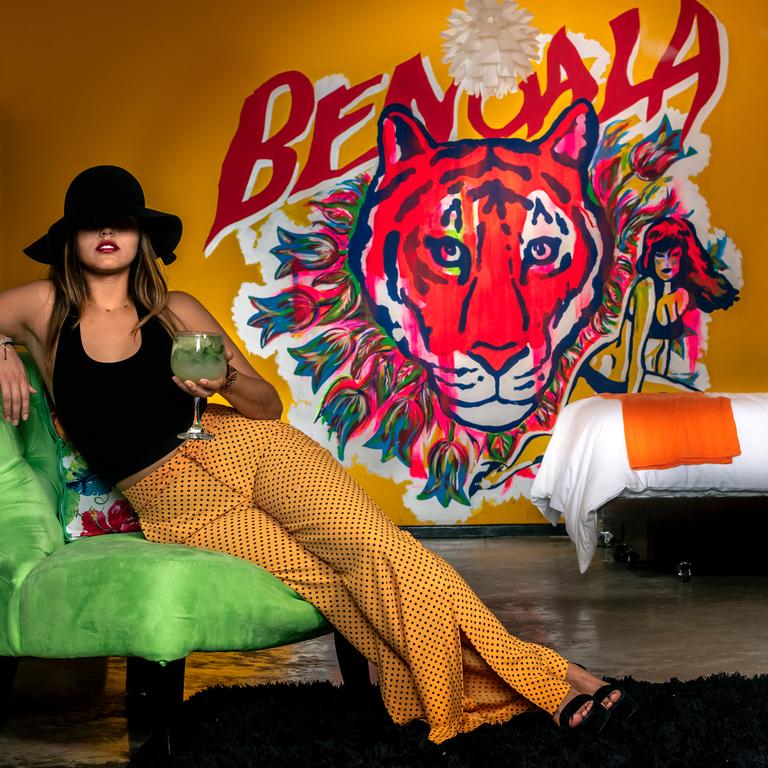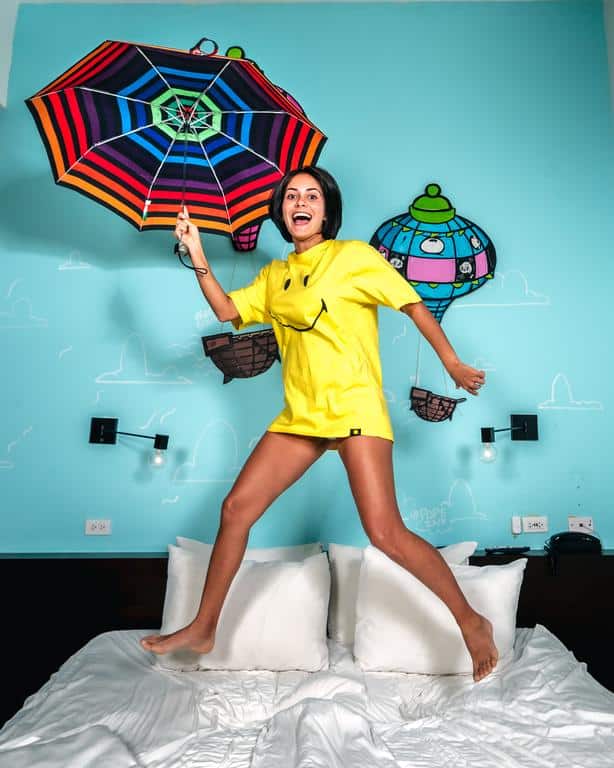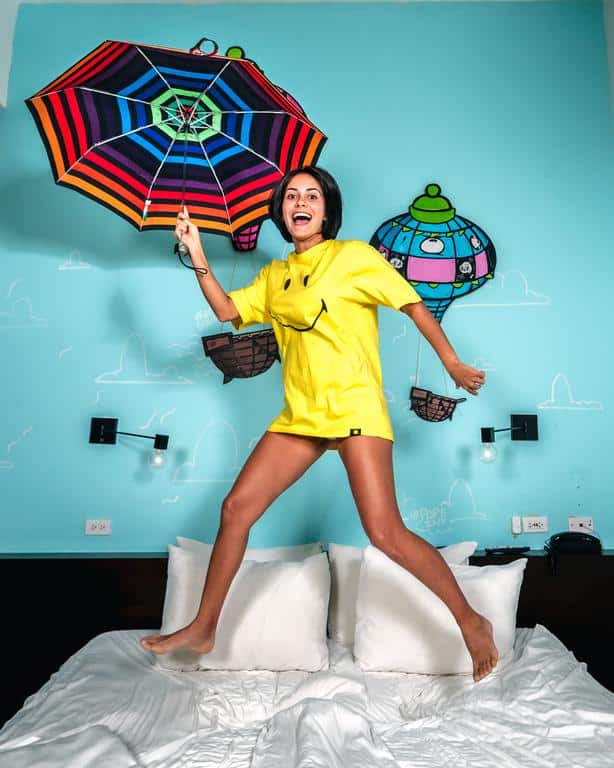 Tantalo Suite: these two suites are the largest rooms in the hotel with 518 square feet (48 square meters). Two guests can sleep in a queen size bed, while a third can be placed in a roller bed upon request. These suites have private terraces and all the rest of the amenities.
"Geo-Orga", done by Mariery Young, has grey-green walls which combine with turquoise-fuchsia paintings of women. The other suite, called "Veraneo", was done by Javier Arrocha who filled it with veraneras or bougainvilleas which bloom in the spring.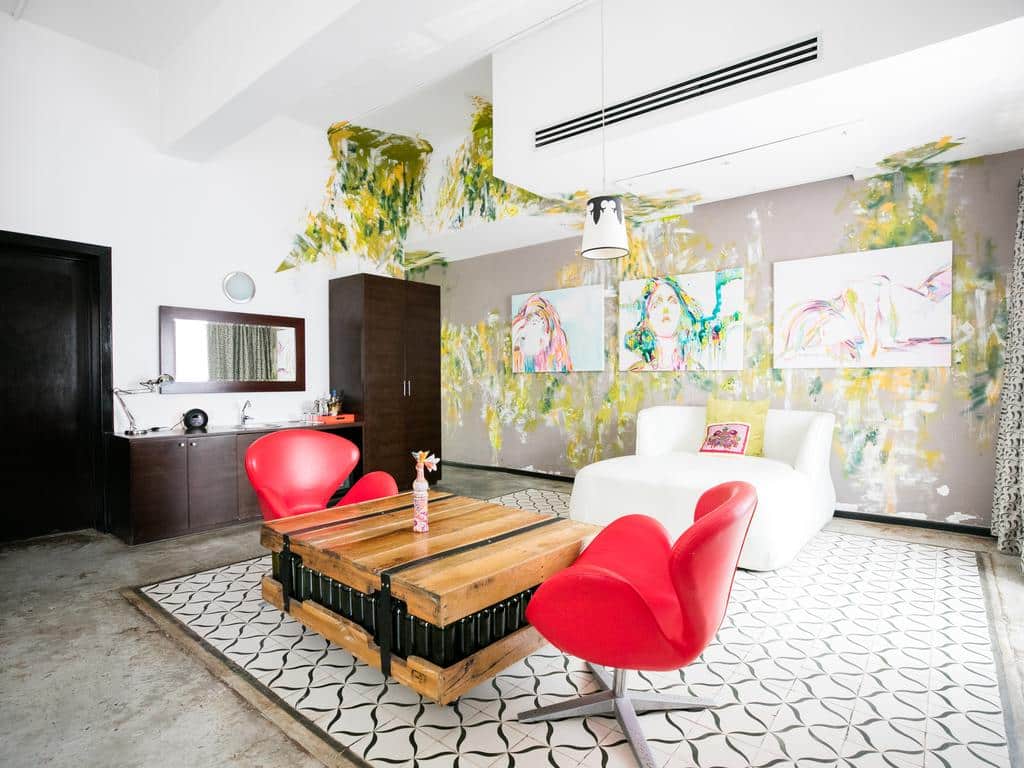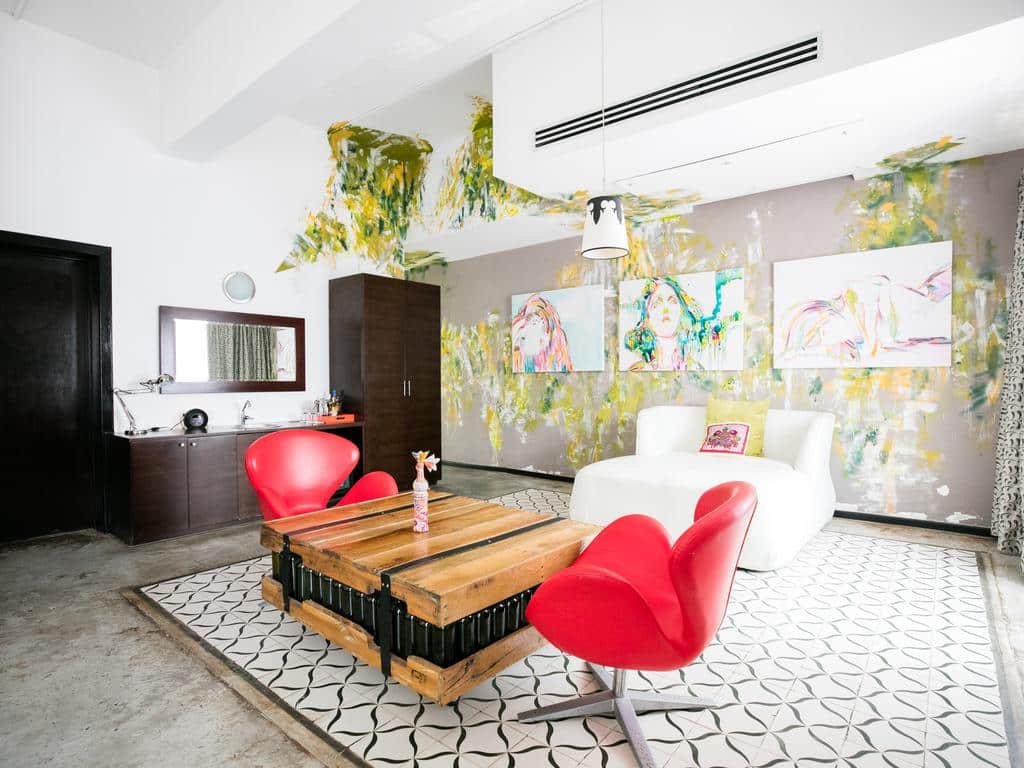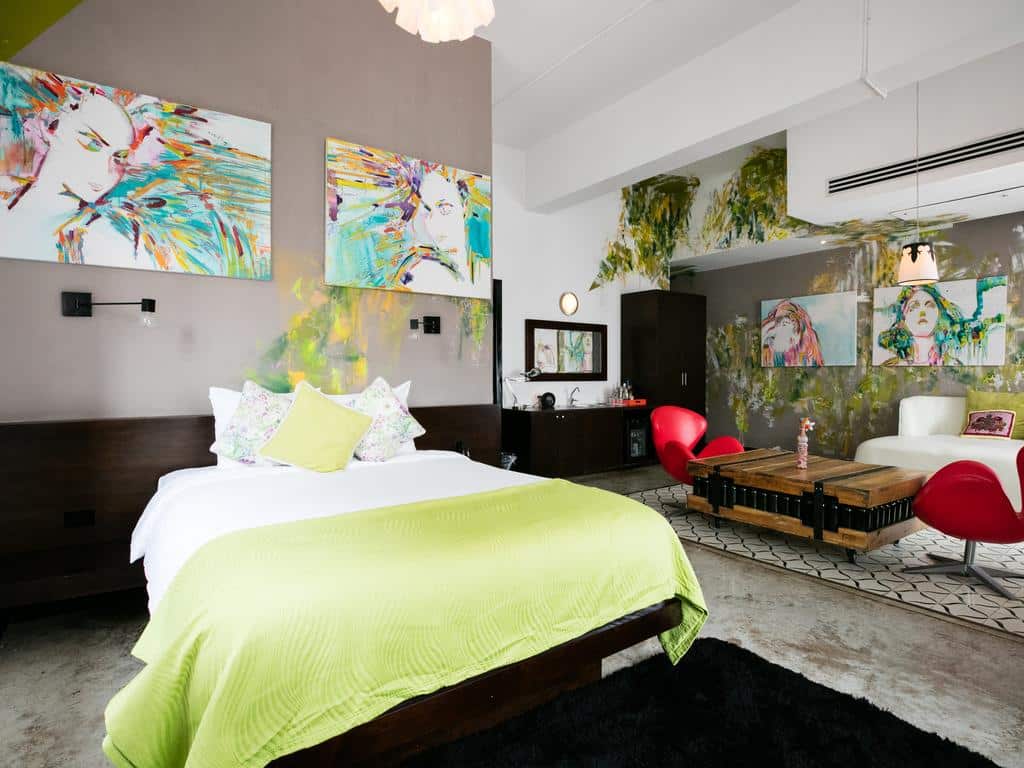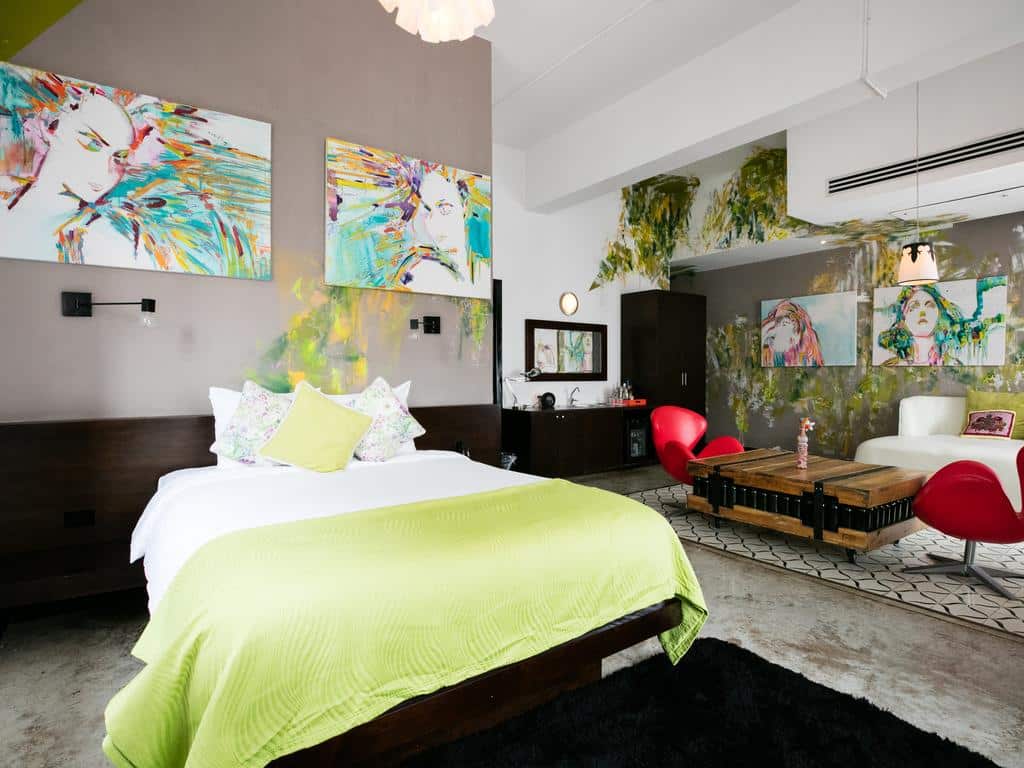 Room 2: this is a private room for meetings, business reunions or bachelorette parties. It is not a place to sleep, instead it has a dining table, lounge space and a fresh tropical decor with plants.
Tantalo Hotel has free WiFi throughout the property, an ATM machine and valet parking. Tantalo Kitchen is located on the ground floor with a fusion menu combining international flavors with local dishes and ingredients. It is open for breakfast, lunch and dinner. One of the most impressive things about this hotel in Casco Viejo is its living wall which has 983 different native species. It was installed by Aqua Terra and uses rain water to irrigate the plants. This skylight gives natural light to the atrium. Tantalo's rooftop bar opens before sunset and has a crowd every day of the week.