Live or invest in one of the 12 coolest neighborhoods in the world according to Forbes Magazine by moving into Santa Familia. This luxurious ocean front apartment complex is unlike another because of its size and location. Right in front of Playa Santo Domingo, this building has incredible views of the Pacific Ocean and the Panama Canal. It is located on Avenida A between 4 and 5 street in one of the nicest and most quiet parts of Casco Viejo.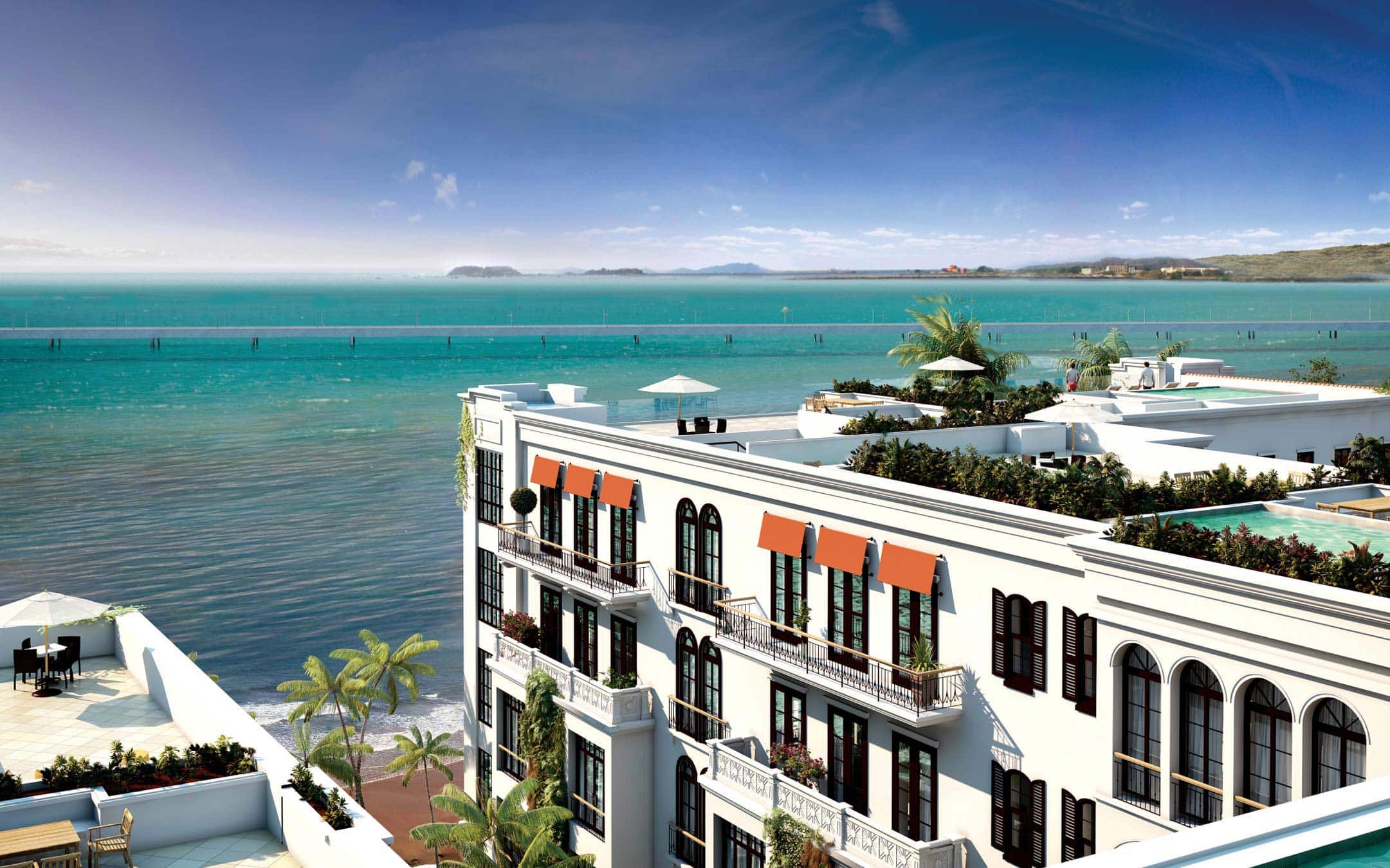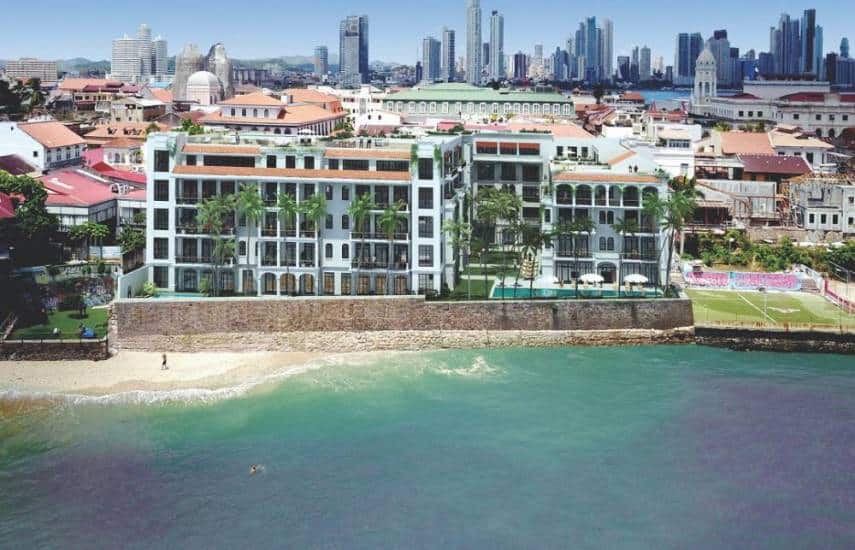 Those who want to invest in Casco Viejo can take advantage of the incentive law which is valid until 2024 that exonerates taxes for 30 years in both commercial and residential properties. Mortgages are fixed at 3% below market rate and rentals get 10 years of tax income exoneration.
Conservatorio, the company building Santa Familia, has plenty of experience developing in Casco Viejo. They built Flor de Lirio where I have two airbnbs. Canal House was their first project in 2005 and since then they have over $200 million in projects in and around Casco Viejo. Those who are looking for more affordable options can consider La Quince or La Manzana.
Santa Familia building used to be a school with the same name. There are several lots adjacent within the same block. Since it was not a historic property this could be torn down and built from scratch in an area of 16,000 m² . Construction cost of this project surpassed 50 million dollars. The design was done by Hache Uve who also did the American Trade Hotel (book the American Trade Hotel) and Las Clementinas (book Las Clementinas). Once upon a time, around 2009, we used to have a communal garden in the area as well as a playground.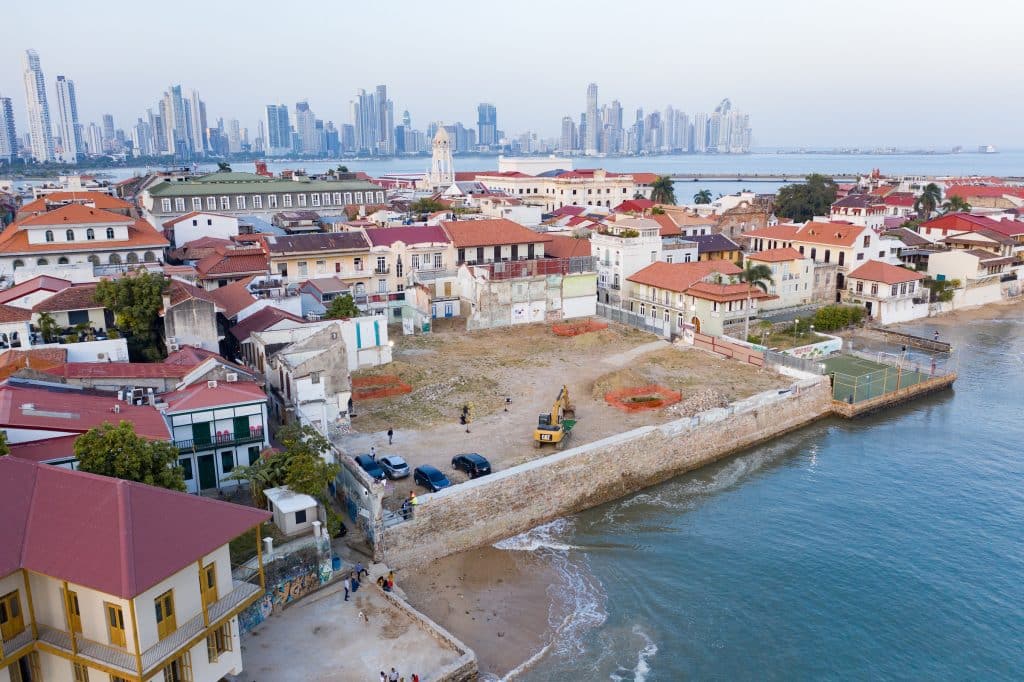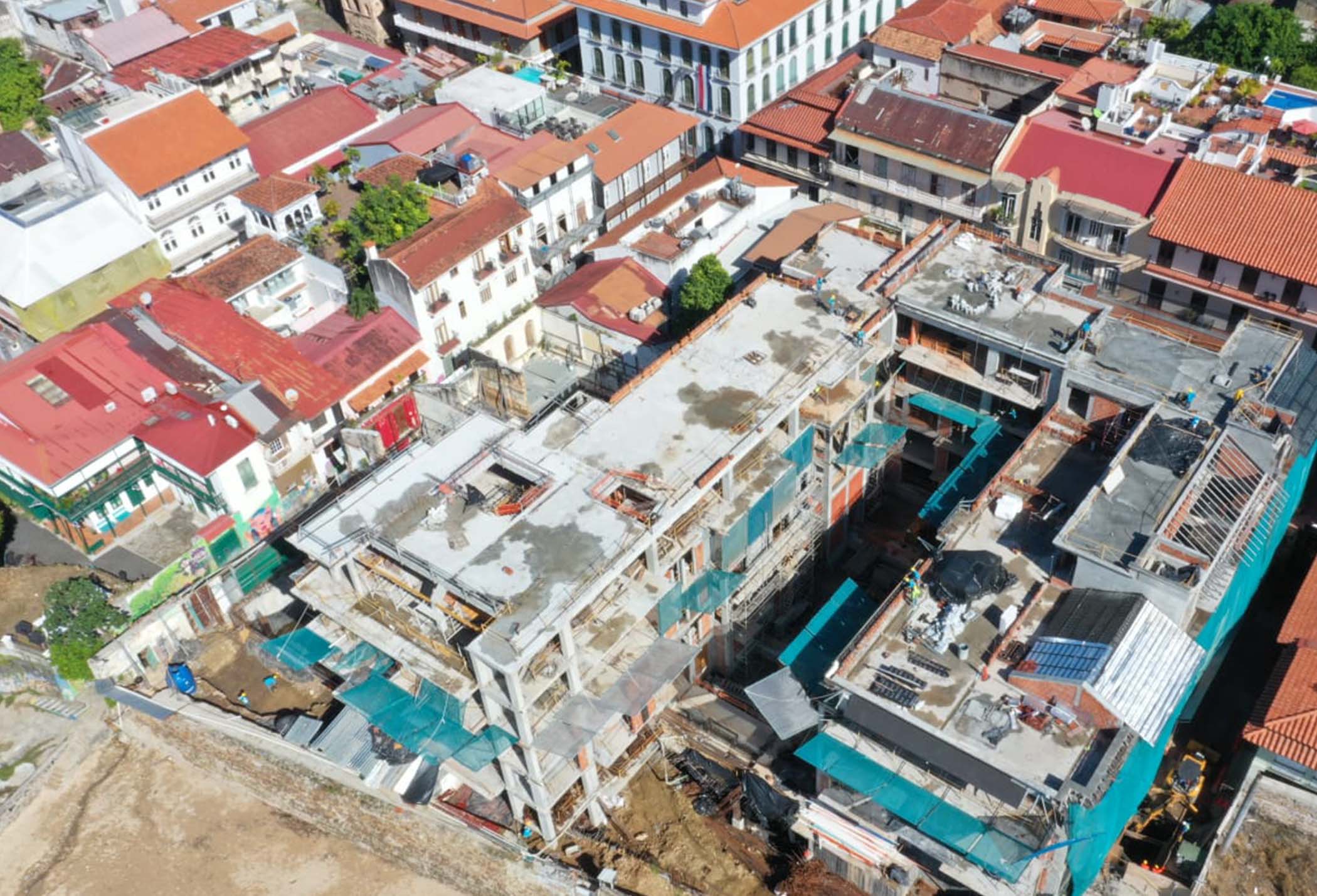 High End Apartments
There are 55 apartments in Santa Familia ranging in size from 68 to 537 square meters. Apartments have one to four bedrooms. As a high end project, prices are in the upper end of the market value between $360,000 to 3 million.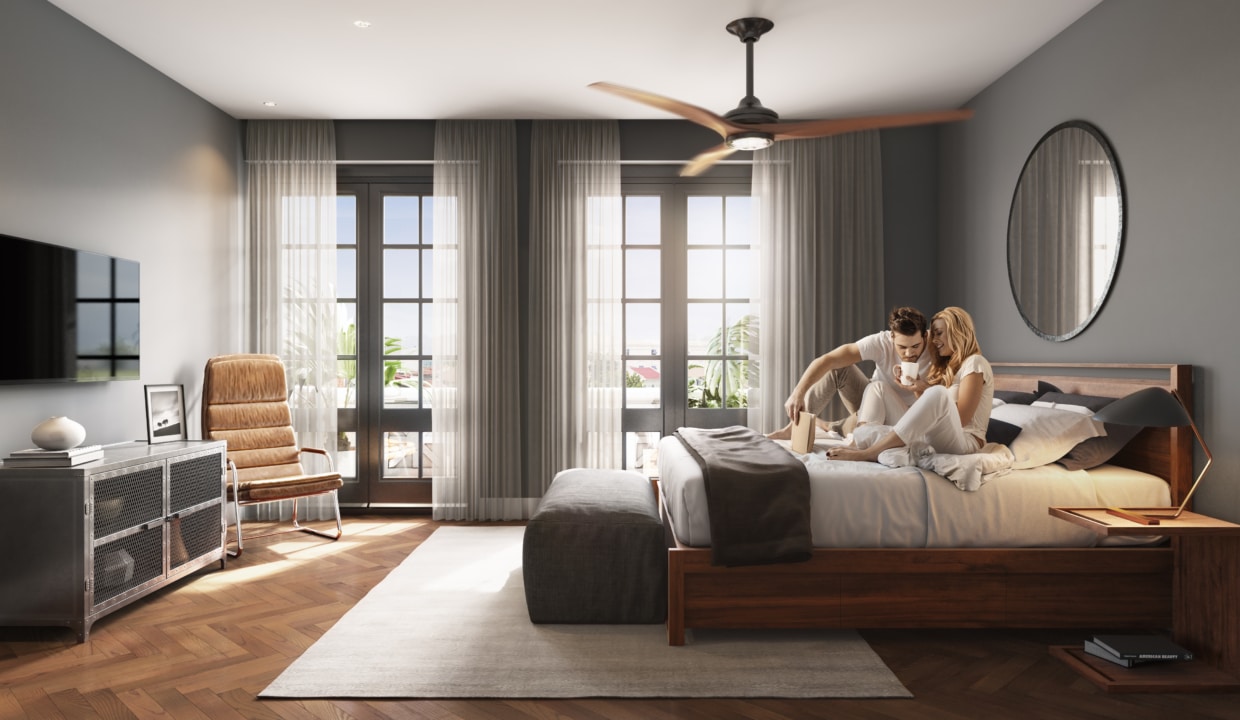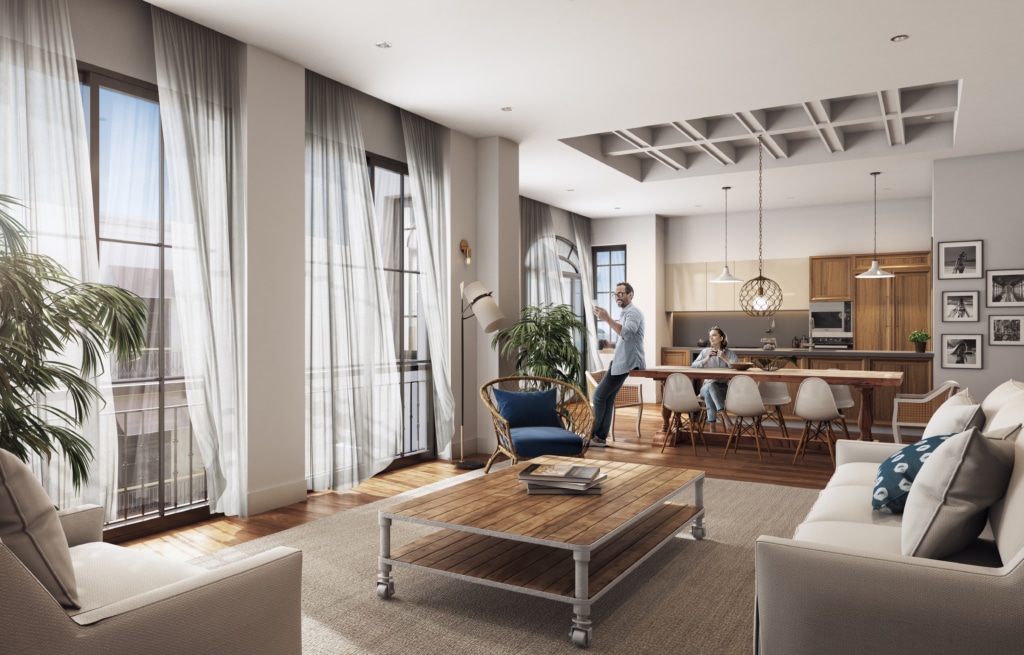 Inspired interiors have open plan spaces with the best finishings such as solid hardwood doors. Residents will be able to pick their floors from a wide range of options which include engineered wood, natural stone or traditional handmade tiles.
Kitchens are individually planned for the layout of each apartment. Elegant design includes Quartz worktops, cabinets and a full range of high-end appliances by German manufacturer Miele. All the appliances are built into the kitchen including the refrigerator, freezer, dishwasher, extraction ducted to the exterior of the building and induction cooktops.
Bathrooms are also quite chic and elegant with wall tiles in the bath or shower area, concealed cabinet with mirrored doors and LED down-lights. Showers have rain shower heads and tempered frames shower partitions. Sanitary ware and fittings are done by Kohler to create a luxury boutique hotel feel.
Lutron whole home lighting controls, and central air conditioning with VRF. Do not worry about noise since the apartments have double pane acoustic glass for windows and exterior doors. Exterior walls are made of concrete which also helps with insulation.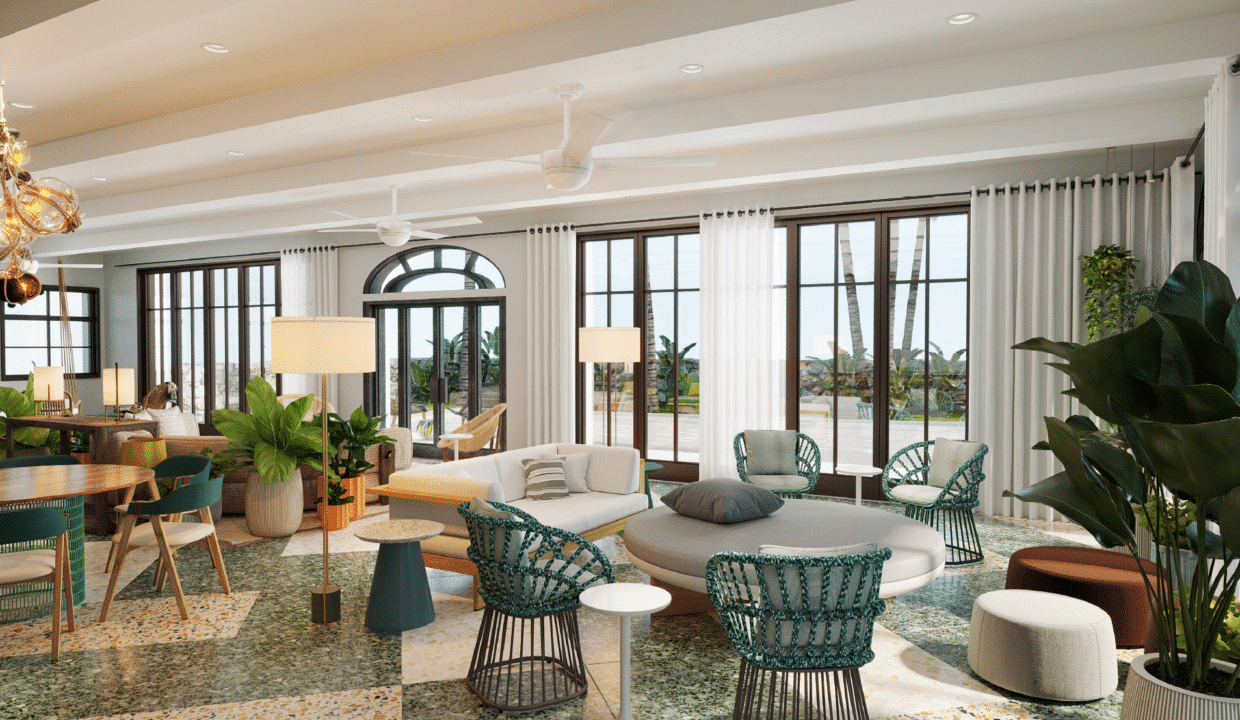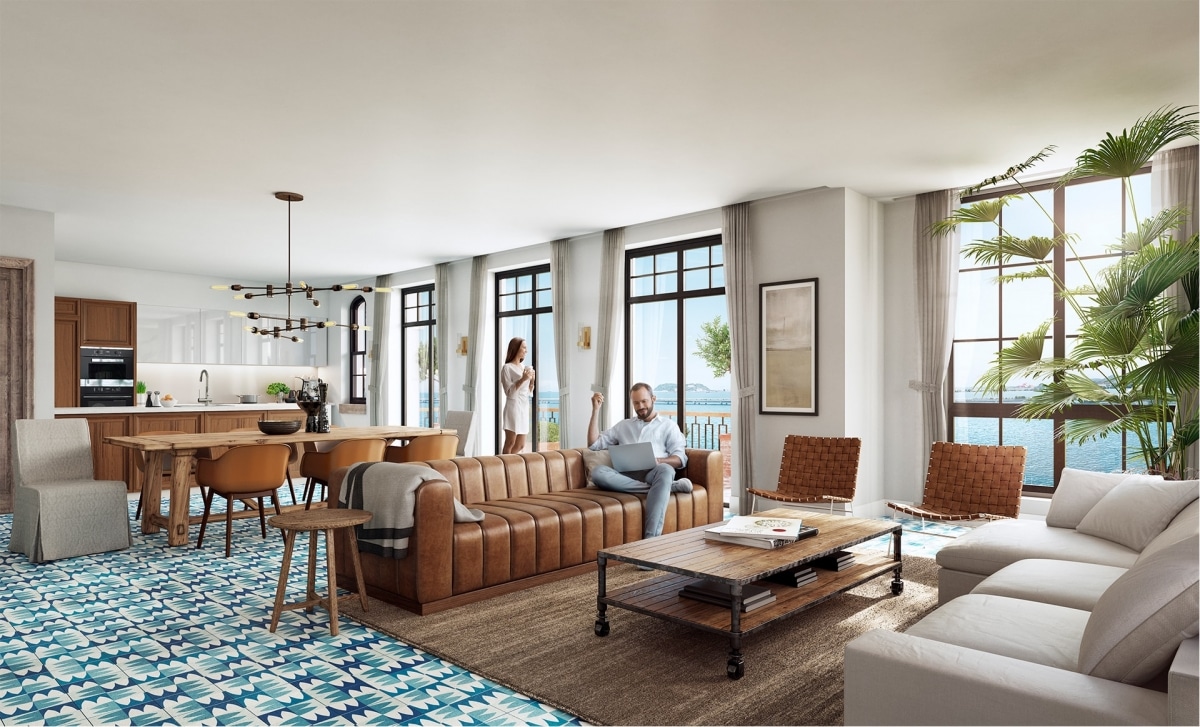 Each apartment has outdoor space which can vary from balconies and patios to gardens and roof terraces, many with private pools. Raised beds and screens are set in place to provide privacy while making the area a verdant oasis to relax. Balconies have painted steel or formed concrete balustrades with terrazzo floors. While terraces in Santa Familia have glass balustrades or dwarf walls with coralina paving.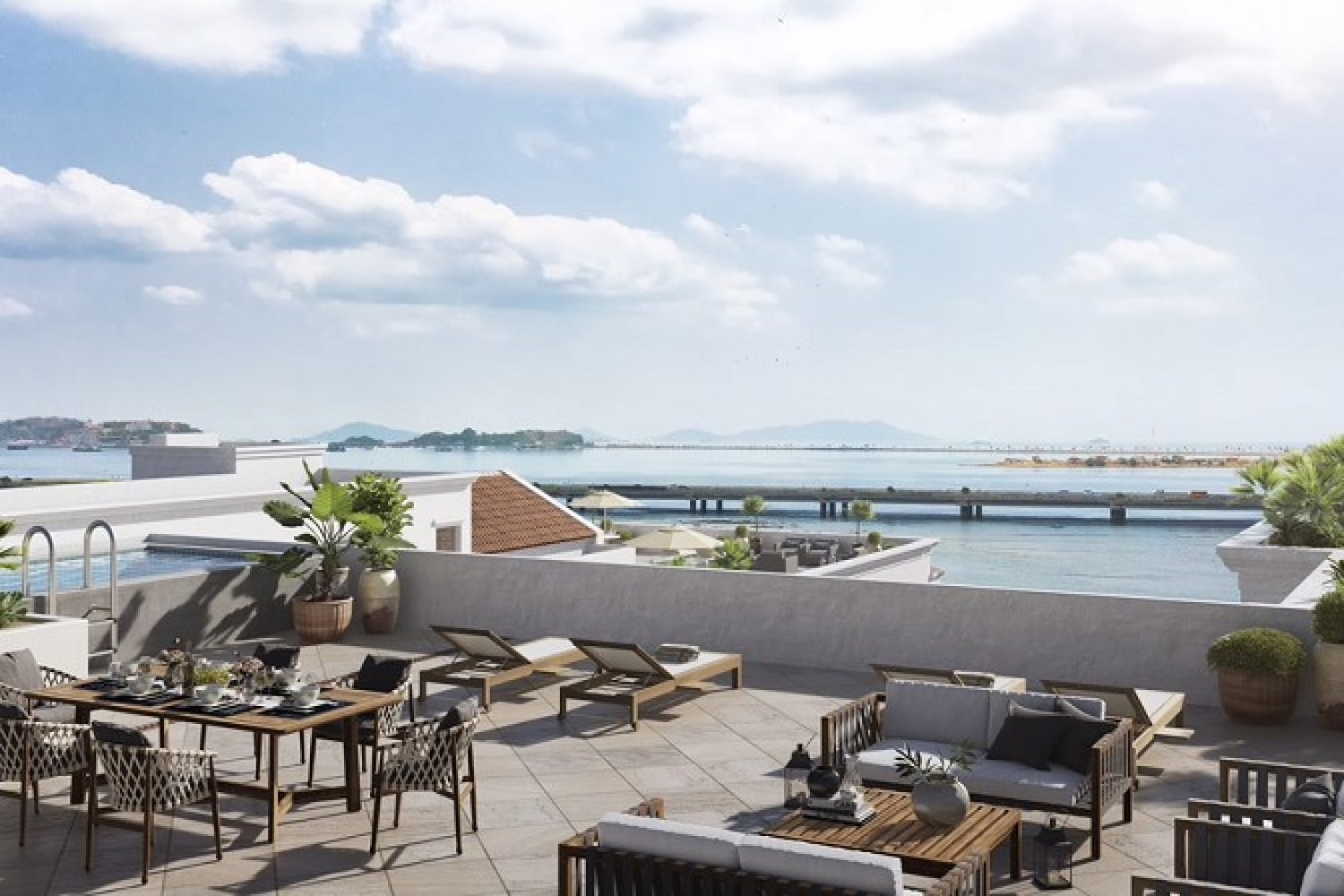 Santa Familia Casco Viejo is all About Amenities
Santa Familia has access to its own almost private beach with an oceanfront swimming pool and exclusive ocean club for residents. This ocean club has a lounge, bar and Ocean chef's kitchen. All set in an extensively landscaped oceanfront garden. There is also a beach side storage for surfboards and paddle boards and a library. With all of these amenities you will feel like you are living in a five star hotel!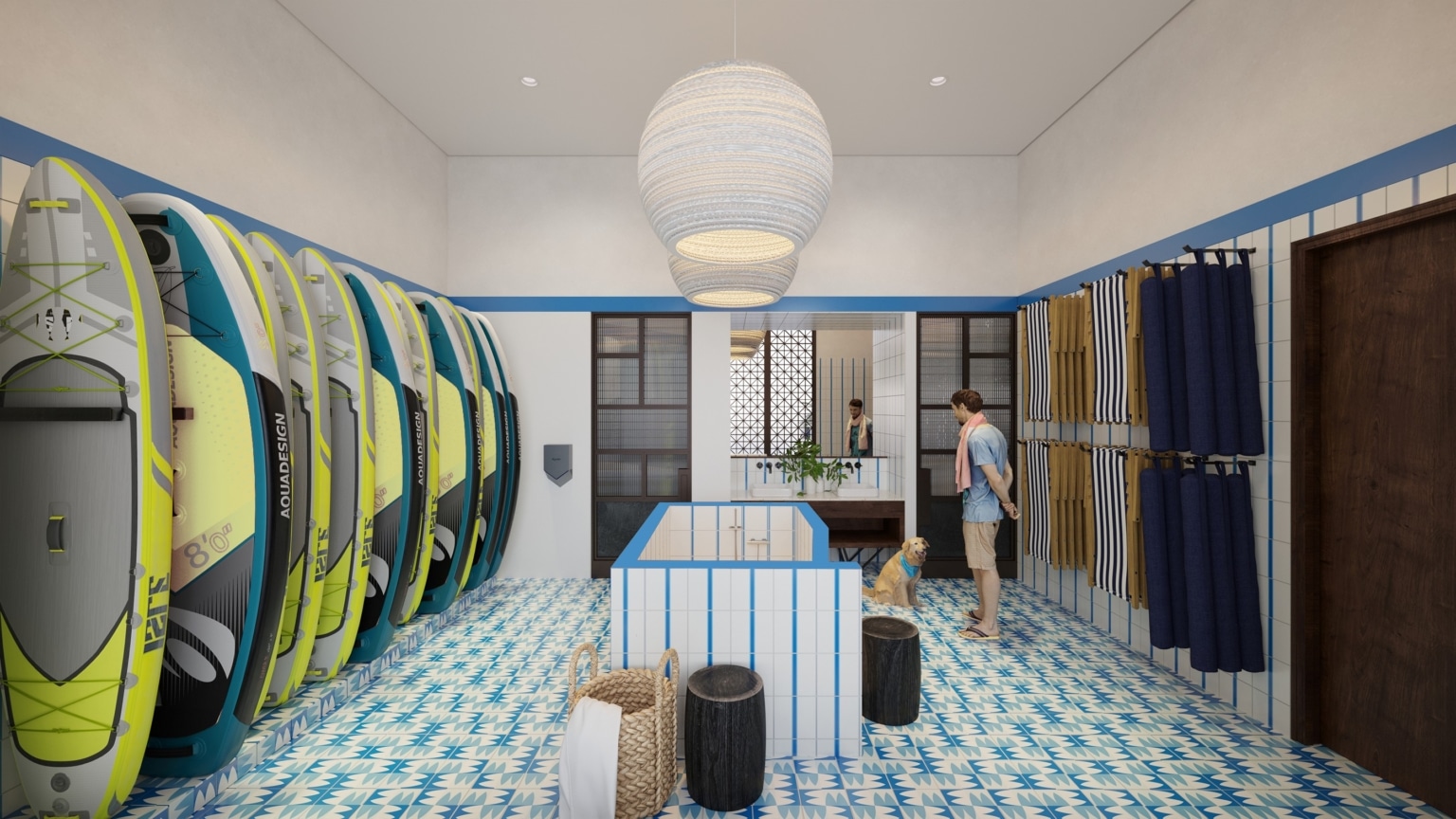 This is one of the only buildings in Casco Viejo that offers parking to its residents. Underground parking is concealed not to disturb the aesthetics of the project. Discreet entrances are available both on Calle 4a and Calle 5a. Parking spaces have been allocated to each apartment for purchase. Car parking also has plenty of space for bikes, bicycles and scooters.
Santa Familia has four passenger elevators which serve each core and all levels. There is a specific area for bathing dogs for those who love their furry companions.
Building is prepared for dealing with electric problems that happen from time to time in Panama since it has an emergency generator which powers all apartments and common areas. The whole building has a surge protection which will keep your appliances safe from power fluctuations. Santa Familia Casco Viejo also has a water reserve plan.
Security is of the utmost importance since this building has 24 hour security concierge service and monitored CCTV. Entrance door has an audio and visual entry system. Sprinklers, heat detectors and hard wired smoke detectors are located throughout the property.
Contact us at ur****@pa***************.com if you are interested in this property or others in Casco Viejo.