As soon as you see Flor de Lirio, you will realize that it is quite a unique property. This building is made of wood with white and turquoise finishings which would make you think you are in Bocas del Toro or somewhere in the Caribbean. Right in front are two other buildings made of wood that are painted yellow and green, where local families live.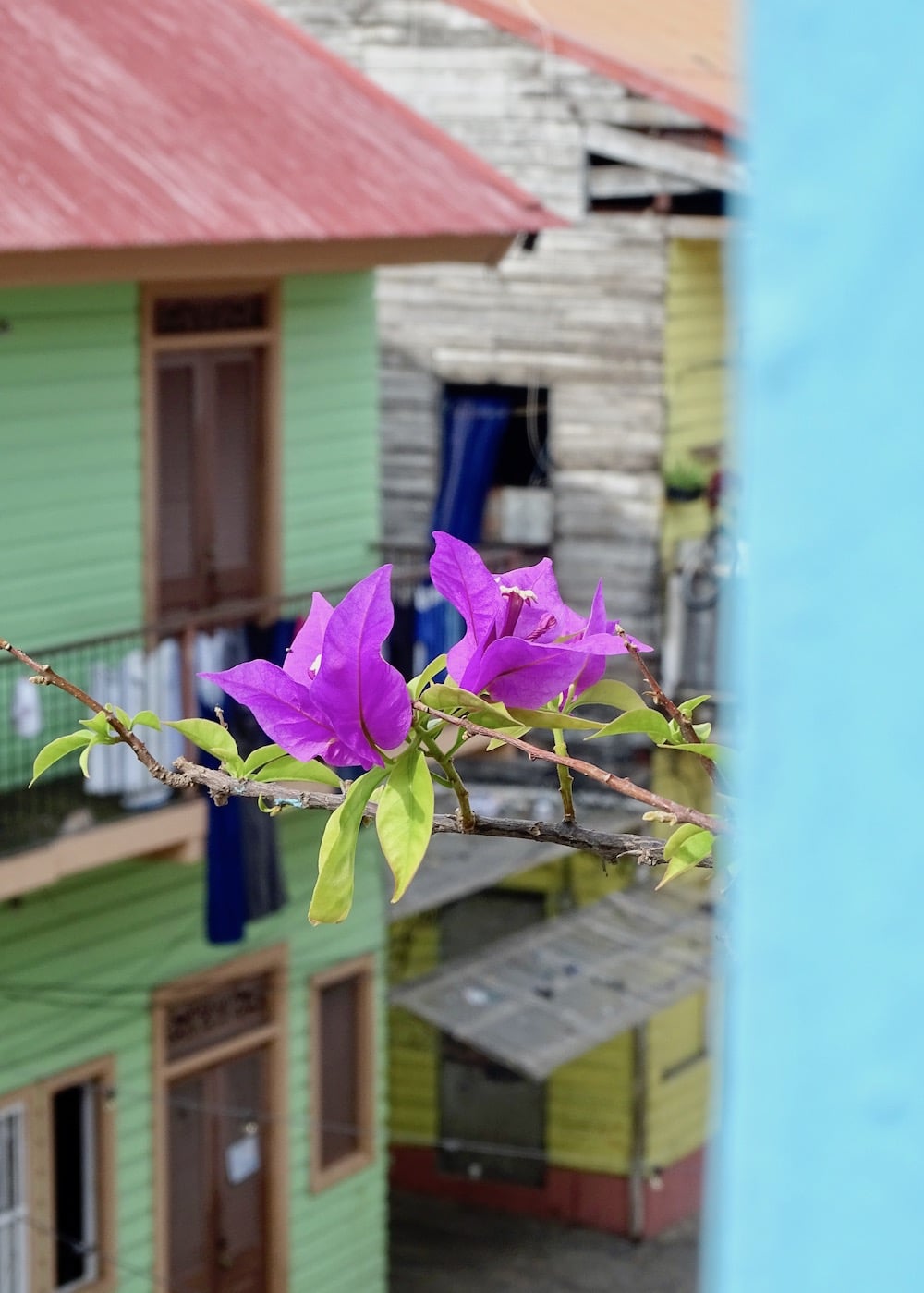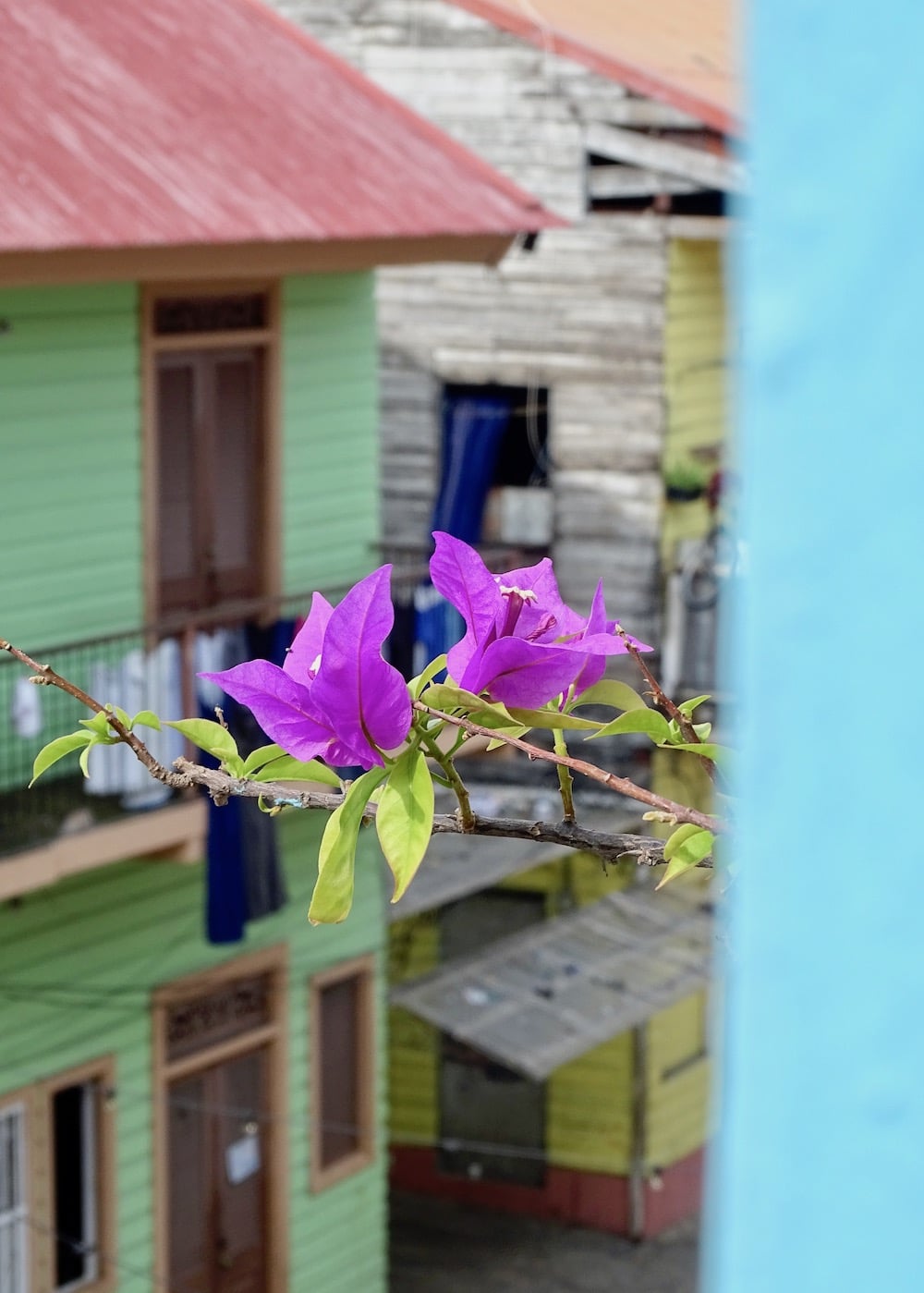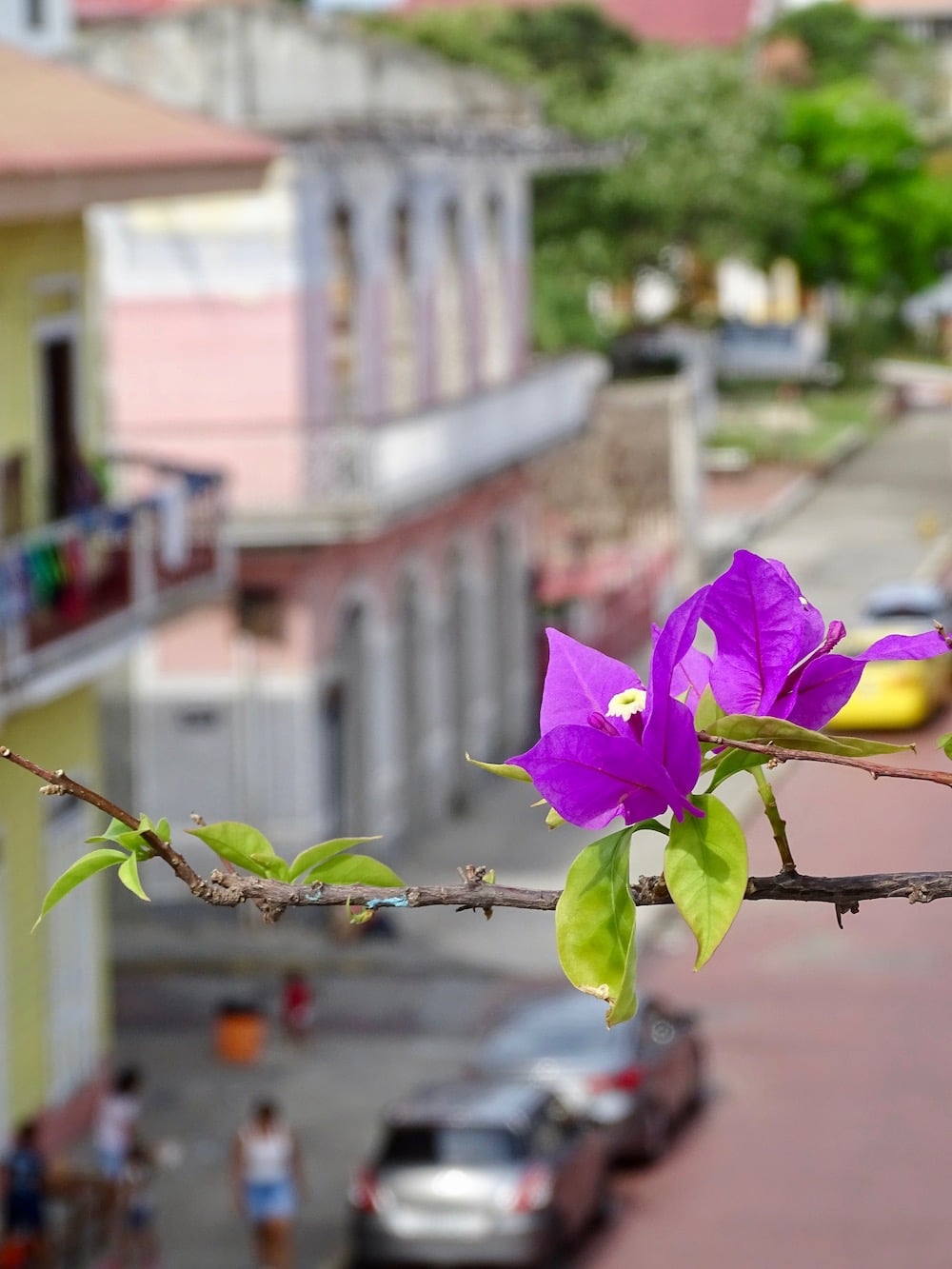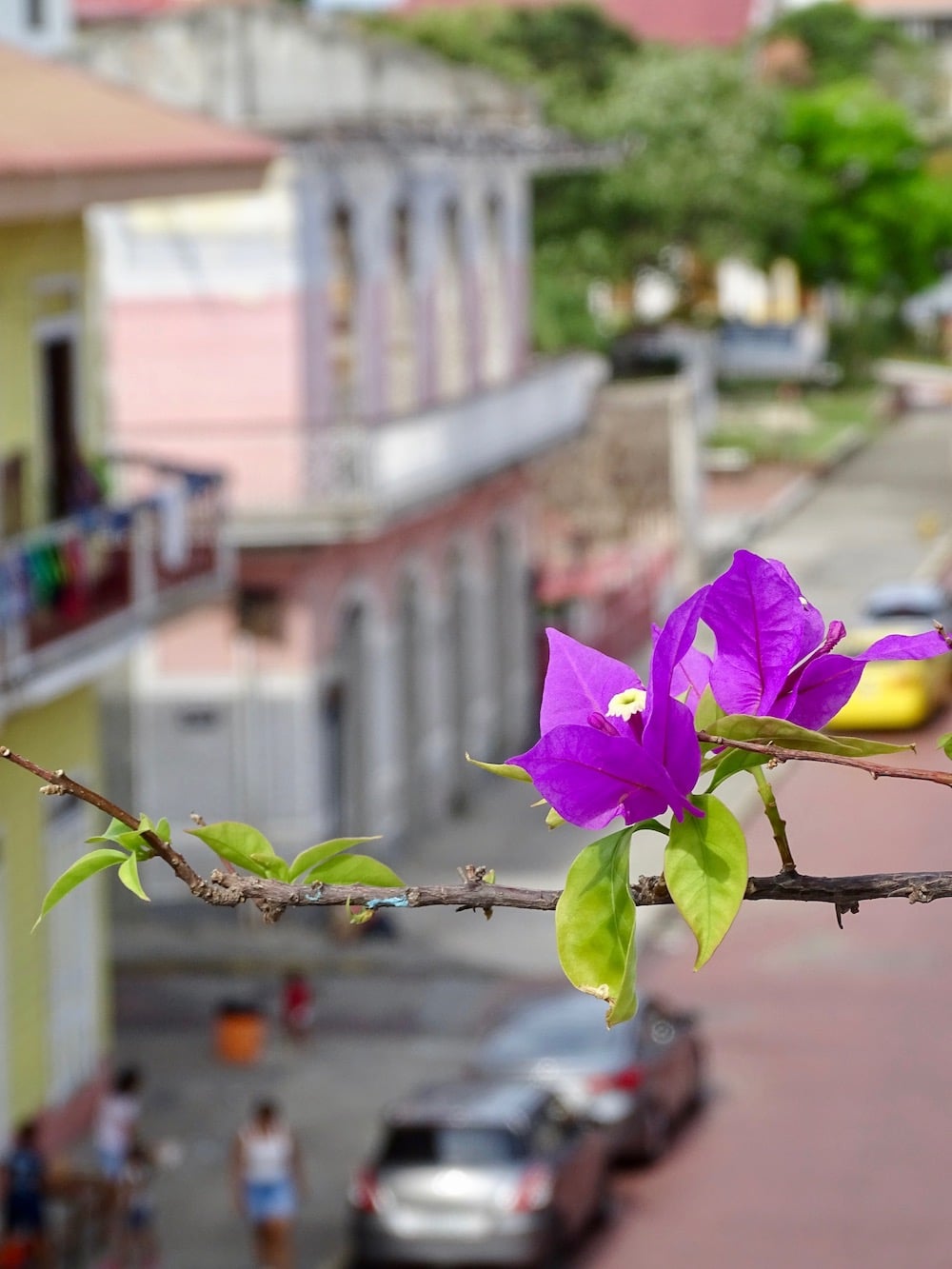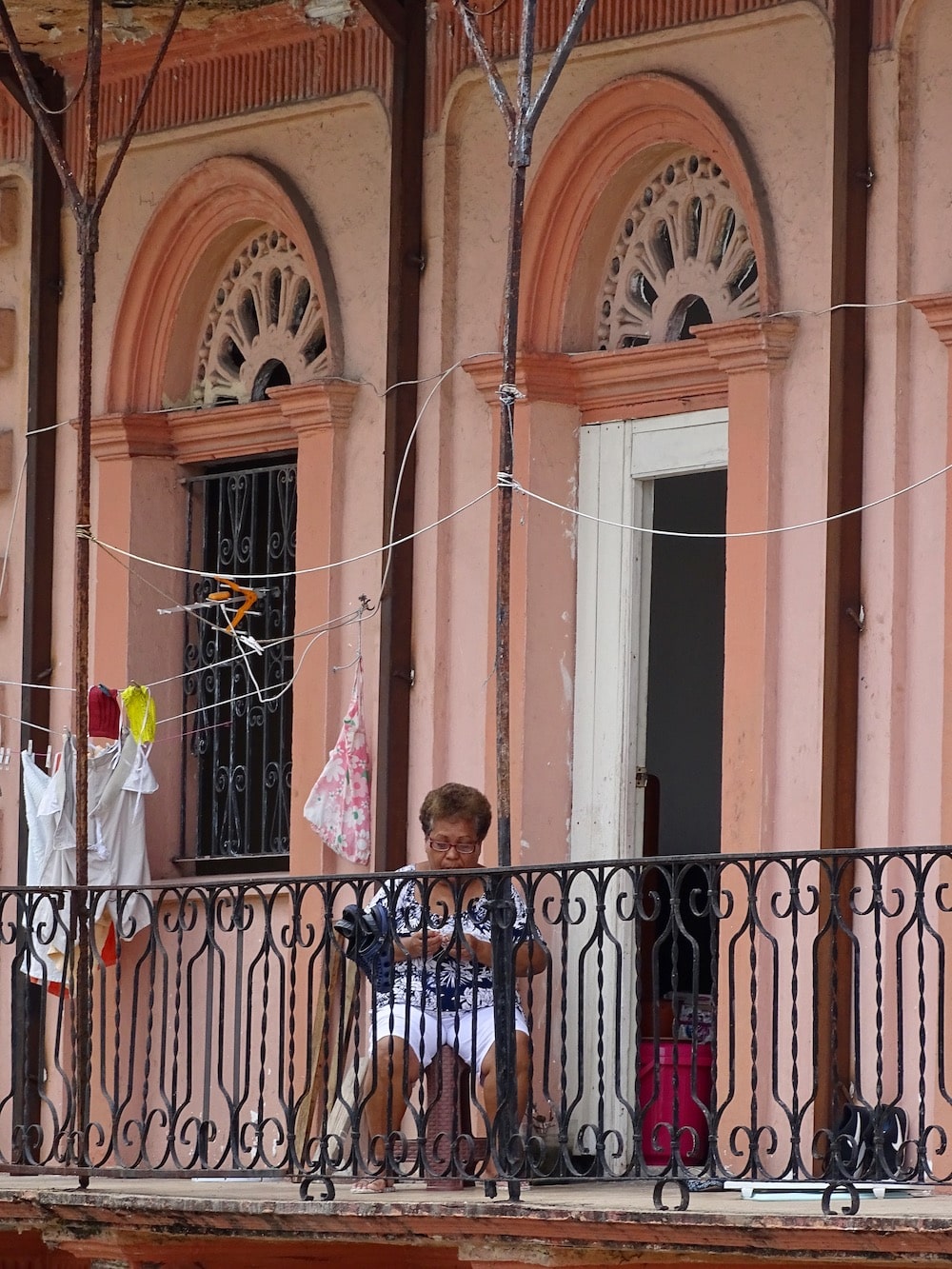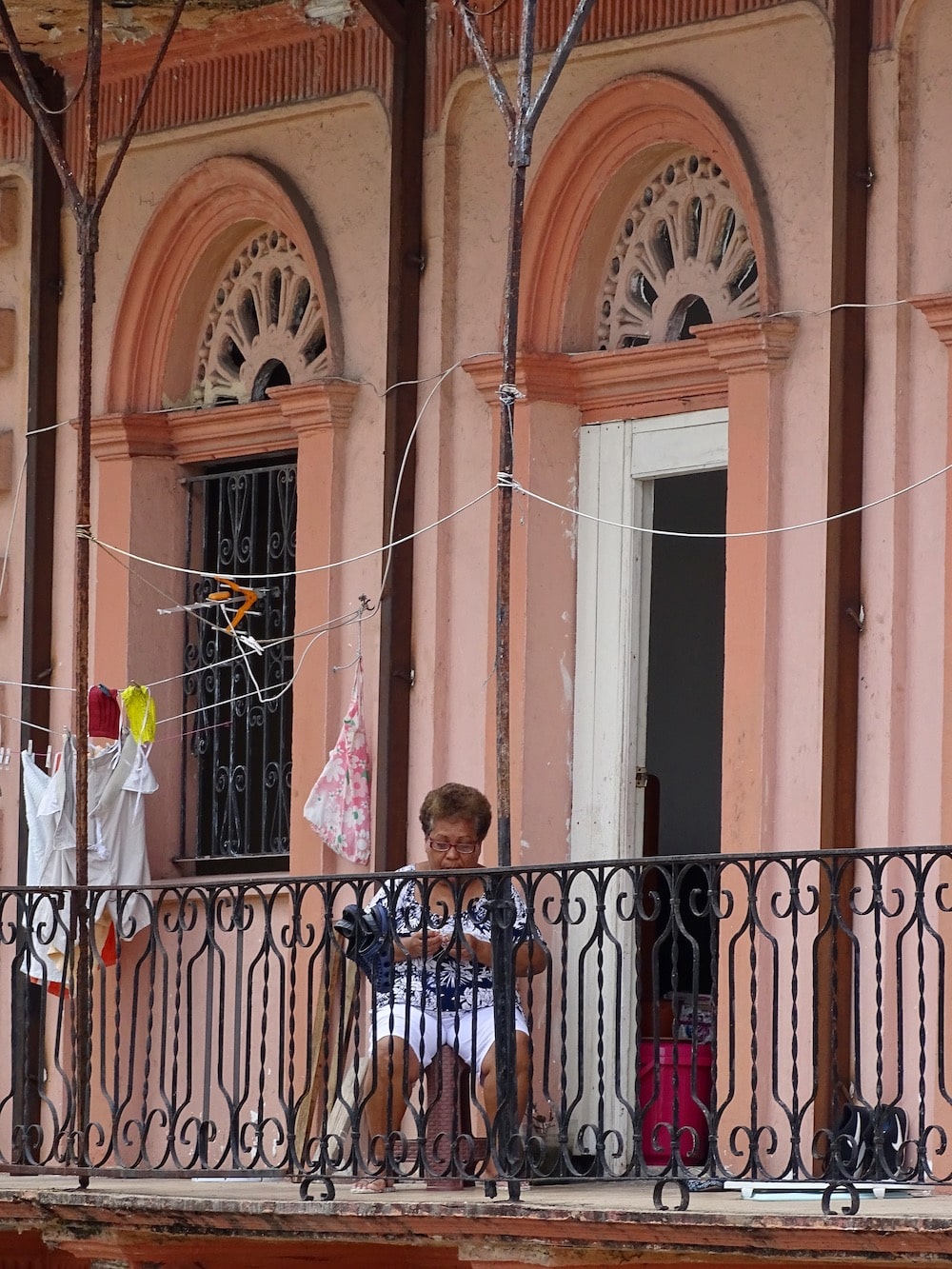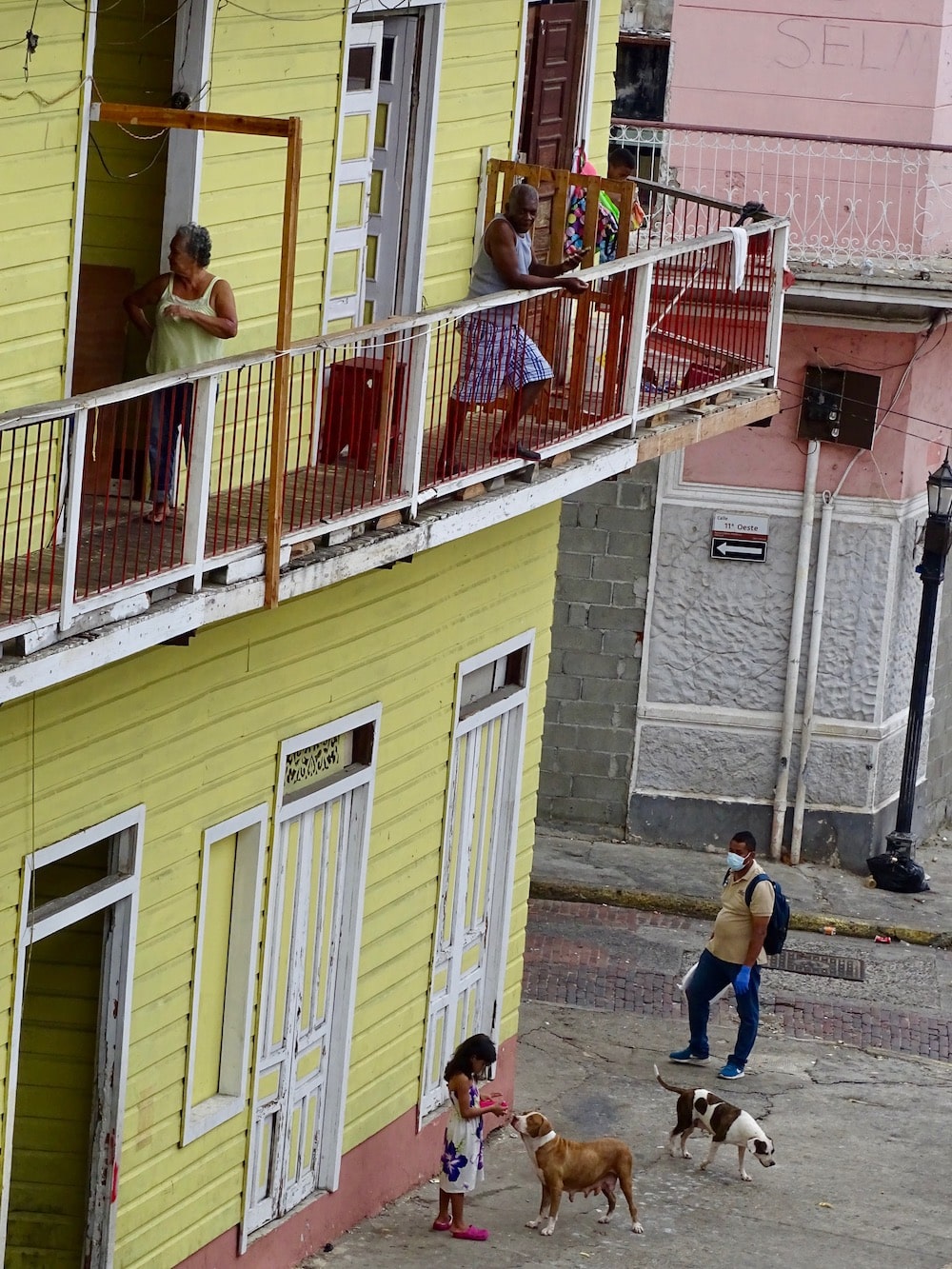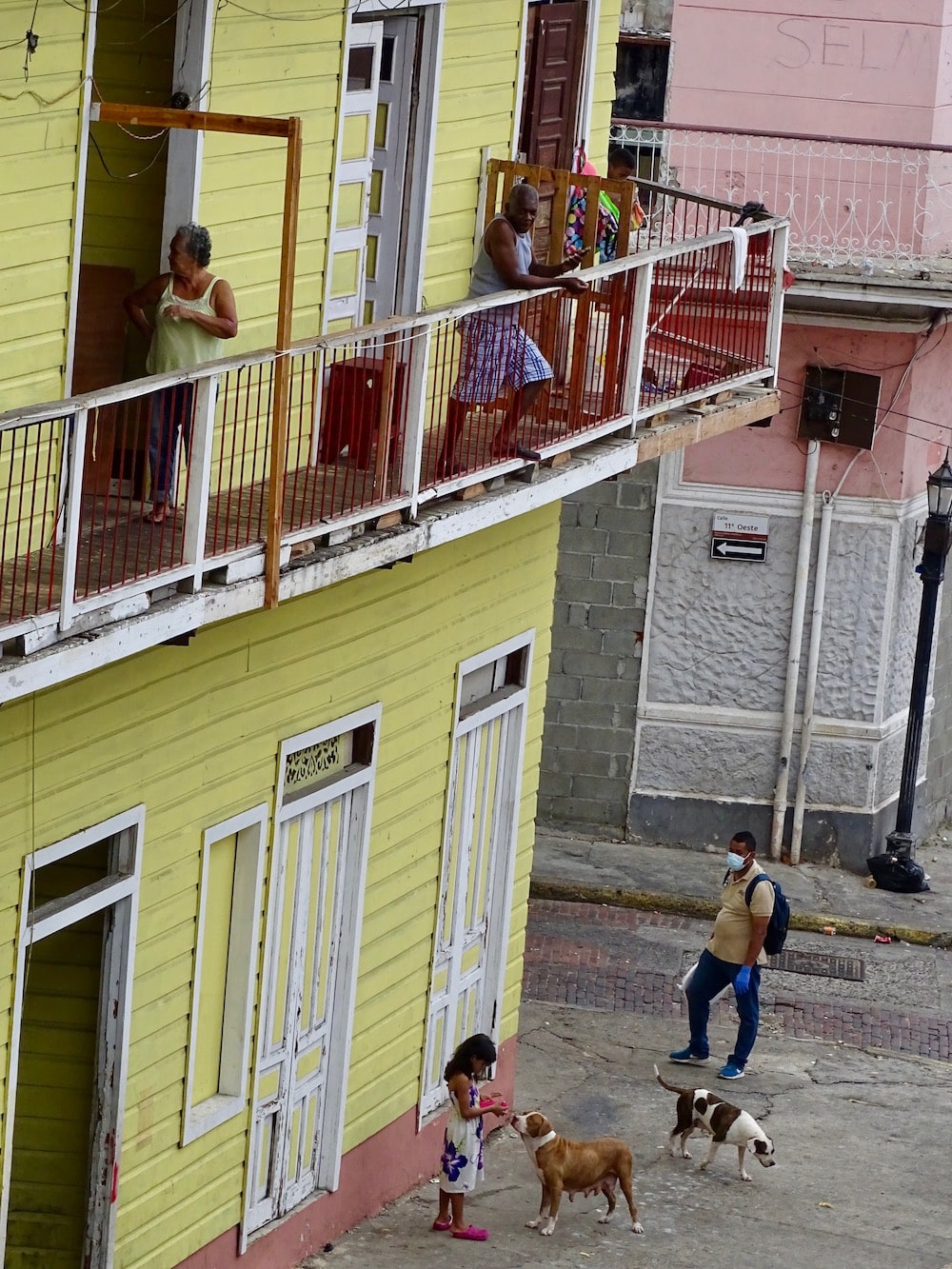 Architecture in Casco Viejo varies quite a lot for such a small neighborhood. Changes in architecture style were probably due to the many fires that burned down the neighborhood. The oldest buildings are Spanish colonial style, like my other apartment in Casa Maralta. Newer buildings, from the turn of the turn of the 20th century were done in a neoclassical style, and there are even a few Art Deco buildings.
Flor de Lirio is located on Avenida A and Calle 12, past Plaza Herrera. This building is right outside the wall (Casco Viejo used to be a walled off city), where the workers used to live. It is more common to find Antillean construction in Santa Ana or even in El Chorrillo. Because it is so different, it draws attention of producers and it has been used to film plenty of local commercials for clothing stores, telephone companies and beer.
Apartment 1A and 2A in Flor de Lirio are available for short term rentals in Casco Viejo. Clients wishing for longer rentals can also contact me. These apartments are quite famous, since they were both the stage during the filming of Casa del Papel (Money Heist) which is the most watched series on Netflix. After successfully stealing the Royal Mint of Spain, Rio (Miguel Herrán) and Tokyo (Úrsula Corberó) escape to Panama. They live in a deserted island with the Guna indigenous in San Blas for a while. Tokyo gets bored and decides she needs some entertainment, so she leaves Rio to come to my apartments in Flor de Lirio, Casco Viejo!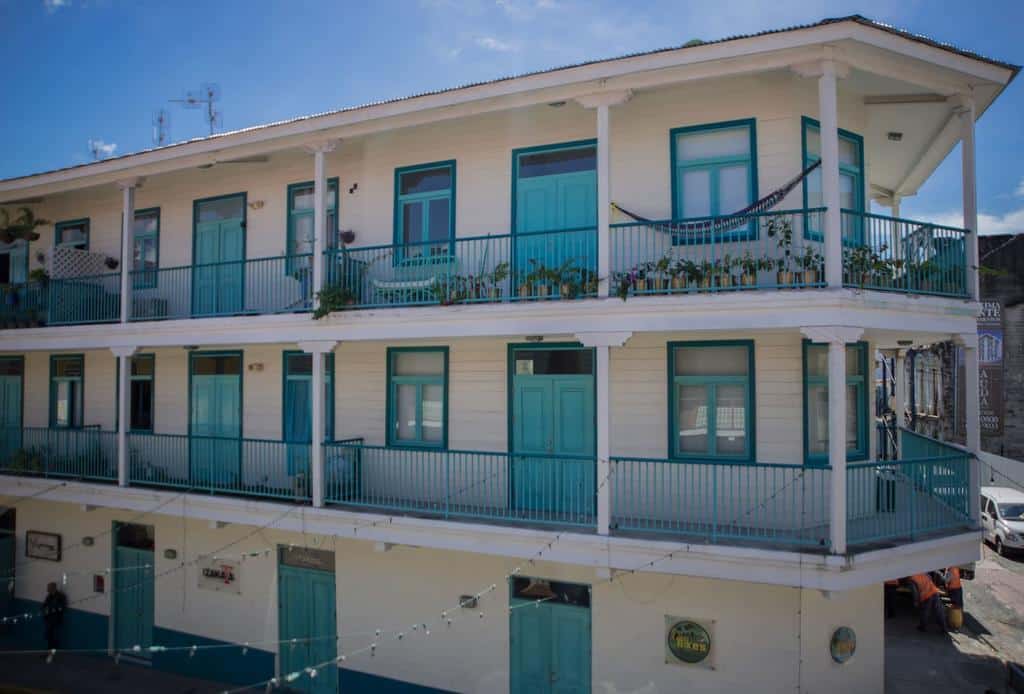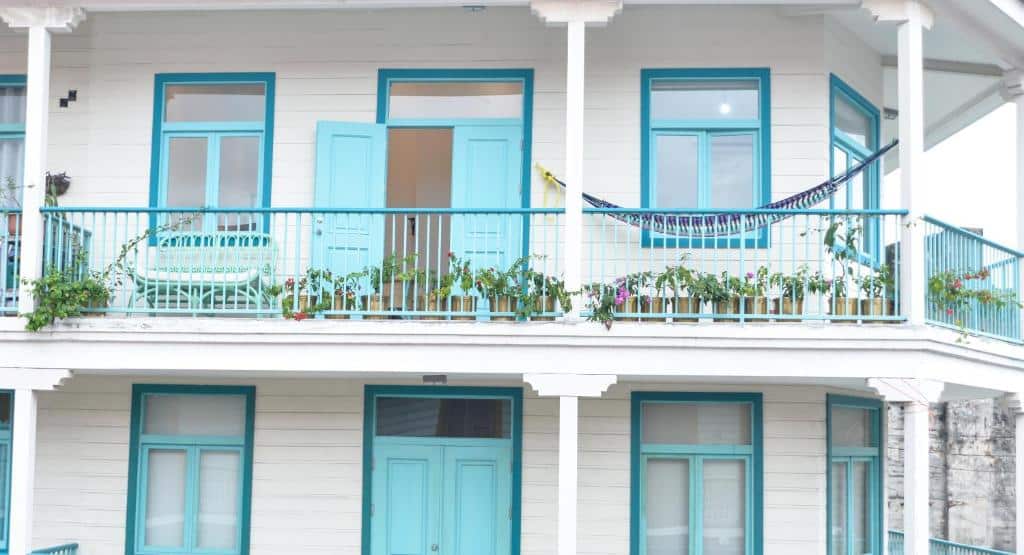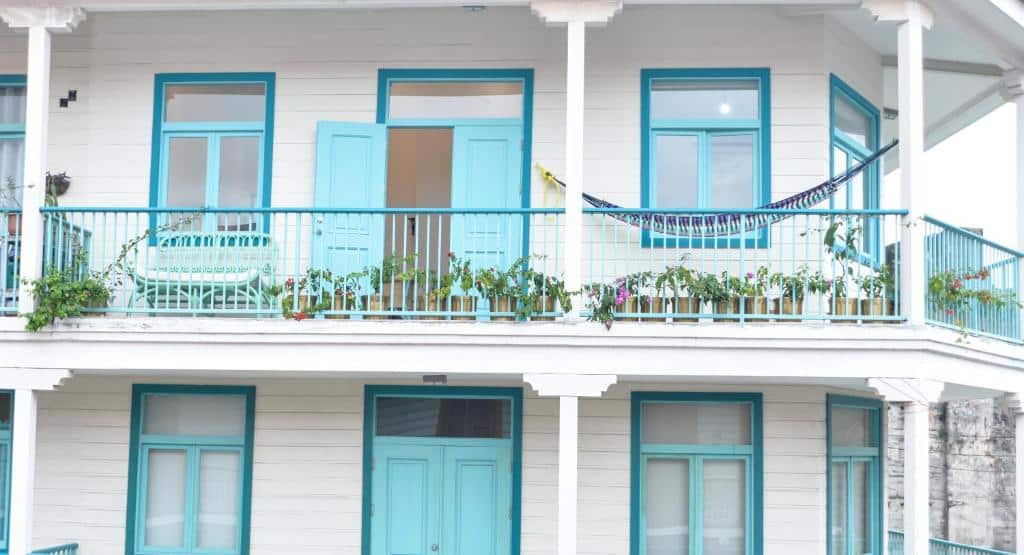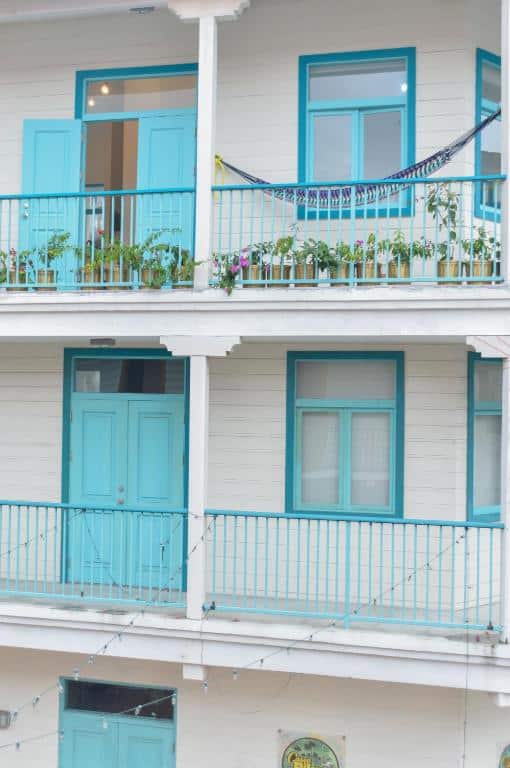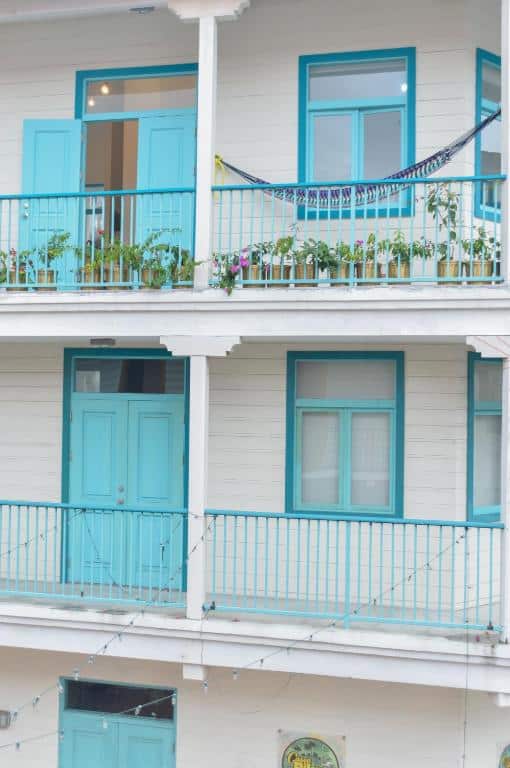 I was able to watch the process of filming the first episode of the third season. Being a fan of the show, it was exiting to meet my namesake who was in the apartments between filming her scenes. Here is a photo of Tokyo (Úrsula Corberó) from the balcony of Flor de Lirio. Back then, Hippies Restaurant used to be on the ground floor of the building, but it moved next door to a bigger space.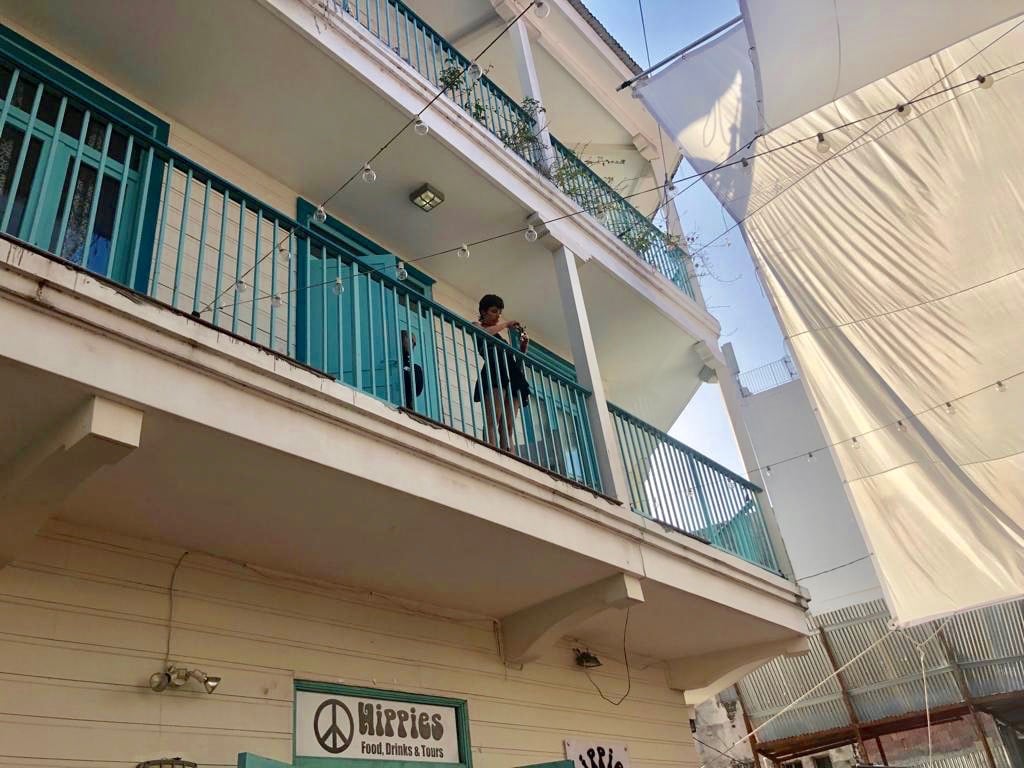 Apartment 1A and 2A of Flor de Lirio, Casco Viejo
Both apartments in Flor de Lirio have the exact same layout, they are 871 square feet (81 square meters) with two bedrooms and one bathroom. Both have a sink located outside the bathroom with a stand alone vanity and mirror. The bathroom has a shower with beautiful wall and floor tiles. Shampoo, conditioner, body and hand soap are provided for guests, as well as hand and body towels.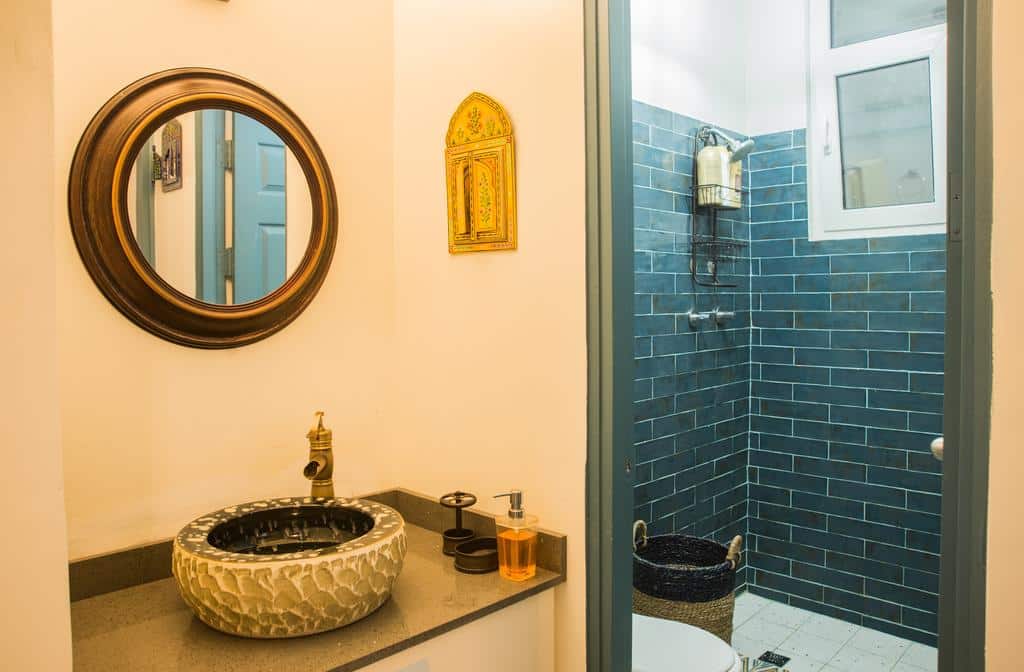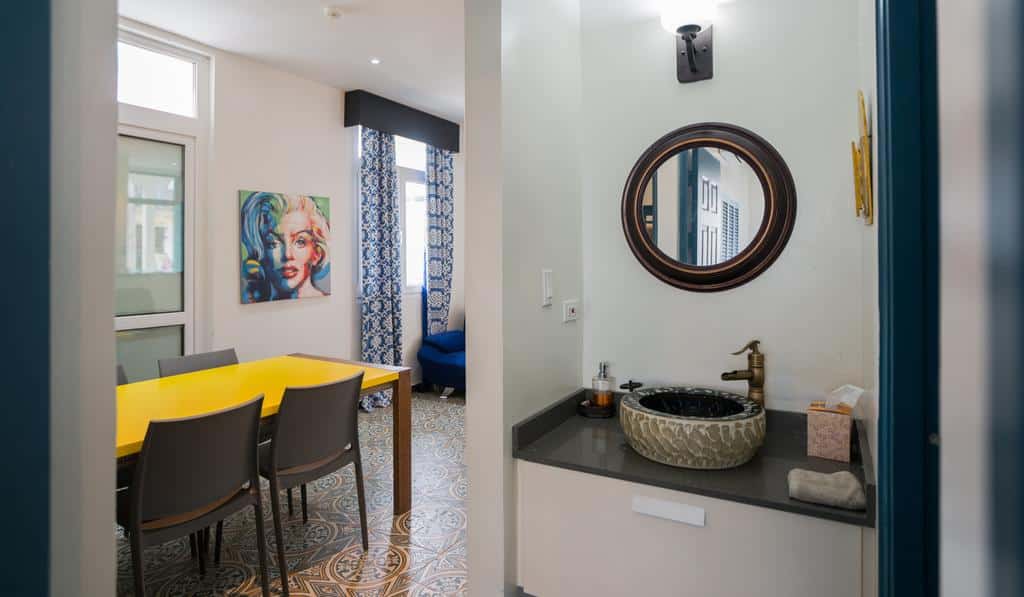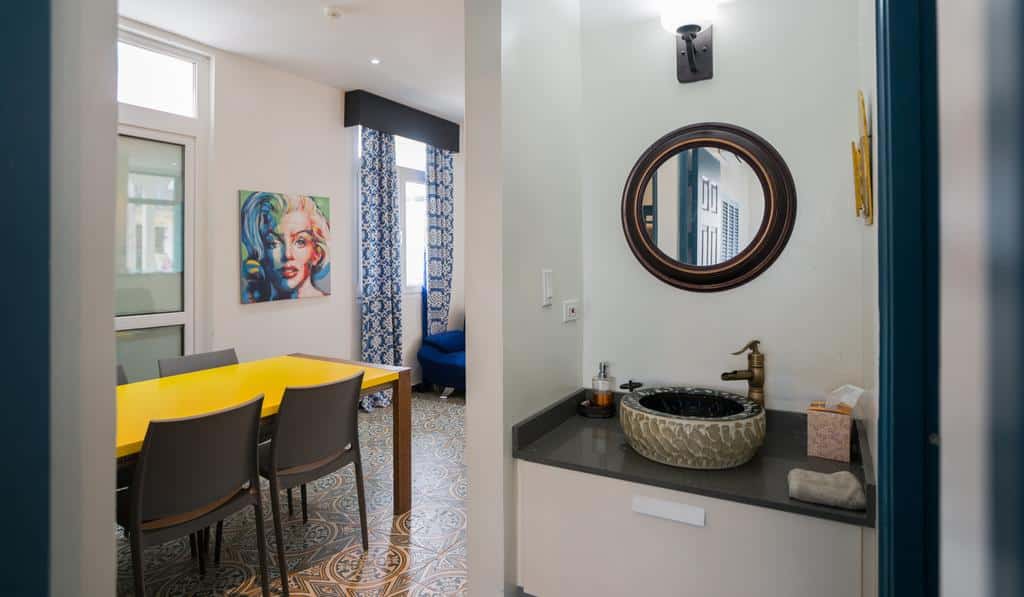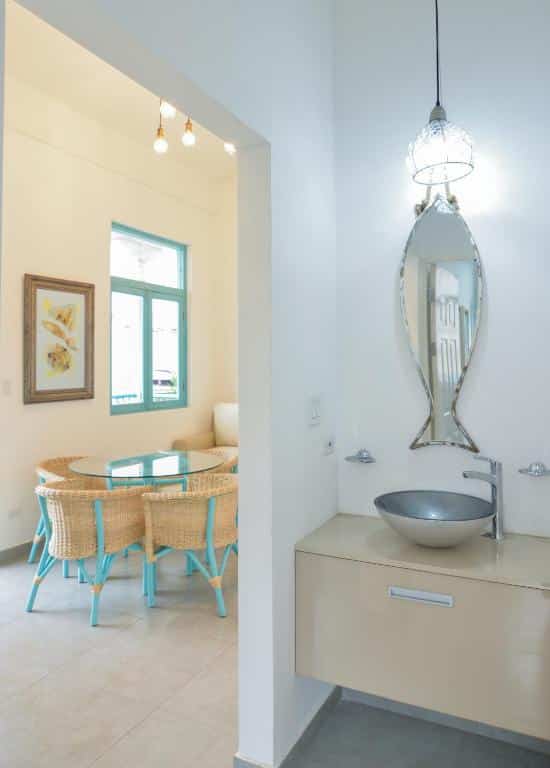 A huge terrace loops around the property, from the front door to the balcony door. Both terraces have plants (2A has bougainvilleas and 1A has palm trees), chairs and a hammock. It is a good place to watch the neighbors and people pass by. At the end of the terrace, towards the front door there is a laundry center with a washer and a dryer. An iron and ironing board are also available for the use of guests.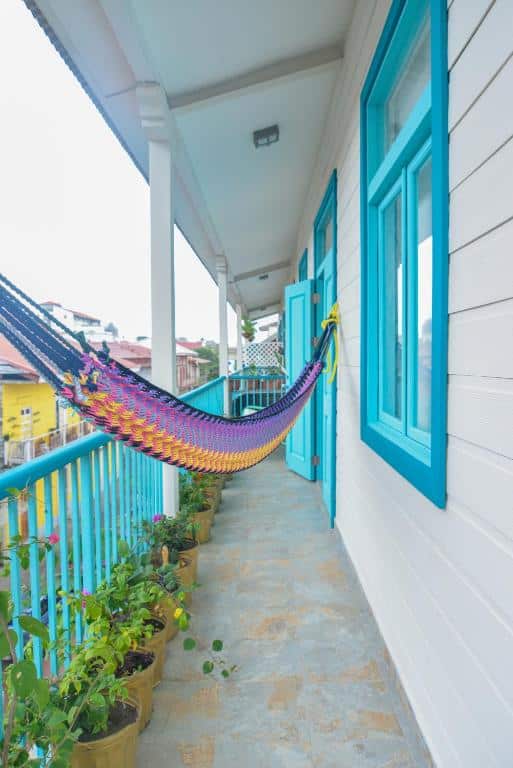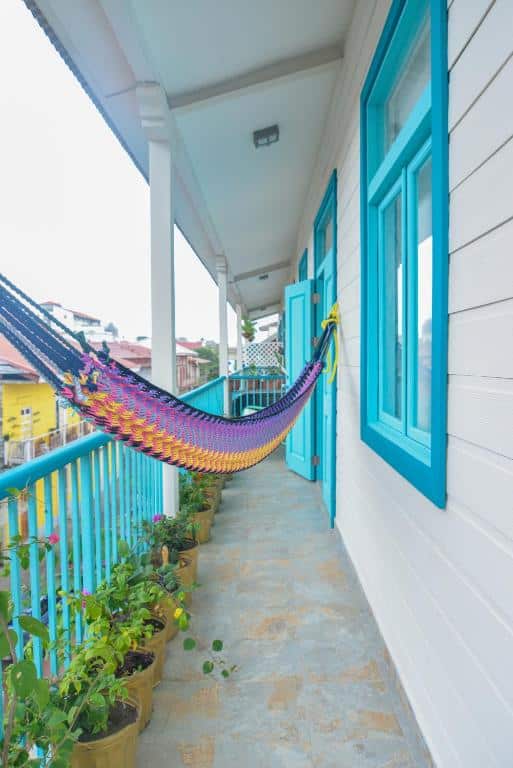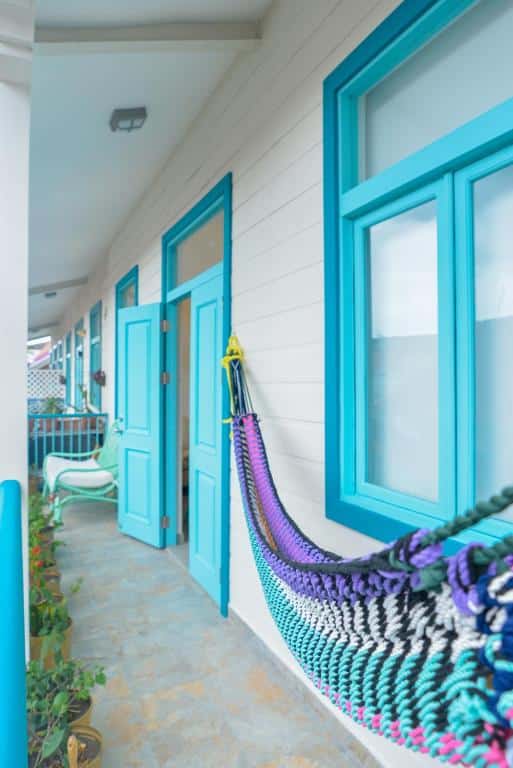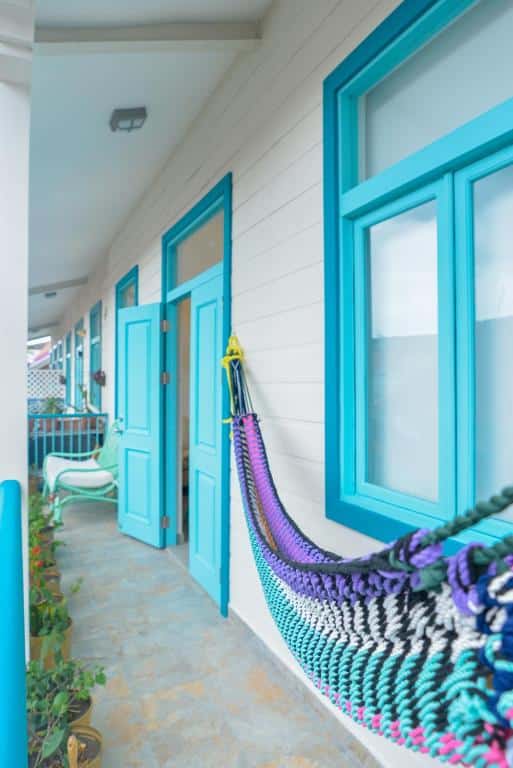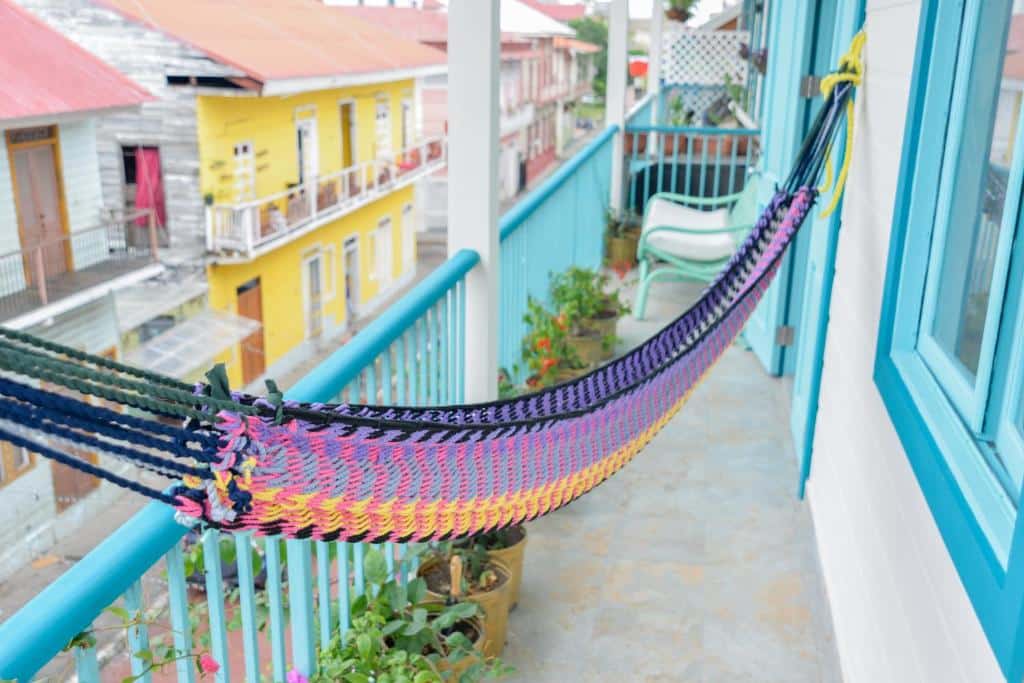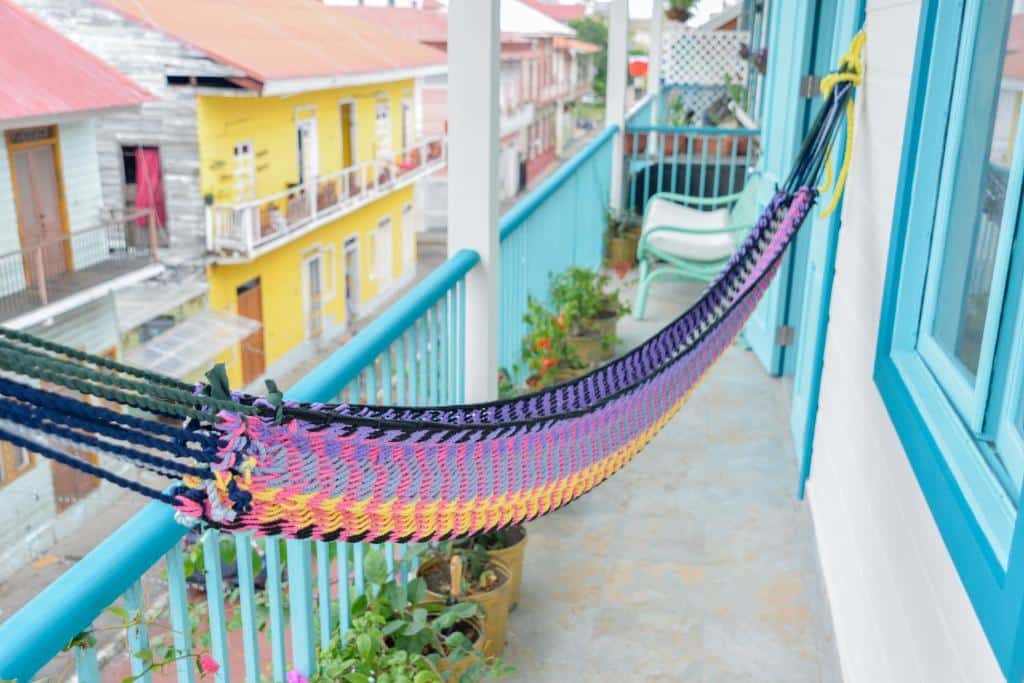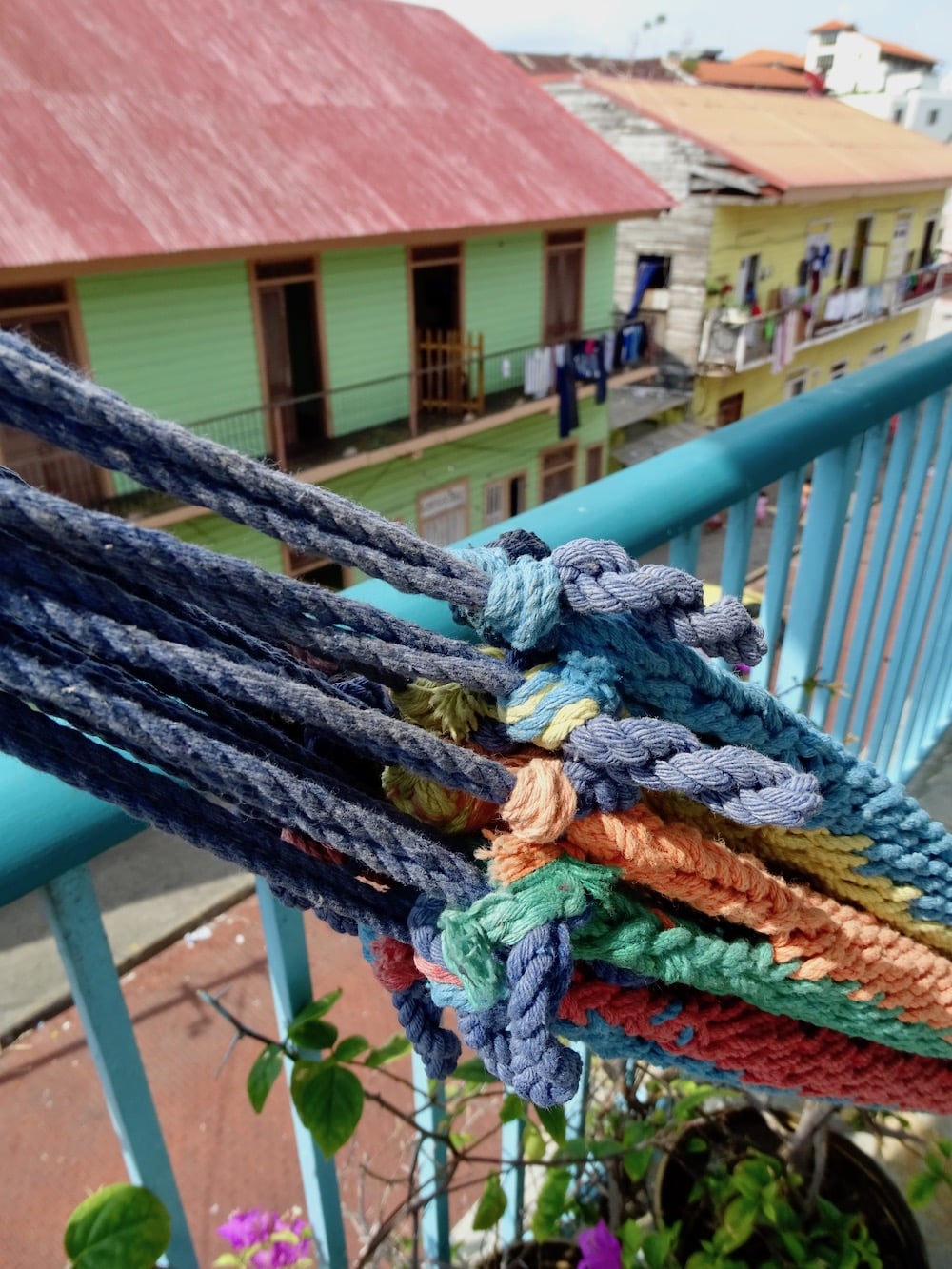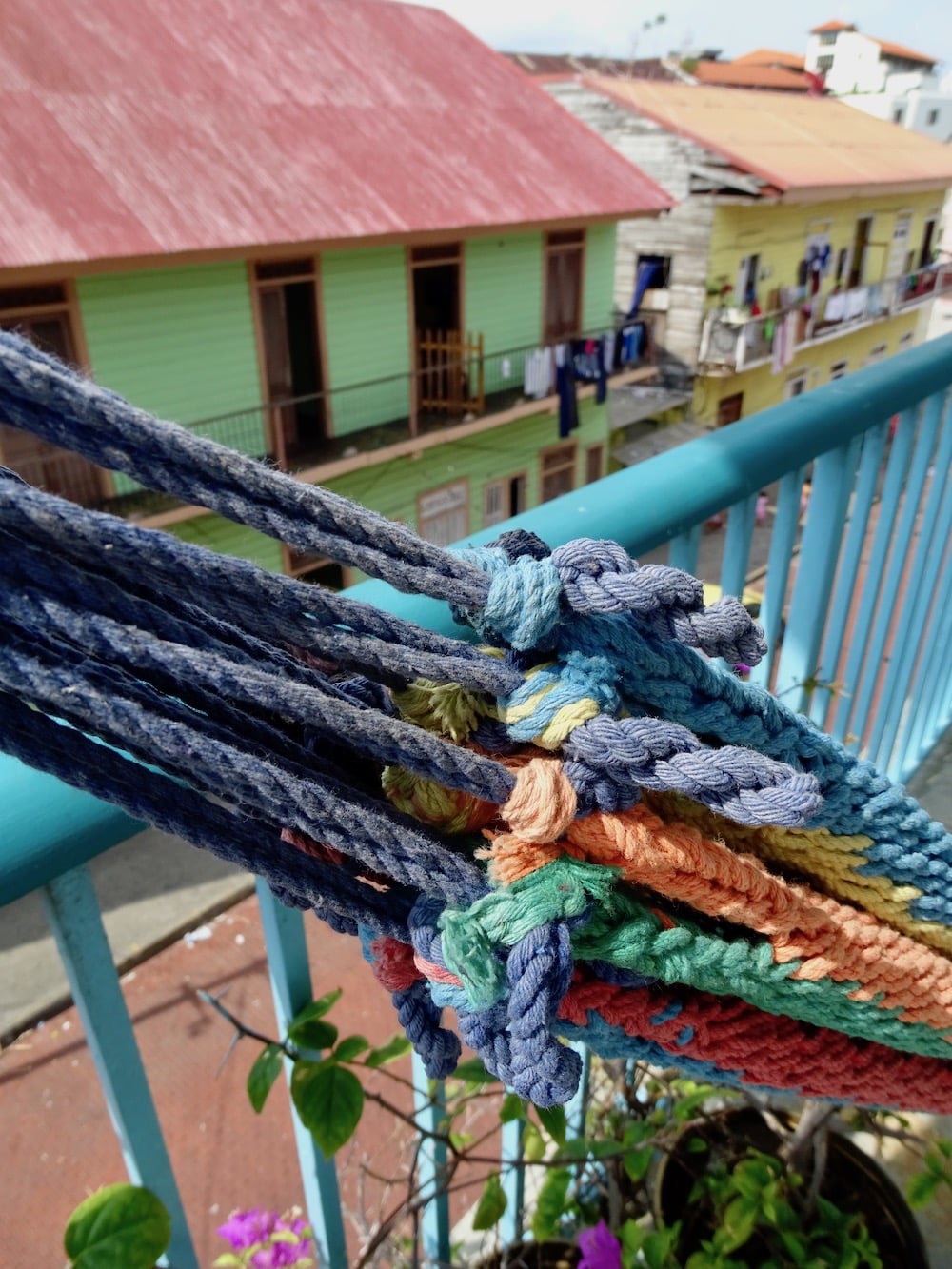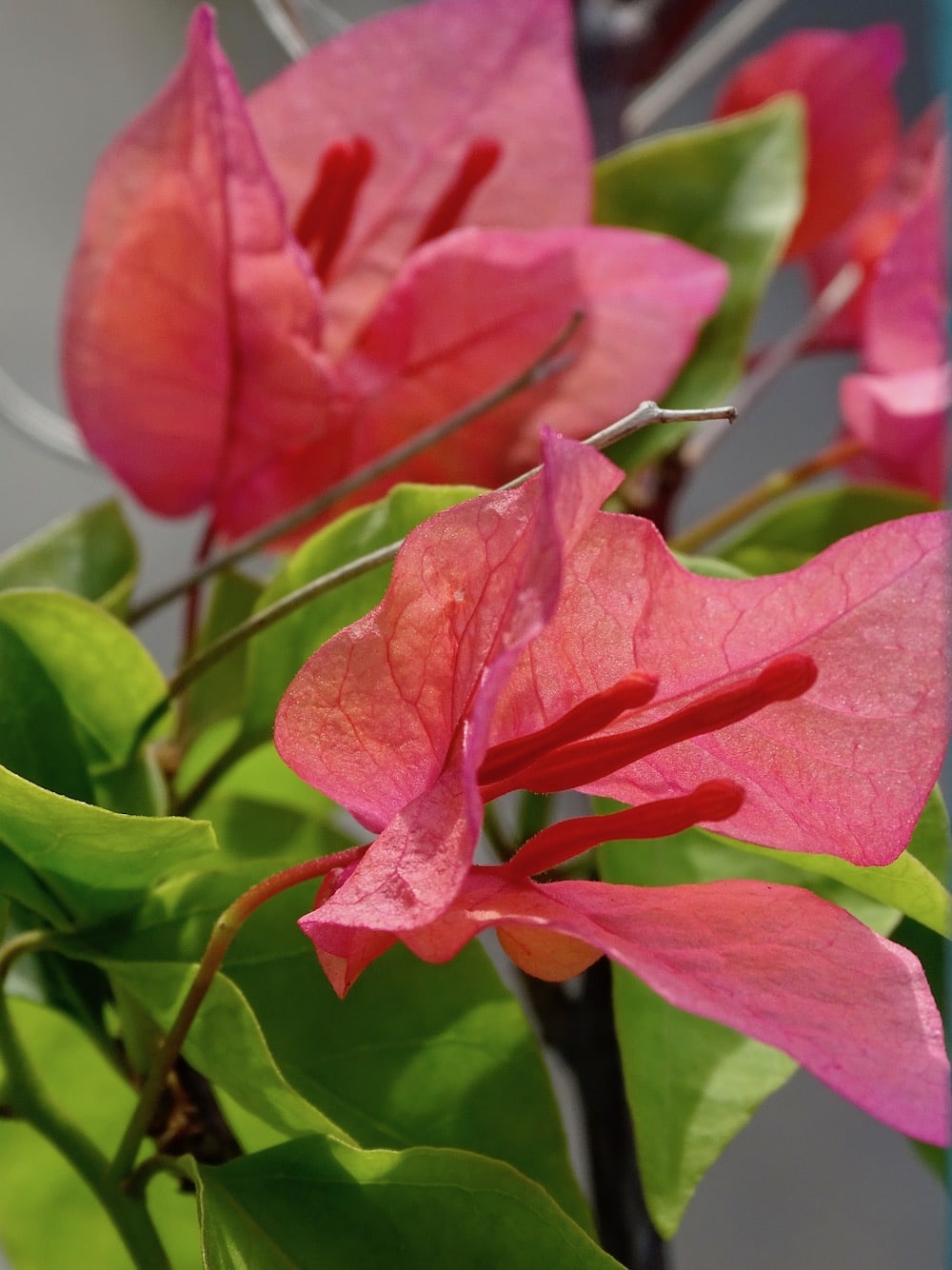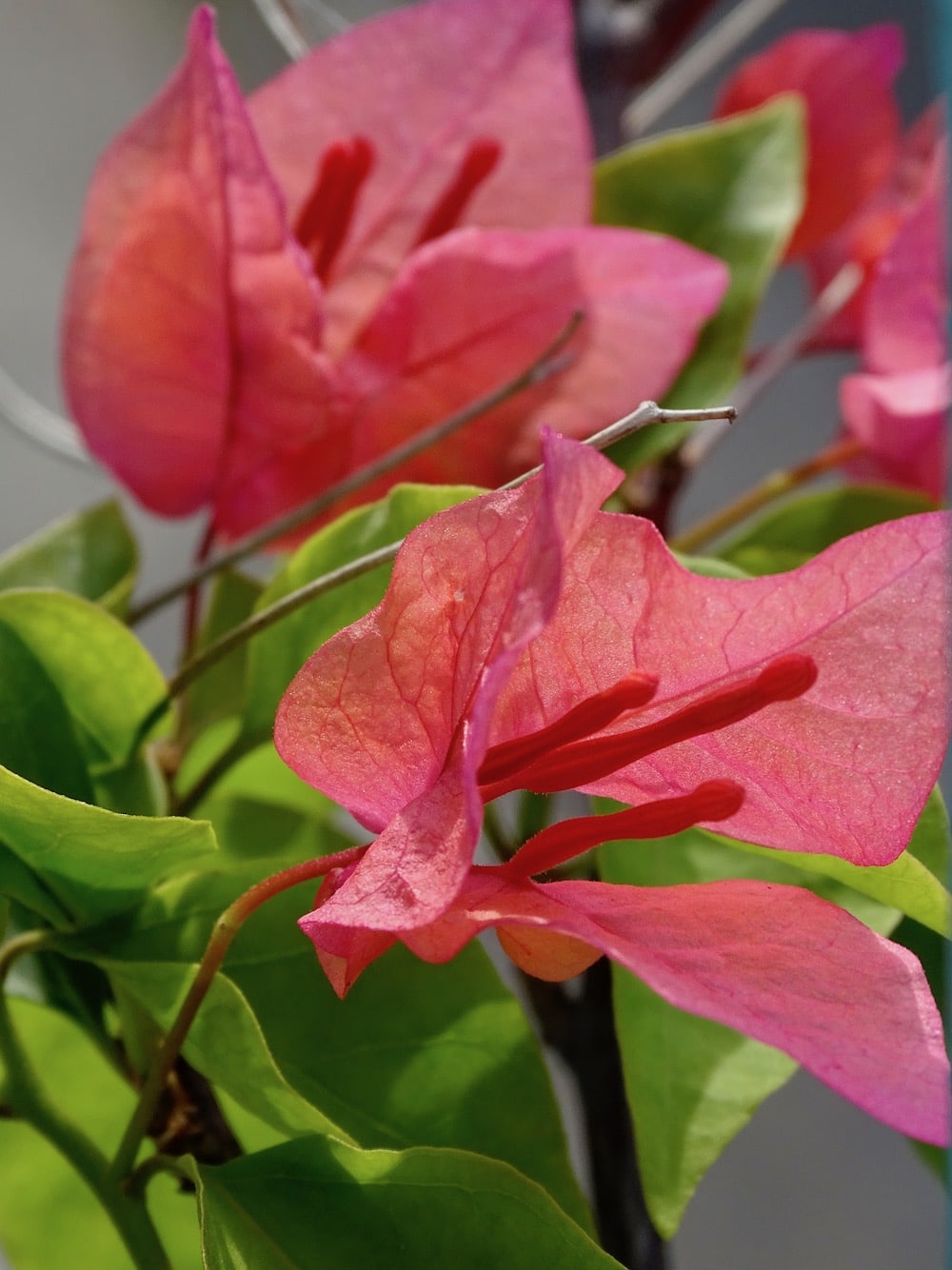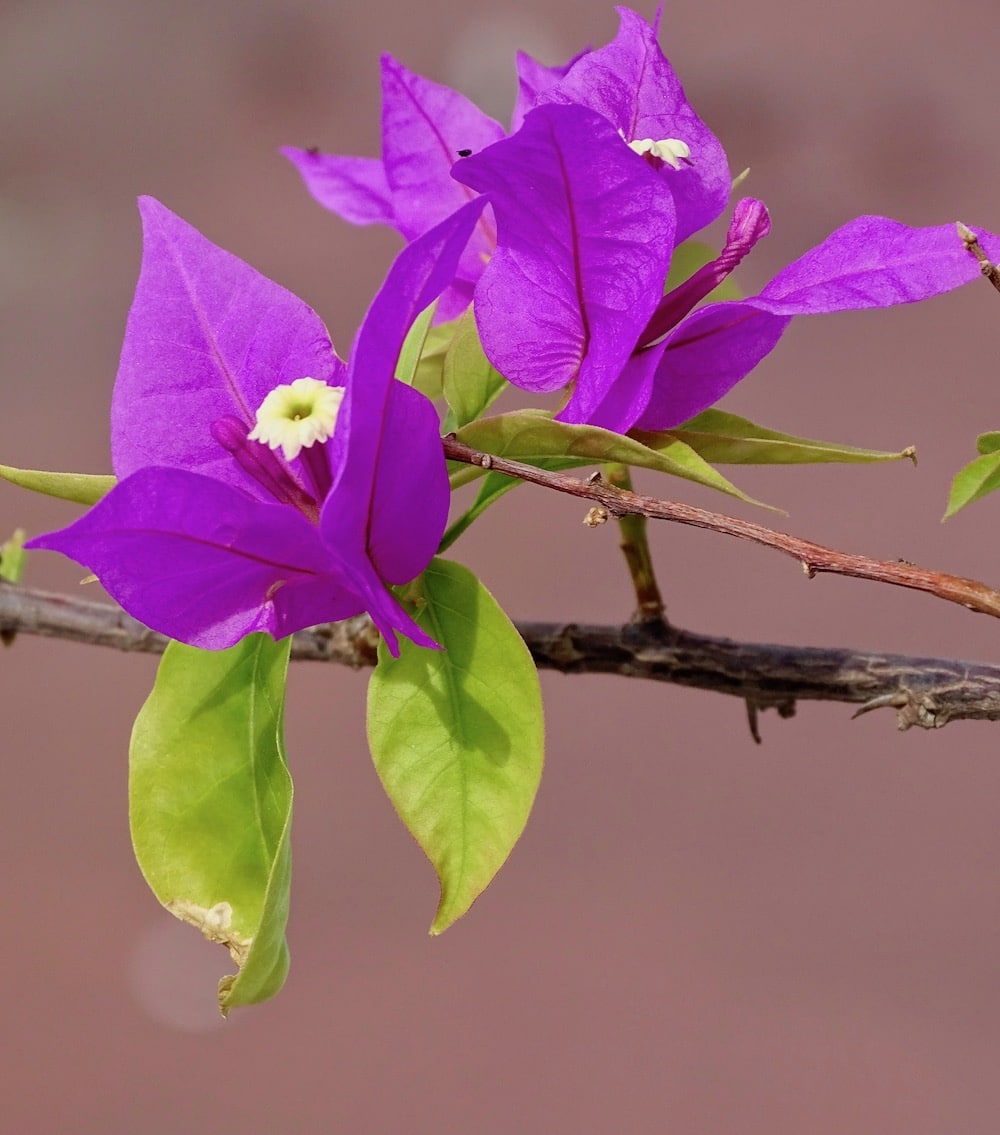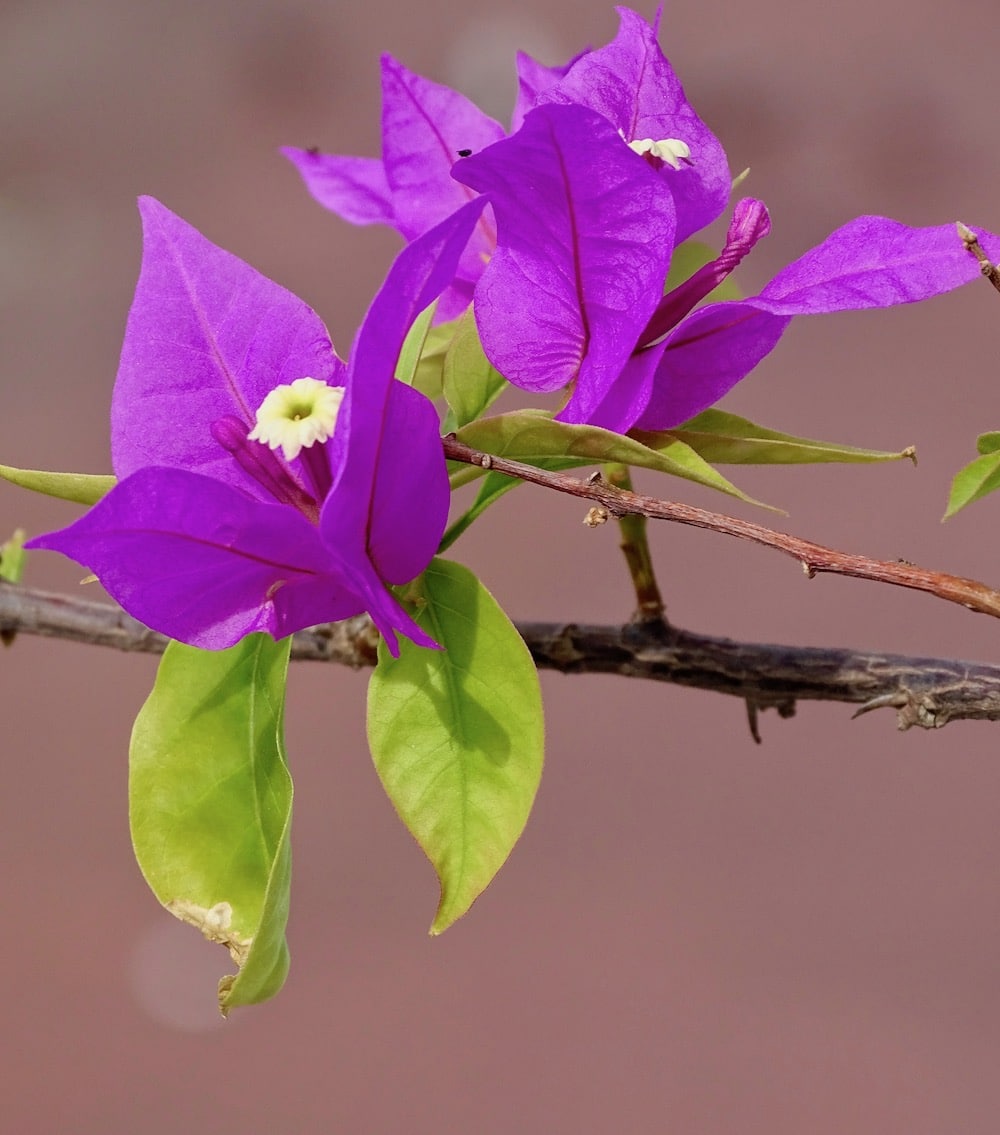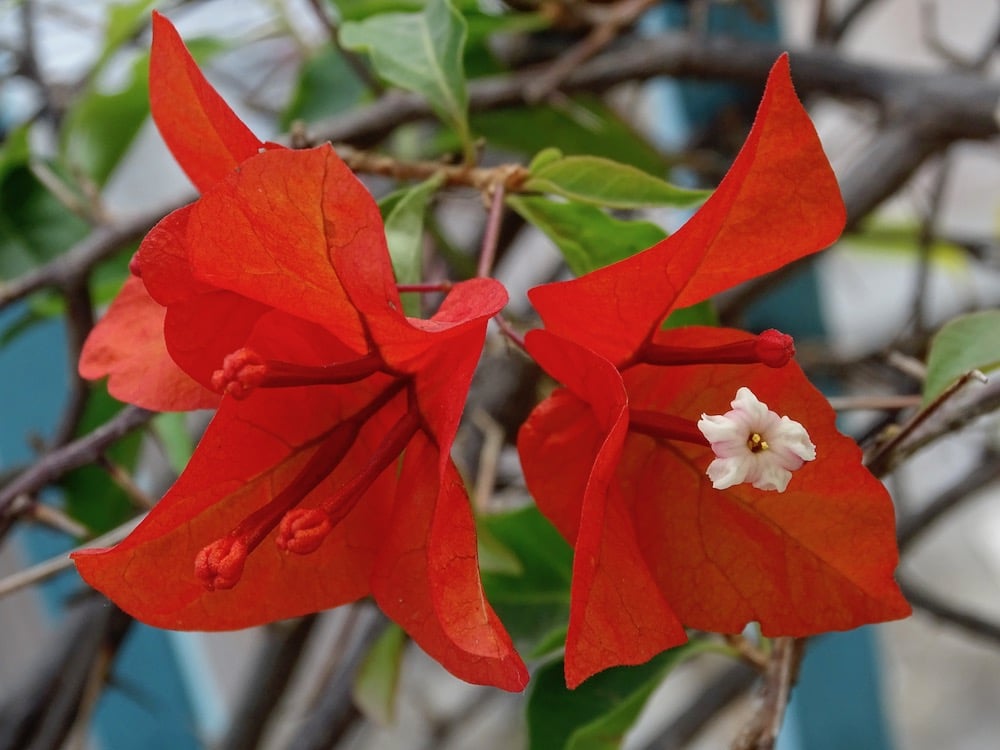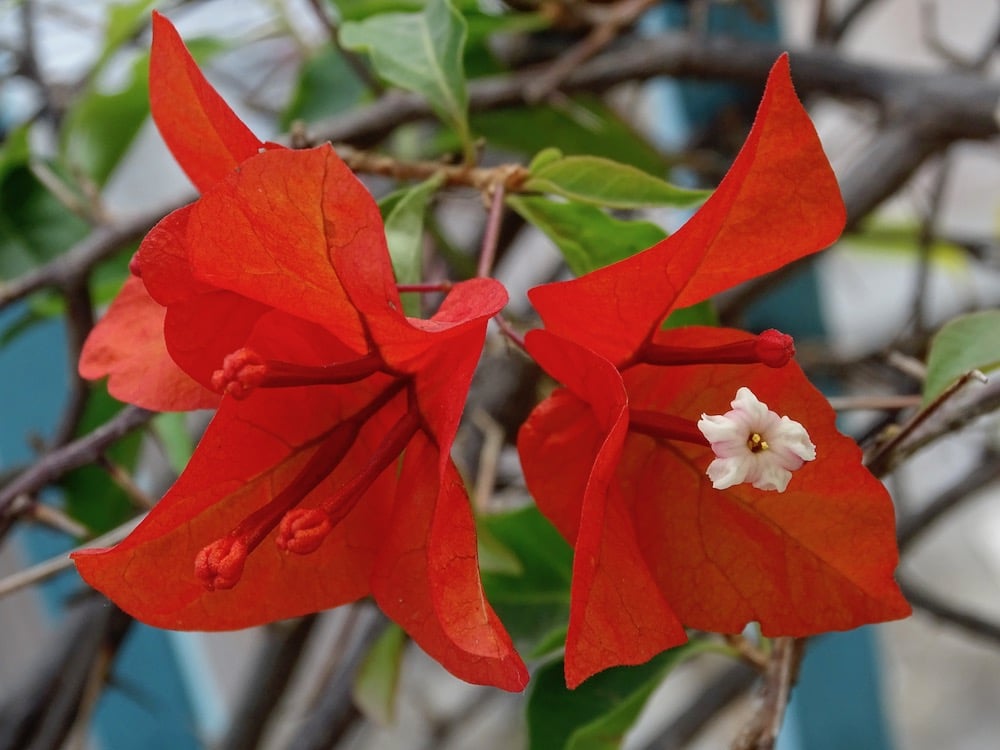 The decoration varies between apartments, however the layout is the same. They both have two bedrooms, the main one has a queen size bed and the secondary room has a bunk bed with a full and a twin bed. Up to five people can stay, including children. Both rooms have air conditioning and a closet or shelve space. Cribs are available for those traveling with infants and the apartments are pet friendly.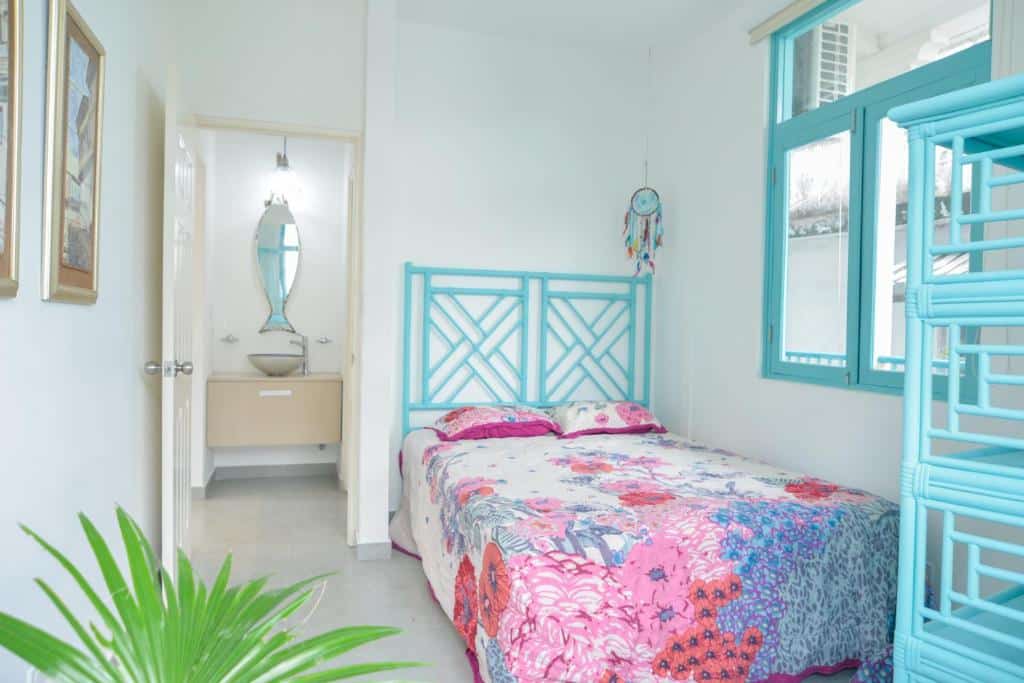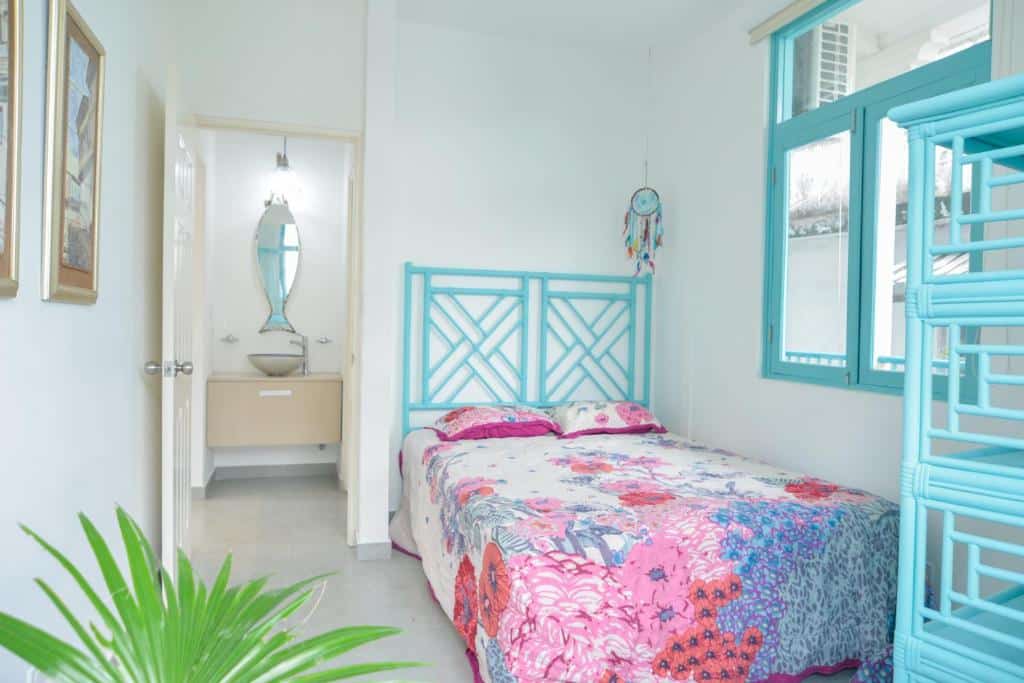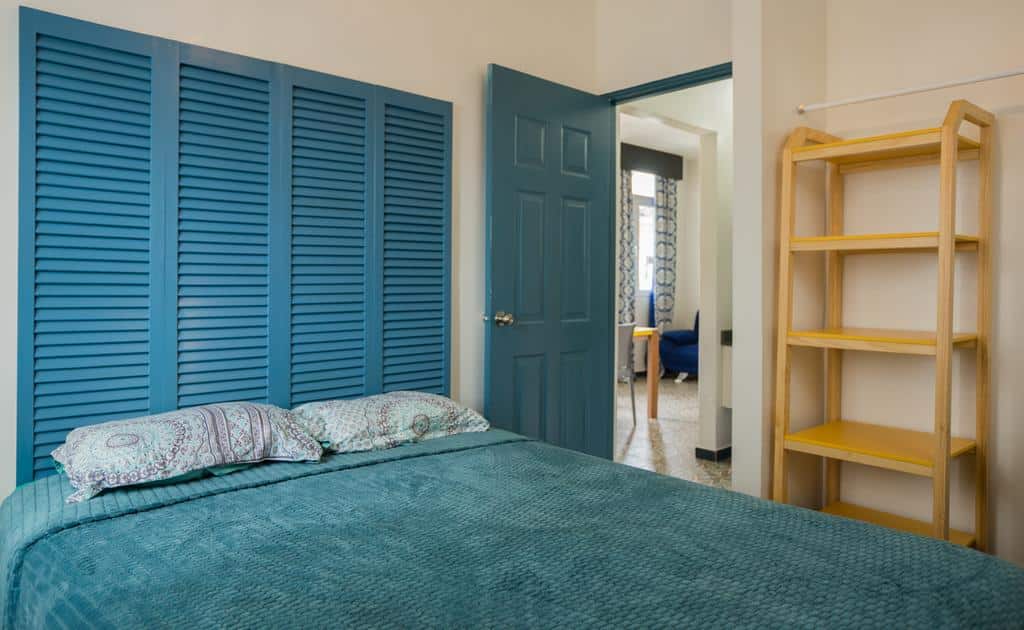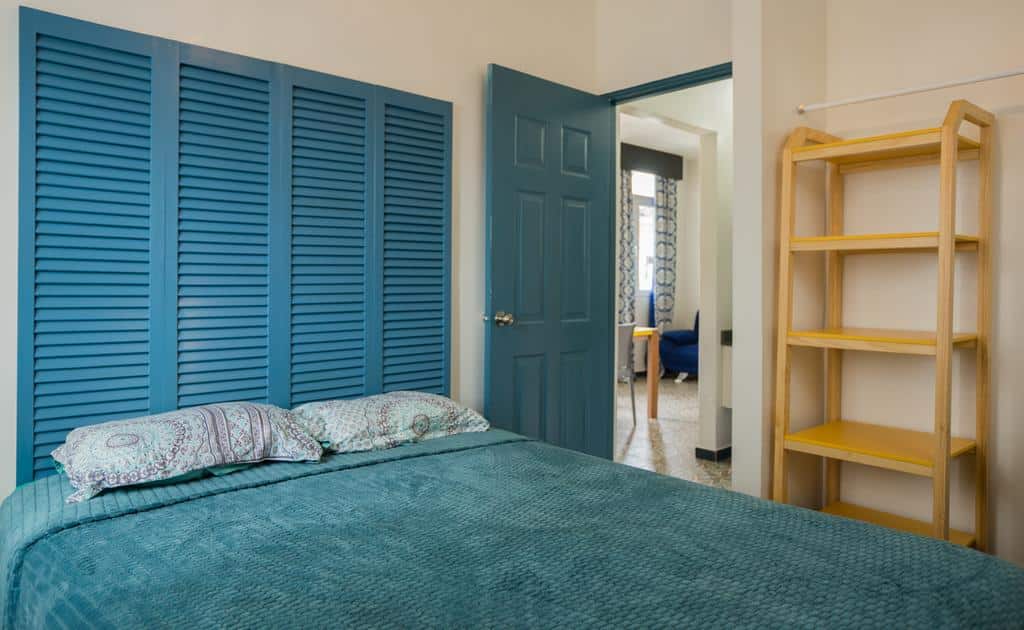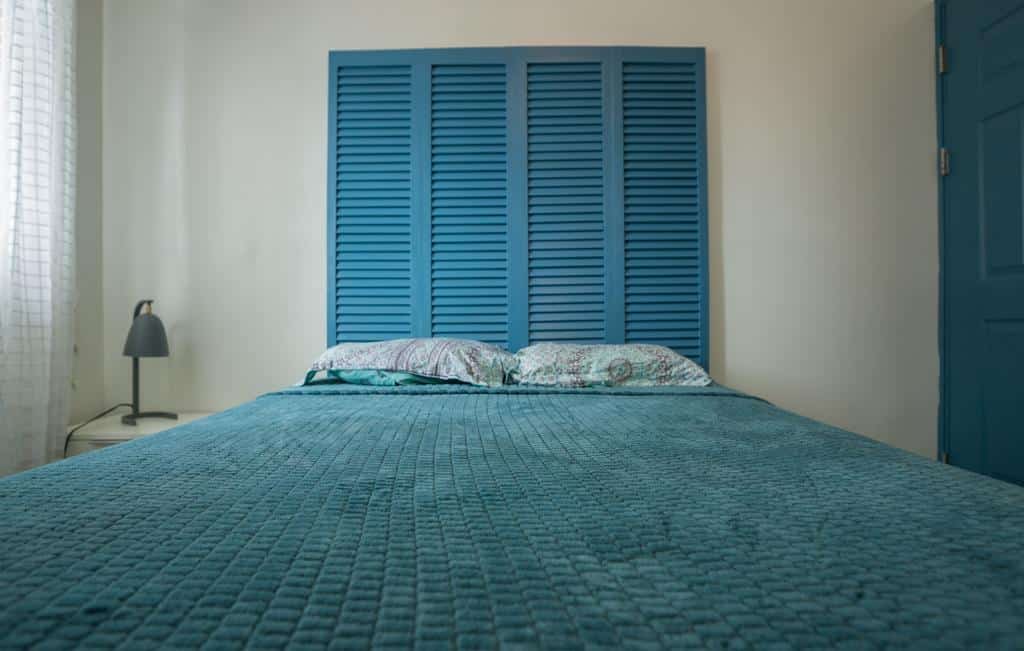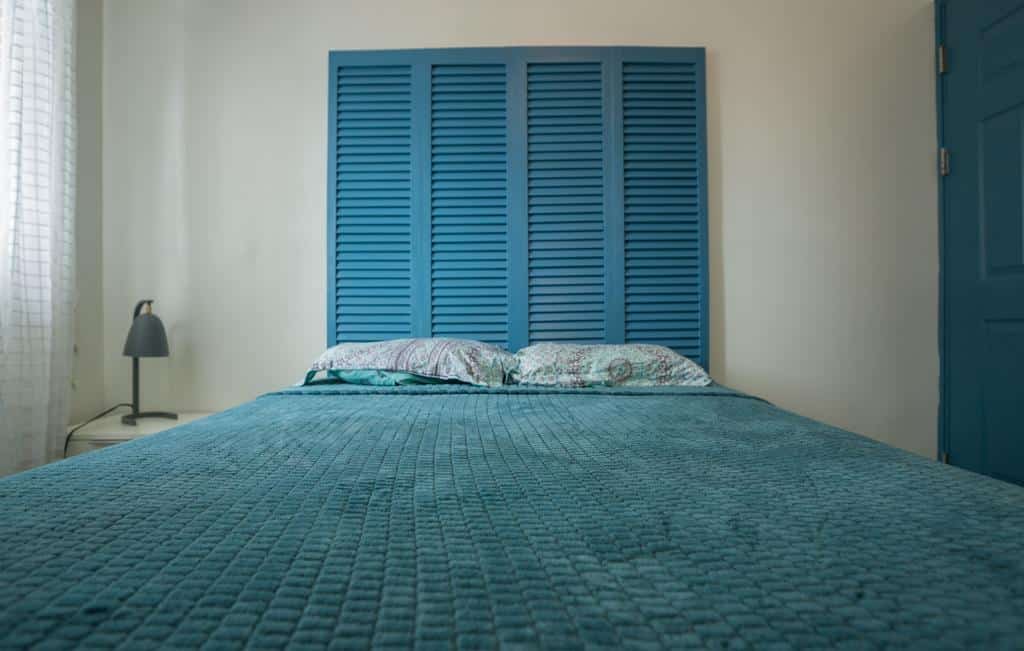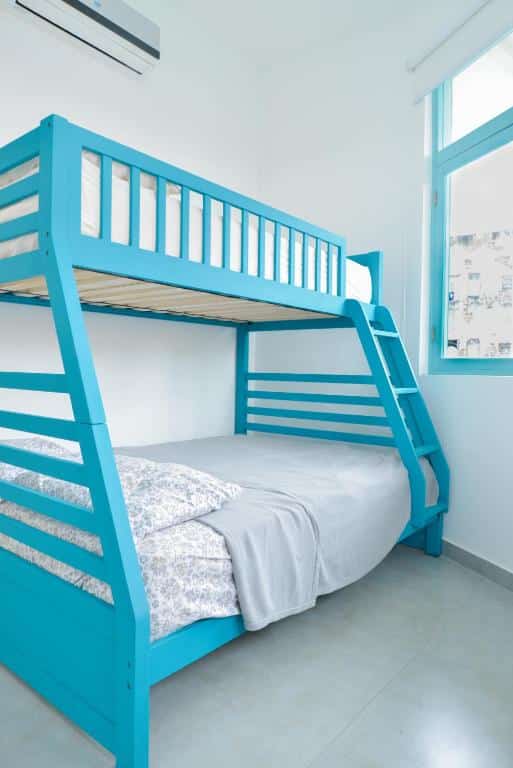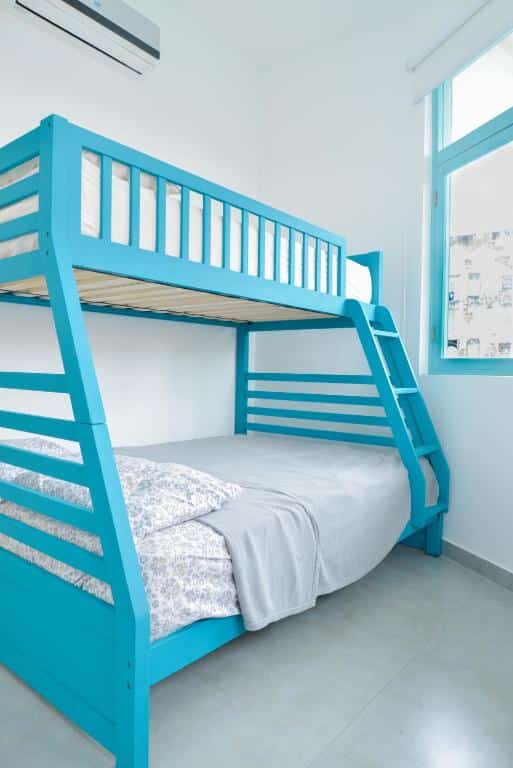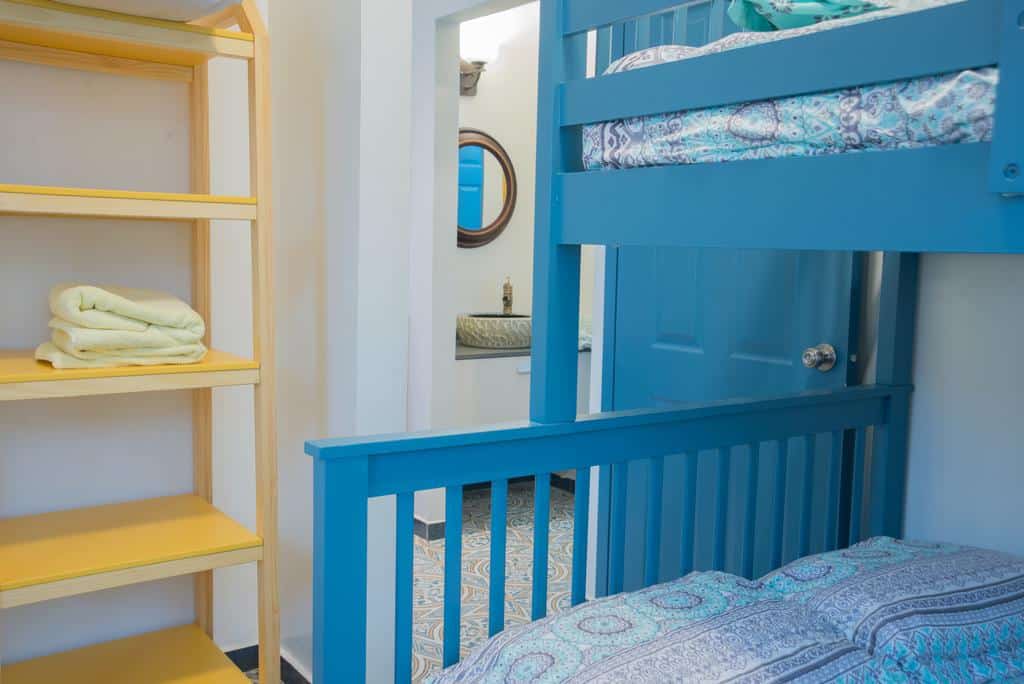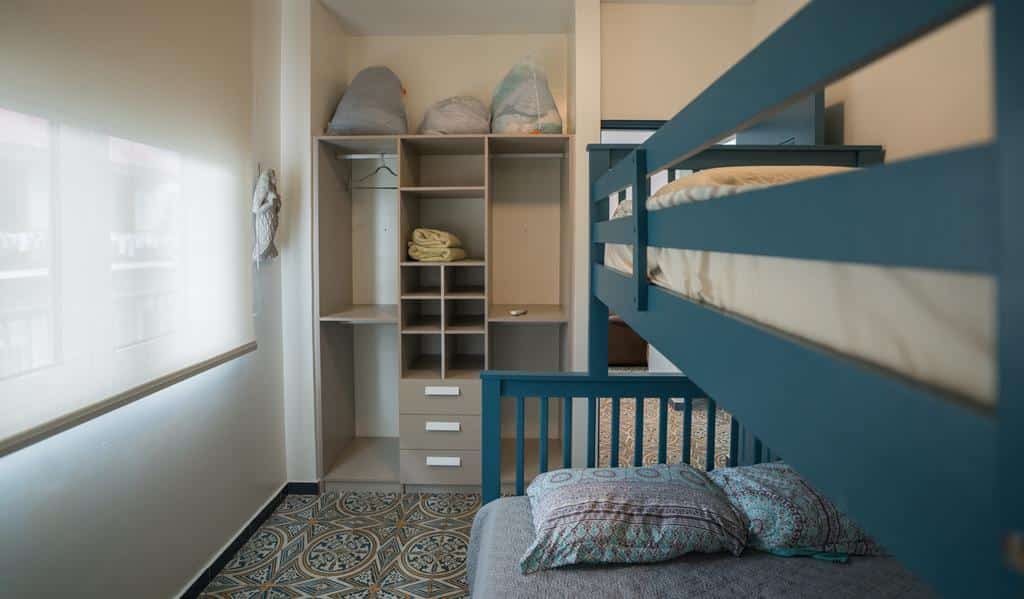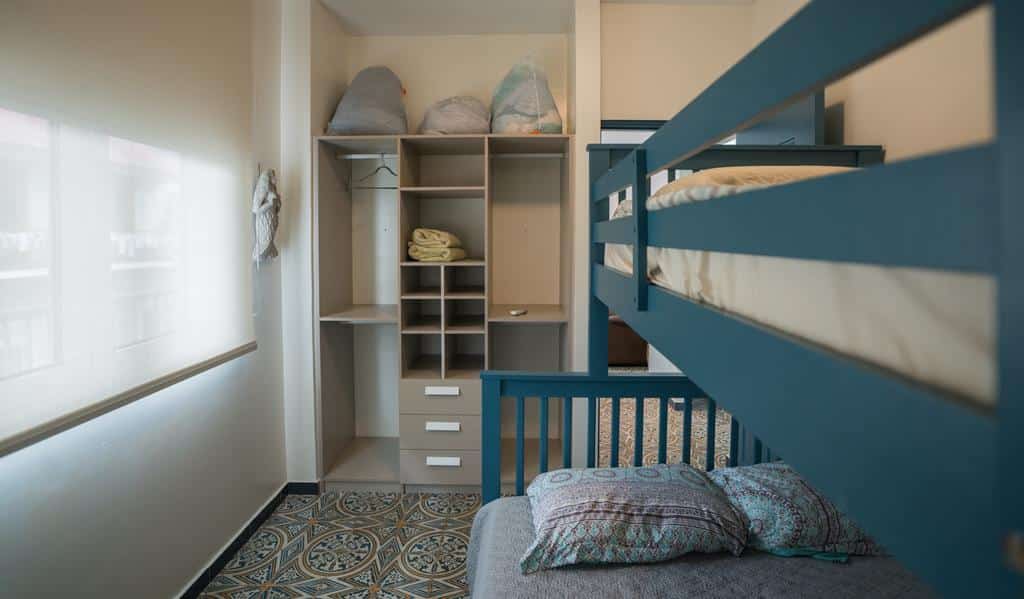 Apartment 1A has a television in the living room, while 2A has it in the main bedroom. There is no cable, so guests have to connect to their Netflix or Amazon prime account. WiFi is with a satellite and the service is very good. Apartment 2A has a very high ceiling in the living room with an industrial pipe lamp with vintage light bulbs. The decor is turquoise and beige, with a rattan table that sits four and a sofa. While 1A has incredible floor tiles, a table that sits four and a sofa. This apartment in Casco Viejo has a blue and yellow theme. Both are sound proof, including walls, doors and windows.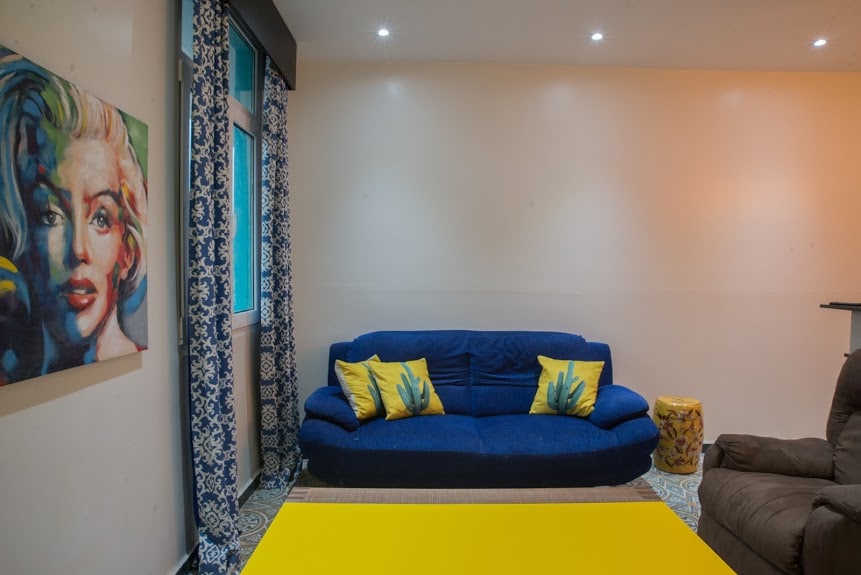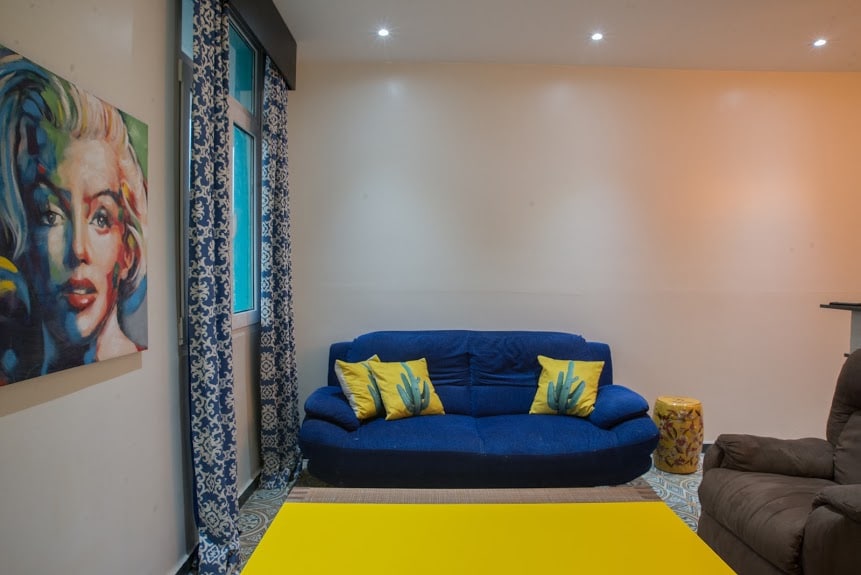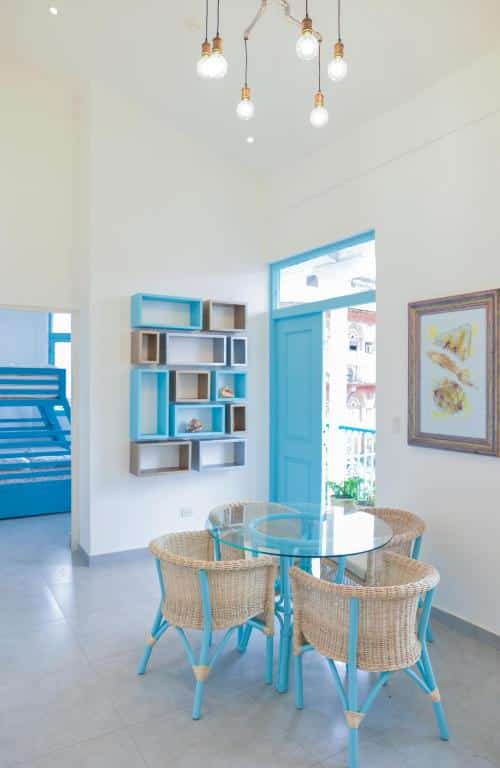 Each apartment has its own kitchen which is set up in an open floor plan with the living room area. They have granite countertops, a breakfast bar and cabinets. They are fully equipped with refrigerator, stove, microwave, coffee maker, blender, bottle opener, pots, pans, dishes, glasses, cutlery, spices and basic supplies. As well as cleaning products, paper towel, sponges, and water filter. Coffee and tea is provided for guests free of charge in these apartments in Flor de Lirio.