The idea of creating the Puerta Sur in Casco Antiguo started in 2017 when the community suggested creating a mobility center for the historic quarter of Panama City, Panama. In theory, this would be the first public transport mobility center in Panama and Central America.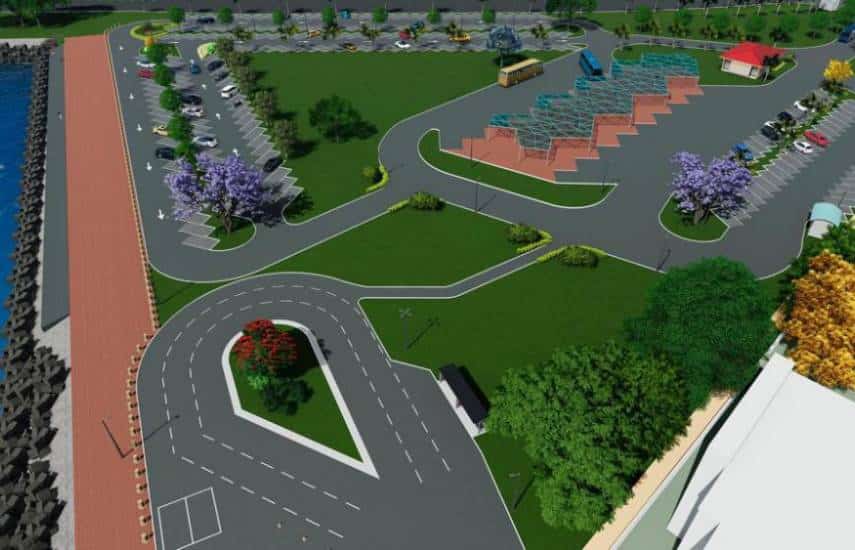 Puerta Sur is the New Entrance
Puerta Sur is located at the end of Cinta Costera 3, a controversial coastal road which borders Casco Viejo connecting Avenida Balboa with the Amador Causeway and the Bridge of the Americas. This project will be set up in front of the "multi familiares" which are buildings that host many families in Barraza. Avenida A and Calle 12 will become the official secondary entrance of Casco Antiguo. This is where my two vacation apartments are located in Flor de Lirio right in front of La Cuadra Market.
Having Puerta Sur will help provide a better experience for tourists and local visitors. This area will be a stopping point for the electric buses of MiBus that currently operate in Casco Antiguo. It will also be where people can take the new open trolley system that has space for 12 to 15 passengers.
This project is being done in a collaboration between the Mayor's Office of Panama, the Casco Viejo Office of the Ministry of Culture and the Transit and Land Transportation Authority. Puerta Sur is being financed by the "Live Patrimony" program of the Inter-American Development Bank. Puerta Sur is an eco-friendly project that will also improve infrastructure in the area including lighting, sidewalks, painting, and signaling,
There is a recreational area included in this project and the modernization of two synthetic sports fields, as well as the Gymnasium Jesús 'Máster' Gómez. Some trees needed to be cut down for the project but there will be more trees planted. The Plaza of the Poets will be reconfigured to have a more protagonist space.
Parking Problems in Casco Antiguo
Casco Antiguo was included to the list of UNESCO's Patrimony of Humanity sites in 1997. Some of its buildings date back to 1673. Streets are quite narrow, allowing the passage of only one vehicle since they are all one way streets. There are no two lane streets inside the 12 streets that compromise the old town of Panama City. Therefore there is very little parking in a place where thousands of vehicles pass per day.
It is not only the tourists that are going to Casco Viejo, it is also the people who work in the businesses, restaurants and hotels in Casco Antiguo. Additionally there are still some government institutions including the Presidential Palace of Panama, the Bolivar Palace or Ministry of Foreign Affairs, Ministry of Government and the Municipality. The Ministry of Culture was recently moved from Plaza de Francia to the El Cangrejo neighborhood. These government institutions take up most of the parking lots which were assigned for residents and visitors.
Visitors park all over the neighborhood on very narrow streets, which can be dangerous in case of an emergency since this would not allow the access of an emergency vehicle. Fire trucks or ambulances could have problems trying to reach buildings within this neighborhood.
Local residents have asked to make the neighborhood more pedestrian for ages. My ideal scenario would be one where commerce would have their goods delivered early morning. Only taxi, uber and small tourism vehicles could enter, as well as residents and commerce owners. Everybody else would have to park outside and come in with the electric public vehicles.
Puerta Sur will provide 225 extra parking spaces for local visitors and 18 spaces for tourism buses. This is great since a lot of the day visitors come from the cruises that dock in the Amador Causeway. Large buses transport these flock of tourists as they follow a guide down the labyrinthic streets of this neighborhood. The government of Panama is currently building a direct connection through a viaduct that will connect the Amador Causeway to Casco Antiguo. There will also be a security gate for national police and the Special Protection Police (SPI) to take care of tourists.