Hotel La Compañía, In The Unbound Collection By Hyatt is the top luxurious hotel in Casco Viejo. Staying in this hotel will make your Panama vacation more memorable since it is a very important historic property.
The old Jesuit ruins are one of the prettiest sites in Casco Viejo. Back when I used to live in the neighborhood they used to do parties in this location. Now the Hotel La Compañía is doing events in the ruins again and it has so many restaurants and bars that it has so much to offer even for those who are not staying there.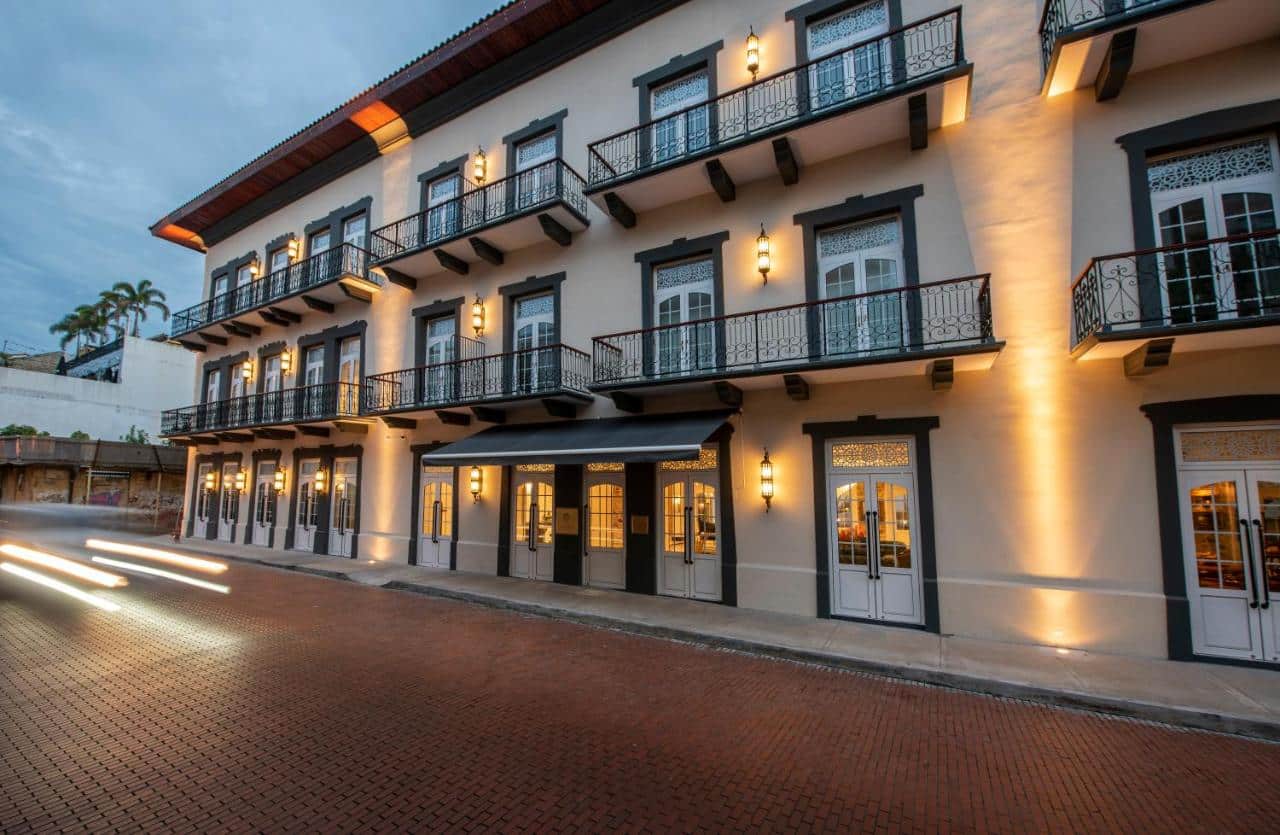 Renovating Hotel La Compañía
Renovations in Casco Viejo are no easy feat. After the historic quarter of Panama got the UNESCO Cultural Heritage Site designation, this 17th century district got an office of Patrimony which supervises that all restoration work is done in the original style. Hotel La Compañía opened in April 2022 after eight years of renovation, less than it took the Sofitel Legend Casco Viejo.
Owner Chris Lenz is a Casco Viejo local now, after spending his career in hospitality and entertainment in Asia. He is always the first on the Casco Viejo community group to help any rescue animal found in the neighborhood. And the General Manager is Fidel Reyes, a veteran in hospitality management in Panama. They picked the Panamanian architecture firm Hache Uve and architect/designer Stephen O'Dell of SODA for this arduous and challenging job.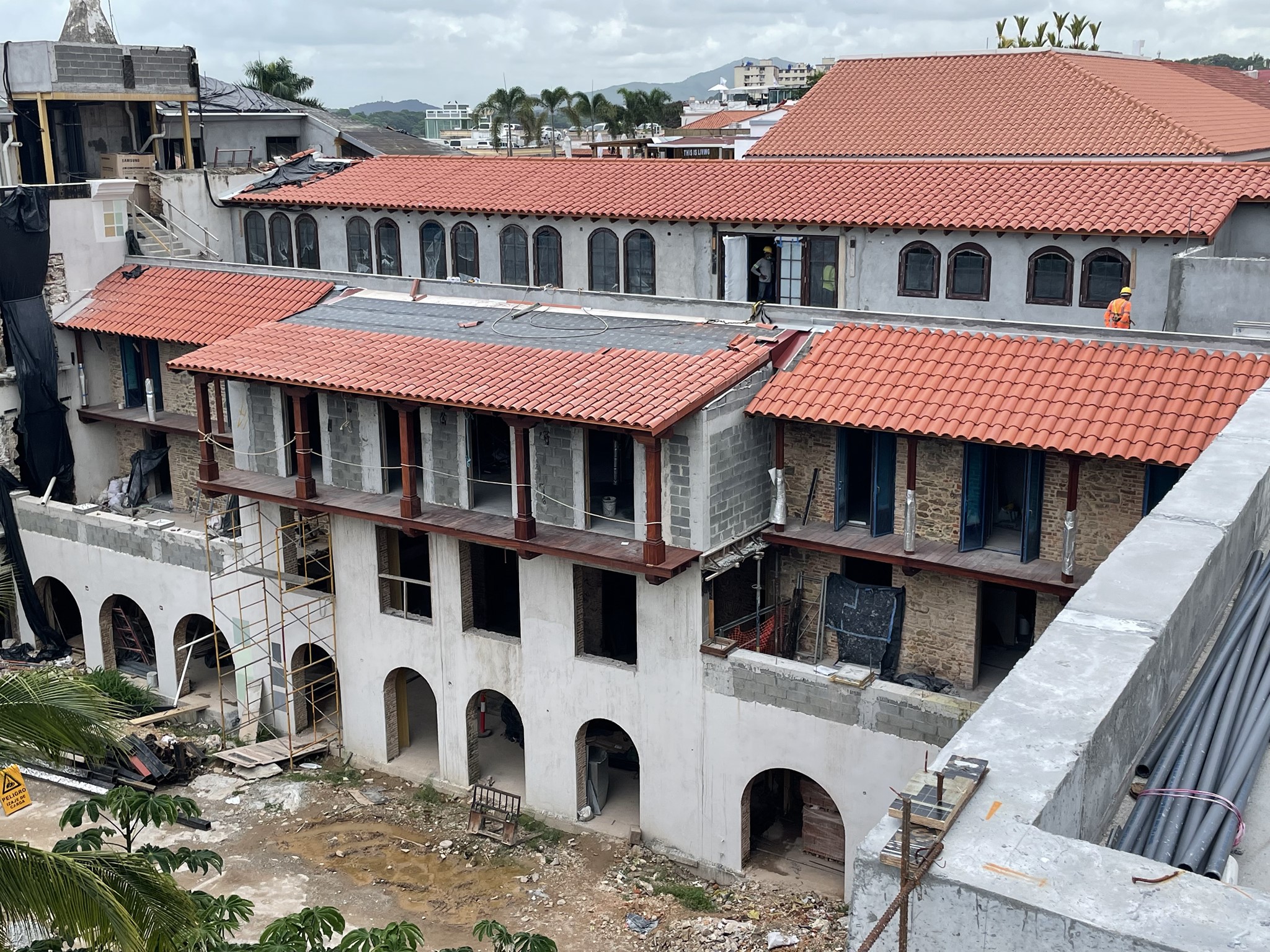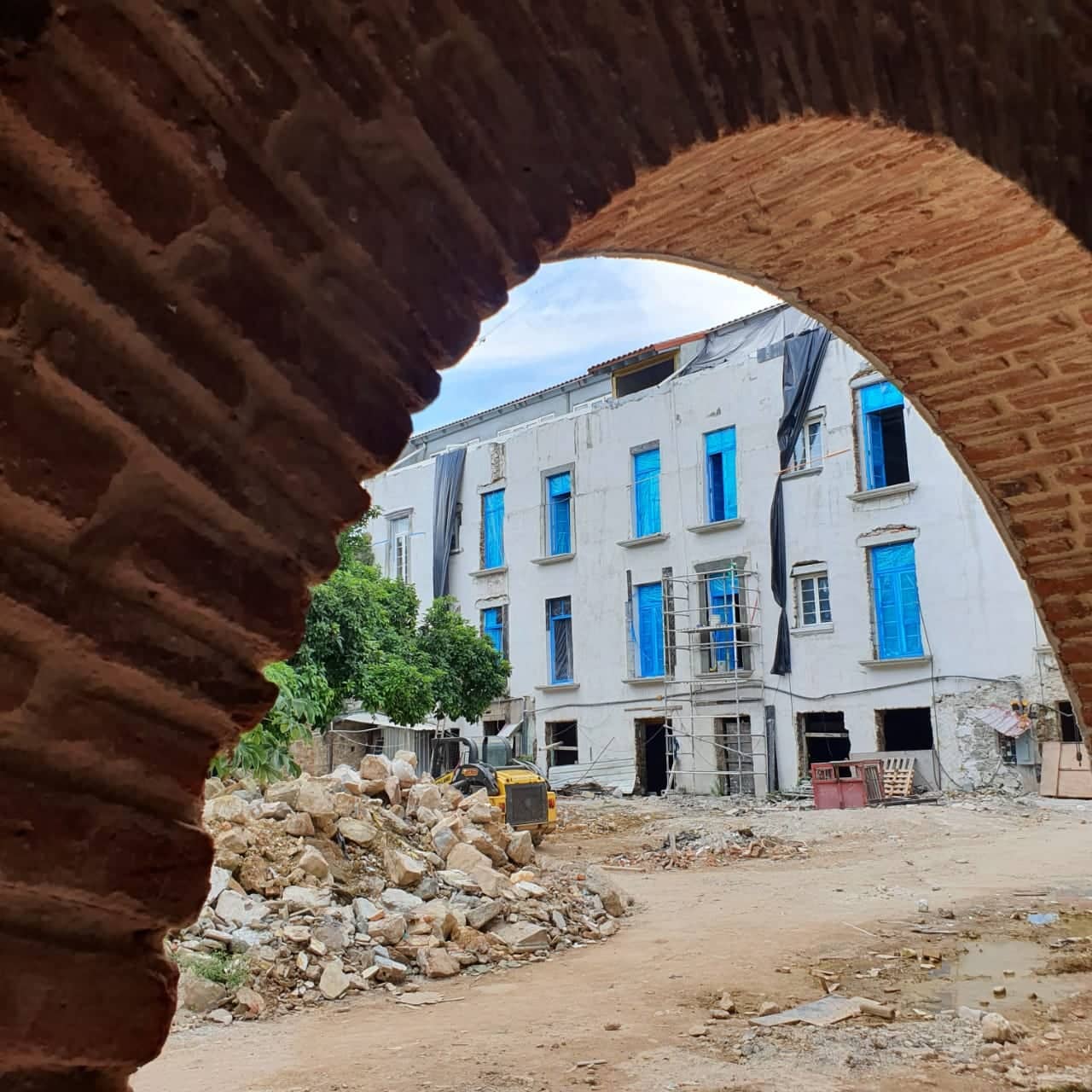 Hotel La Compañía is a huge property that occupies pretty much the whole block. It is divided in three wings that represent different periods of Panamanian history. The oldest and most historic part is called La Compañía de Jesús which was the home of the Jesuit order dating back to 1688. The Jesuits also built a university in 1739 which is the French colonial wing with the original stone walls and balconies. This university was the first in Panama. However, the Jesuits were banned from the country and the old quarter suffered from devastating fires. Lastly, the American Beaux-Arts wing was constructed in 1904.
During the renovation process of the Hotel La Compañía they unearthed artifacts and old planks which go as far back as the days of Christopher Columbus. This delayed the restoration cause there needed to be protocols to build around or remove these treasures, while fortifying the structure. In a way, this hotel could be considered a living museum.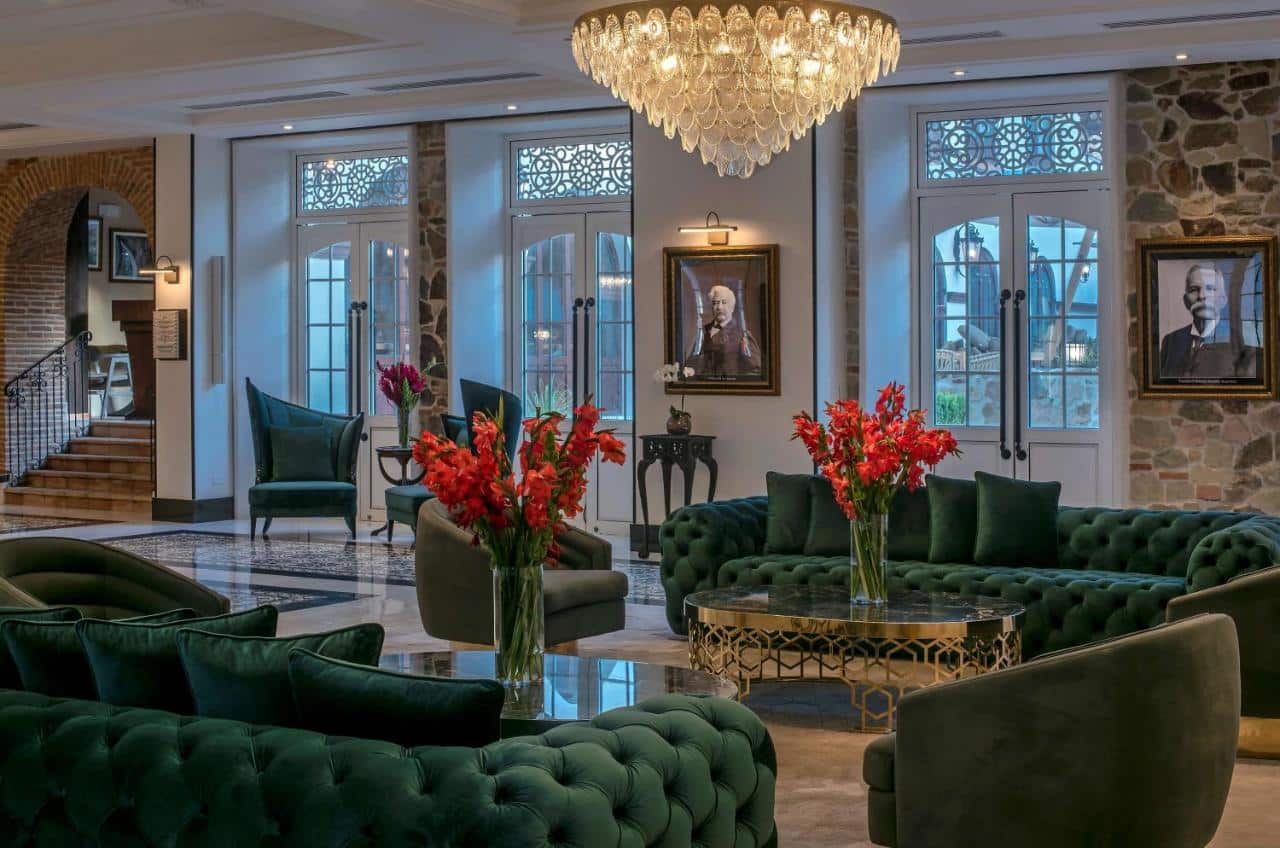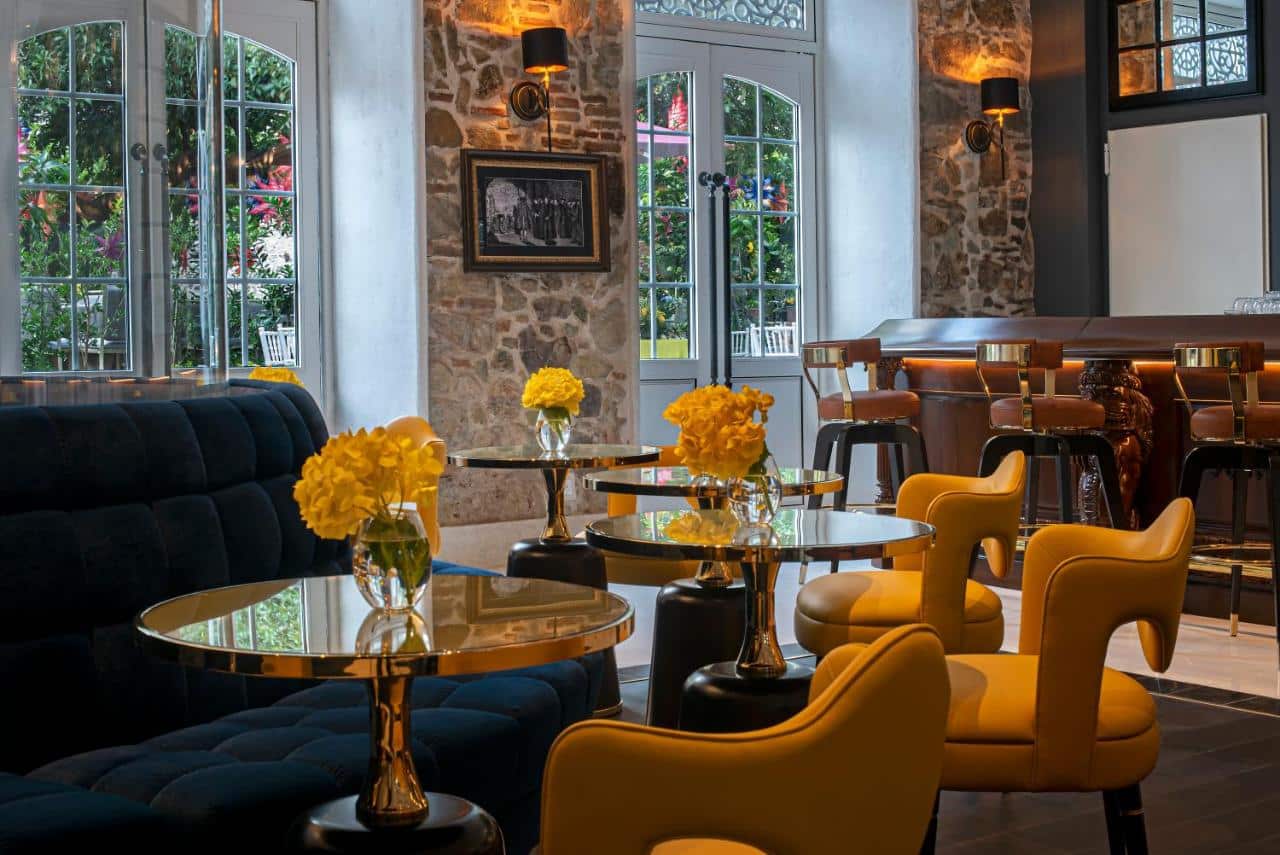 Luxury Hotel
There are only five star properties in the Unbound Collection by Hyatt and this hotel in Casco Viejo is the first of the luxe boutique properties in Central America. This five star hotel has a 24-hour front desk and concierge service. Keep your workout routine in the gym that is also open 24 hours with cardio machines, ellipticals, treadmills and free weights. Hotel La Compañía is a pet friendly hotel in Panama City.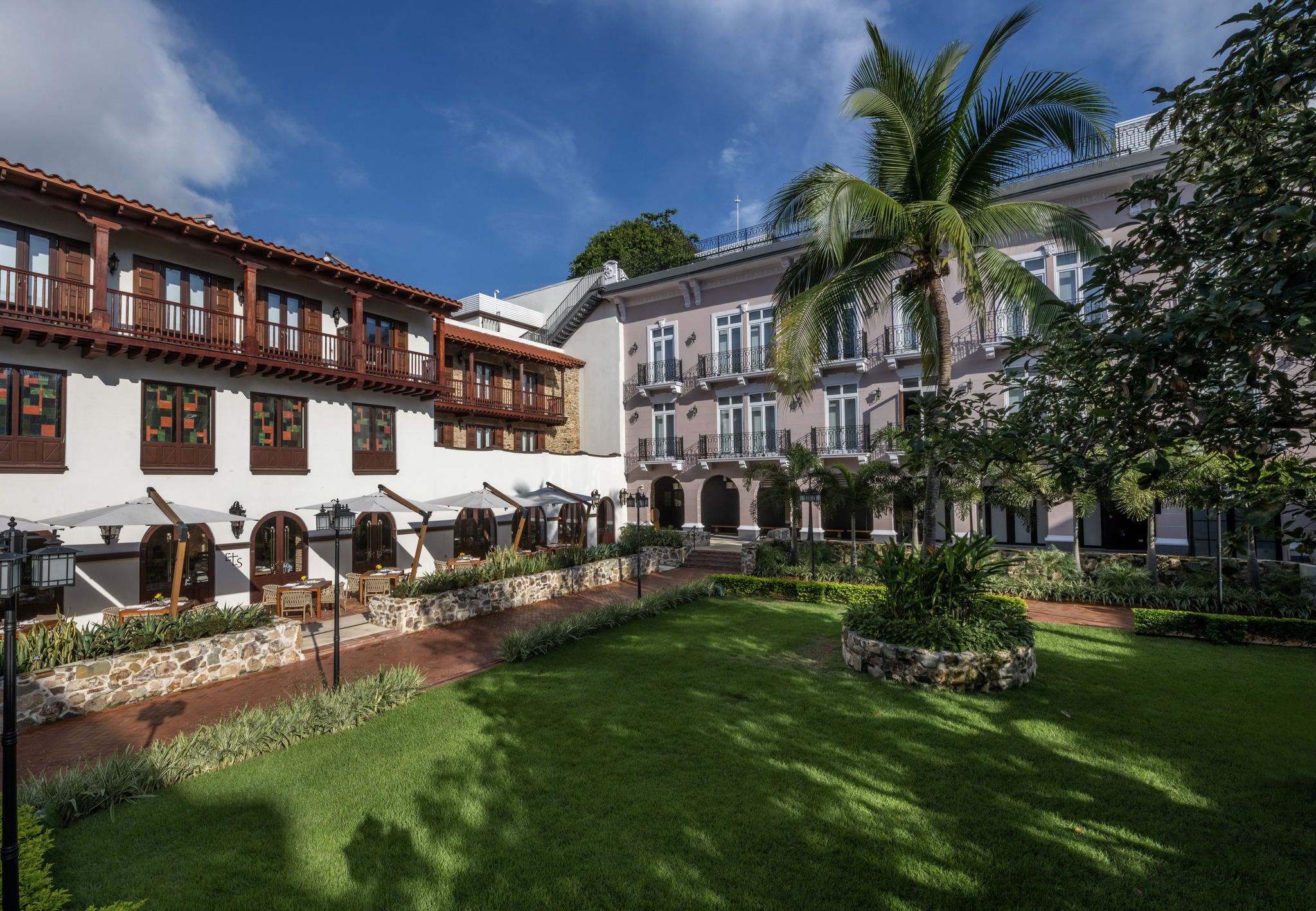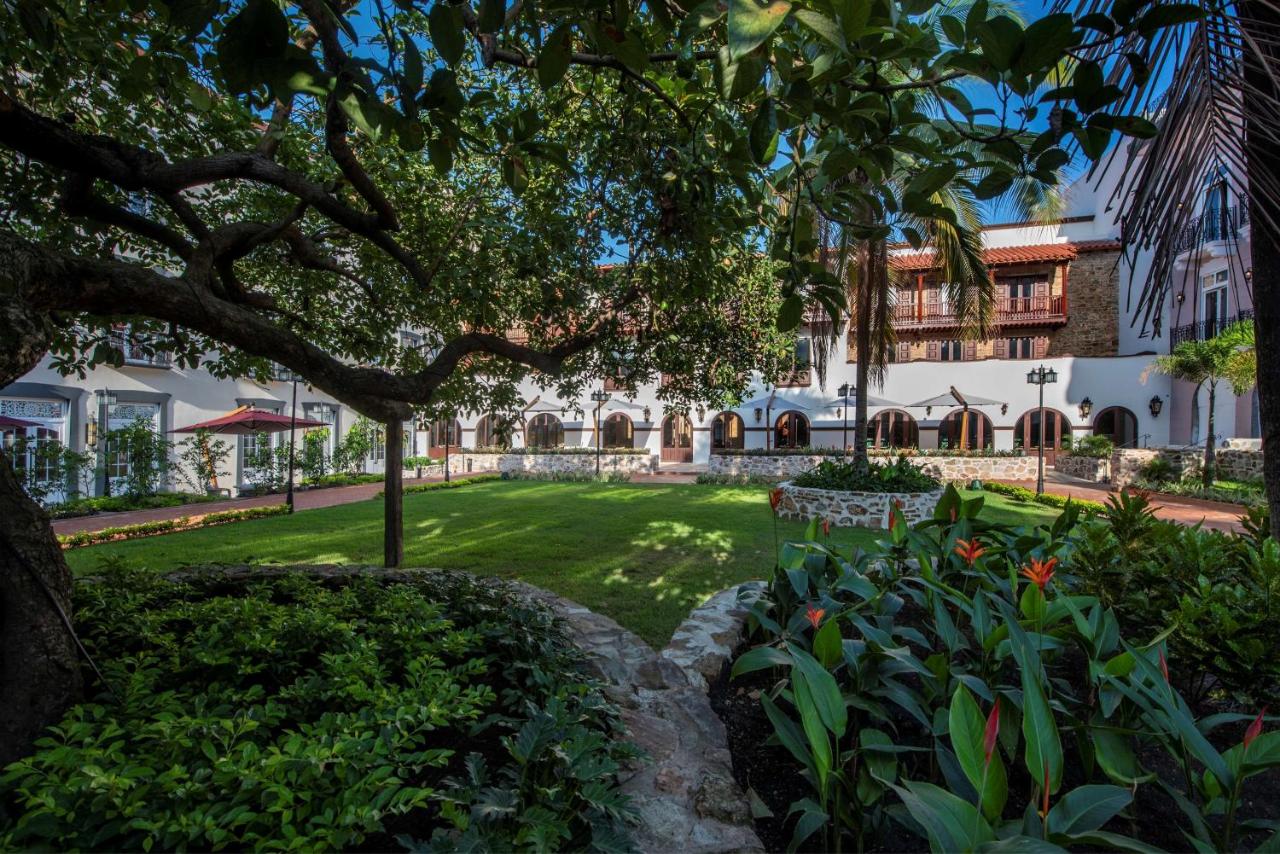 Those that want to take advantage of the tropical weather of Panama can head to the sun deck pool that has wonderful views of Casco Antiguo. There is beverage service in the pool. The spa is the perfect place to pamper yourself. It offers massage with stones, lavender, black tea nectar or algae cream. There are also several facial options and a bamboo exfoliating body treatment. Make sure to visit the hotel's library which is located in Panama's first university.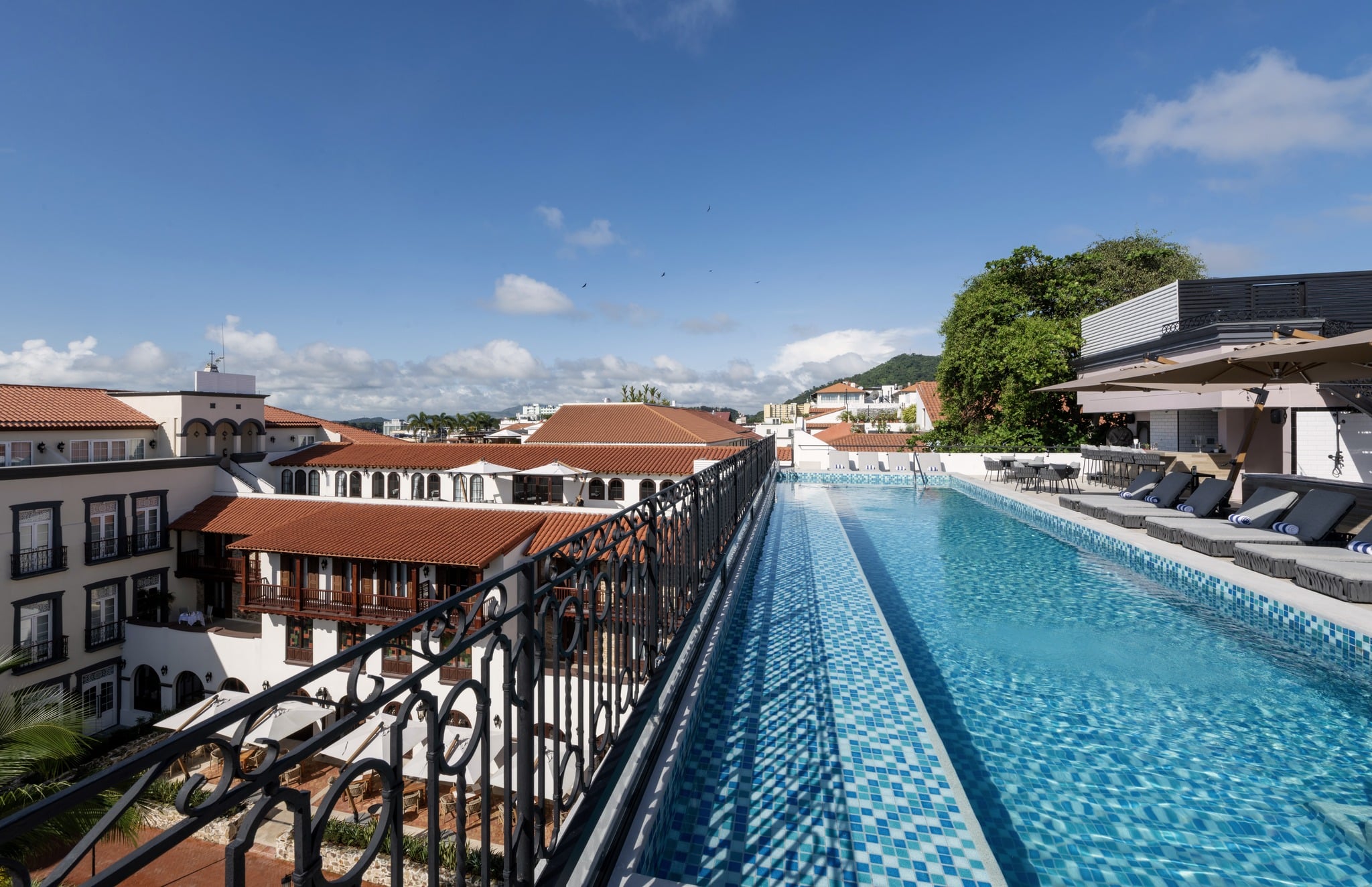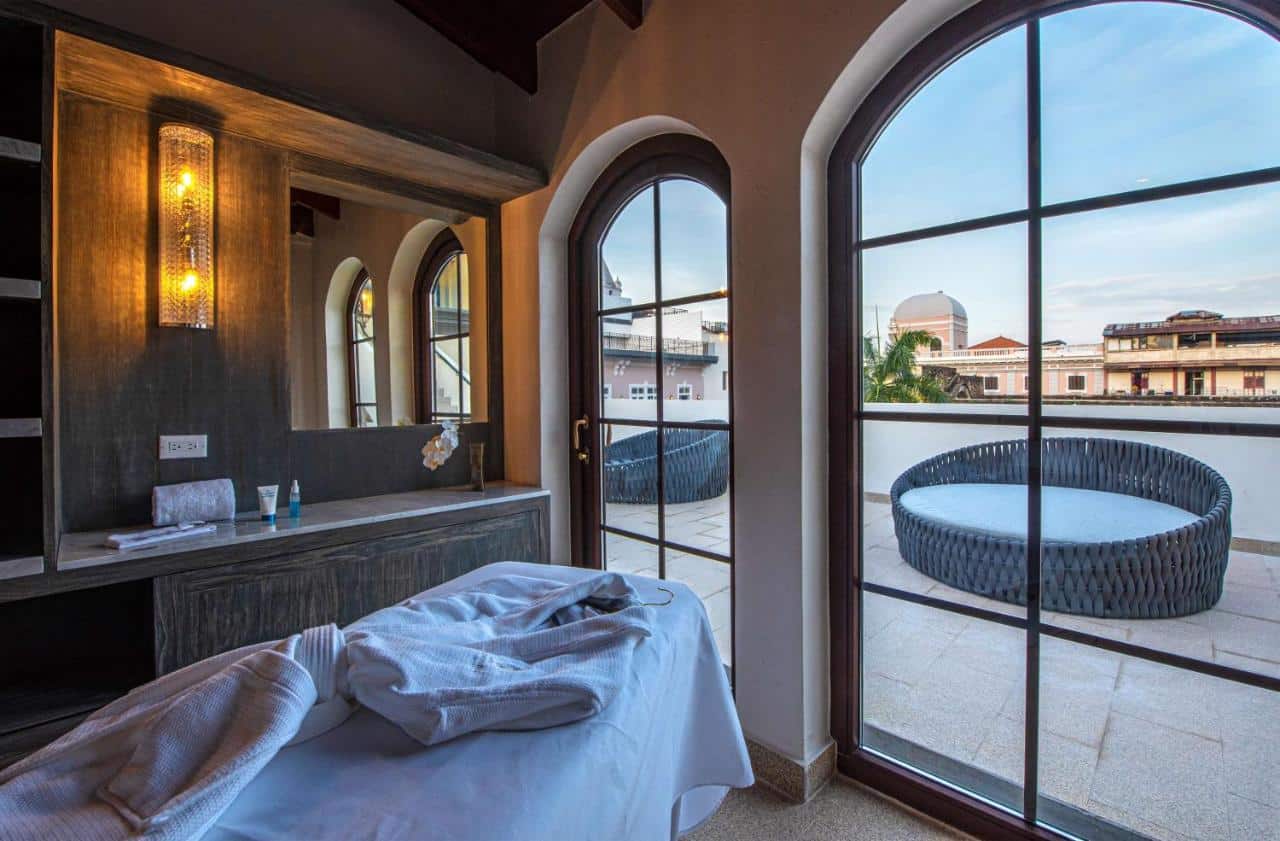 Rooms and Suites
There are 88 rooms in Hotel La Compañía, In The Unbound Collection By Hyatt which are divided in the three wings. Rooms are a tribute to the past with a modern appeal. They draw inspiration from Spanish, French and American architecture. Amenities like 500-thread-count sheets, bathrobes, slippers and Molton Brown bathroom toiletries will remind you that you are in a five star hotel. Rooms have digital keys and there is a streamlined check-in process. Soft drinks and water are complimentary in the minibar.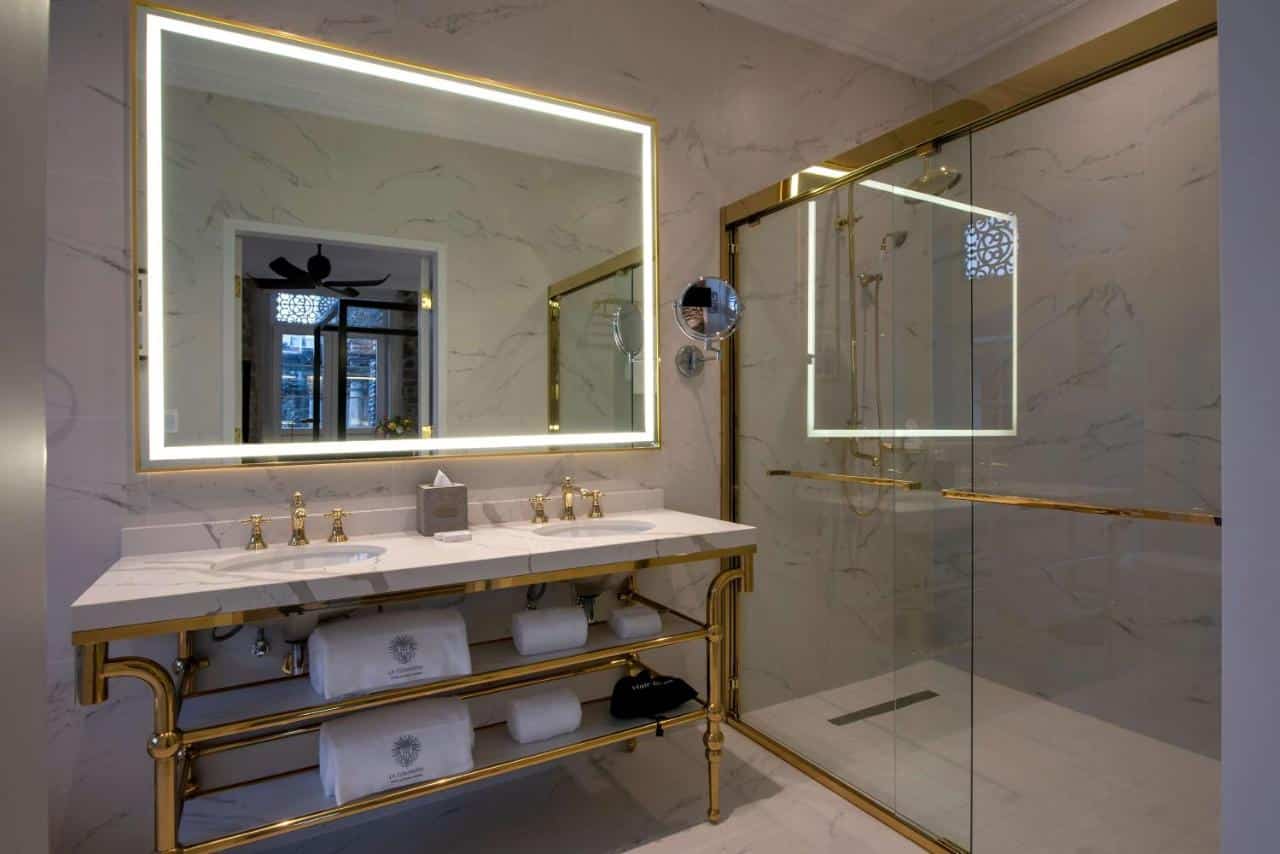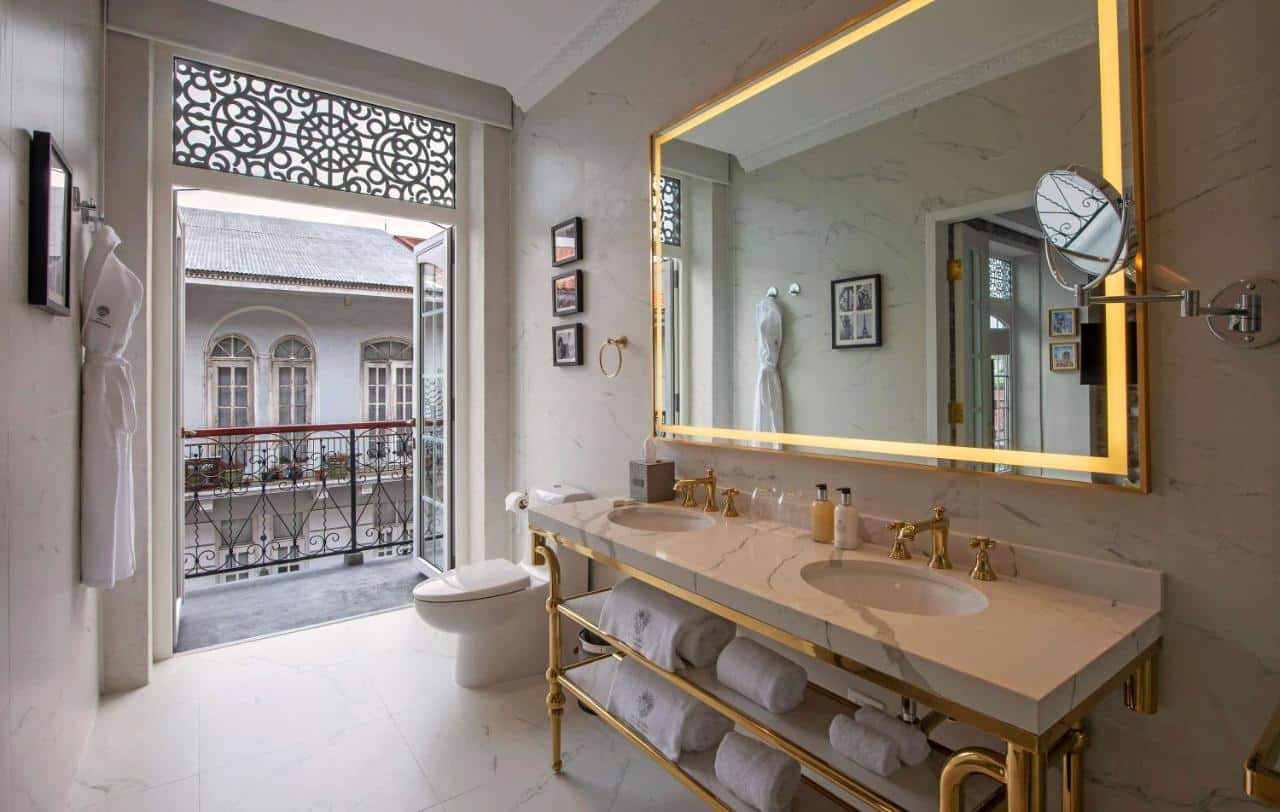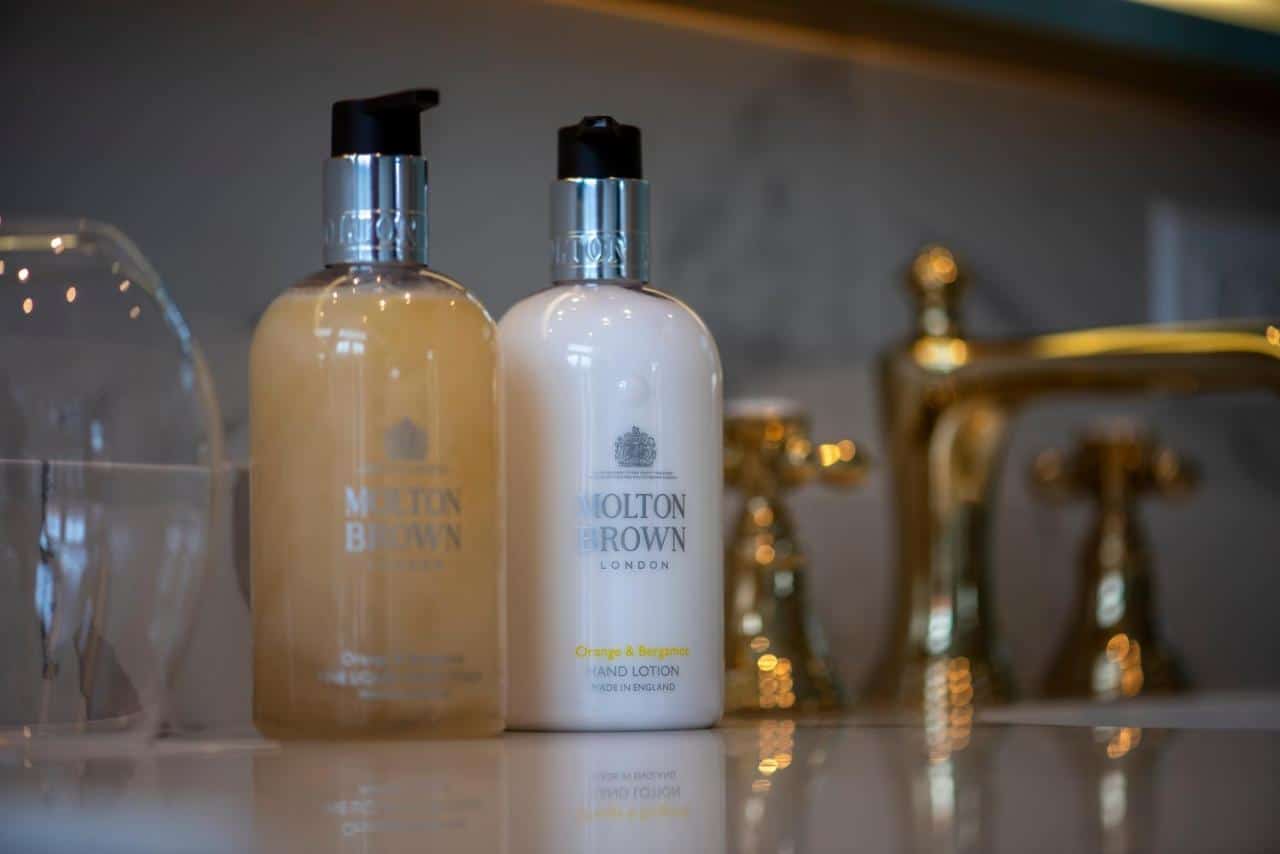 There are six categories of rooms in Hotel La Compañía which have views of the courtyard or of Casco Viejo. Deluxe rooms have views of Casco Viejo with private balconies. Rooms have a queen bed, a king bed or two queen beds. Decoration is unique to each room so it may differ even in the same category.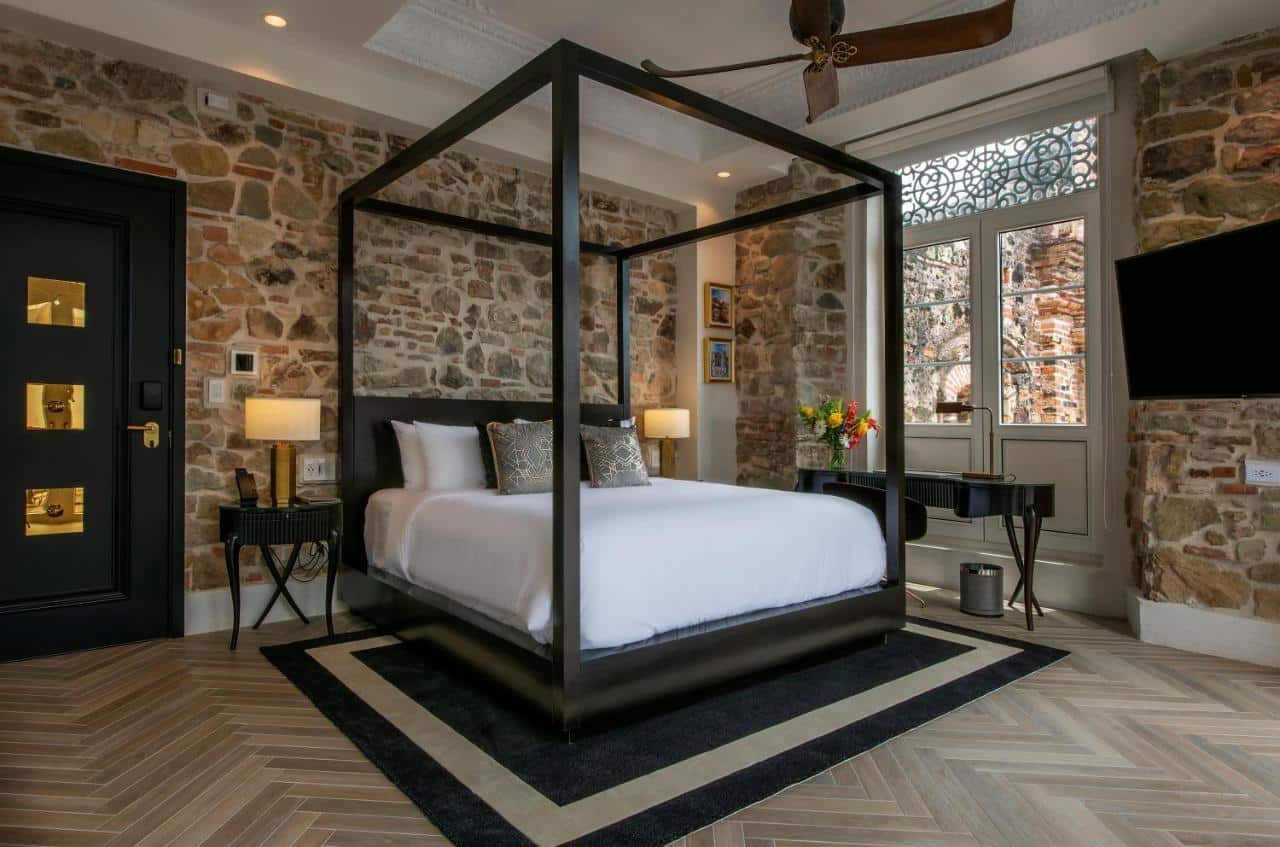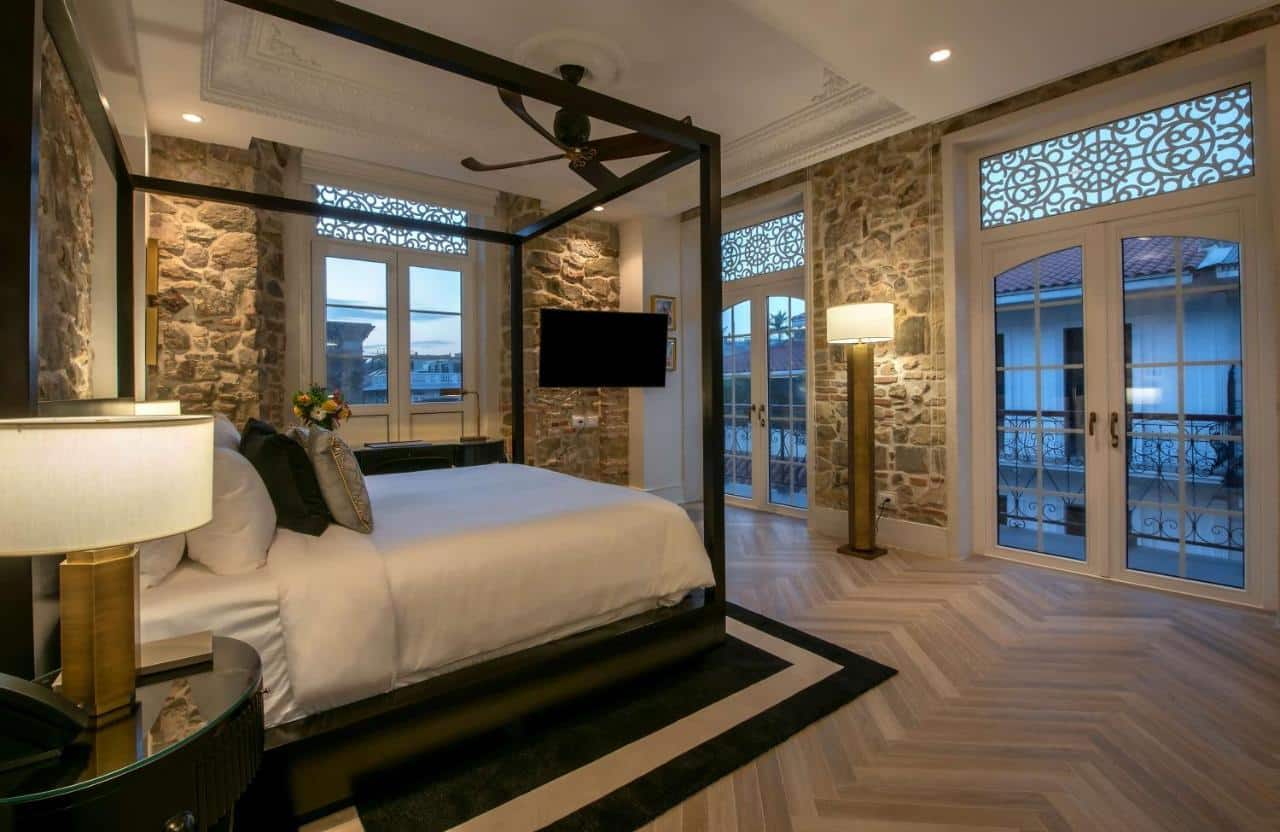 There are four types of suites which have oversized living areas, exposed quartz stone and comfortable vintage furniture. The Junior Suite and the One King Bed Suite both have king beds and a separate living area. The loft suite in the American Wing has two stories with Beaux Arts style and views of the internal patio. La Grande Française Suite is the largest space in Hotel La Compañía with one king bed, separate living and dining area and a luxury bathroom with tub.
Eating and Drinking
Hotel La Compañía has five incredible restaurants and two bars. It is recommended to make reservations for dinner and weekend brunch. El Santuario is the main restaurant with a menu that mixes Panamanian and Spanish cuisine with Asian and Indian flavors. It opens daily from breakfast at 6:30 a.m. to dinner which finishes at 10:30 p.m. There is indoor and outdoor seating within the original walls and arches of the monastery.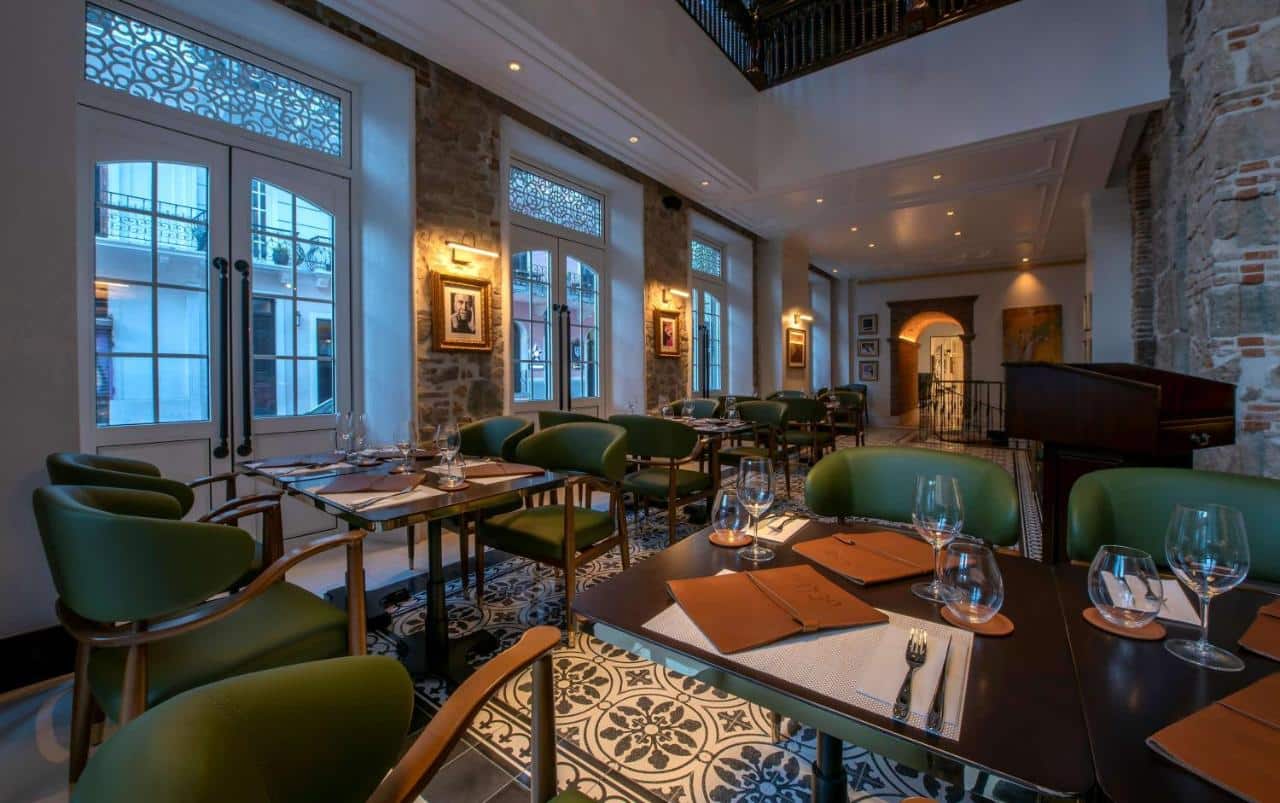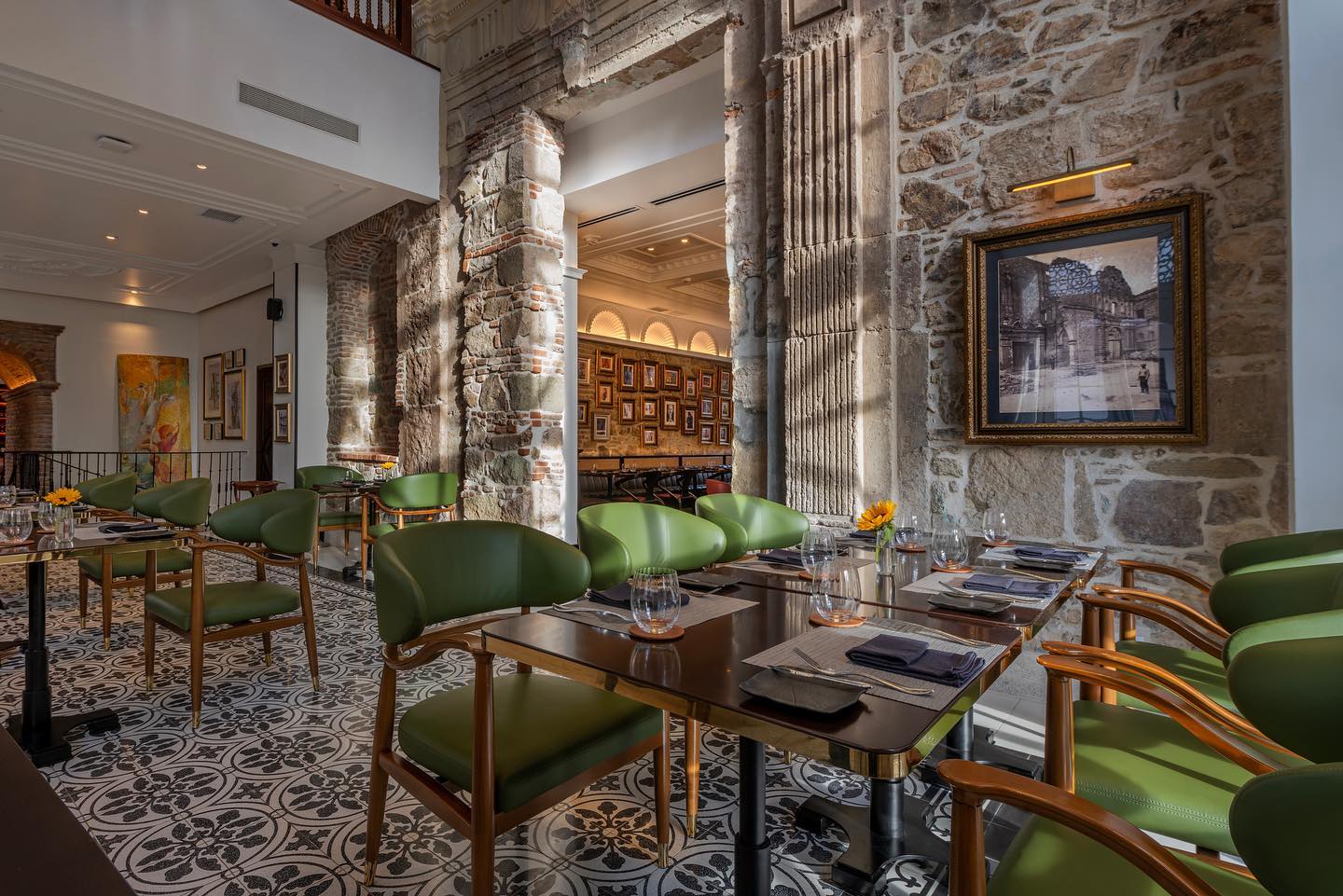 1739 is the hotel's premium establishment. Its location was originally a chapel inside the San Xavier University. The restaurant walls are made of calicanto and its ceilings are high which is customary of architecture in Casco Viejo. Here is the Wine Cellar of the hotel with a collection of over 1,800 bottles of different varieties! This restaurant in Casco Viejo opens Monday through Saturday from 6 p.m. to 10:30 p.m. It serves modern French cuisine.
Luigi's tells the story of an Italian partisan, Luigi Cagnoni who fought against Mussolini until he decided to leave Italy and Europe. He boarded a cruise boat and stole a uniform pretending to be a ship sailor. The crew realized his lie and threw him overboard while going through the Panama Canal. He started cooking his nonna's recipes in order to survive in Panama. This restaurant serves Cucina Povera, or cuisine of the people and is open daily from 11:30 a.m. to 10:30 p.m.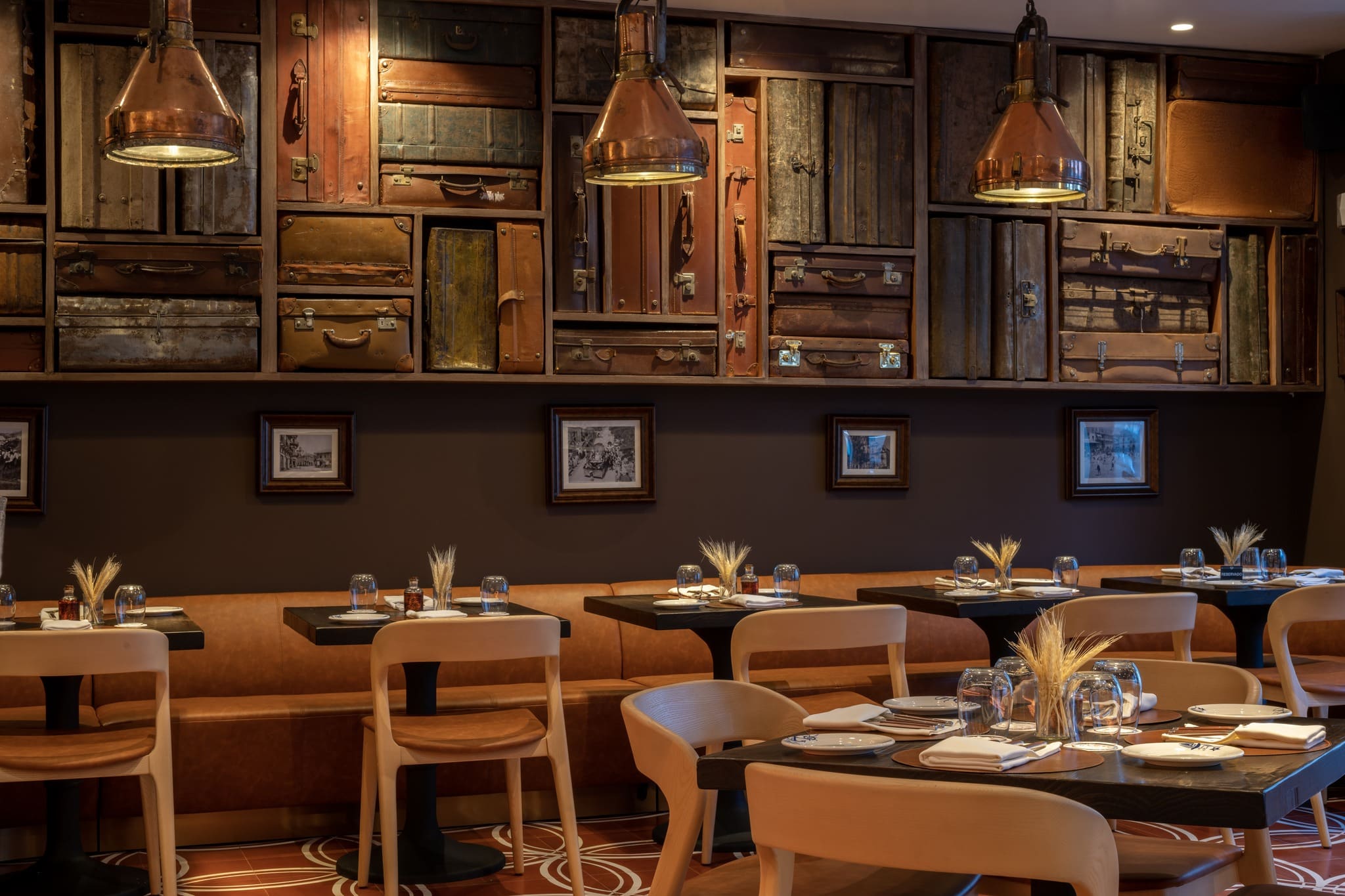 Hari's is an eclectic and vibrant place that combines old and contemporary styles of Peruvian Nikkei cuisine. This place was designed by Harry Segil, an artist and furniture designer. He has also participated in the Casco Doors project. This restaurant opens Tuesday to Sunday from 6 p.m. to 1 a.m.
The final restaurant of the Hotel La Compañía is a genuine recreation of an iconic local department store in 1904 called American Bazaar. My grandmother always talked about this department store that brought high quality fabrics and products. This store was built during the Panama Canal construction by the Americans. It will come as no surprise that this restaurant in Casco Viejo offers American cuisine, sports bar and beers. American Bazaar opens daily from 11:30 a.m. to 11:30 p.m.
After dinner you can head over to Exilio Bar which makes direct reference to the Jesuit story. This Society of Jesus (Jesuits) received orders to be exiled from Panama in 1767 from King Carlos III of Spain. This bar in Casco Viejo has replicas of the five ships that took the Jesuits back to Toledo in Spain. Its bar counter is made of solid mahogany wood. Make sure to ask for its extensive and unique drink menu. Exilio bar opens daily from 11:30 a.m. to 1 a.m.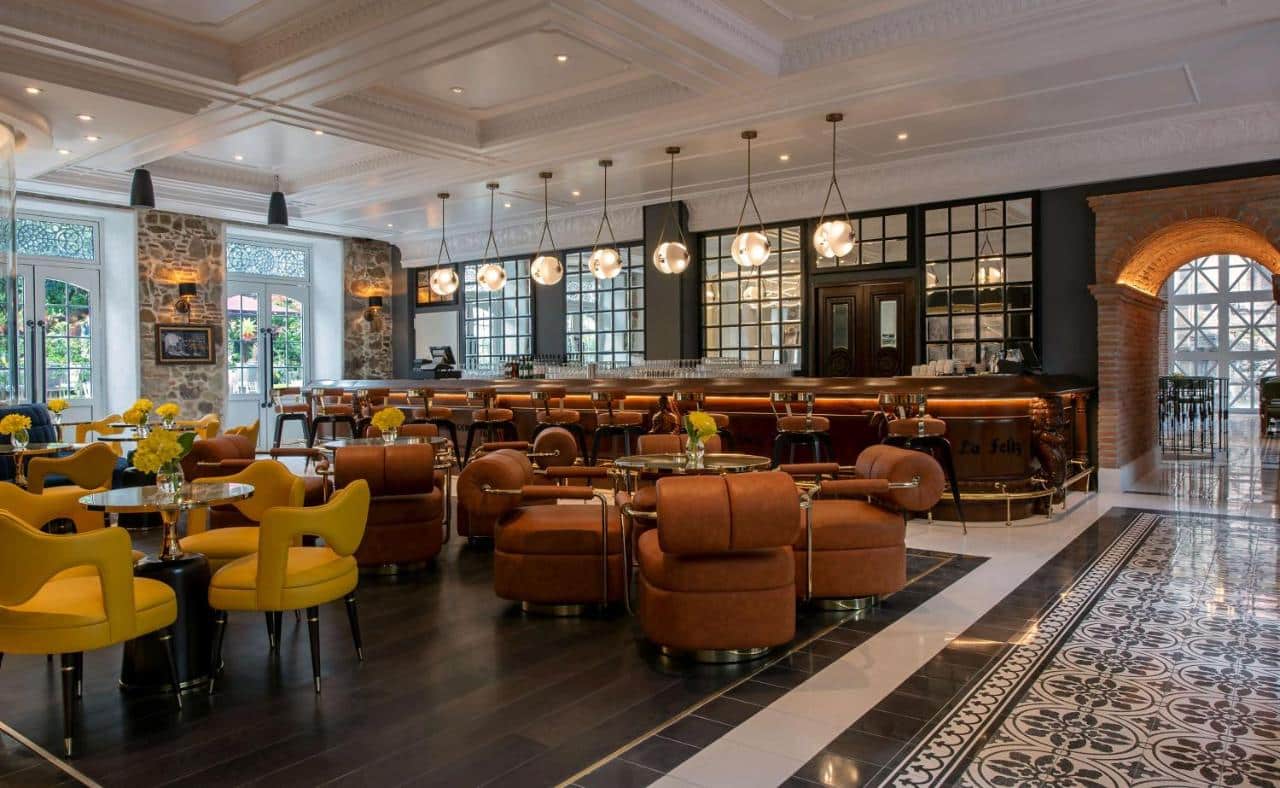 Capella rooftop in Hotel La Compañía is another option to go after dinner. Its name comes from the Capella star which intrigues astronomers. Just like this star, the bar allows guests to see Panama from new heights. Views of the old quarter and the Pacific Ocean can be appreciated as you drink a cocktail or savor local specialties. This bar opens daily from 6 p.m.
Hotel La Compañía also has a bakery called La Panadería which offers coffee from Finca Lerida in Boquete. This boutique hotel and coffee estate was founded in 1920 and has been producing coffee for over 90 years. Accompany your coffee with a croissant or empanada. La Panadería opens daily from 6:30 a.m. to 6:30 p.m.