Dodó Bon Pan Café is one of the cutest restaurants in Casco Viejo. This cozy cafe has a French style which is very suitable for its location on Calle 1 diagonal from the French Embassy in Panama. This is one of the firsts areas in Casco Viejo to be restored because of its proximity to Las Bovedas and the sea. Some of the highest end hotels are located close by including the Sofitel Legend, Villa Palma Boutique Hotel and my Airbnb in Casa Maralta.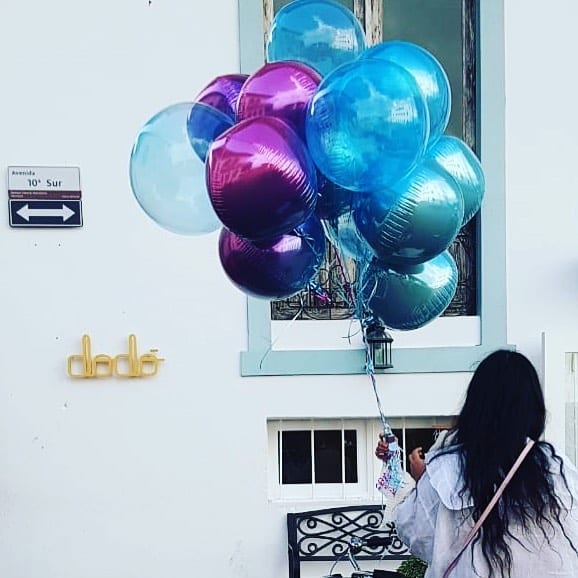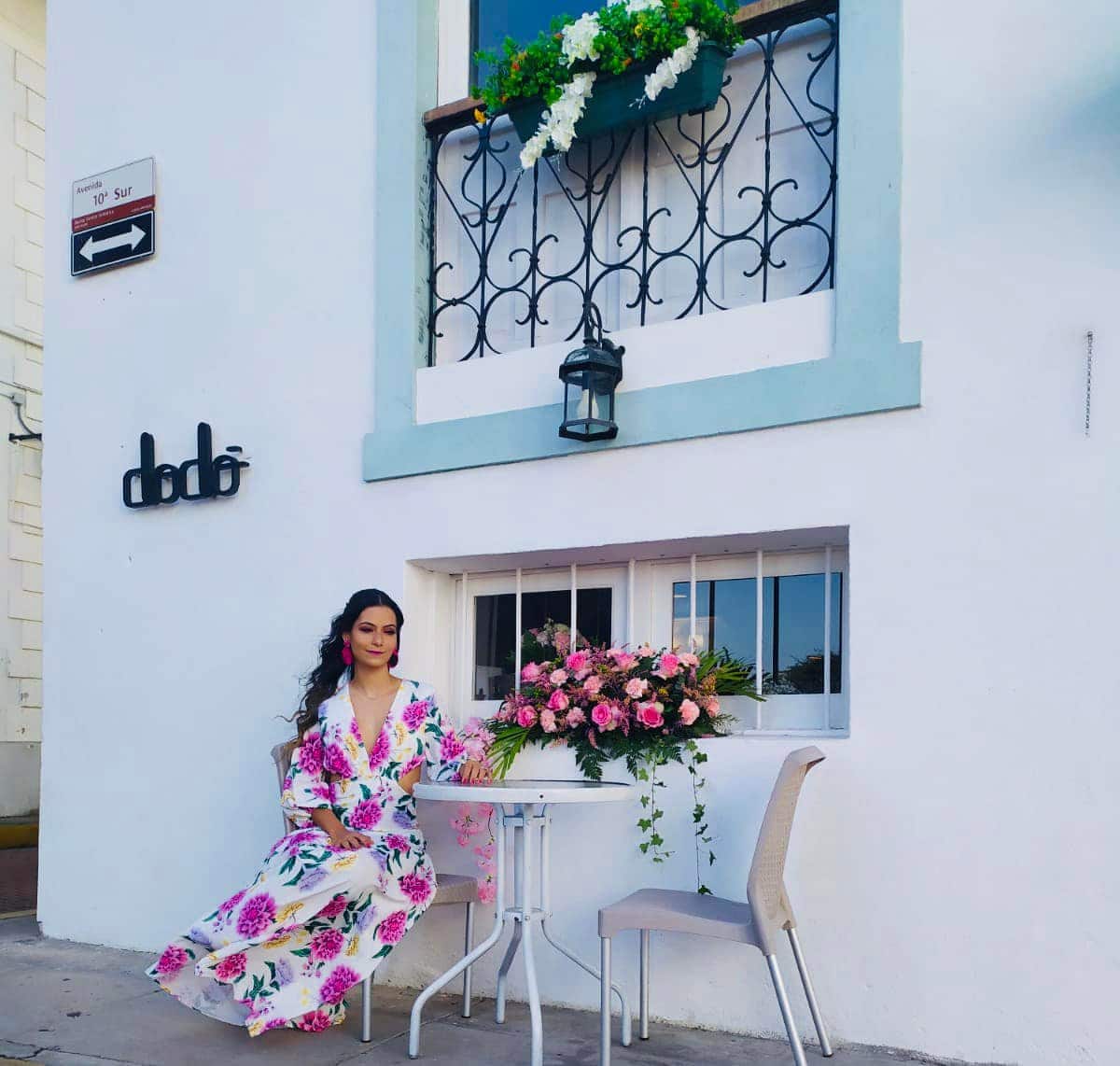 The decoration in this place is quite vintage with many details including checkered floors, clocks, and flowers. It kind of has a bit of Alice in Wonderland vibe. This restaurant has outdoor seating as well as indoors. Dodó Bon Pan Café opens from Tuesday through Friday from 9 a.m. to 5 p.m. and until 7 p.m. on Saturday and Sunday. It does not open on Monday. Dogs are welcome in this pet friendly restaurant.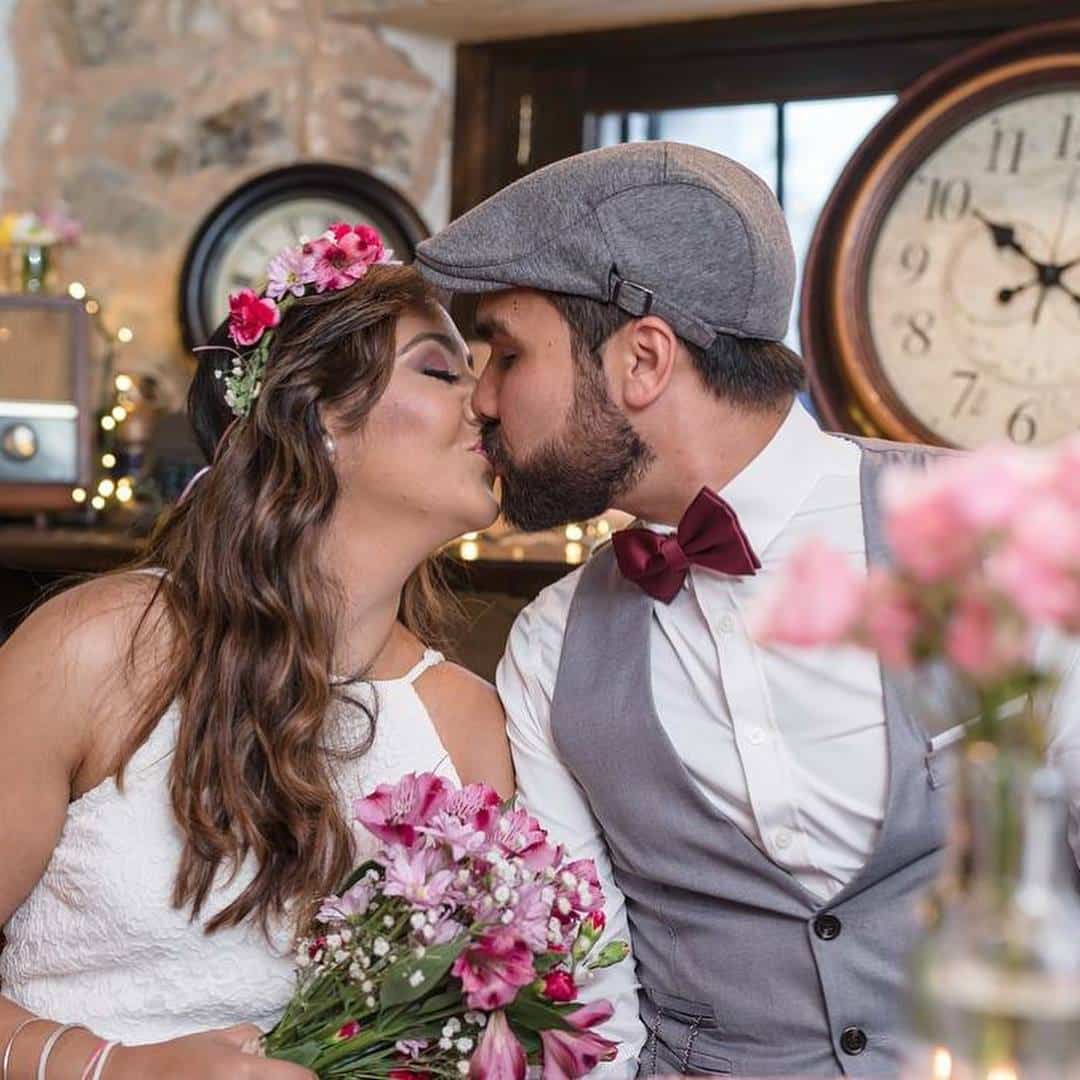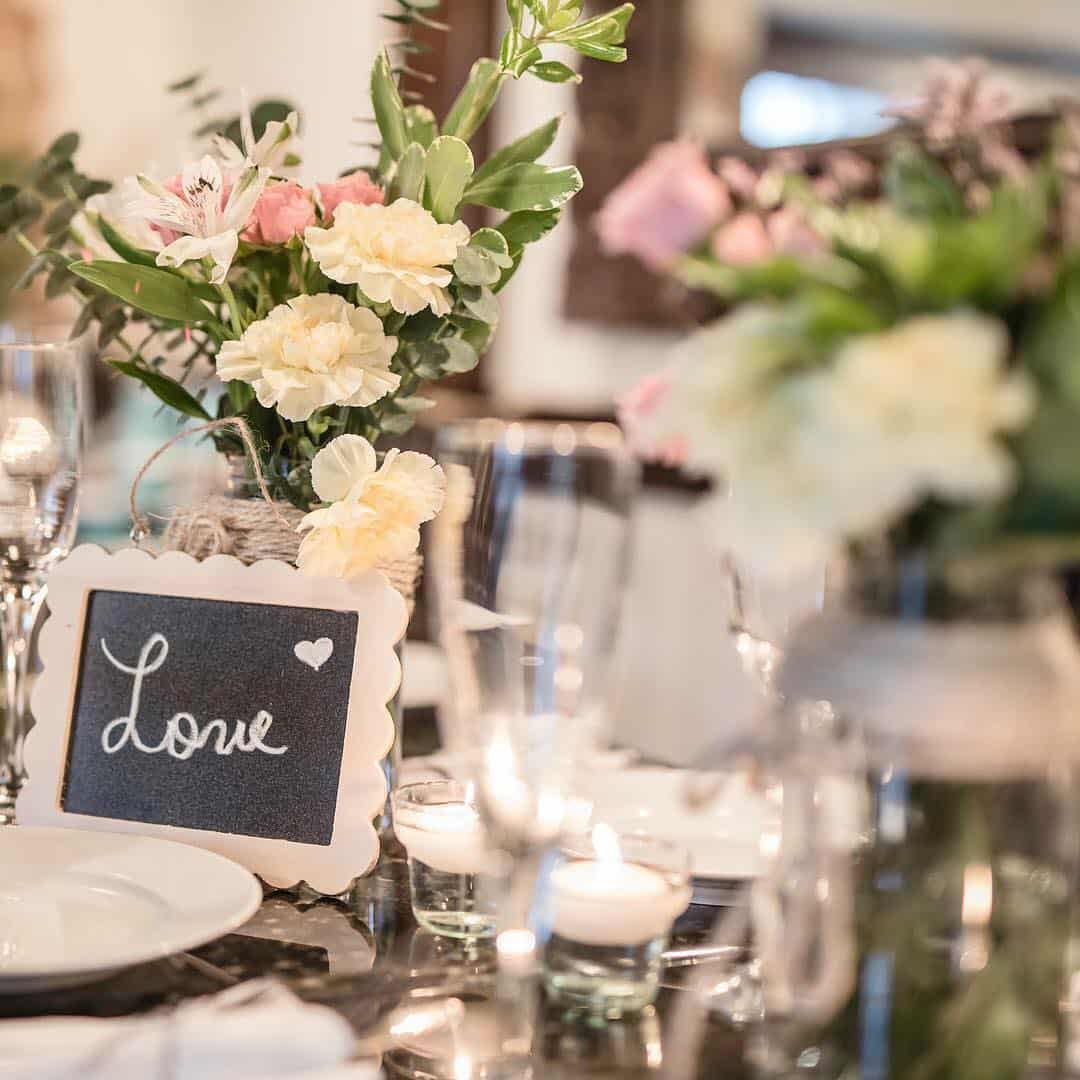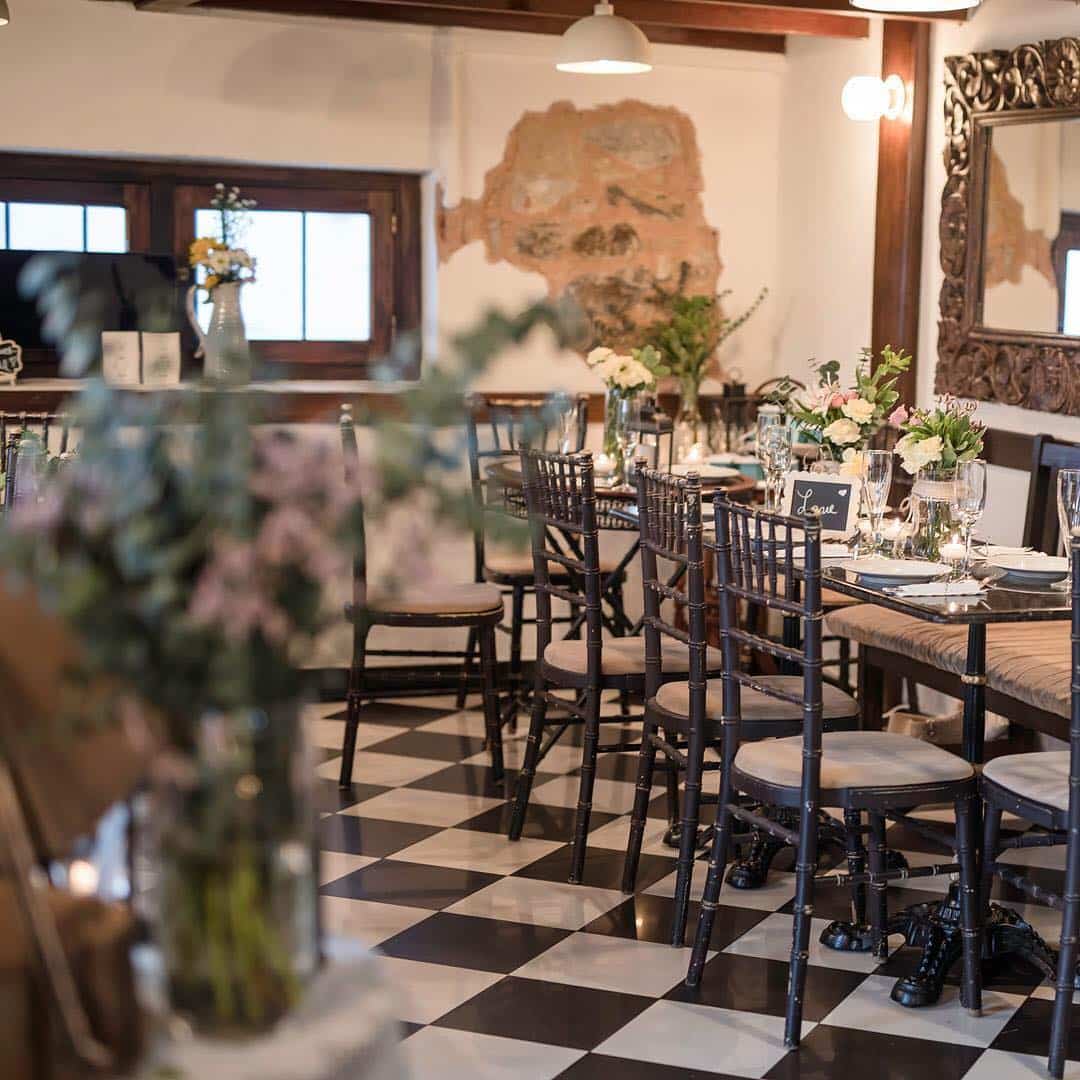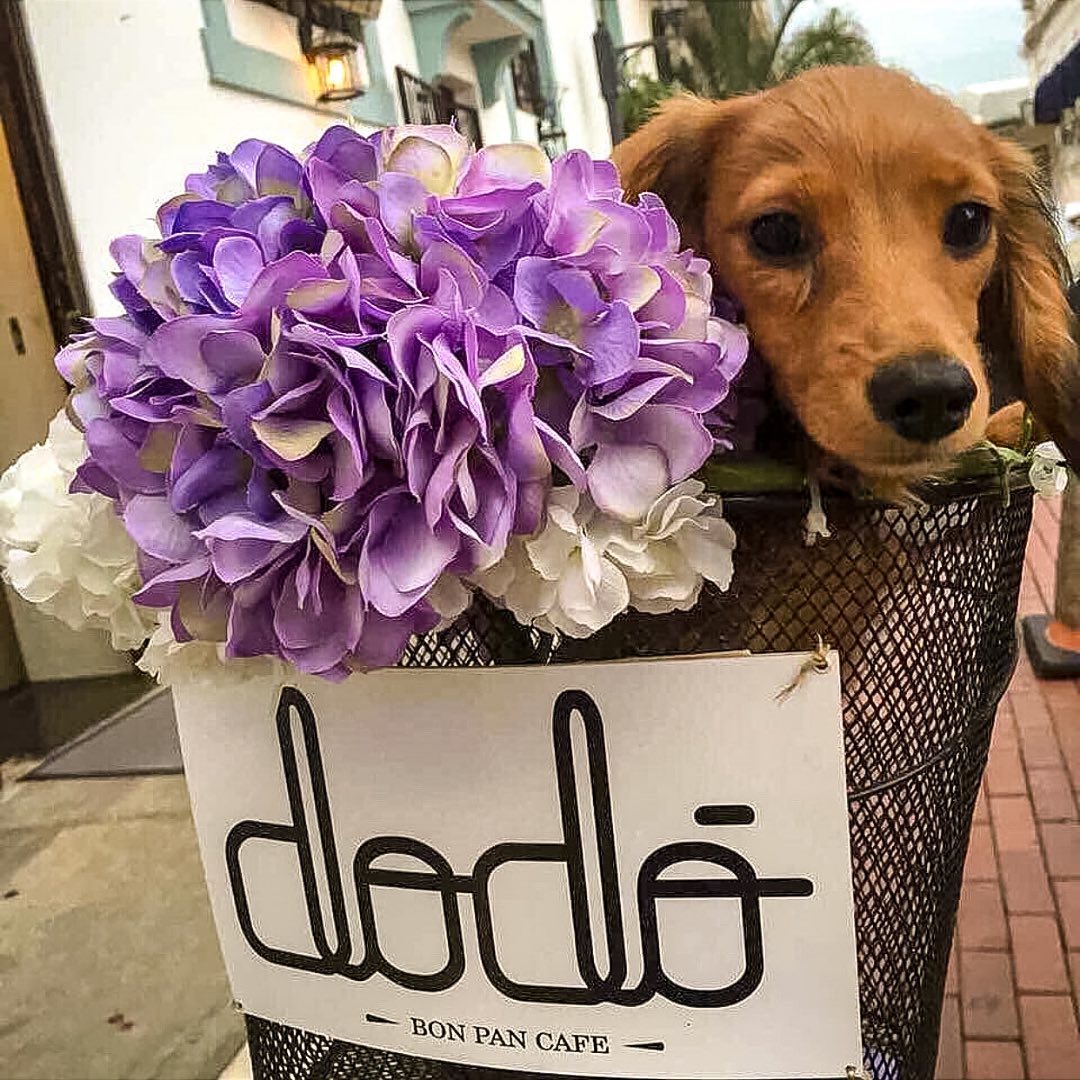 The Story of Dodó
Dodó is a cute little bunny that follows the owner's dreams. This bunny lived in the countryside in France and was quite curious, spending all of his time exploring the forest. He loved adventuring into the unknown, discovering places and learning new things. But one day he ventured more than usual, into an area that was completely unfamiliar, without knowing how he got there.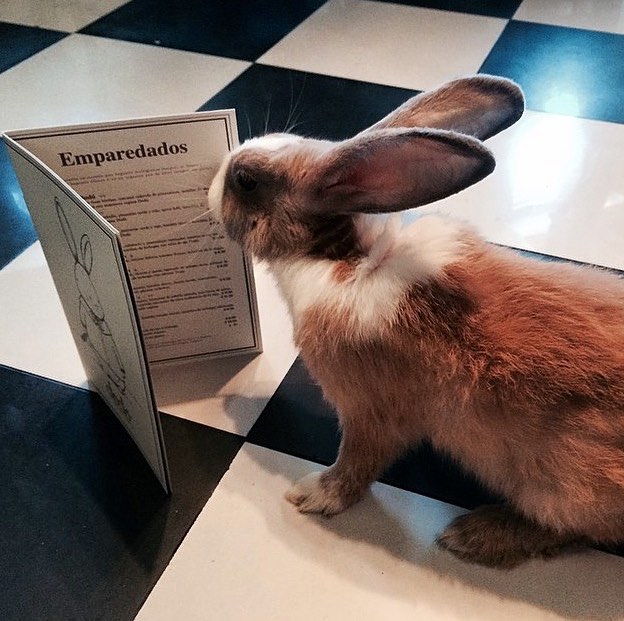 Sitting next to a tree to rest, Dodó smelled a delicious and new aroma which he decided to follow until he reached a small white house. The smell came from inside so he peeked through the window to see an old lady taking bread out of the oven. He watched as the lady cut the bread and put it on plates on a table outside the kitchen. Dodó saw a bunch of happy children that came to eat bread. But he wanted to eat as well. So he came up with a plan to dress as the children and spend all night making a costume.
The following morning Dodó sat down with the children that received him happily as the new mascot of the house. The old lady saw him and gave him a plate of food like the rest of the children. Dodó kept going every afternoon until he decided to move into the house. The parents of the children had moved from the old continent (Europe) to the new continent (America) in search of jobs and had left the children behind. Dodó started helping the lady make the meals for the children, until he became an expert baker.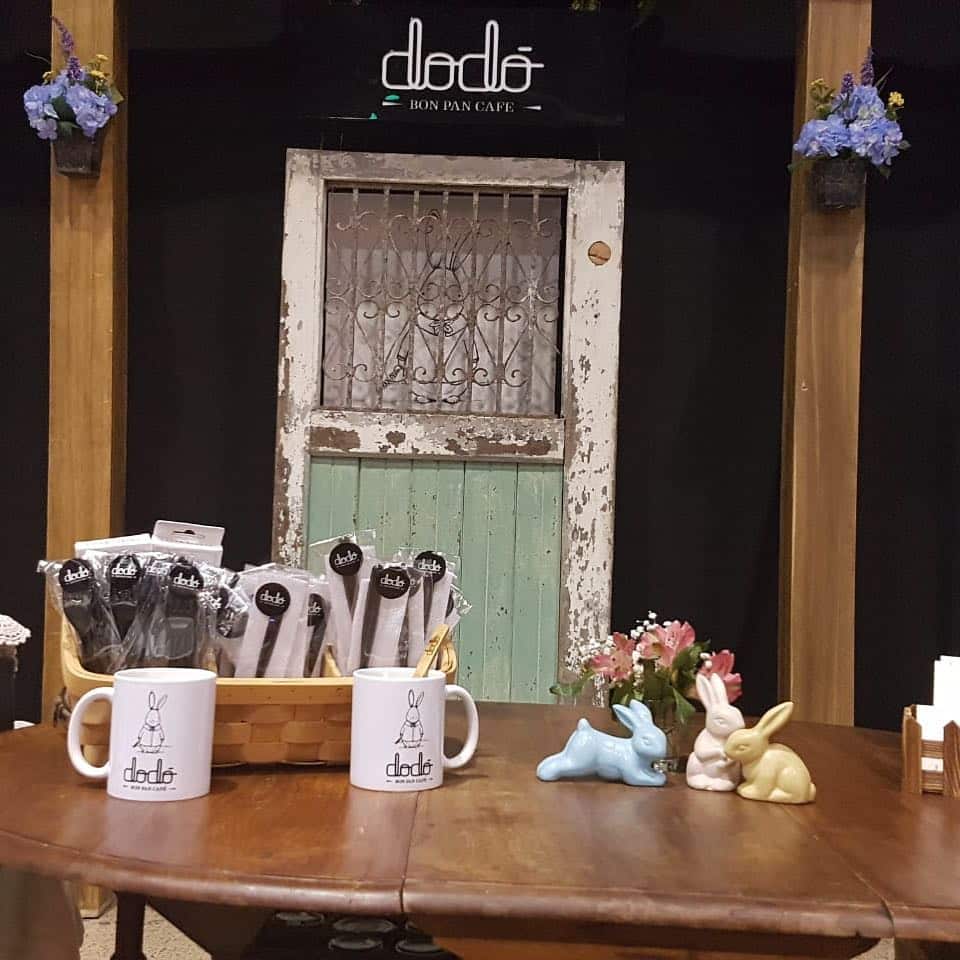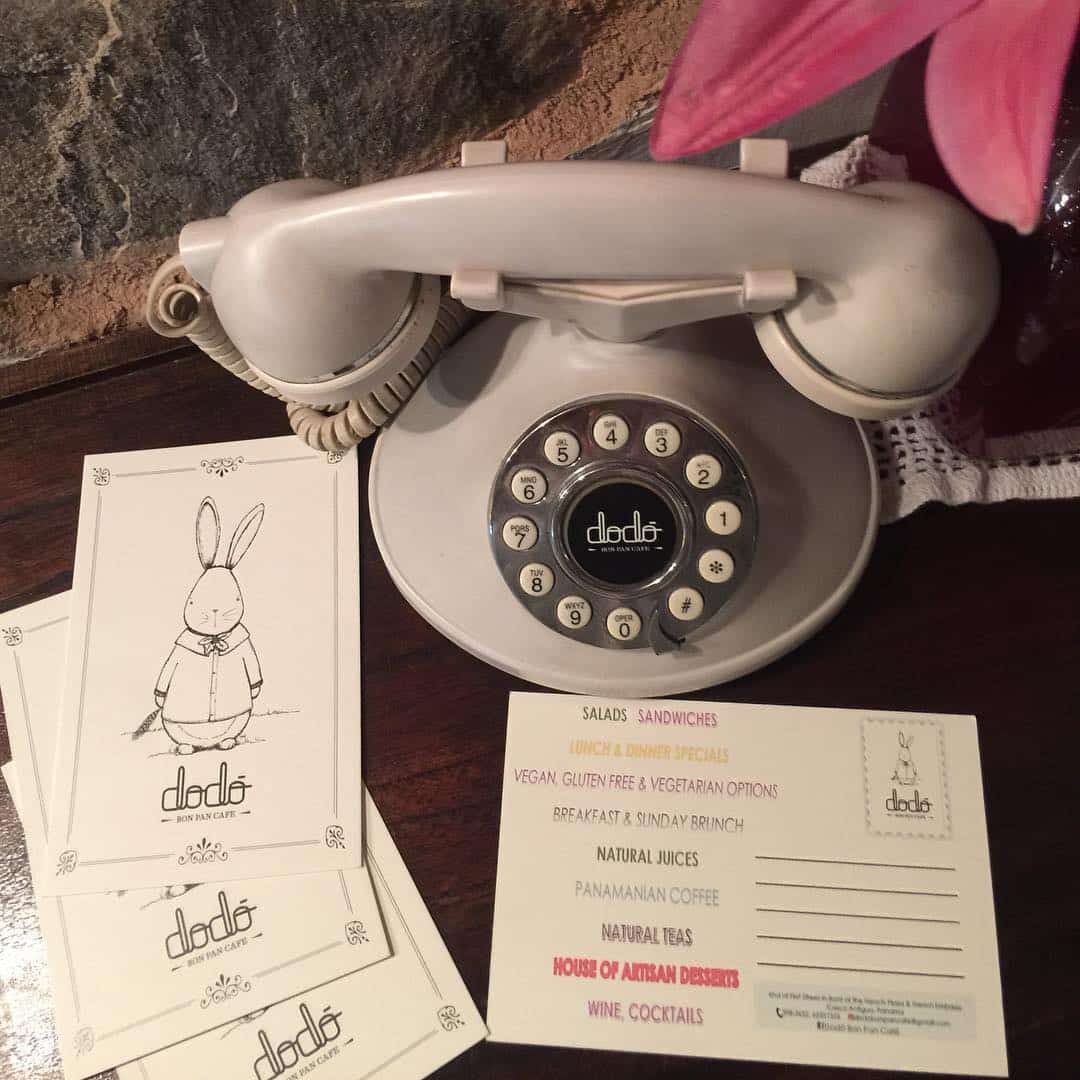 One day Dodó realized it was time to move on. He decided to go to America and discovered a country called Panama. This is where the children's parents had gone to build the Panama Canal which would unite the world. Following his adventurous nature, he moved from France to Panama. He found the Plaza de Francia to be the most appropriate place to live. In this plaza he found a white building which he called Dodó Bon Pan Café where he could offer his breads and sweets to children and adults who visited.
The story of Dodó was written by Miguel Lombardo, one of the owners of Bon Pan Café, as well as Annie Pereda, Joel Brancho and Juan Rivera.
Dodó Bon Pan Café
Dodó Bon Pan Café is a magical little place that offers healthy and light meals. This restaurant in Casco Viejo is ideal for people with dietary limitations, such as gluten intolerance. They also serve plenty of vegetarian and vegan options.
The Breakfast menu has three toast options including the vegan avocado toast, salmon toast with dill and cream cheese and caprese toast with mozzarella cheese, tomato and arugula. It is also possible to add a boiled egg to the breakfast toast. Another egg option is the omelet or scrambled eggs with tomato, onions, spinach and cheese with the bread of the house. There is a "vegan egg" option as well.
For those with a sweet tooth, Dodó Bon Pan Café has pancakes, waffles or French toast which include two toppings from a list that includes apple puree, banana, Nutella, chocolate, marmalade or syrup. There is also an oatmeal bowl with almond milk and cinnamon, yogurt parfait with granola and fruit salad on the menu.
Brunch is served all day, everyday with vegan or gluten free options for an additional fee. All options include yogurt and fruit parfait or scrambled or tofu "eggs", black coffee and juice of the day. Additionally it includes one of the following options: avocado or salmon toast, French toast with chocolate, pancakes or waffles or the Panamanian option with corn tortillas with cheese, shredded chicken and vegetables.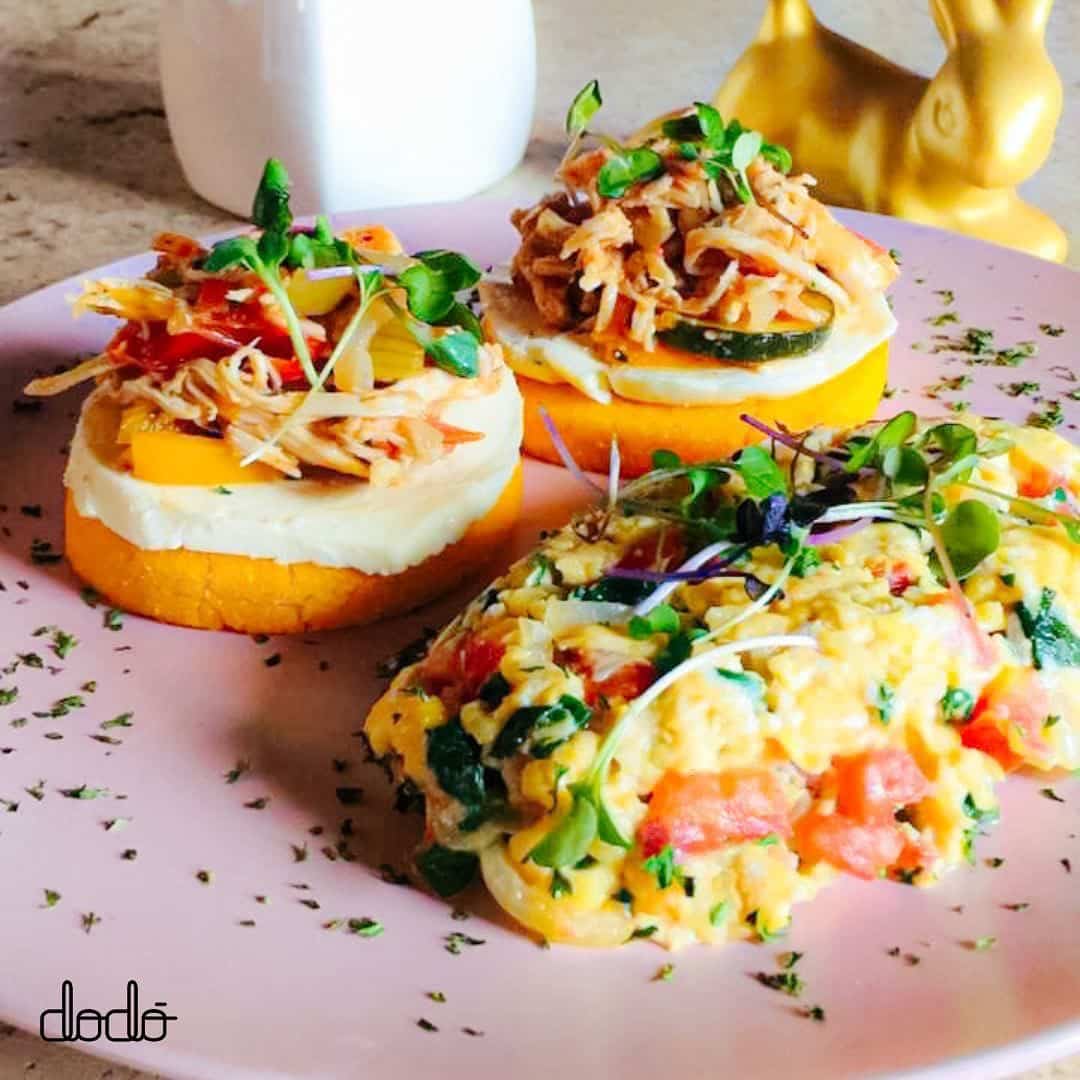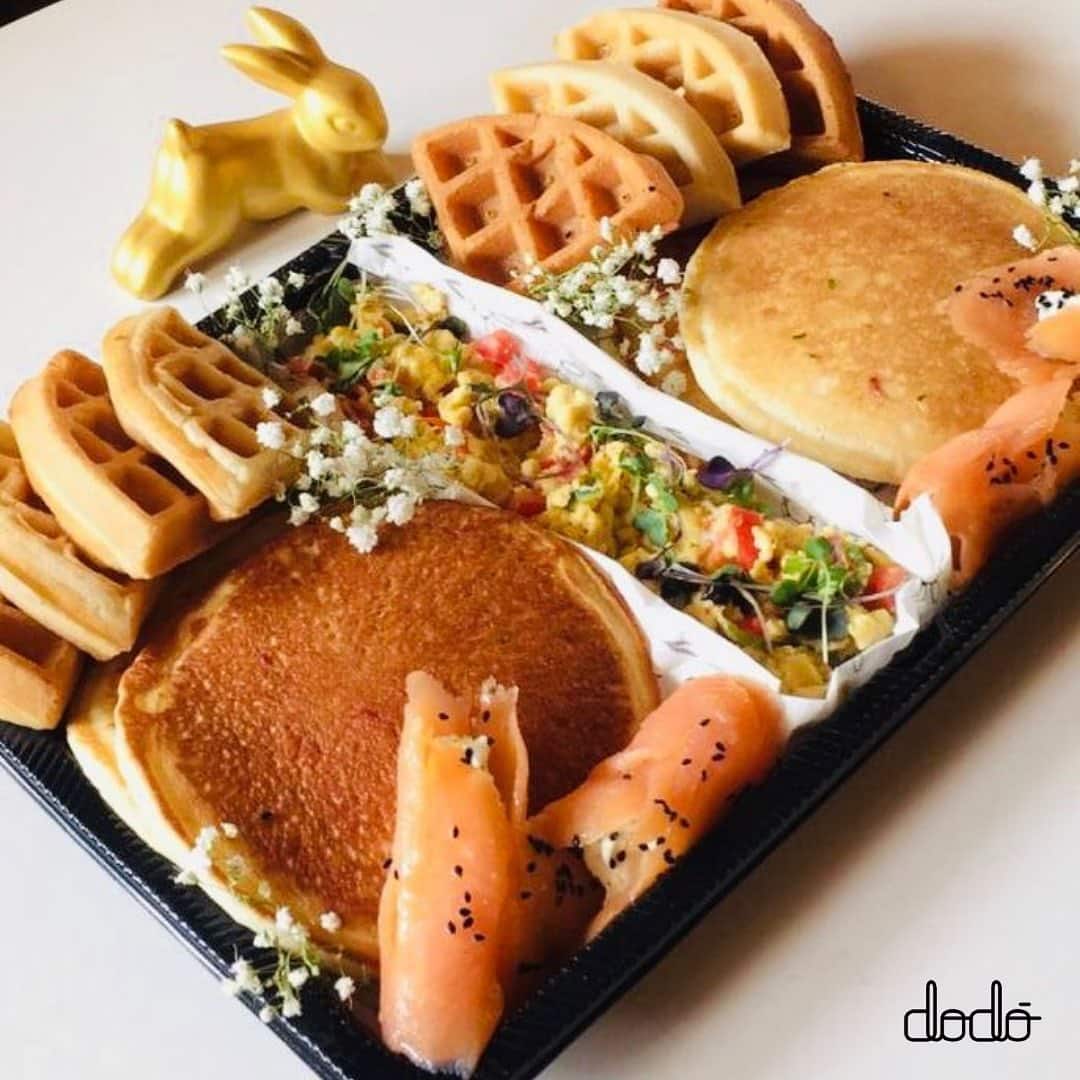 Of course, there are plenty of sandwich options on the menu since Dodó is a bread expert. Dodó Bon Pan Café in Casco Viejo has several burger options including a vegan option. This restaurant also has the Dodó chicken melt with Brie cheese, mayo and caramelized onions. The veggie sandwich has peppers, zucchini, onions, spinach, eggplant and carrots. While the Greek sandwich has tomato, cucumbers, onions, olives, and feta cheese. Caprese is another salad turned into a sandwich option which has mozzarella cheese, tomato, pesto, prosciutto and arugula. Those who want some seafood can order the salmon sandwich with cream cheese and dill or the tuna sandwich with fresh lettuce.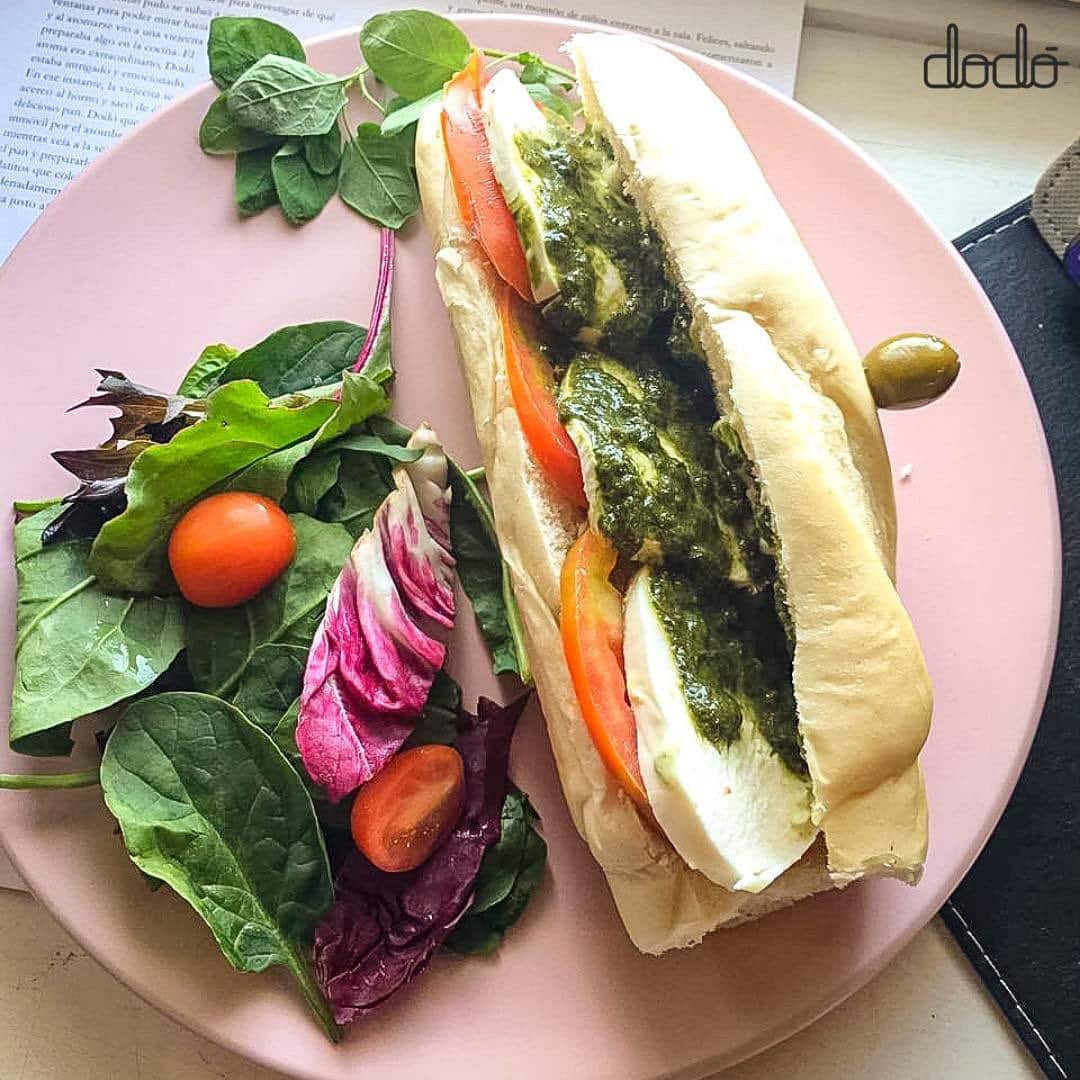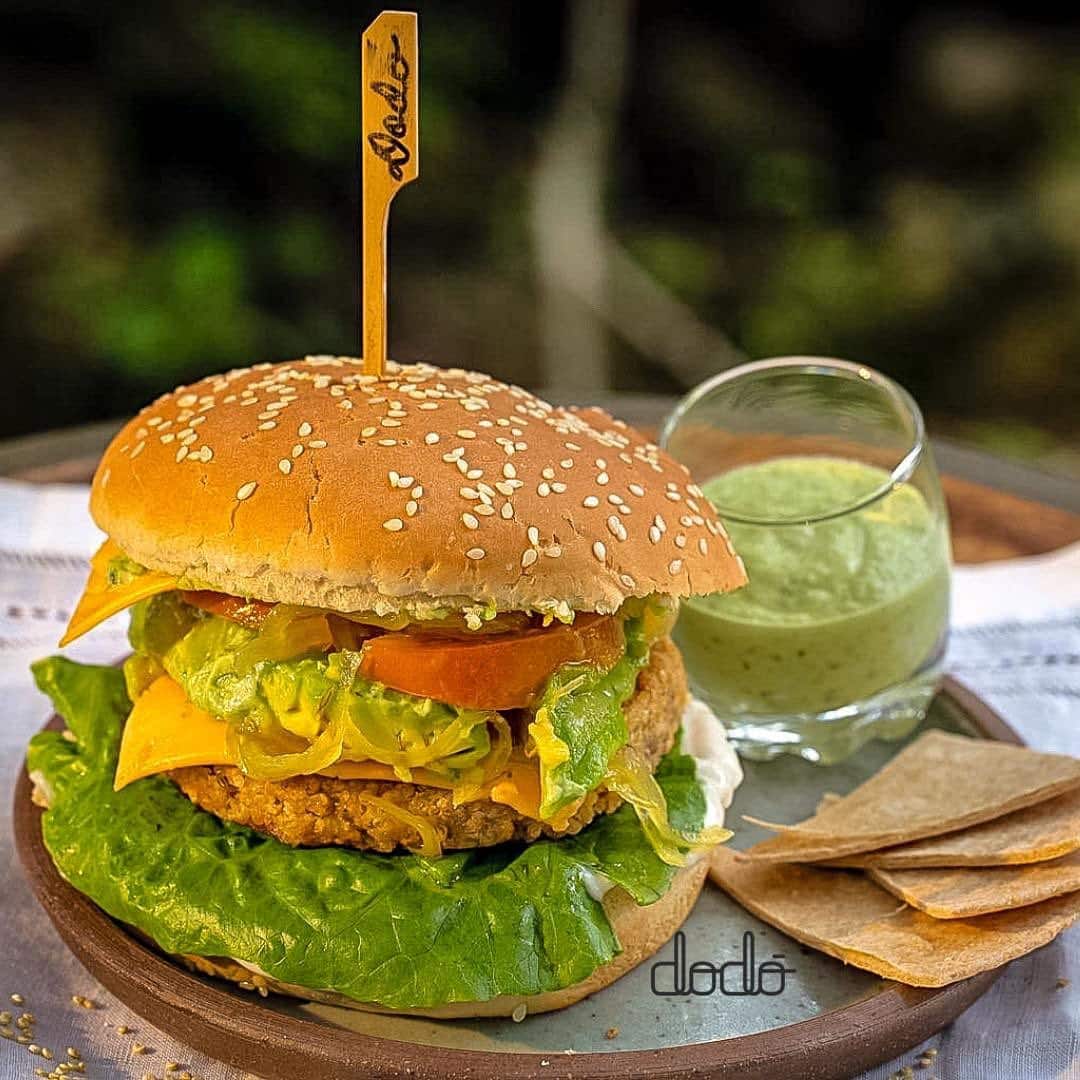 Dodó Bon Pan Café has a few salad options in their menu including the Cobb Dodó with grilled chicken, apple, tomato, feta cheese, egg, lettuce and cranberry. There is a vegan option available for this salad. Another vegan option is the Thai quinoa salad which has peppers, carrots, zucchini, onion and avocado. It is possible to add protein to this salad. This restaurant also has a tuna salad, Cesar Dodó with salmon and chicken pesto salad.
Are you eating in Dodó Bon Pan Café with friends? This restaurant in Casco Viejo has some great sharing options in their menu. Order the hummus with chips, bread or vegetable sticks. There is also an option of four mini vegan burgers with platain chips. The mango ceviche is another vegan option with mango, onions, tomato and avocado.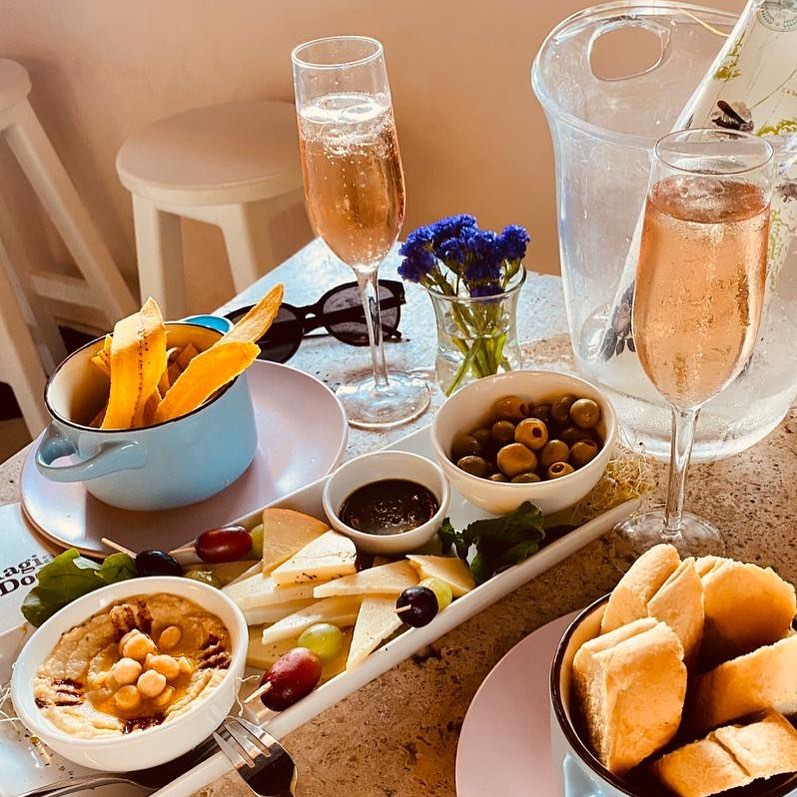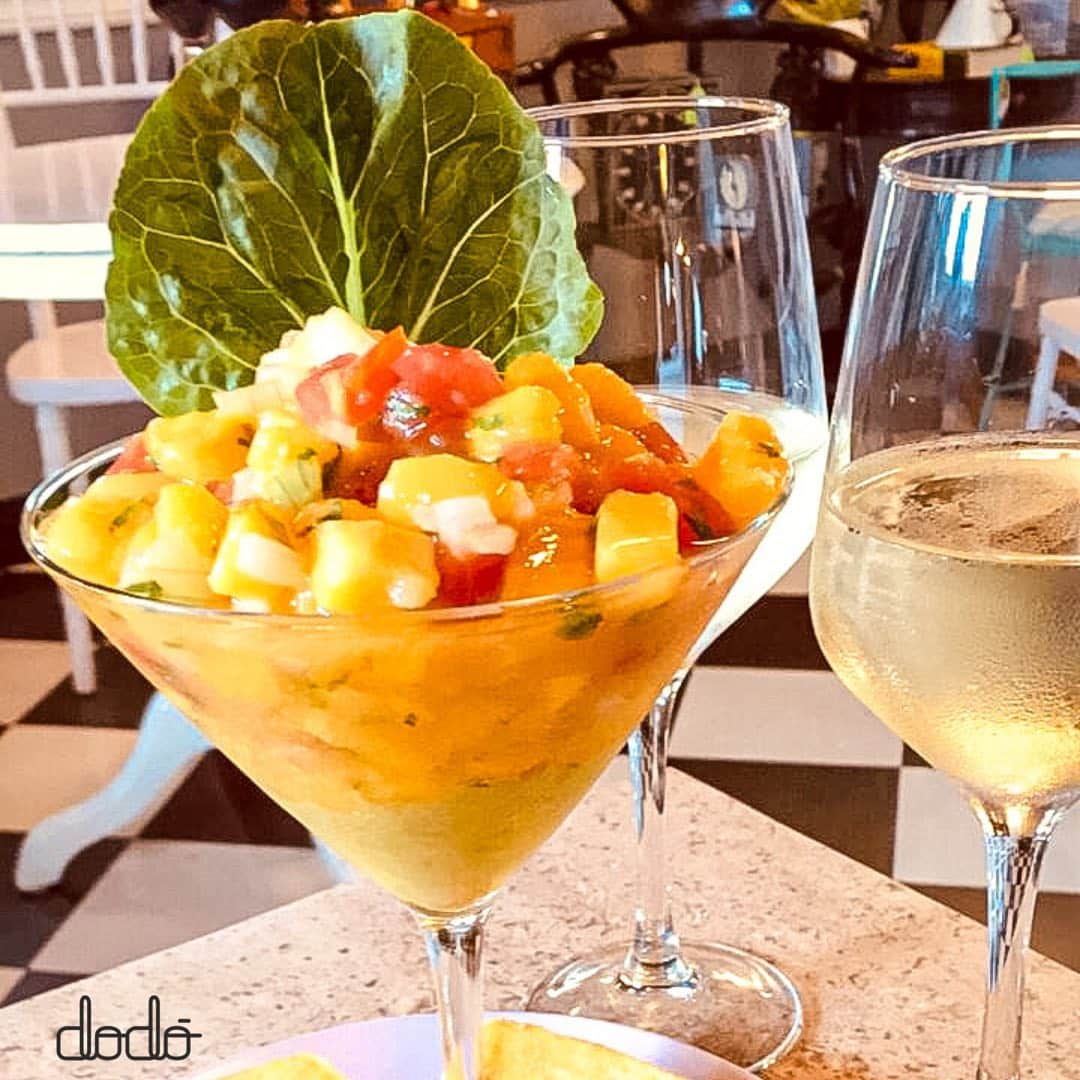 Salmon carpaccio has smoked salmon over a base of arugula, capers and onions. There is also a fresh burrata with prosciutto, arugula, cherry tomatoes and pesto with bread. The platter can feed two or four which has several options of cheese, dips, prosciutto and bread. Finally there are several mini toast options.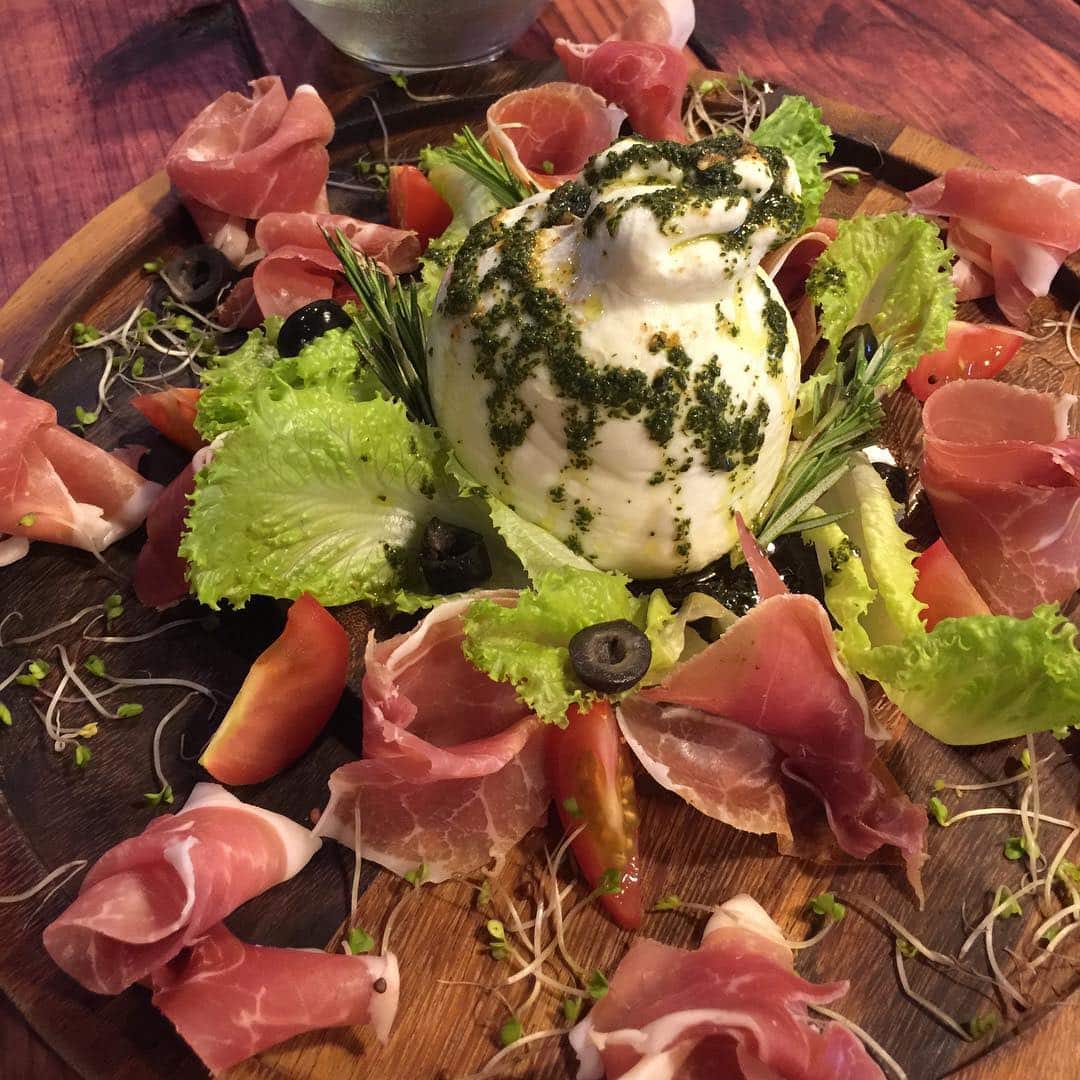 Dodó Bon Pan Café serves great coffee from the highlands of Panama. Ask for any of your favorites including ice coffee, latte, mochaccino, capuchino, expreso, or americano. This restaurant has regular milk, soy and almond milk. They also have hot chocolate and natural tea infusions.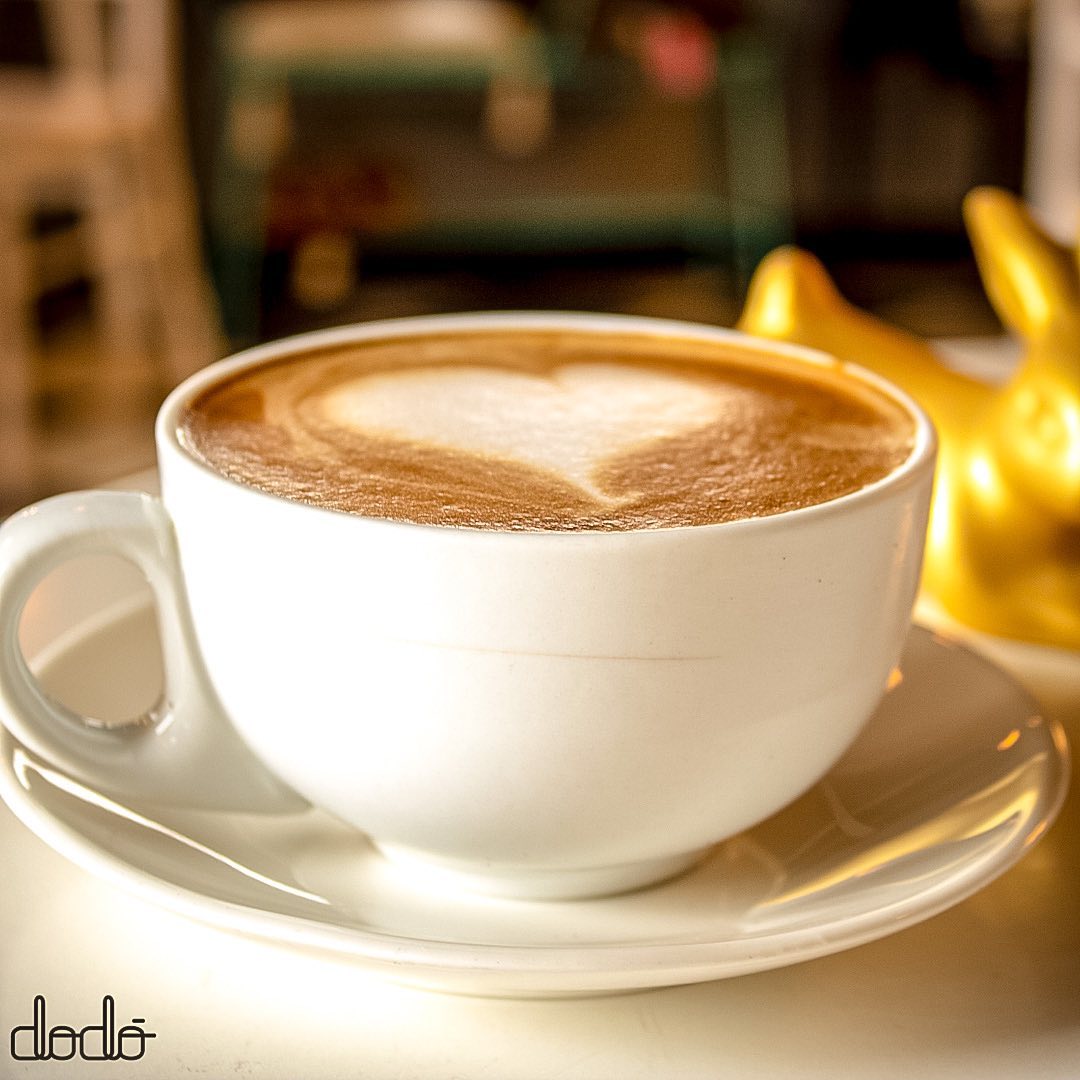 Other drink options include fresh fruit juices such as lemonade, tree tomato, passion fruit and tamarind. Dodó Bon Pan Café i also have mango and strawberry smoothies, as well as tropical fruits such as pineapple, papaya, melon or watermelon which can be combined. Kombucha is another healthy option with probiotics. Menu includes soda, water, beer, sangria, mimosa, wine and cava.
As we all know, Dodó has a sweet tooth, so you can finish your meal with a dessert or drink a coffee with a dessert which includes lemon pie, cheesecake, brownie, mousse, strawberry shortcake and three milks. Dodó Bon Pan Café also has several vegan dessert options such as chocobanana, carrot and nuts cake, and apple, nuts and cinnamon cake. Dodó Bon Pan Café has a daily afternoon tea and cake option which is available from 2 to 5 p.m.