Blue Moon Tap House is one of my favorite bars in Casco Viejo. It is located on Plaza Herrera right on top of Madre Cucina Italiana Restaurant. Both establishments are of the same owners. Plaza Herrera is the hottest plaza in Casco Viejo. Next to this bar you can find Casa Casco that has a great rooftop and several restaurants.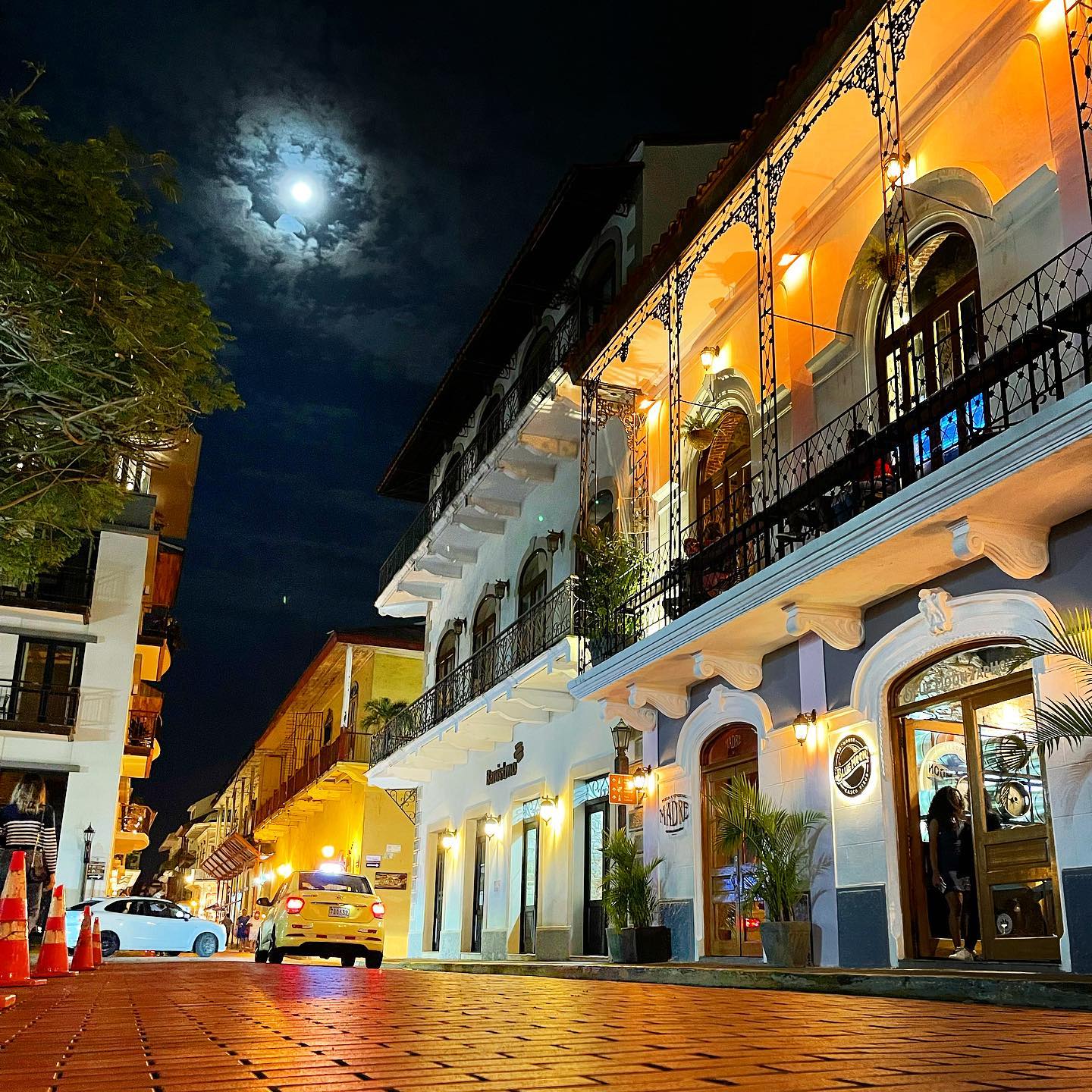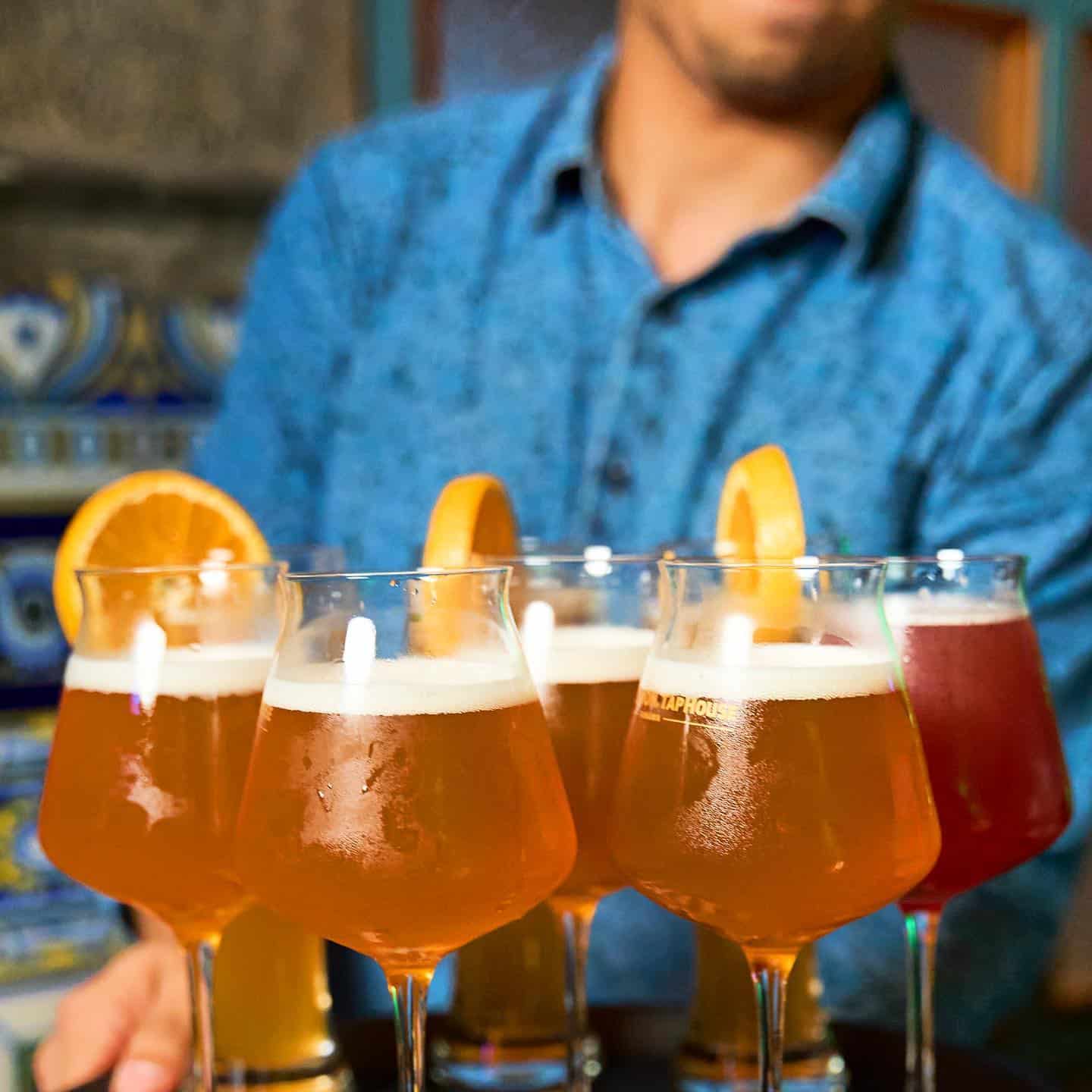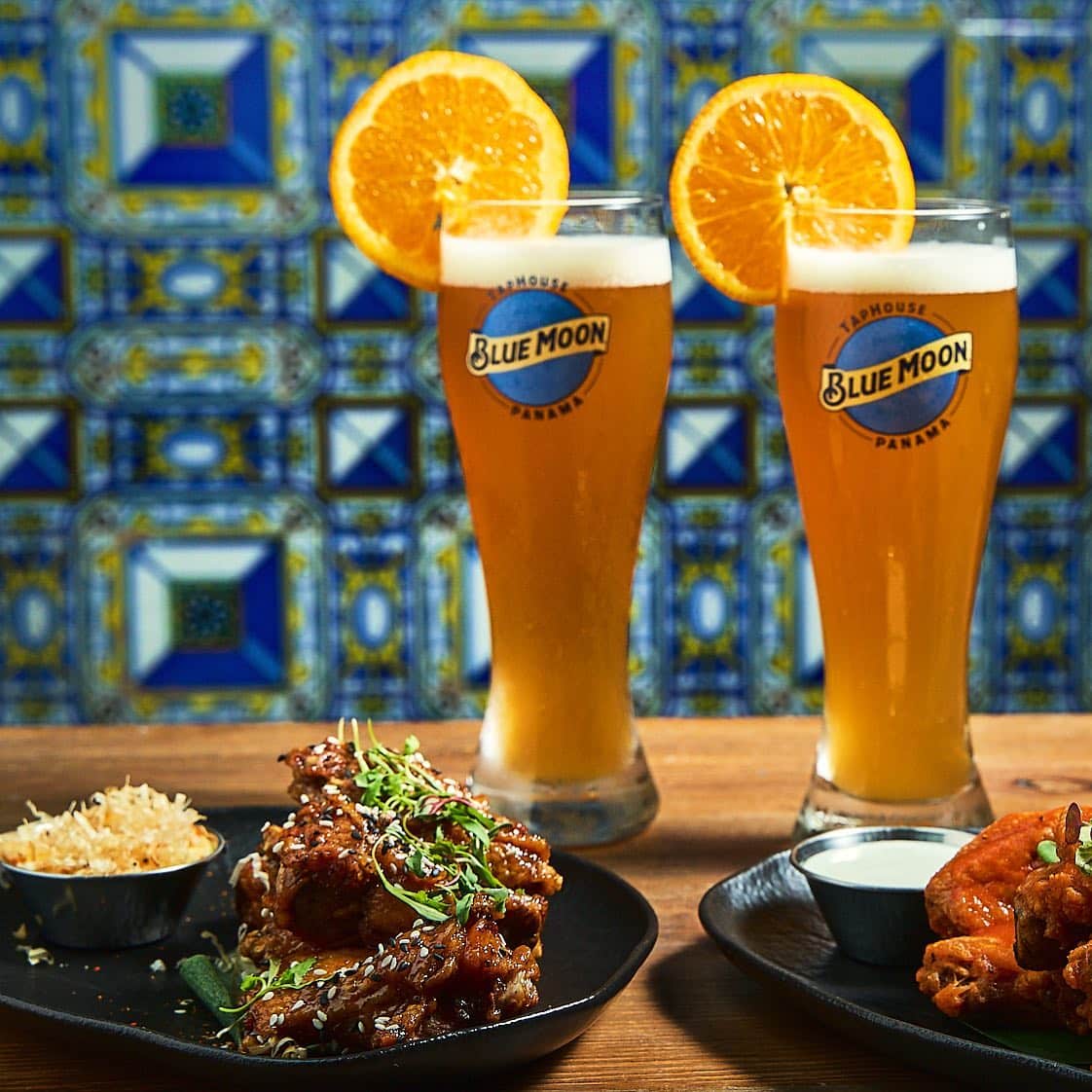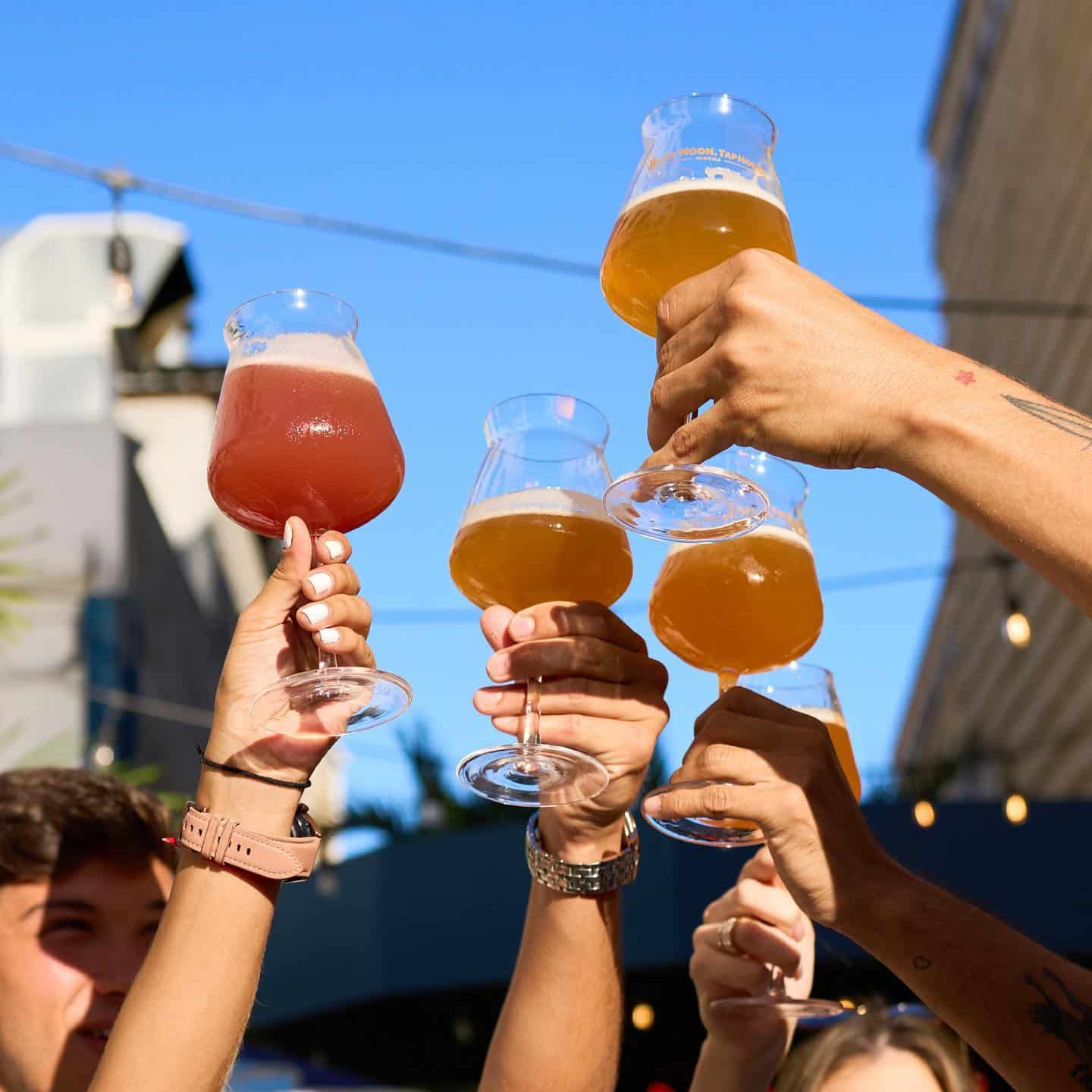 Blue Moon Tap House has a small terrace in the front area overlooking Plaza Herrera. The terrace is quite small with only a few tables. It has a main dining area with a bar with stools where diners can see the bartenders pour draft beer and prepare cocktails. This area is quite open with traditional calicanto walls and a big mural on the top, as well as a huge blue ball of light bulbs and smaller strings of lightbulbs throughout the place. Tables are quite comfy, many are in a sofa style or have chairs with armrests. Palm trees decorate the restaurant giving it a tropical vibe.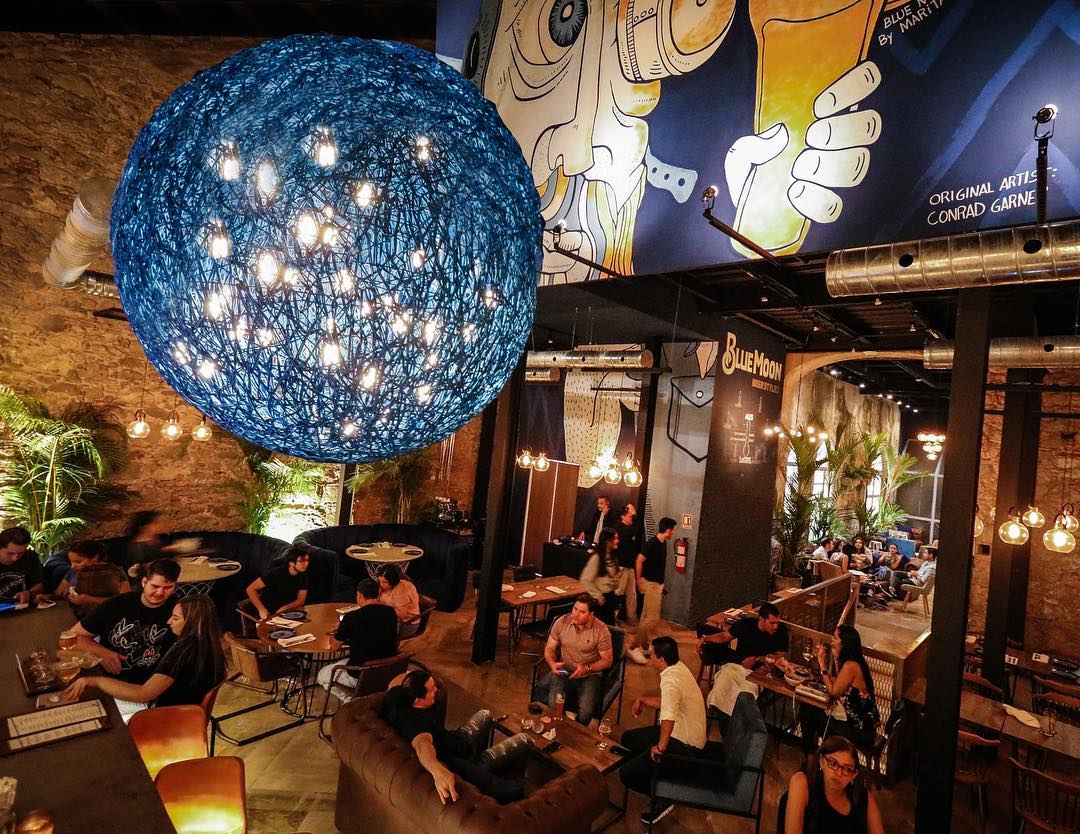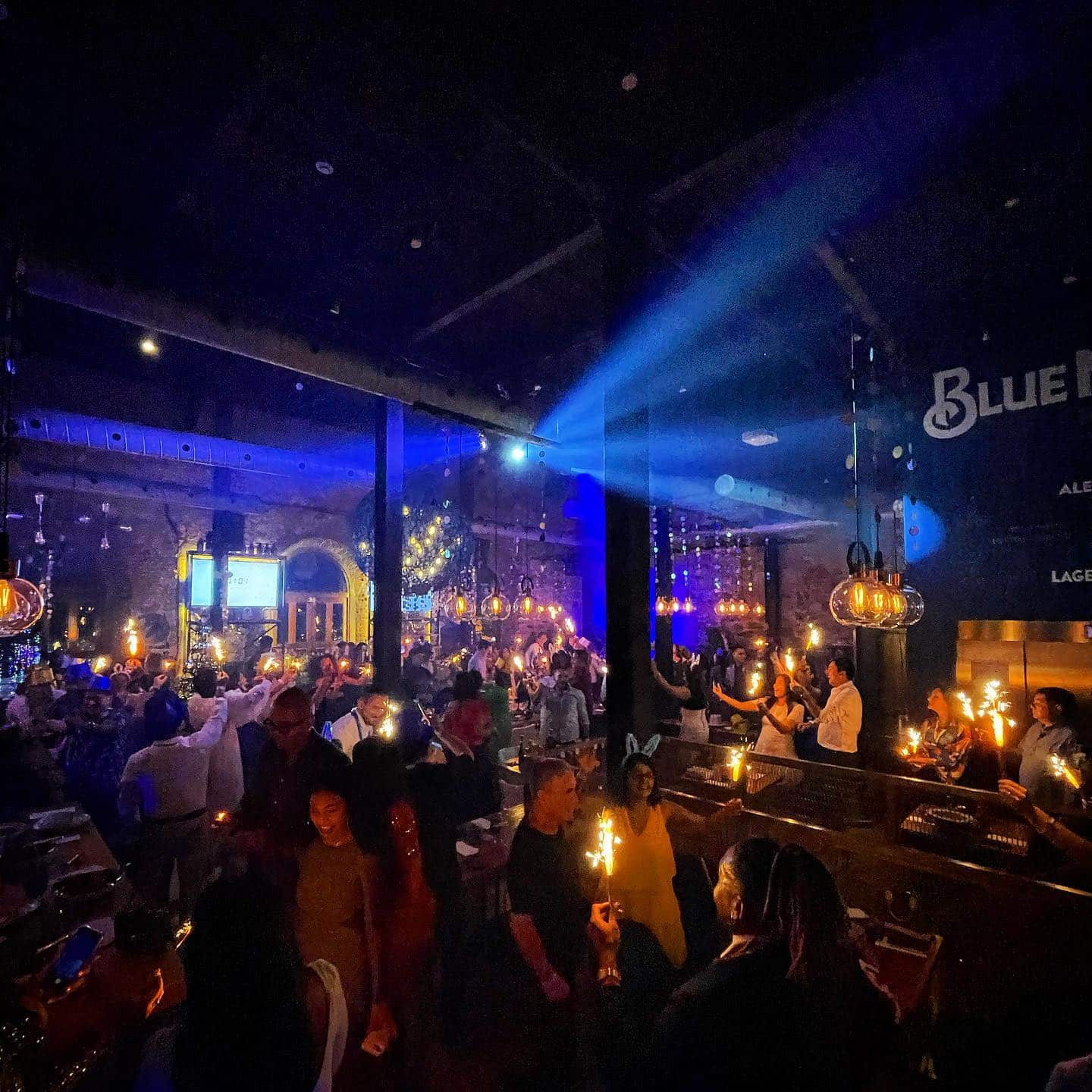 Outside there is an open air terrace with plenty of plants and some branded umbrellas to shade from the sun. At night there are strings of lightbulbs to give it dim lighting. Blue Moon Tap House Casco Viejo starts as a restaurant. It has a calm environment where children can go. This is a good restaurant to go with friends as well since you can talk.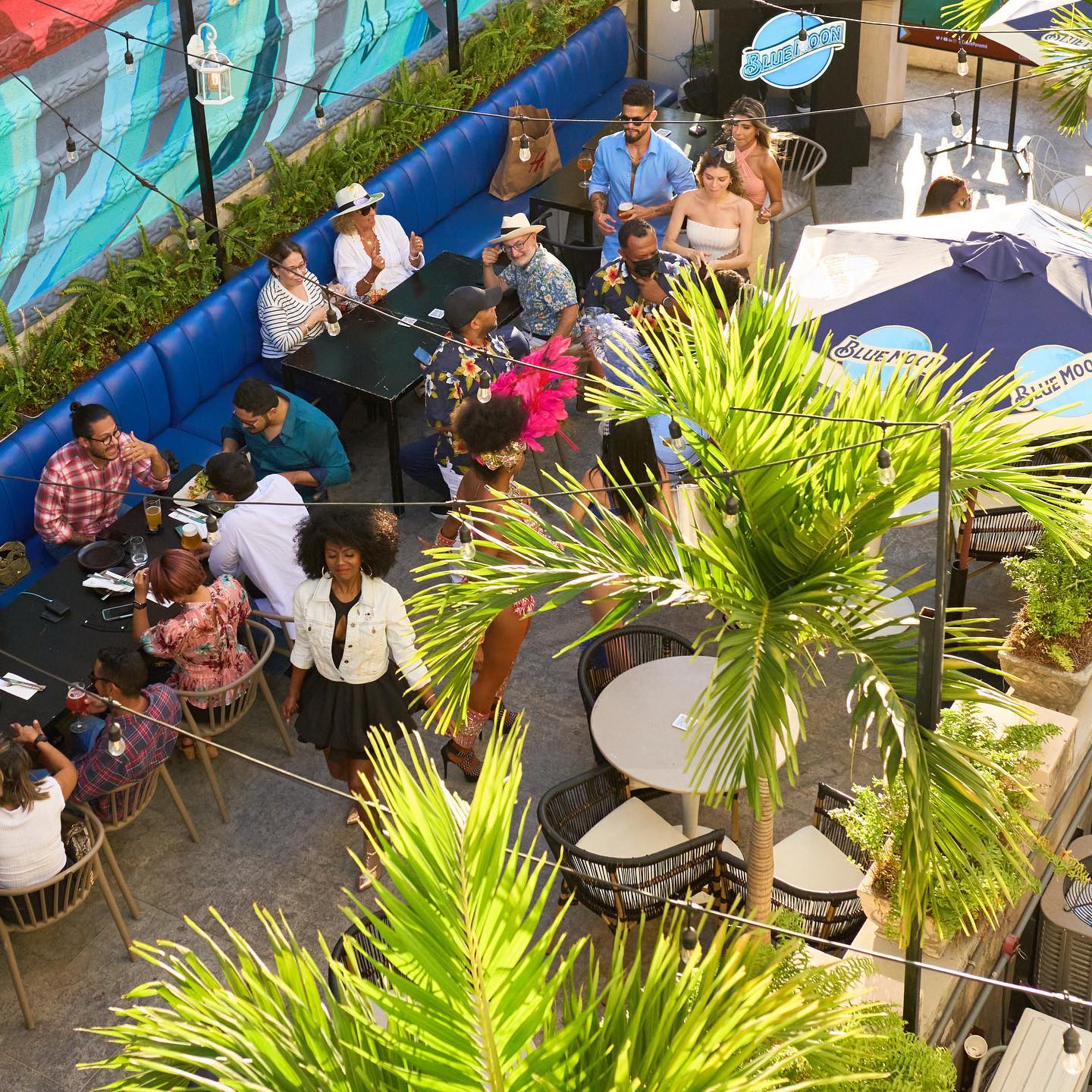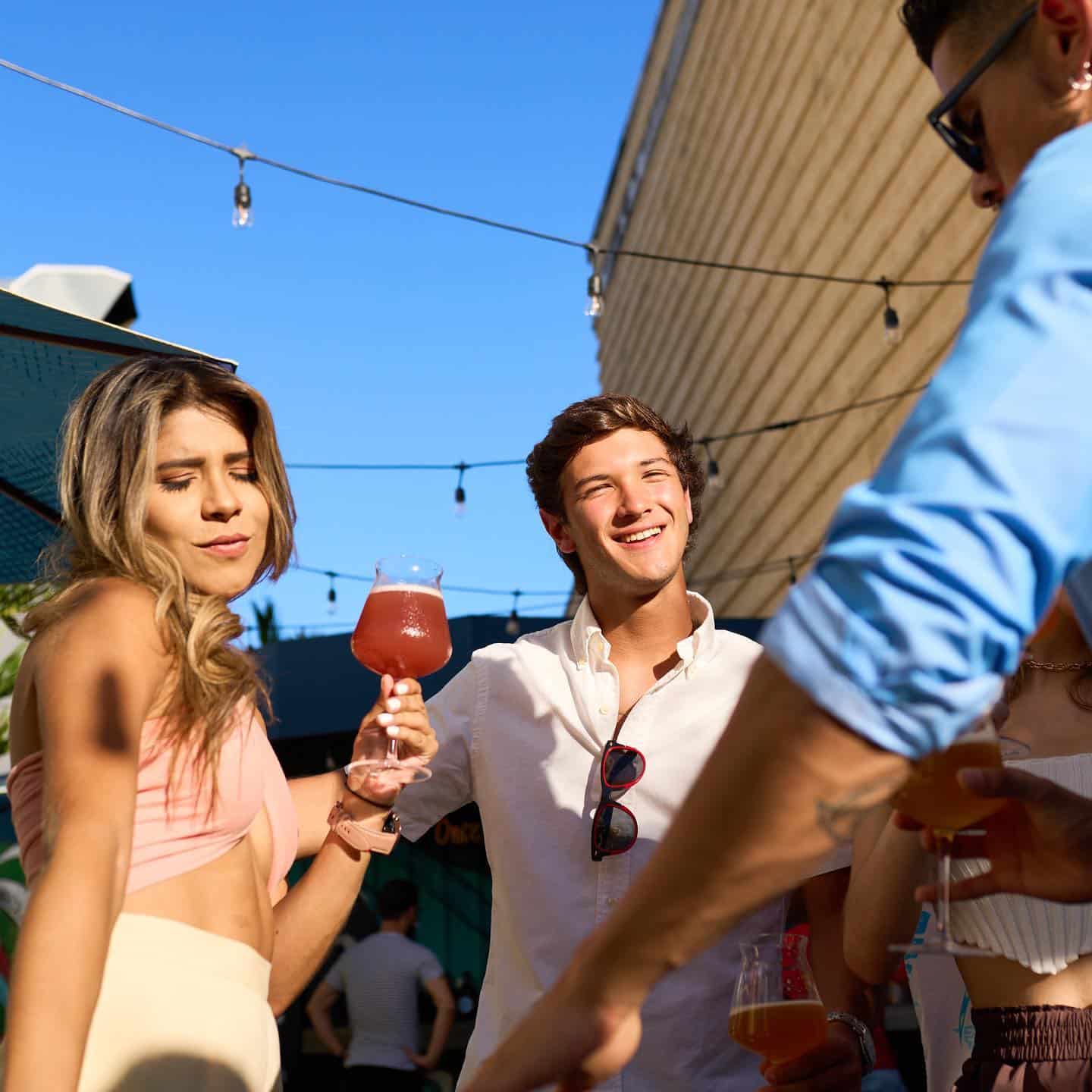 As the night progresses it changes from a restaurant to a bar. Music is turned up and there may be a DJ, as well as other forms of entertainment such as dancers or people in costumes. Blue Moon Tap House Casco Viejo is always having parties so you can expect to see a Grinch around Christmas, diablicos during November for the month of Panama and all kinds of costumes in October to celebrate Halloween.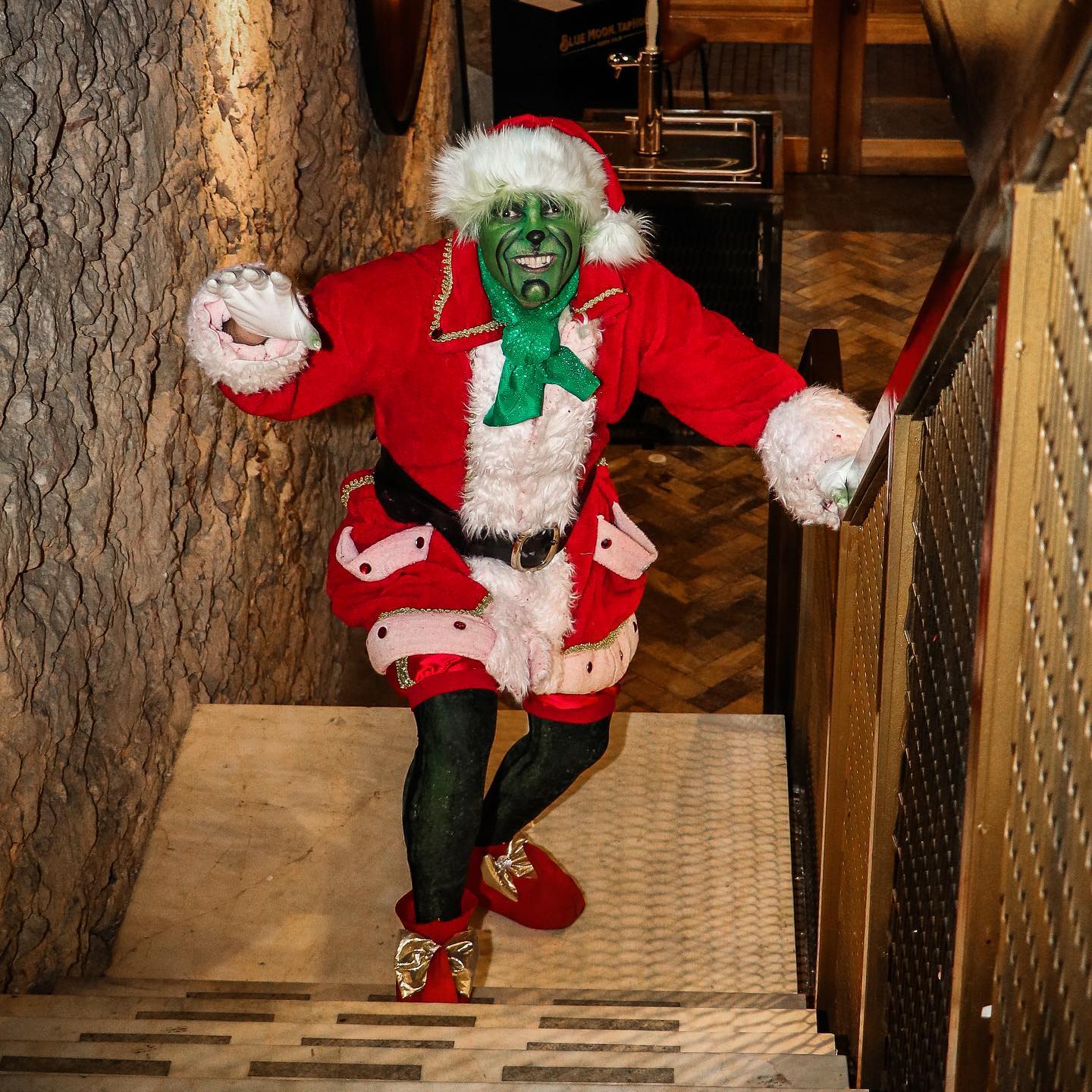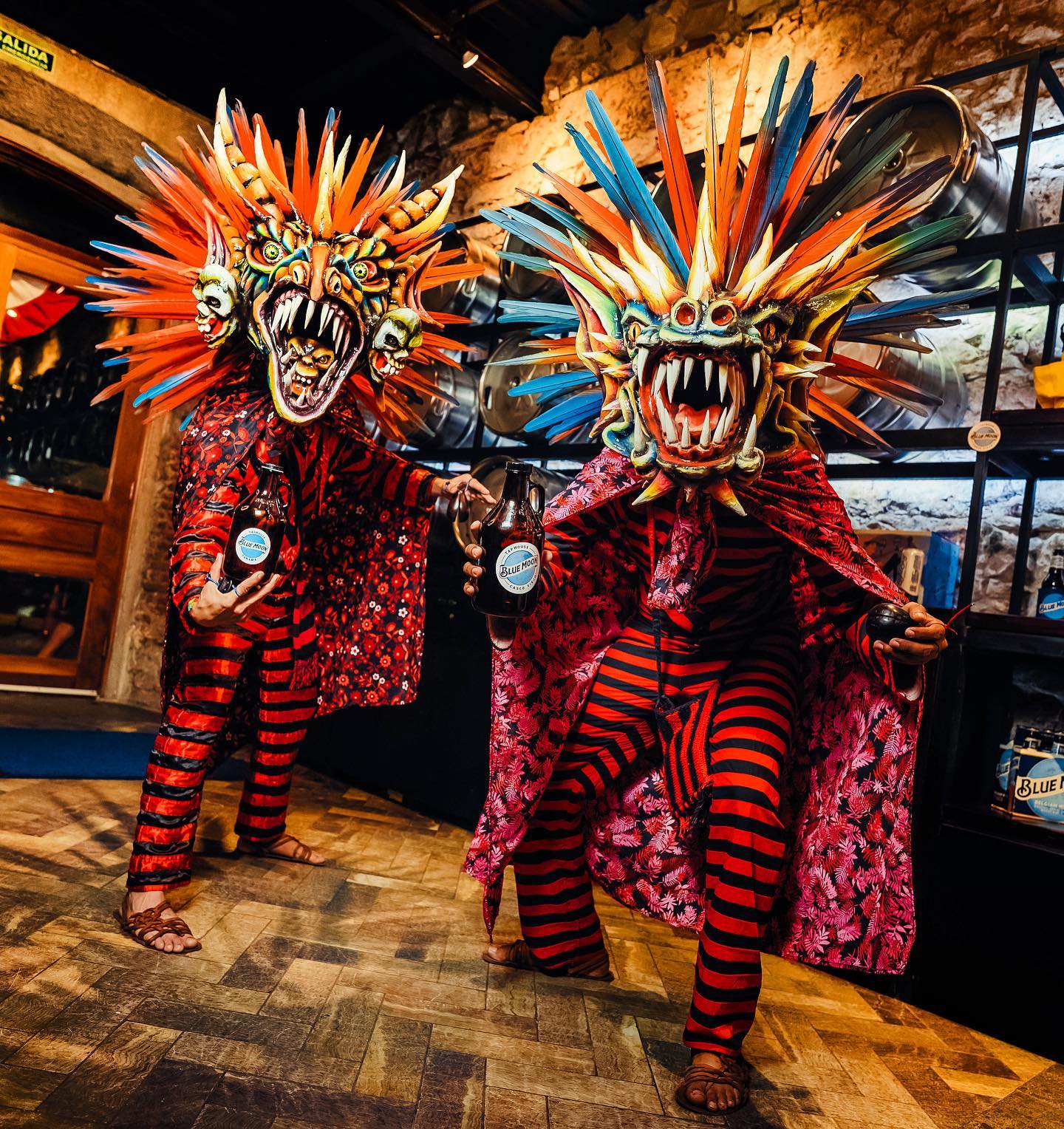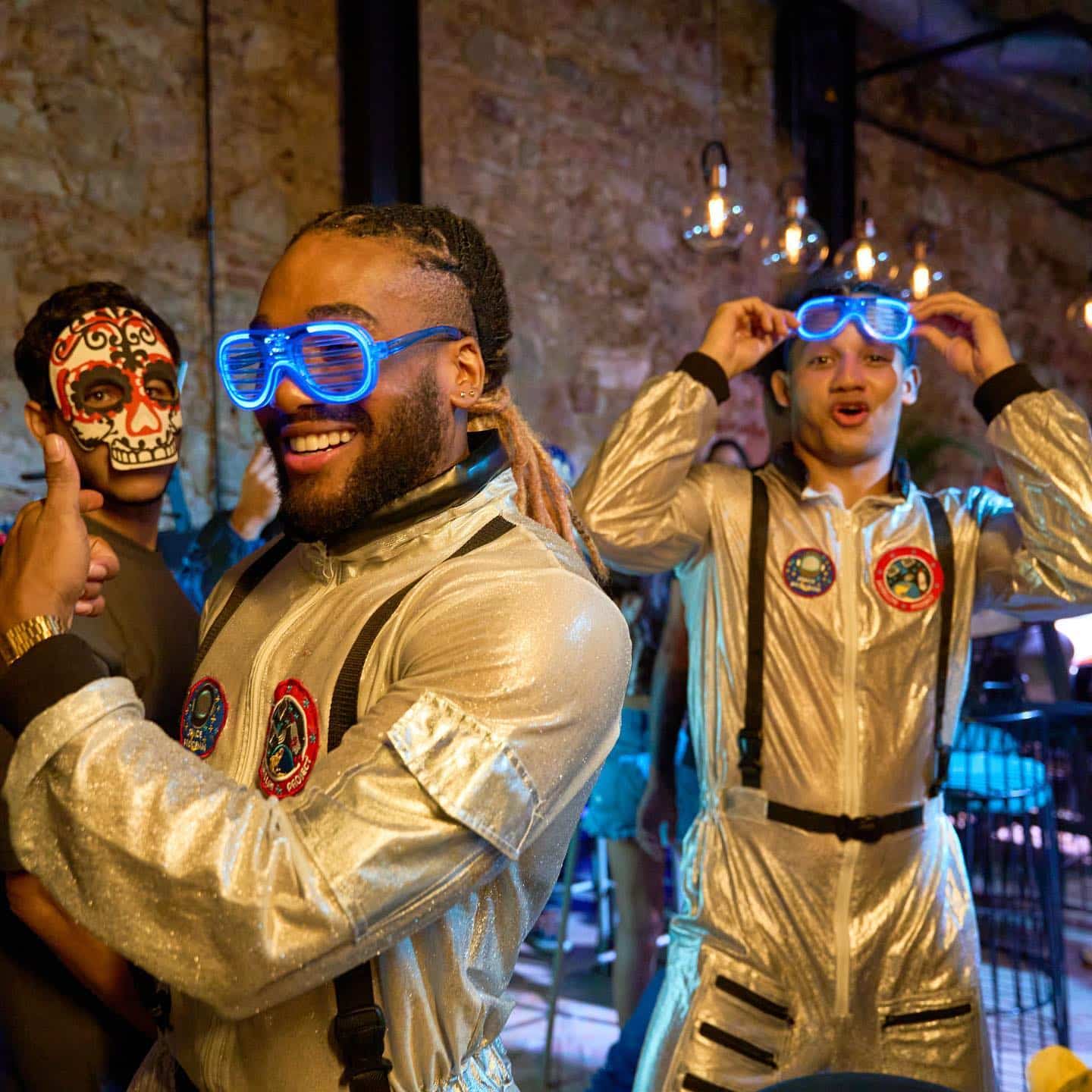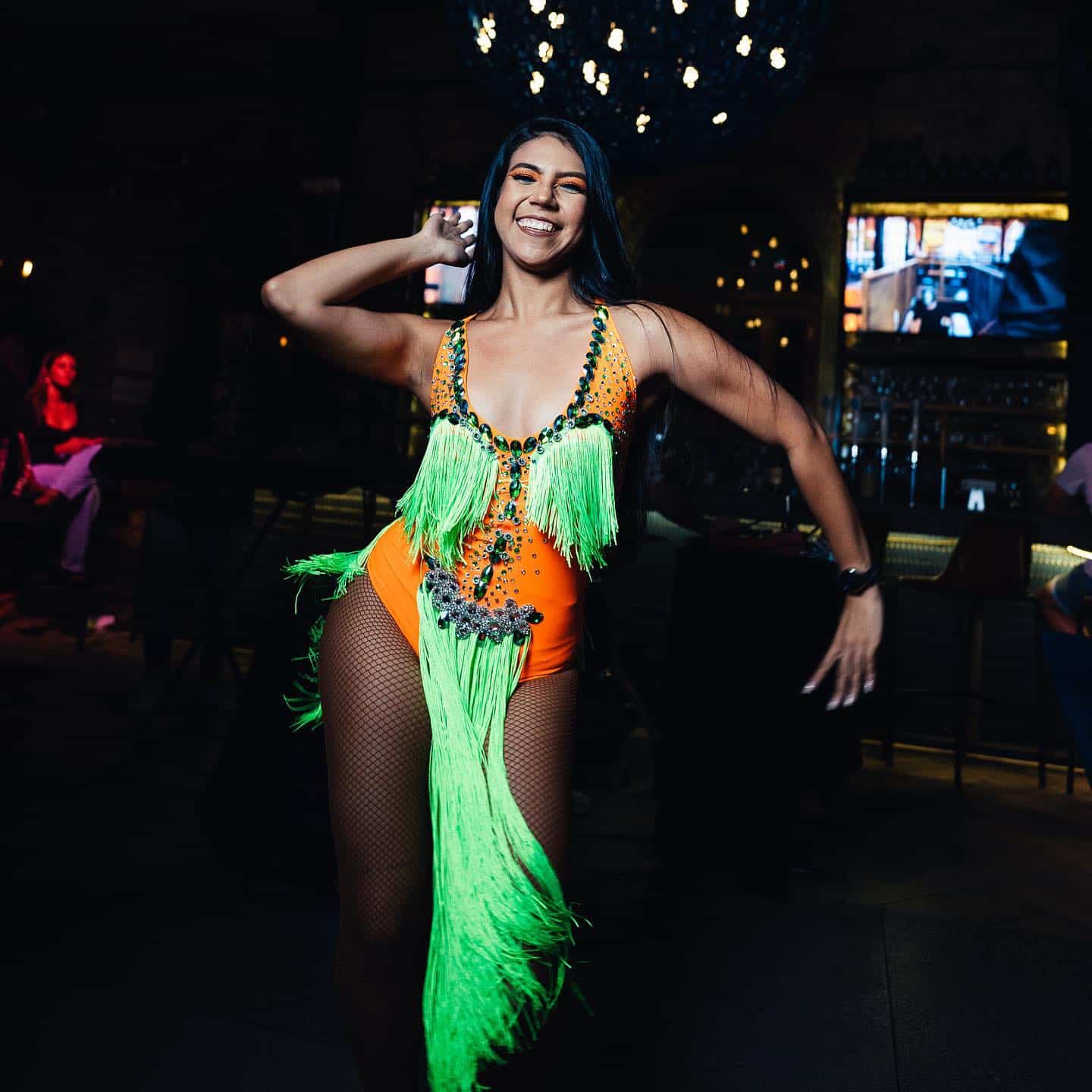 This restaurant and bar in Casco Viejo opens daily. On Mondays it is open from noon to midnight. Tuesday through Thursdays from noon to 1 a.m. Fridays and Saturdays from noon to 3 a.m. and on Sunday it opens from noon to 11 p.m. There is valet parking available for the convenience of visitors since it is very difficult to park in this area.
Blue Moon Tap House
Blue Moon beer started in Denver, Colorado in 1995. This beer was created in the Sandlot Brewery and it quickly became the favorite. Brewers were baseball fanatics so they named the beer "Bellyslide Wit" but somebody said "a beer this good only comes around once in a blue moon" and then the name was changed! Blue Moon is a Belgian white wheat ale. It is brewed with Valencia orange peel to accommodate the American palate which was not used to the tartness of a Belgian Wit. Beers are usually served with a slice of orange on the glass as a garnish which can also be added into the beer.
One of the best things to do when visiting the Blue Moon Tap House in Casco Viejo is to get a beer tasting. This way you can try all the flavors that are available. If you only want to taste one then the staff can bring you a small sample. Flavors can rotate and they always have a special edition. Some of the Blue Moon beer flavors include mango wheat, tangerillo, blueberry Berliner, iced coffee blonde, Mexican chocolate and the traditional Belgian white. This bar also sells Coors Light and Miller Genuine draft.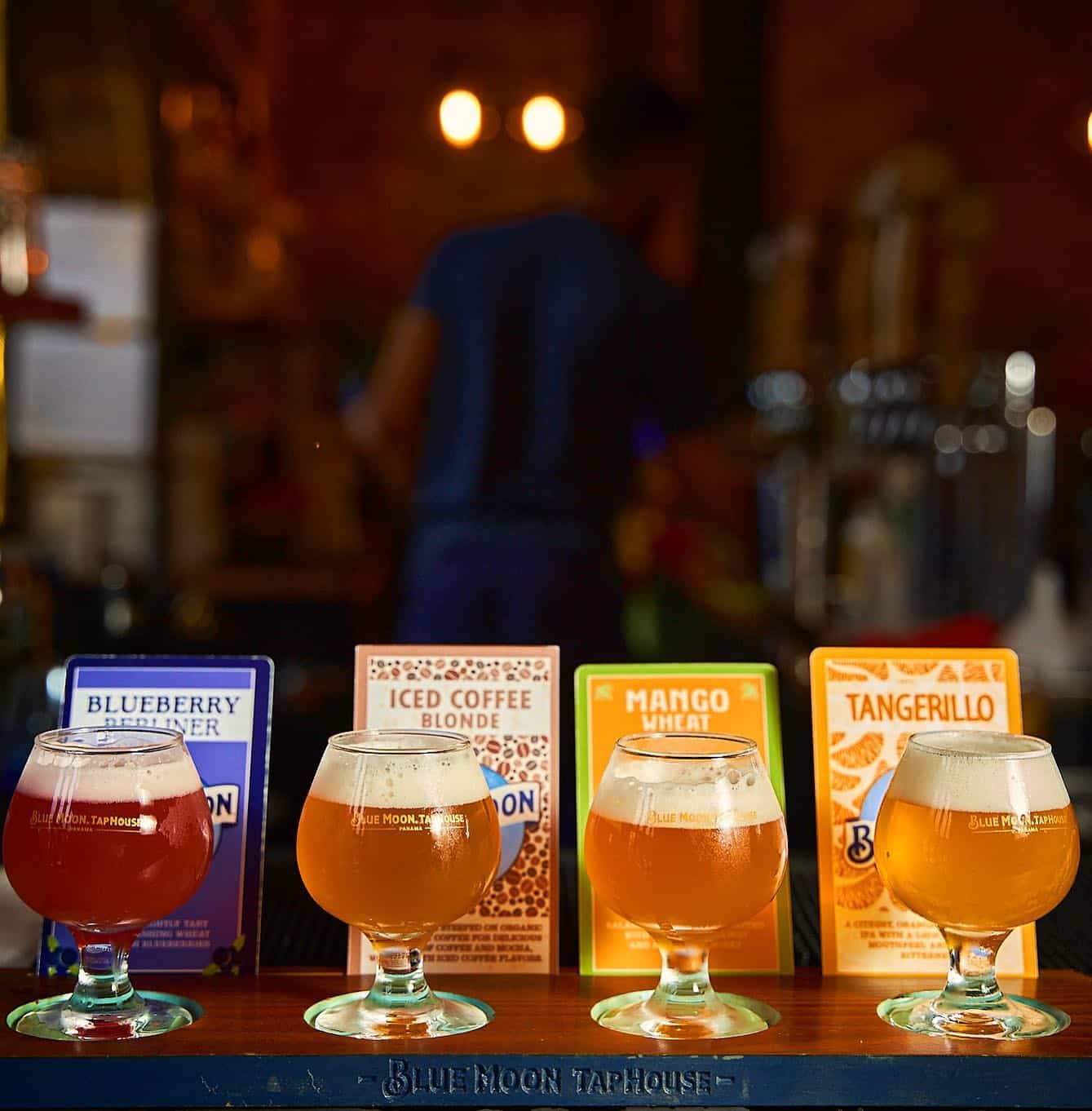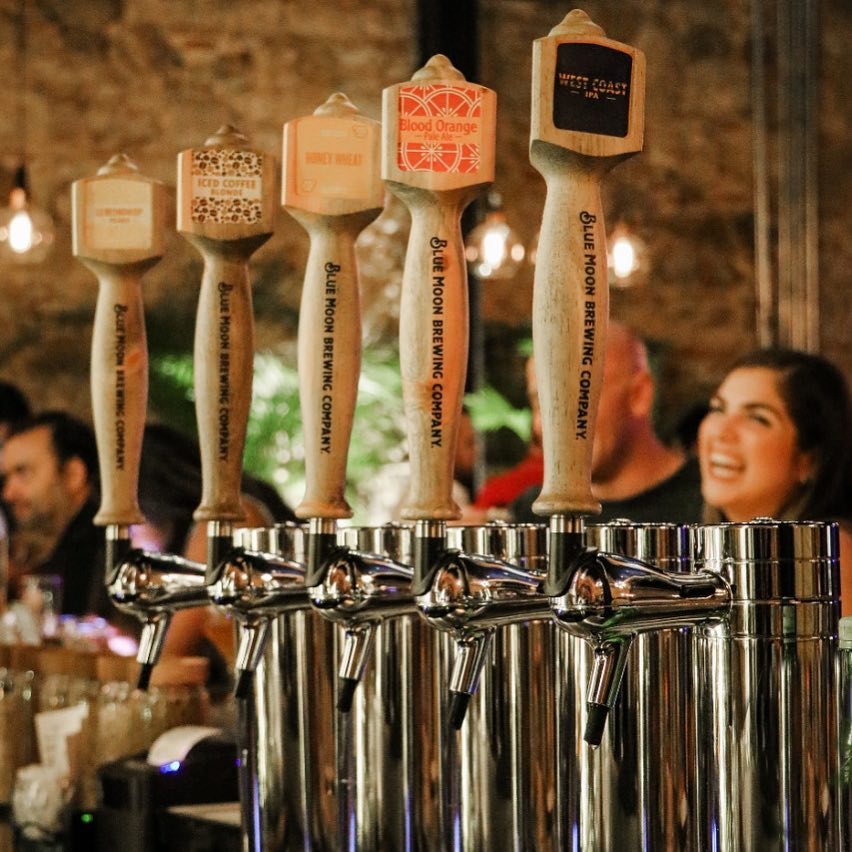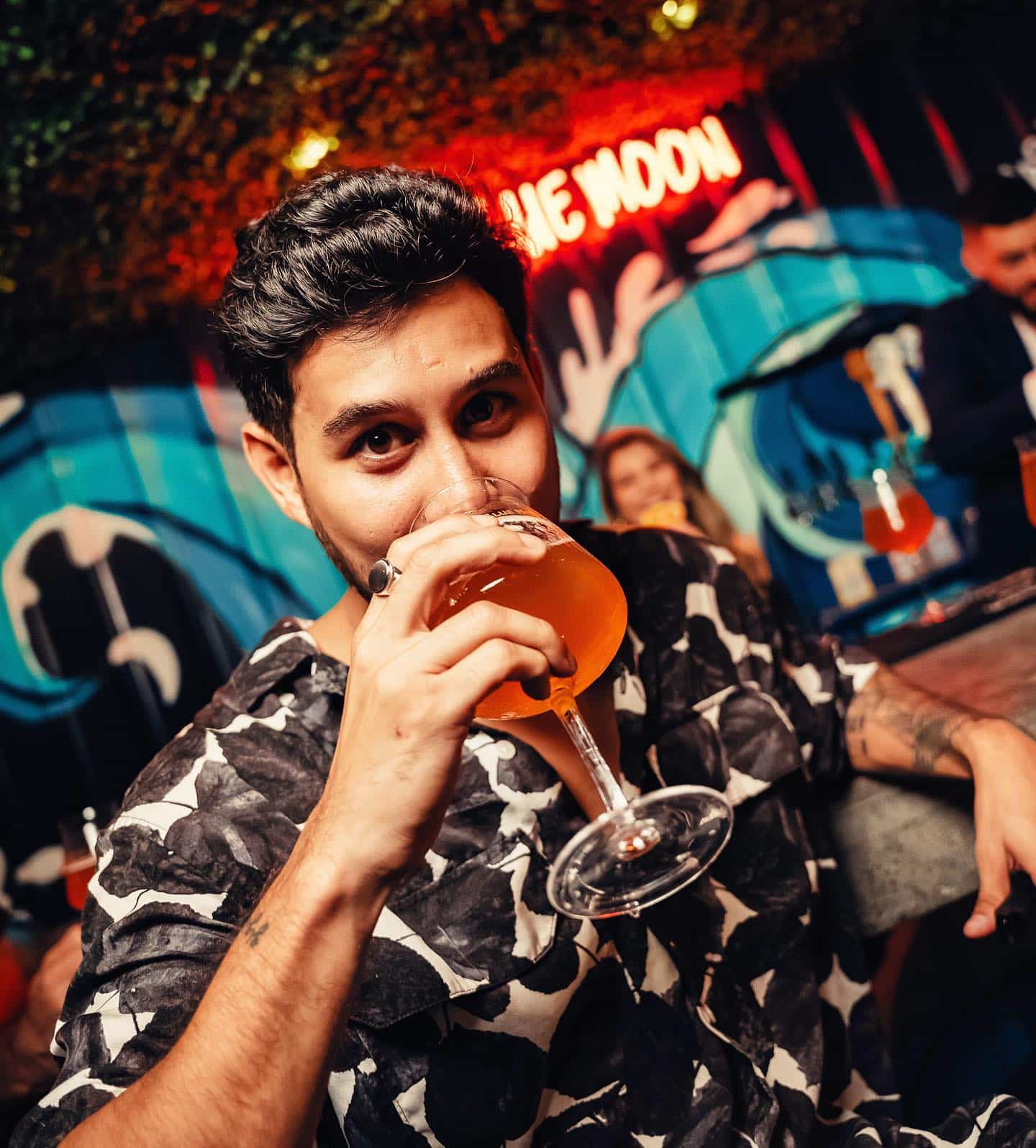 Traditional or Fancy Cocktails
Not a fan of beers? No worries, there is also a huge cocktail list! Blue Moon Tap House in Casco Viejo has its signature cocktails which include the Mexican Mule with Jose Cuervo tequila, ginger, hibiscus and lemongrass. Other tequila options are the Rabbit Tail with Aperol and mandarin cordial or the Agave Moon with Chile liquor and Blue Moon Belgian white beer.
Whisky moon is a play on sour mix, beer and bourbon. Several of the cocktails have a tropical flavor to them including the Rockstar with Ketel One Vodka, orange liquor, Prosecco and peach and passionfruit puree. Try the Tropical Moon with Ron Flor de Caña, mango puree, mint, lemon and Blue Moon mango wheat. There is also a Bluemoon Sangria with Blue Moon Curacao.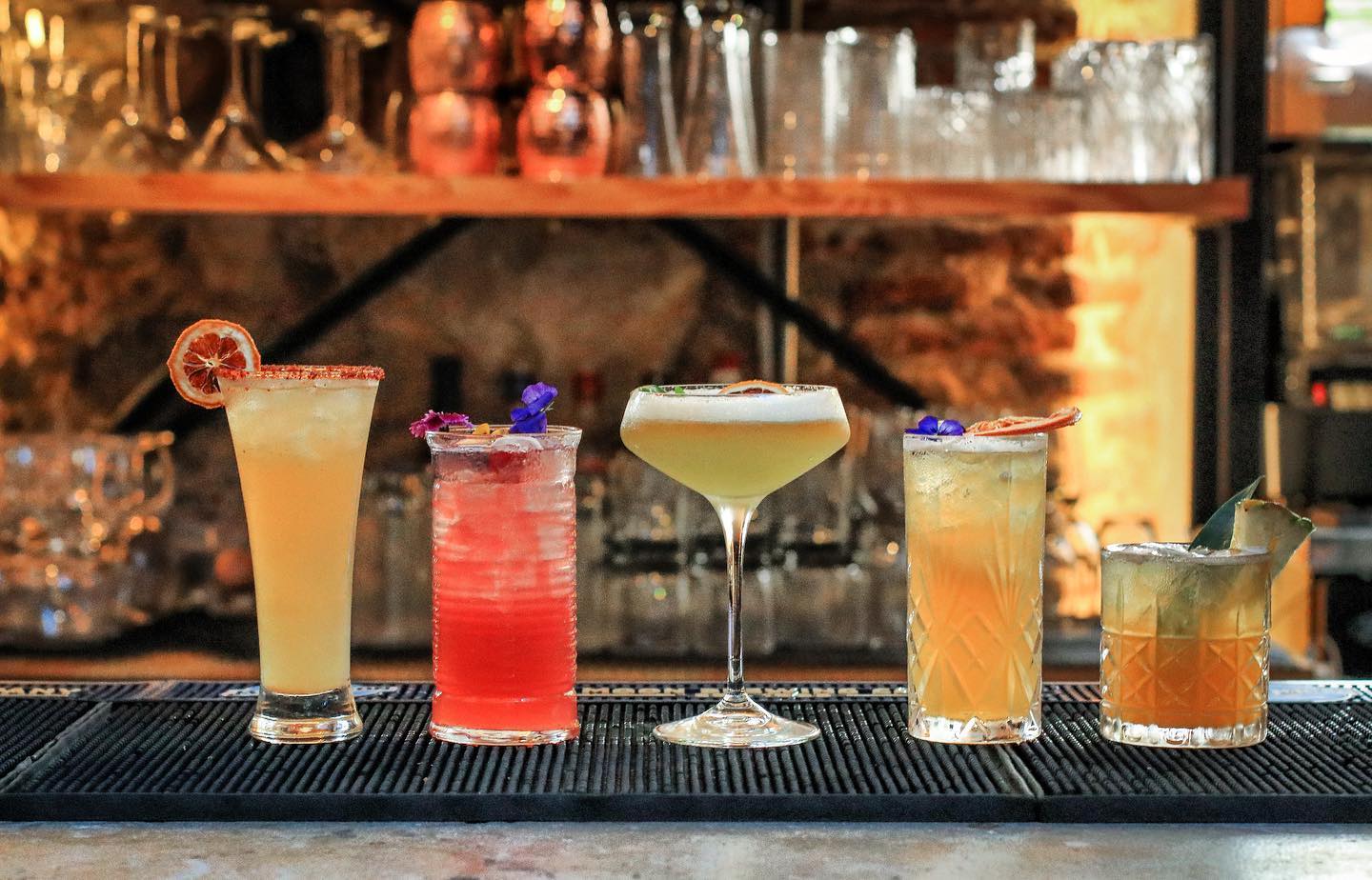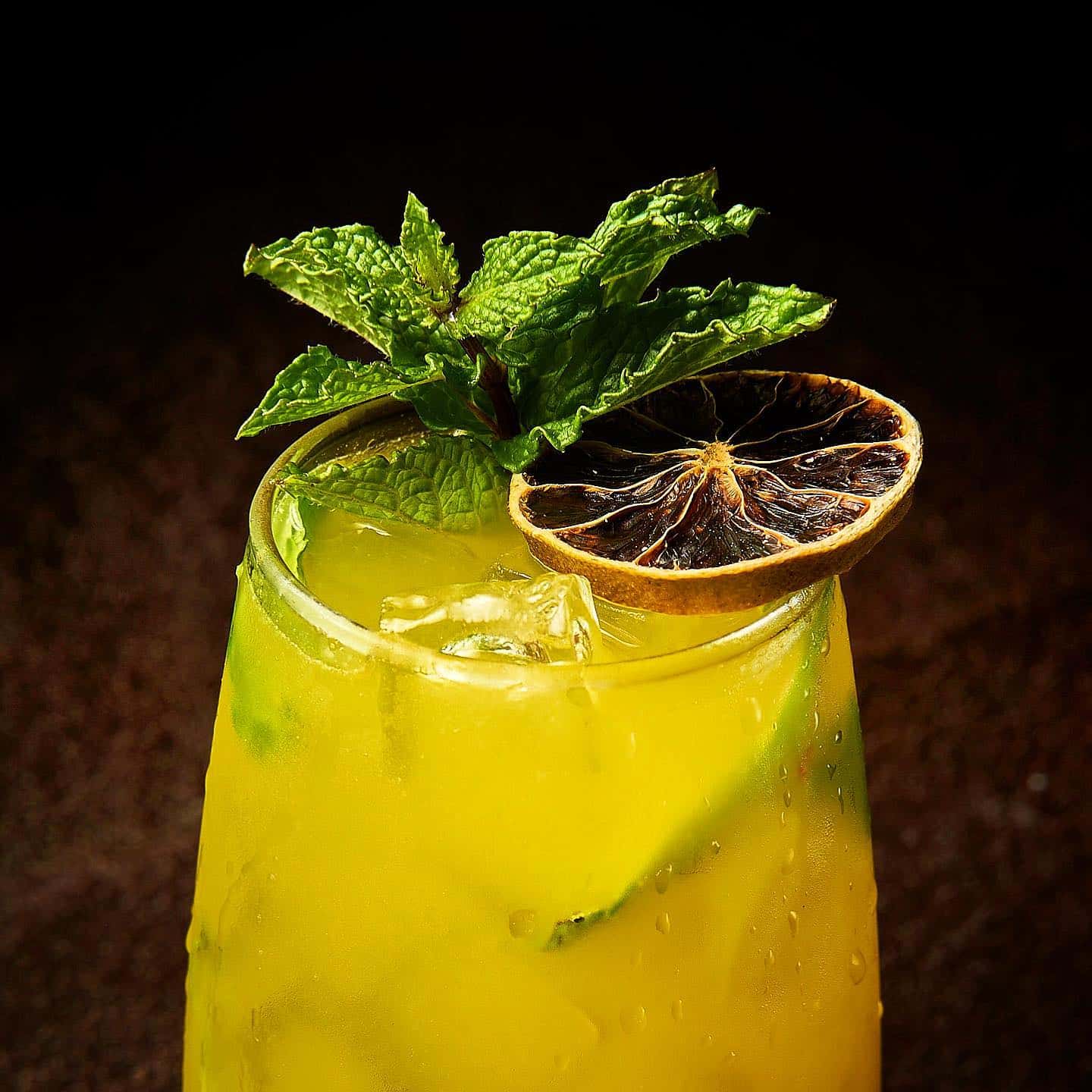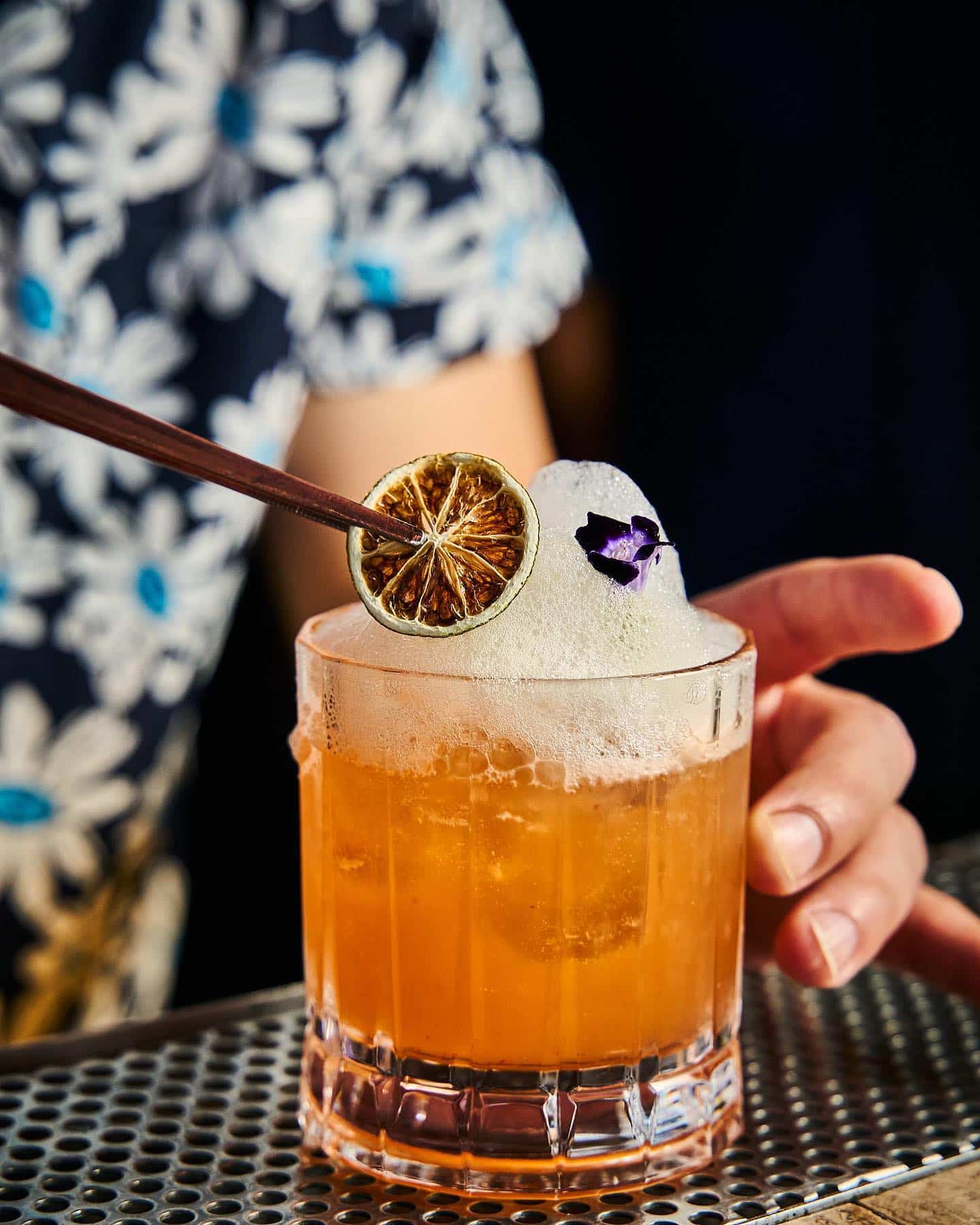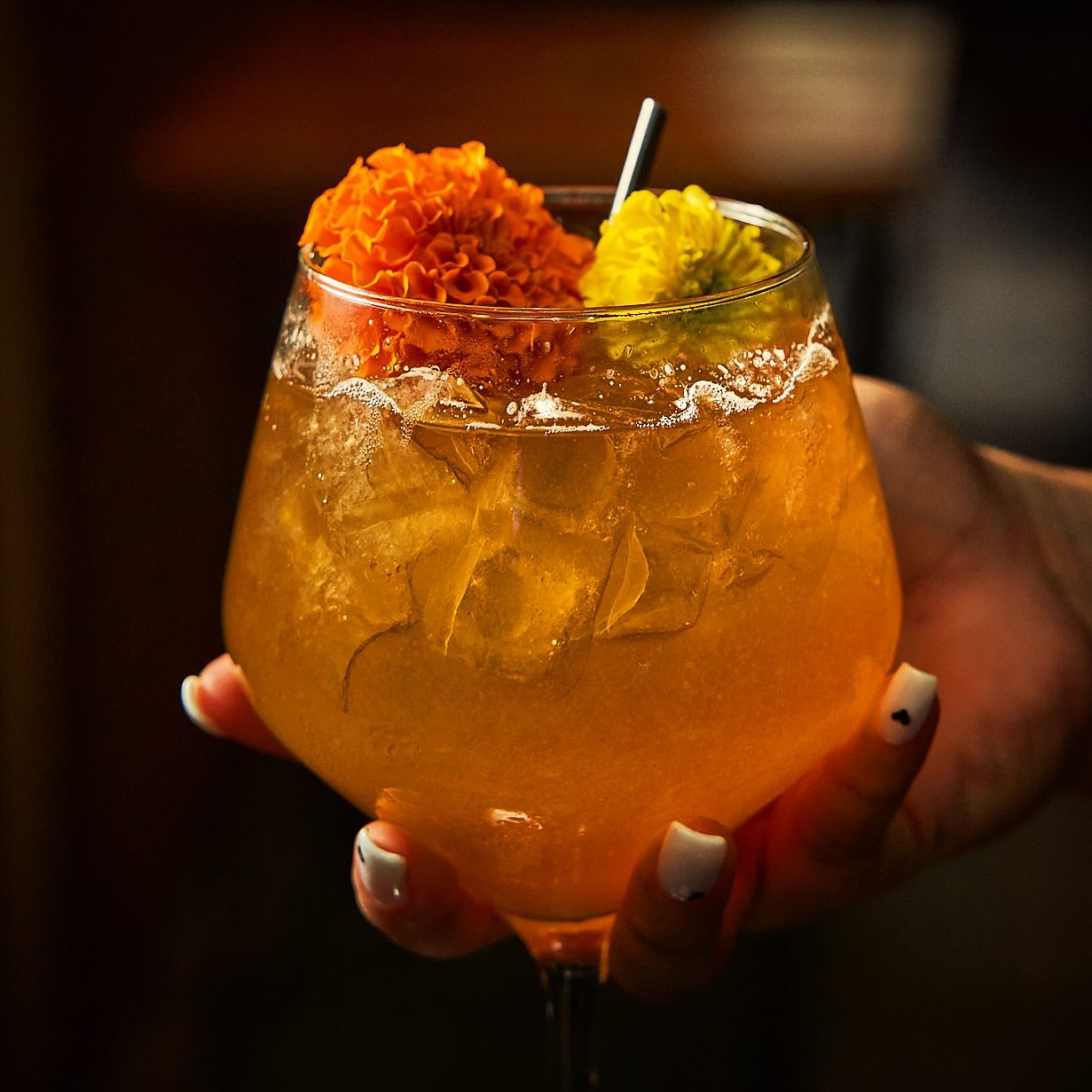 Take a shot if you want to "start the party" in Blue Moon Tap House Casco Viejo . Shot options include the Black Pearl with Jagermeister and Red Bull, b-52 on Fire with coffee liquor, whisky cream and orange liquor or the Blue Kamikaze with vodka, lemon juice, simple syrup and blue Curaçao. Classic cocktail options on the menu are Caipiriña, Old Fashion, Whisky Sour and Long Island Iced Tea. There are a few cocktails with mezcal as well. This bar in Casco Viejo also has a good wine list.
Get Some Food to Share
The best way to taste Blue Moon Tap House in Casco Viejo is to order several dishes and share. They have a few bar bite options. The patacones with tuna is one of the most popular, like the bacon wrapped dates. Other options include chicken tenders, salmon chicharrones and popcorn cauliflowers. Try the Blue Moon empanadas which are black with shrimp and a pineapple chutney. Another option is the white empanadas that are vegetarian with spinach, mushroom, corn and cream cheese.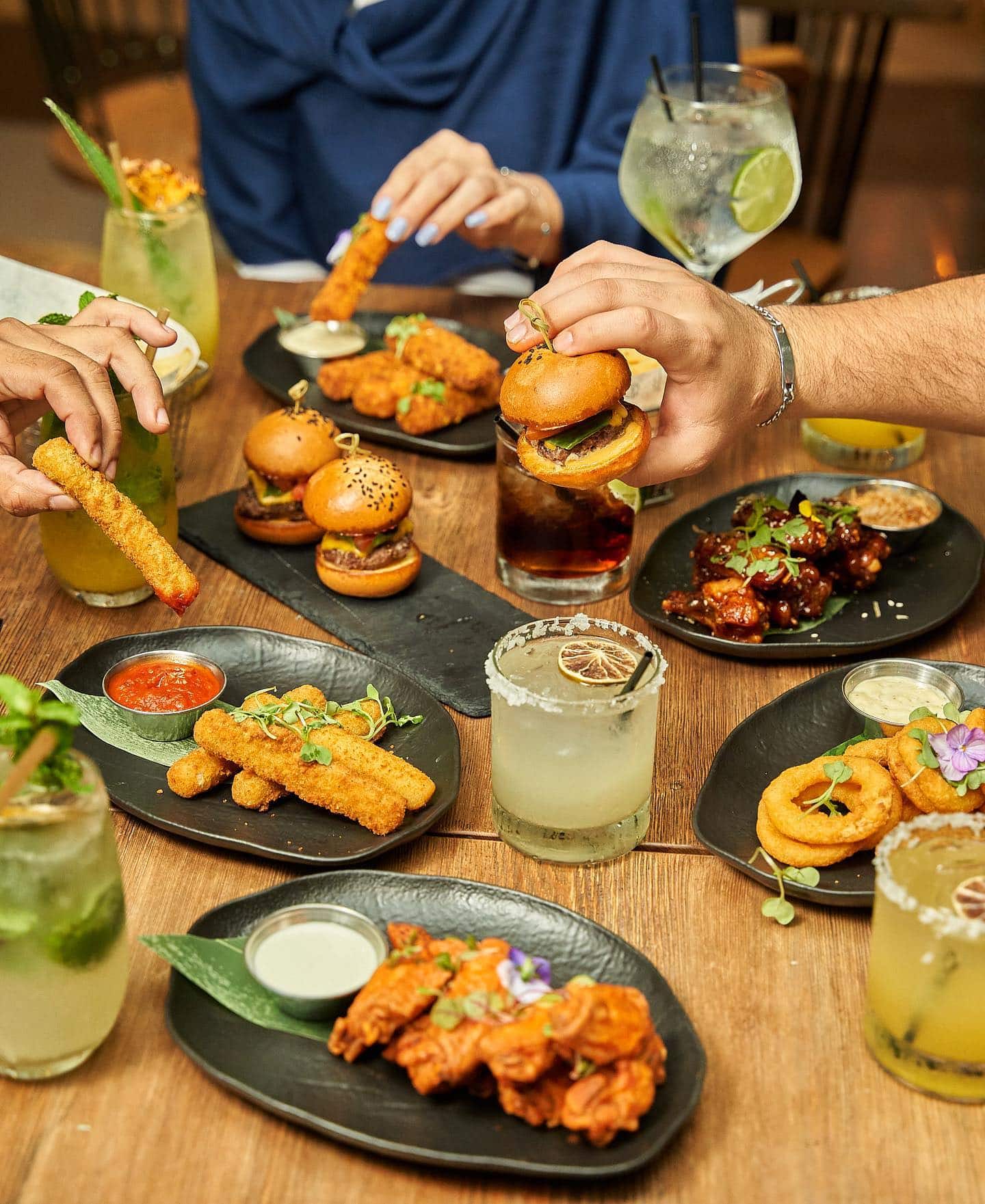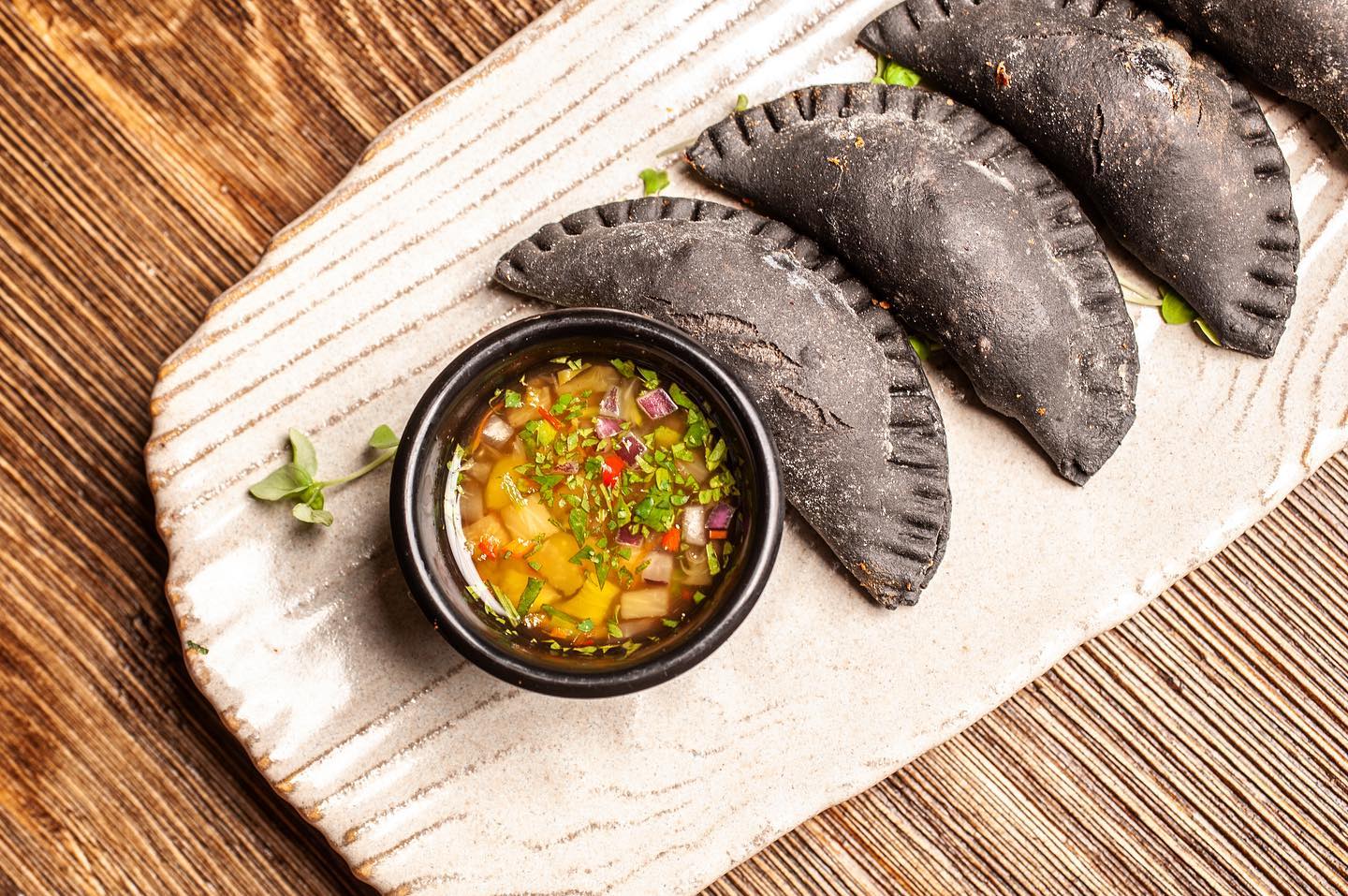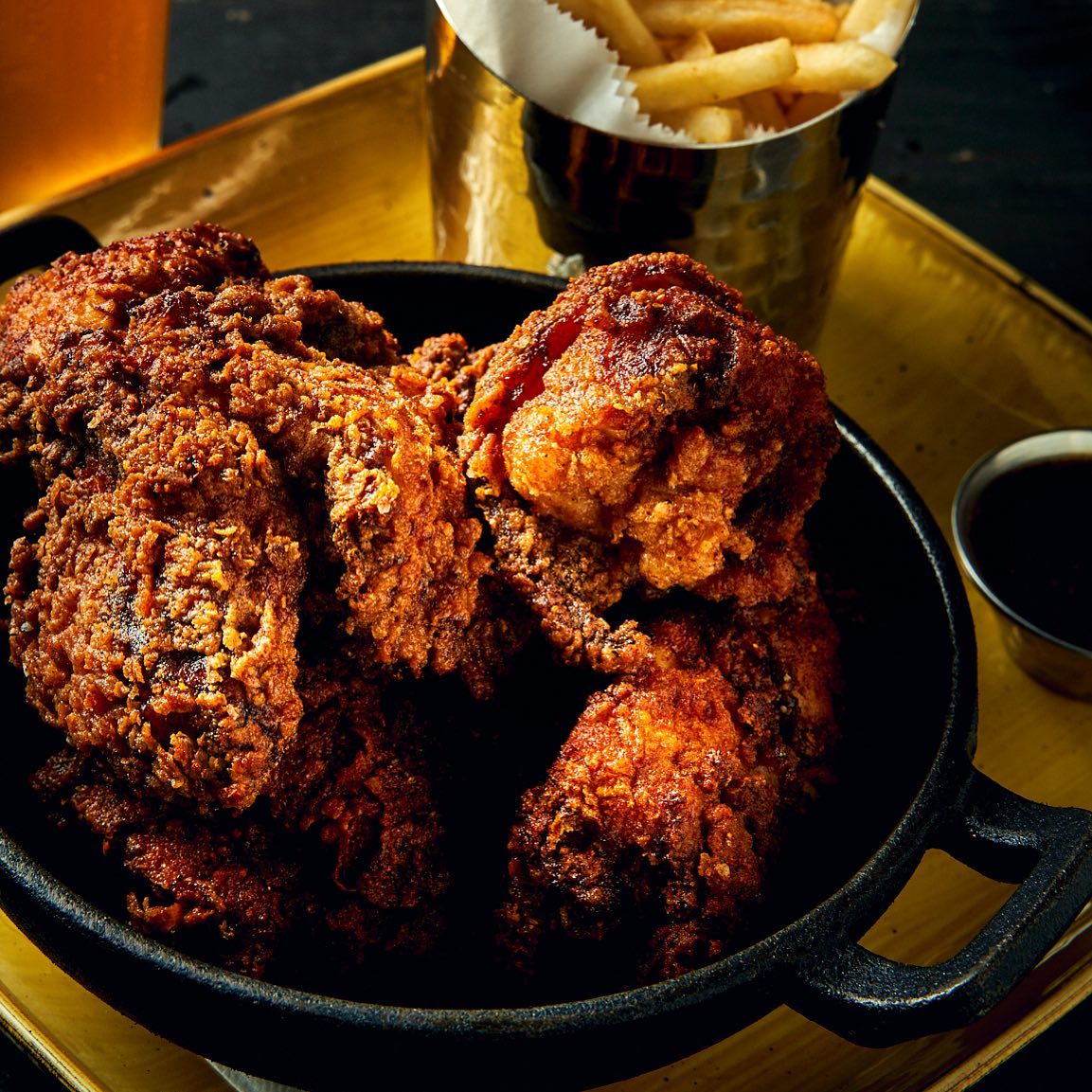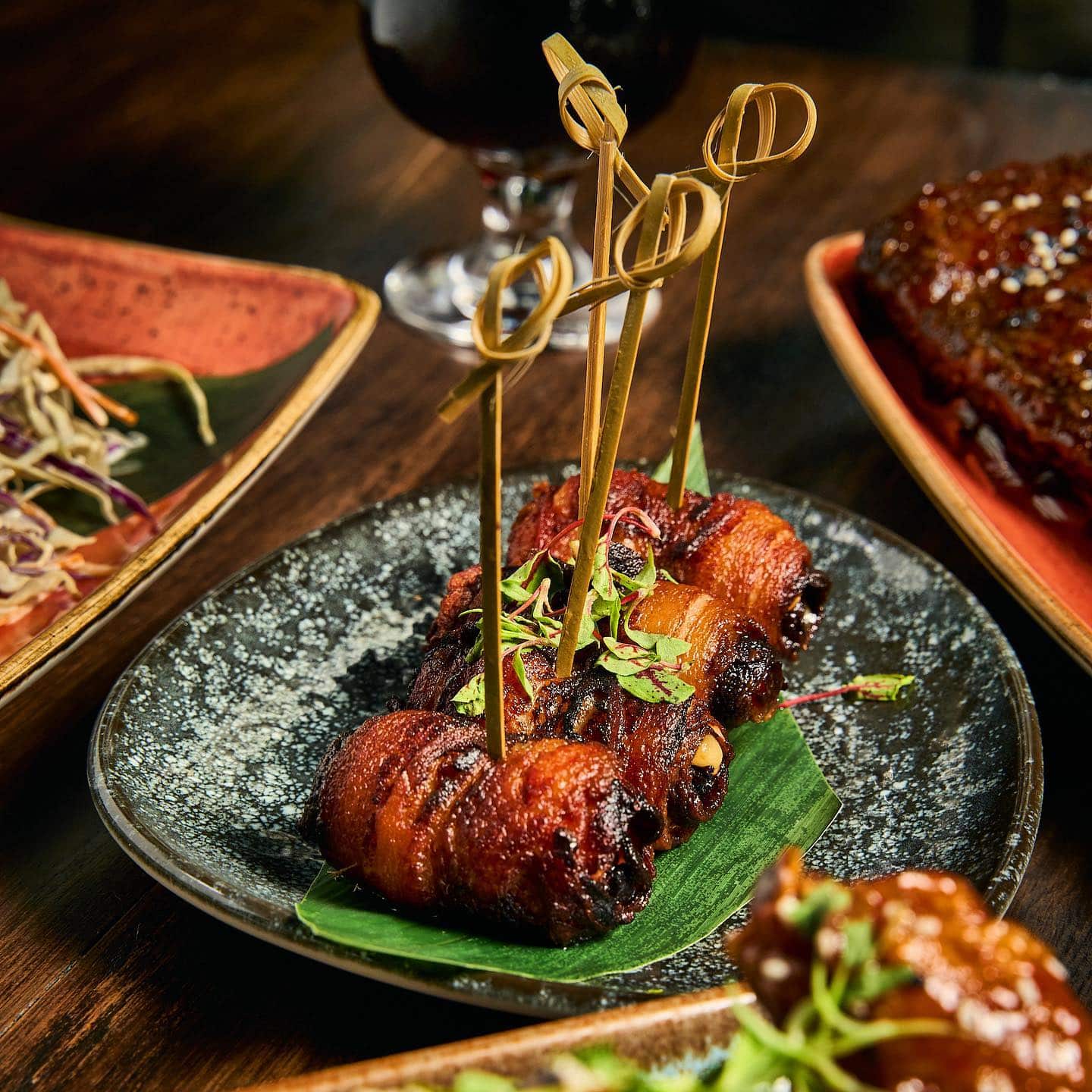 Spicy rock shrimp is a very popular dish, as well as the pork gyozas. There is also a shrimp ceviche and a white fish ceviche. The truffled spinach and mushroom dip is quite good. If you are looking for bar food then there are two options of wings with honey and hot buffalo sauce. The beef sliders or the smoked pork sliders are great for sharing, as well as the smoked pork nachos. There are a few more Mexican options on the menu such as fish tacos, teak tacos, nachos tex mex and carnitas pork taquitos.
Those that don't want to share can try one of the burgers, wraps or sandwiches on the menu. There is a Blue Moon burger, American burger and a truffle burger. Other options to try at Blue Moon Tap House in Casco Viejo are the fried chicken, Caesar salad wrap, Philly cheesesteak, or the classic Reuben sandwich. Main dishes include roasted chicken, southern fried chicken, chili glazed salmon and pepper crusted beef. There are also some grilled meat options such as New York steak, ribeye, skirt steak and braised short rib.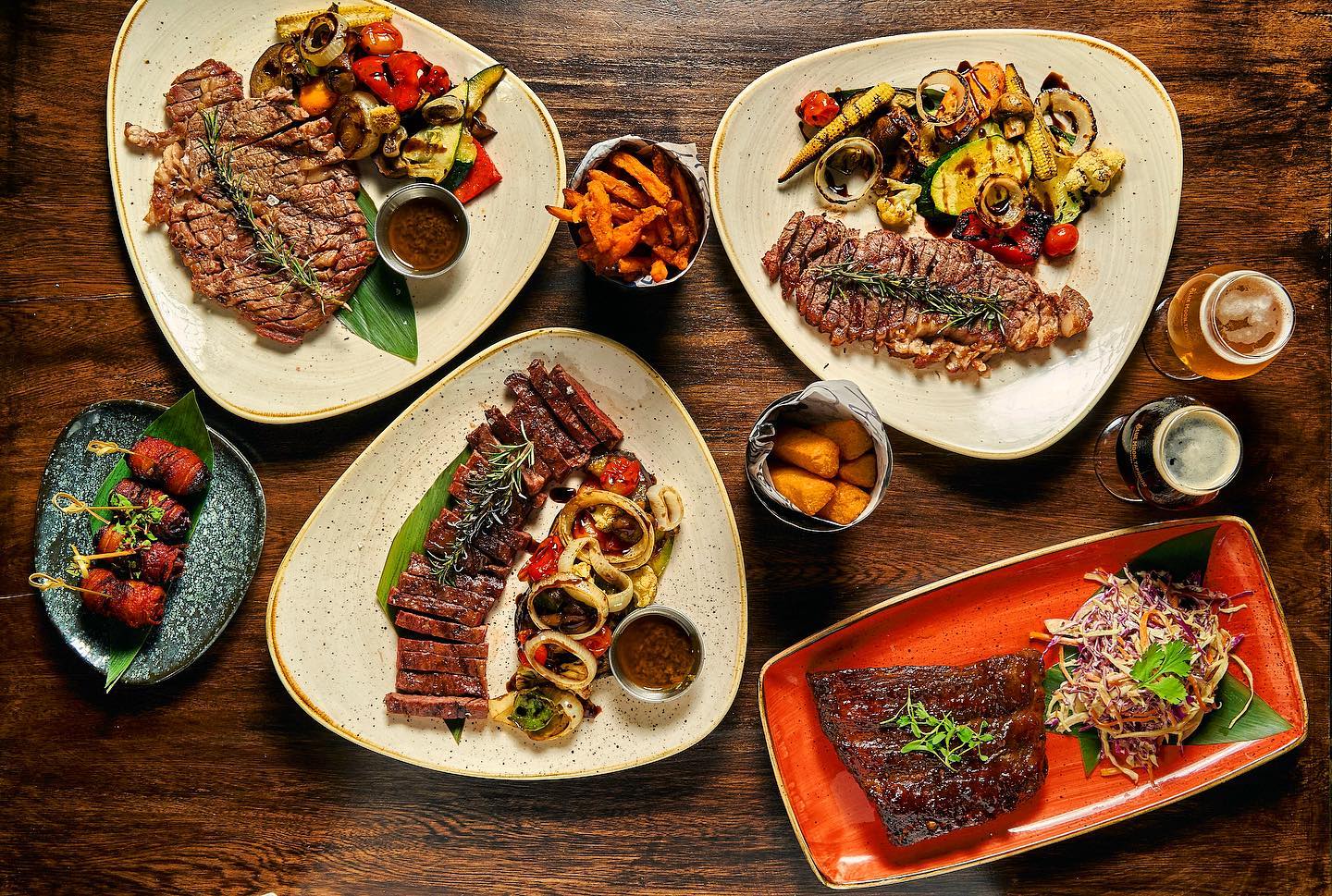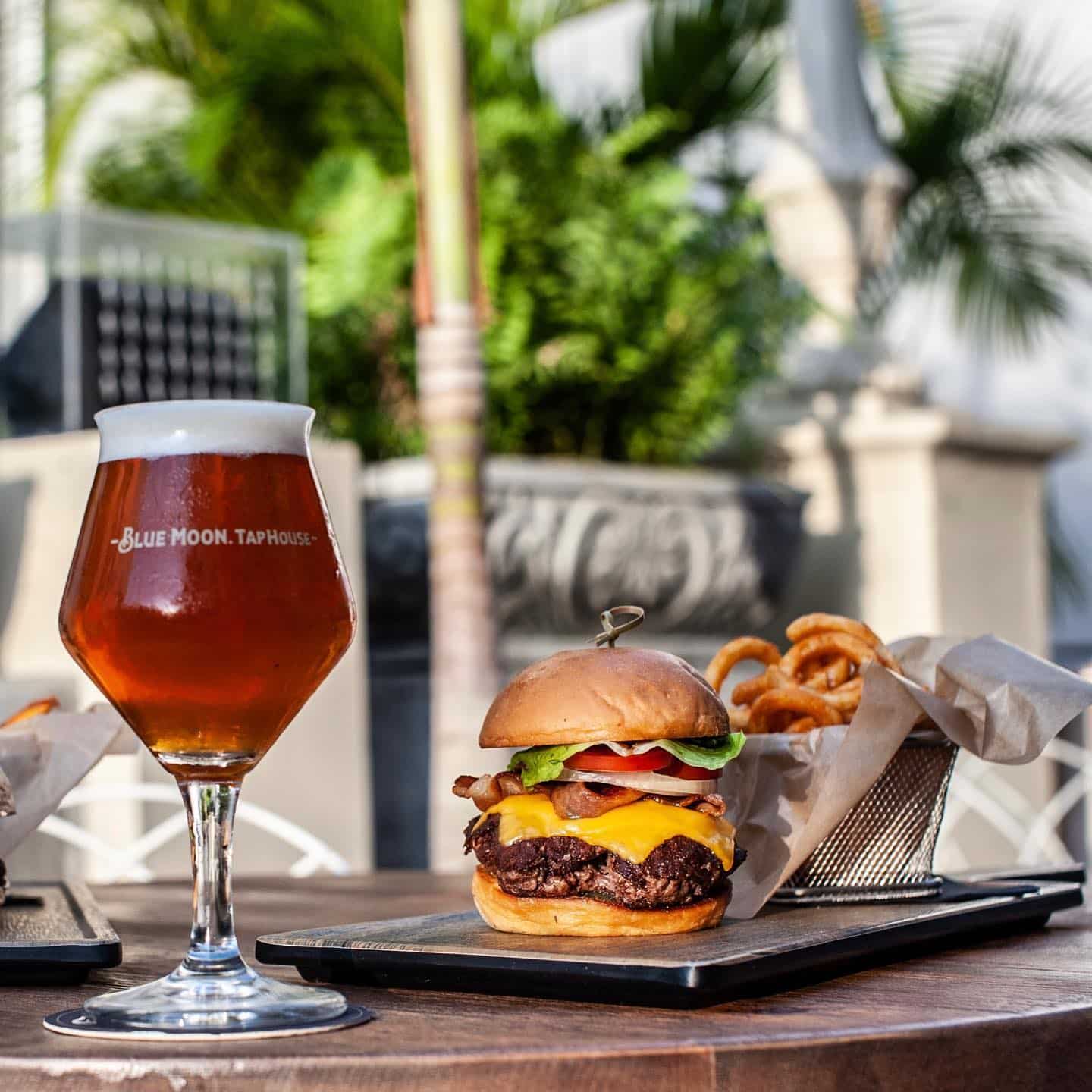 Finish your meal at Blue Moon Tap House in Casco Viejo with a dessert. Diners can pick between ice cream, banana foster, cookies and cream, carrot cake, three milks, American brownie and dulce de leche.