Gatto Blanco Rooftop Bar is the dance and night club of Gatto Blanco Party Hotel. This hotel in Casco Viejo is located on Avenida B and Calle 8. Those who are going partying should take an Uber, Cabify or taxi. However, valet parking is available. To reach the rooftop you must go up some flights of stairs after taking an elevator. Stairs have positive messages on each one. This was done by on of the artists who have decorated the building.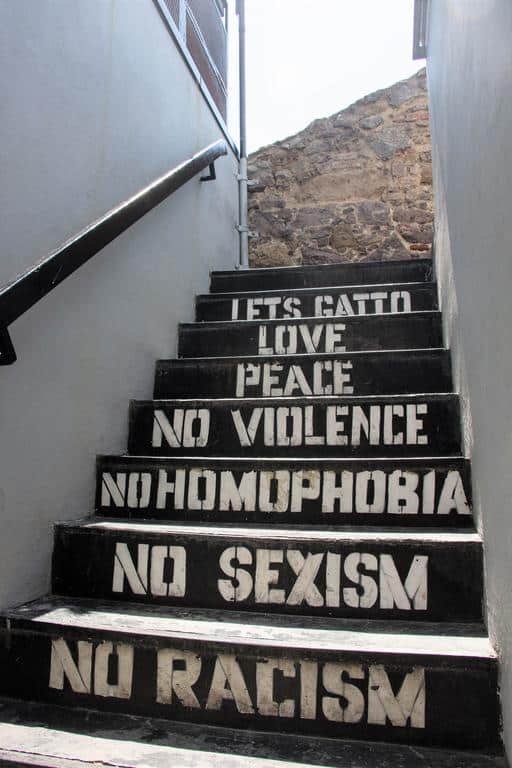 This building used to be called Casa Nuratti and it has three stories, so Gatto Blanco Rooftop Bar would be on the fourth floor. It is open from noon onward, but it is quite hot to go at that time. Late afternoon would be an appropriate time to arrive for those who want to appreciate a gorgeous sunset. Views from the top are mostly of the modern city of Panama, including its spectacular skyline and the bay where the Fish Market is located.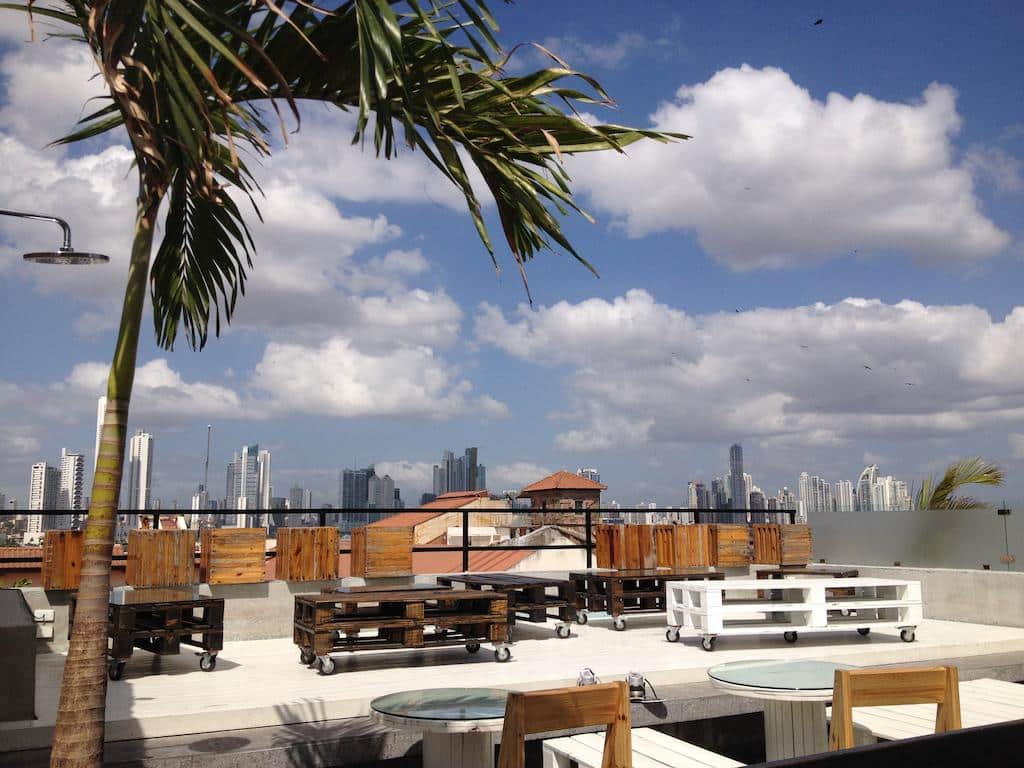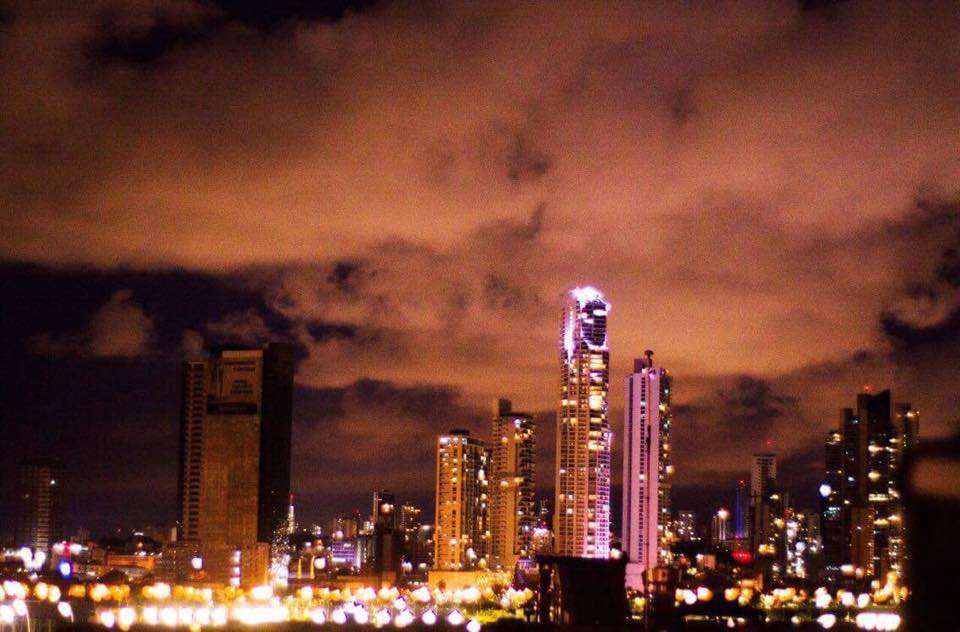 Early it is suitable for anybody, but as the night falls the crowd changes so children should definitely go to bed! Images make the place seem larger than it is. Gatto Blanco Rooftop Bar is quite small, with several tables and chairs which are made from pallets. Reservations are recommended to guarantee a table. Food service is provided from Coliseum Roma Restaurant that is located on the first floor. Servers take their time in bringing food upstairs, so it is best to be prepared and patient.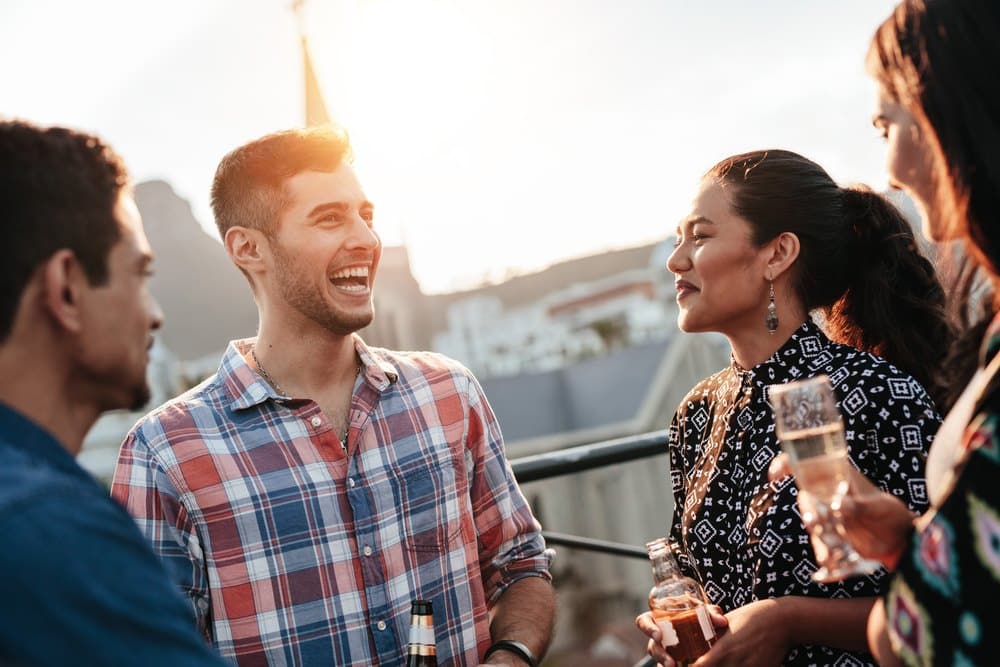 There is a resident DJ at Gatto Blanco Rooftop Bar, as well as plenty of international and local guests. This bar in Casco Viejo opens every day. On Tuesdays and Wednesday there is a sunset party since 4 p.m. Most days the DJ starts playing at 11 p.m. and the party goes on till 3 a.m. Usually they play electronic music, but every once in a while it changes like during Latin nights. Drink specials include happy hour and 2×1 mojitos.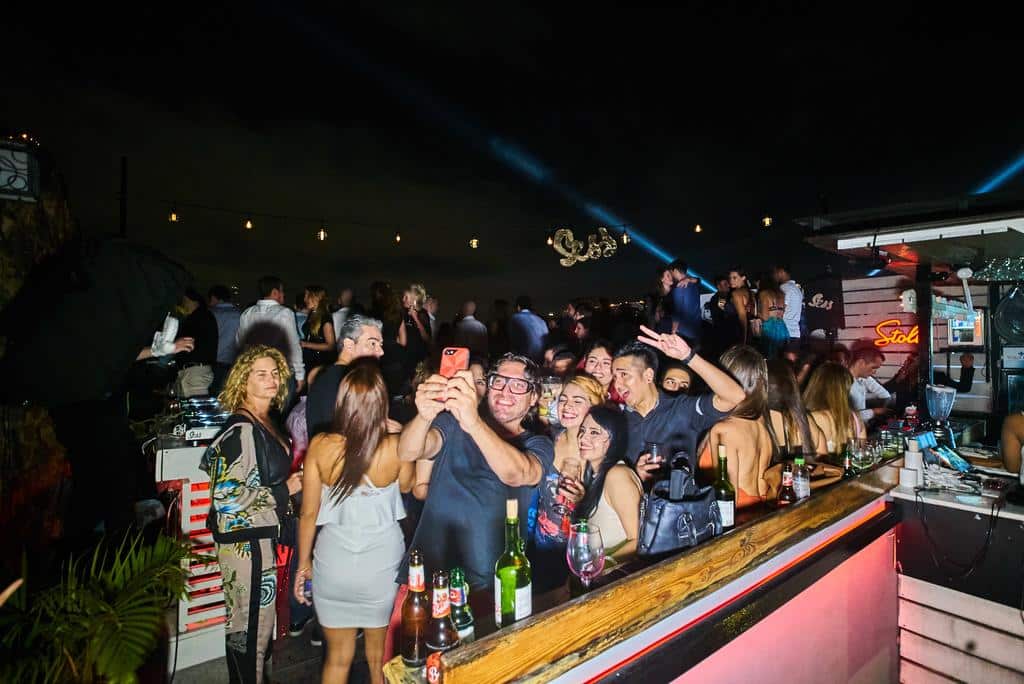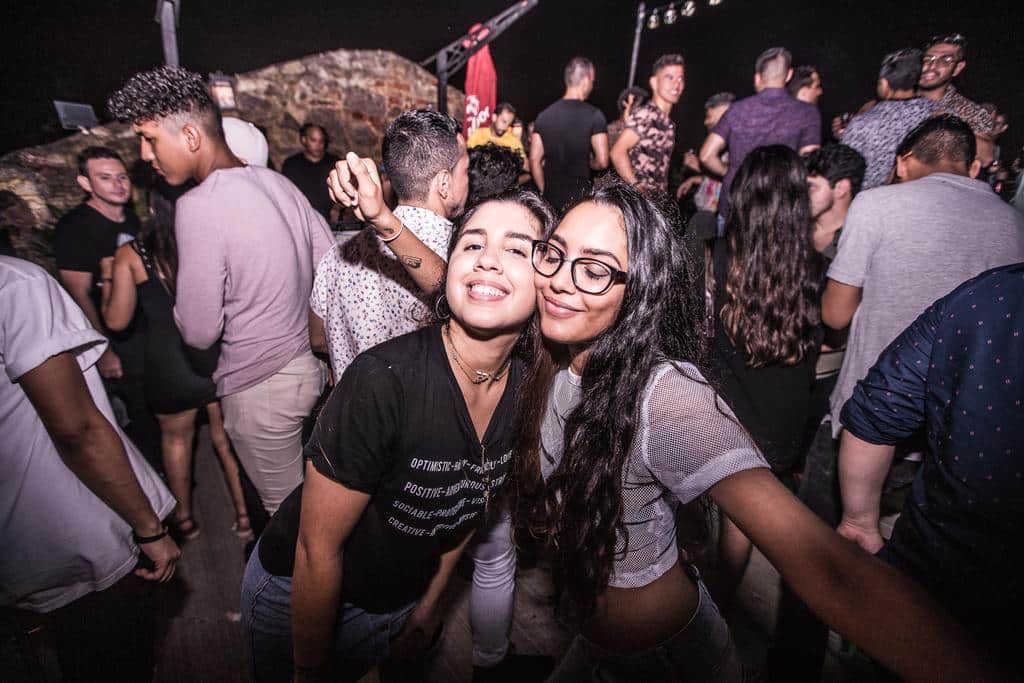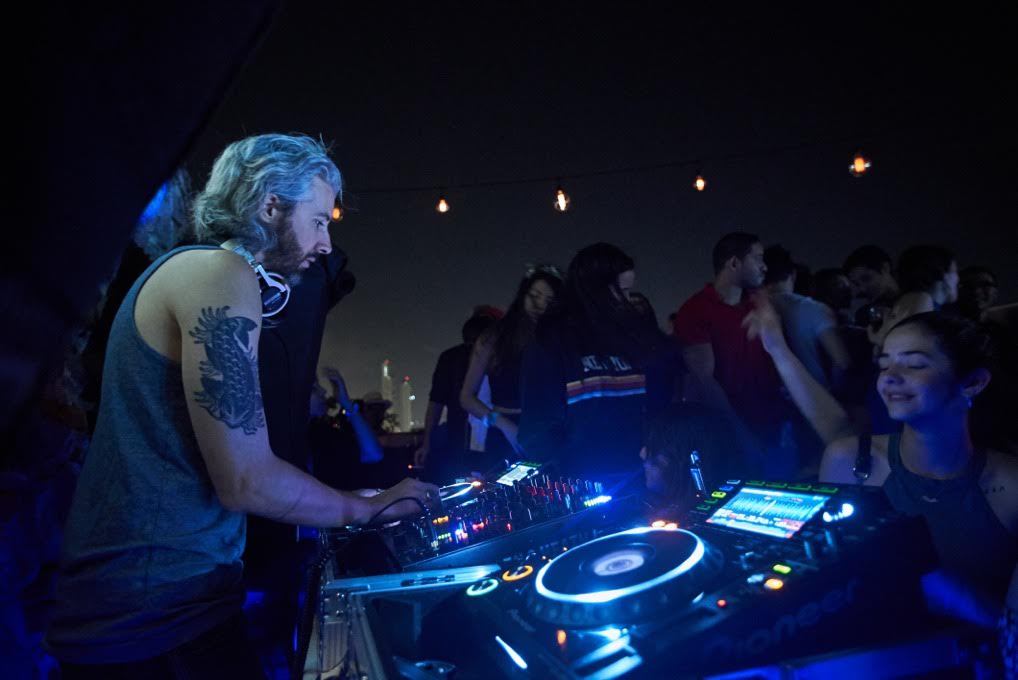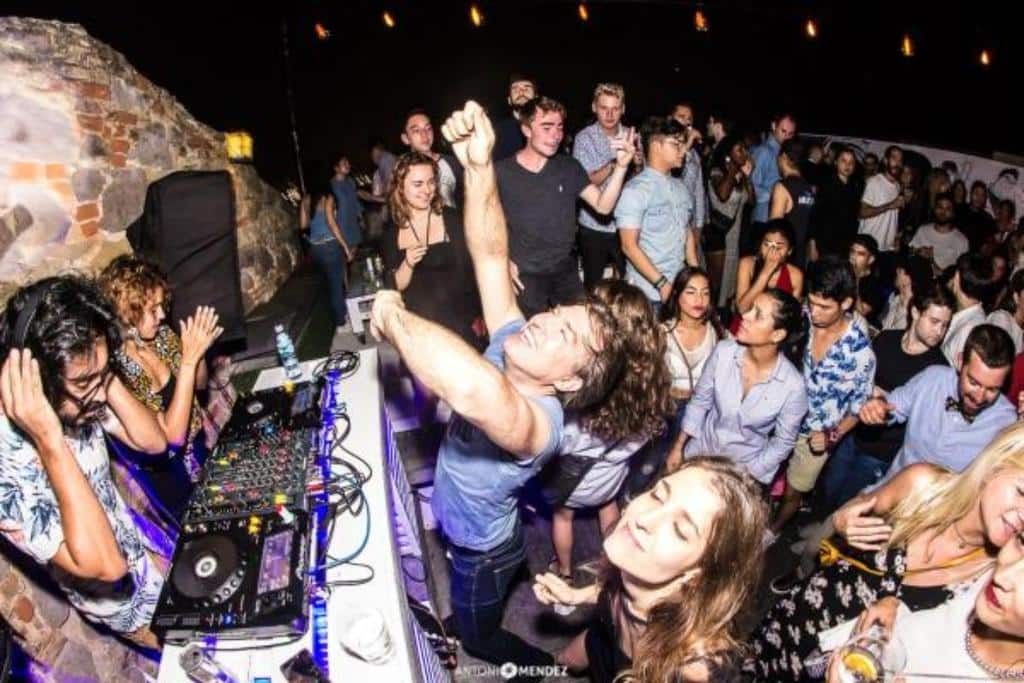 Gatto Blanco Rooftop Bar normally does not charge a cover fee, unlike Tantalo Rooftop Bar which is next door. Some events with special DJs might have a cover fee. However, guests of Gatto Blanco Party Hotel can always enter for free. Since this is a party hotel, music will be loud till wee hours, so it is best to be prepared for that if staying.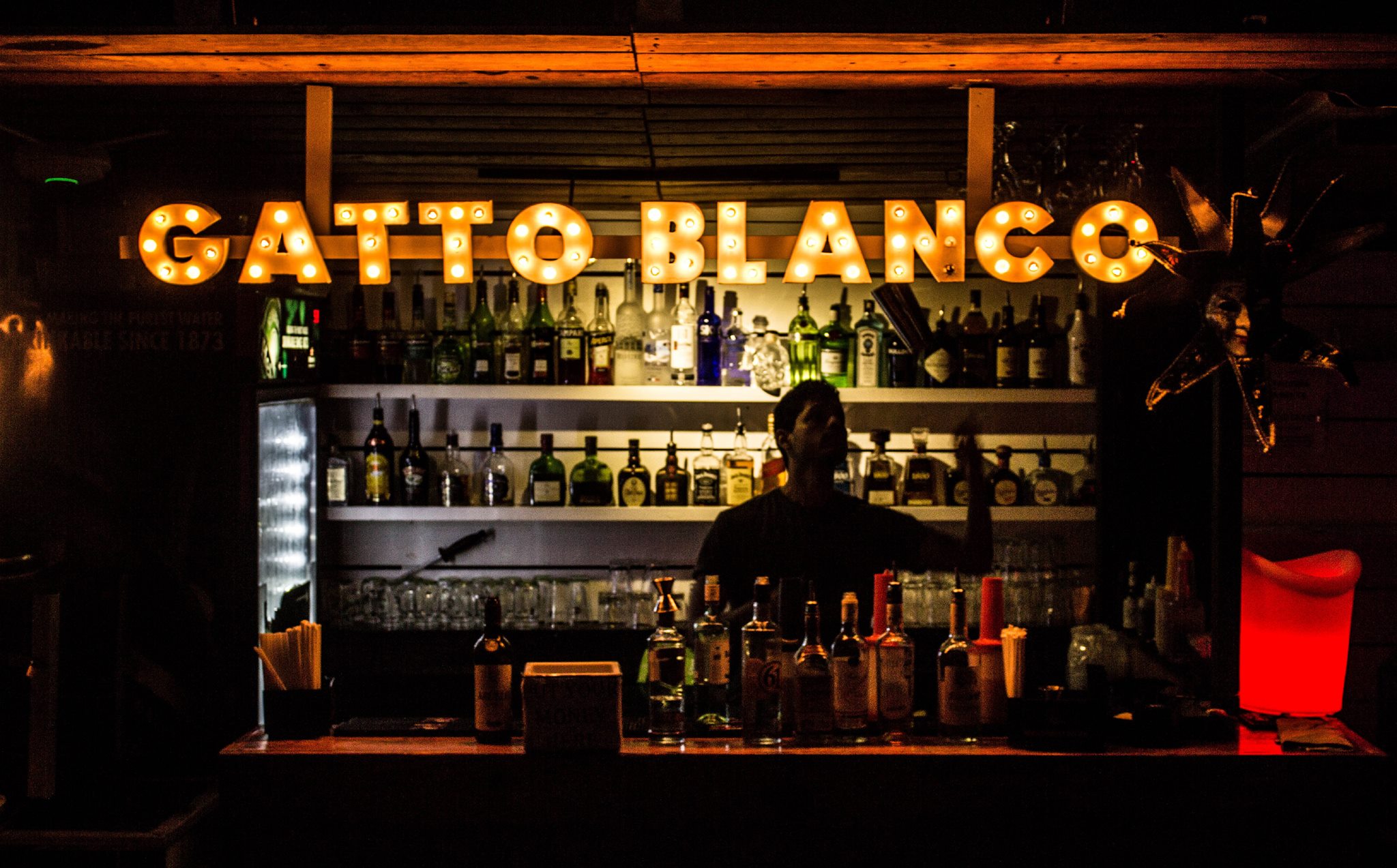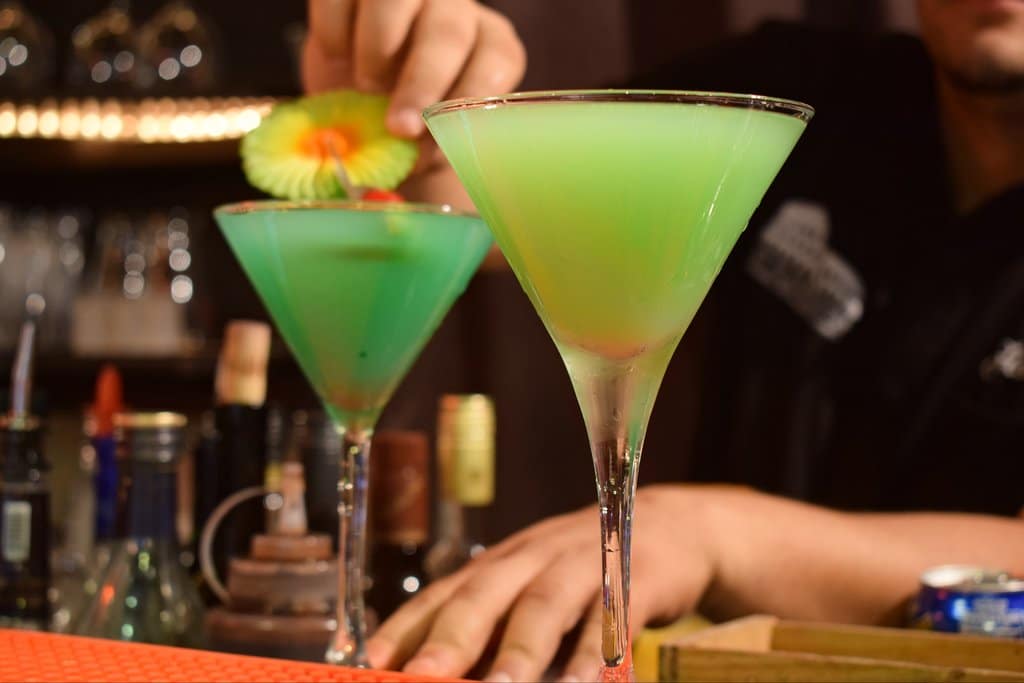 Coliseum Roma Restaurant is below Gatto Blanco Rooftop Bar
The restaurant of Gatto Blanco Party Hotel used to be called Gatto Negro, but they changed the name and the concept in 2017. It is open daily from 11:30 a.m. to midnight and until 2 a.m. on Fridays and Saturdays. This restaurant in Casco Viejo serves Italian Mediterranean fusion food.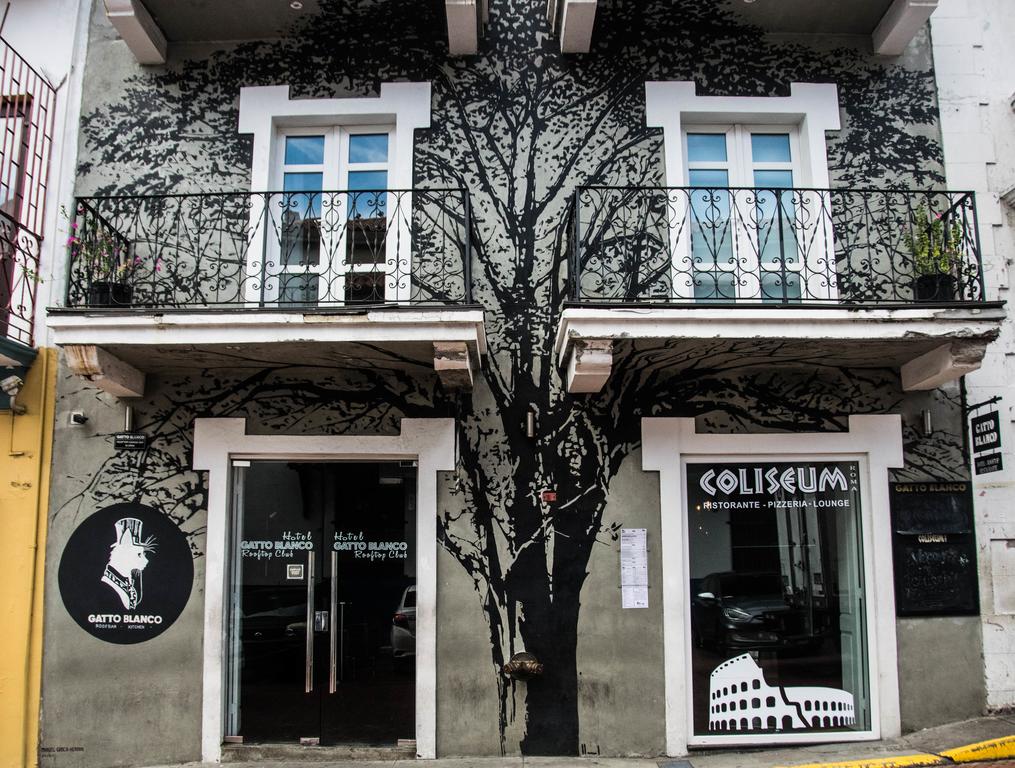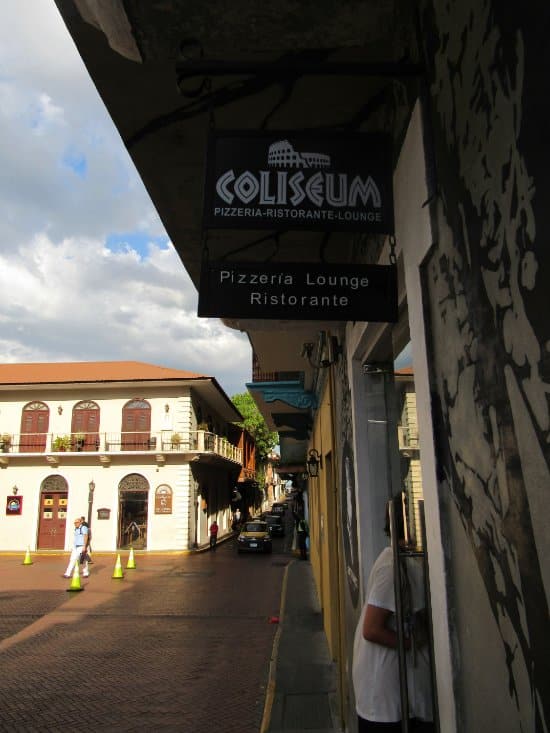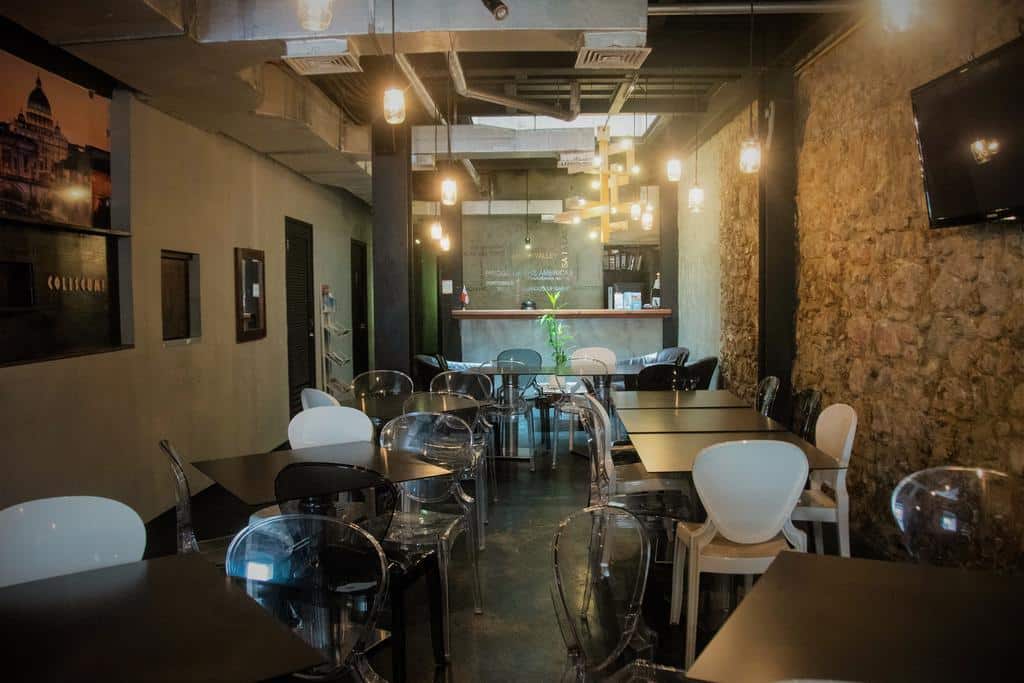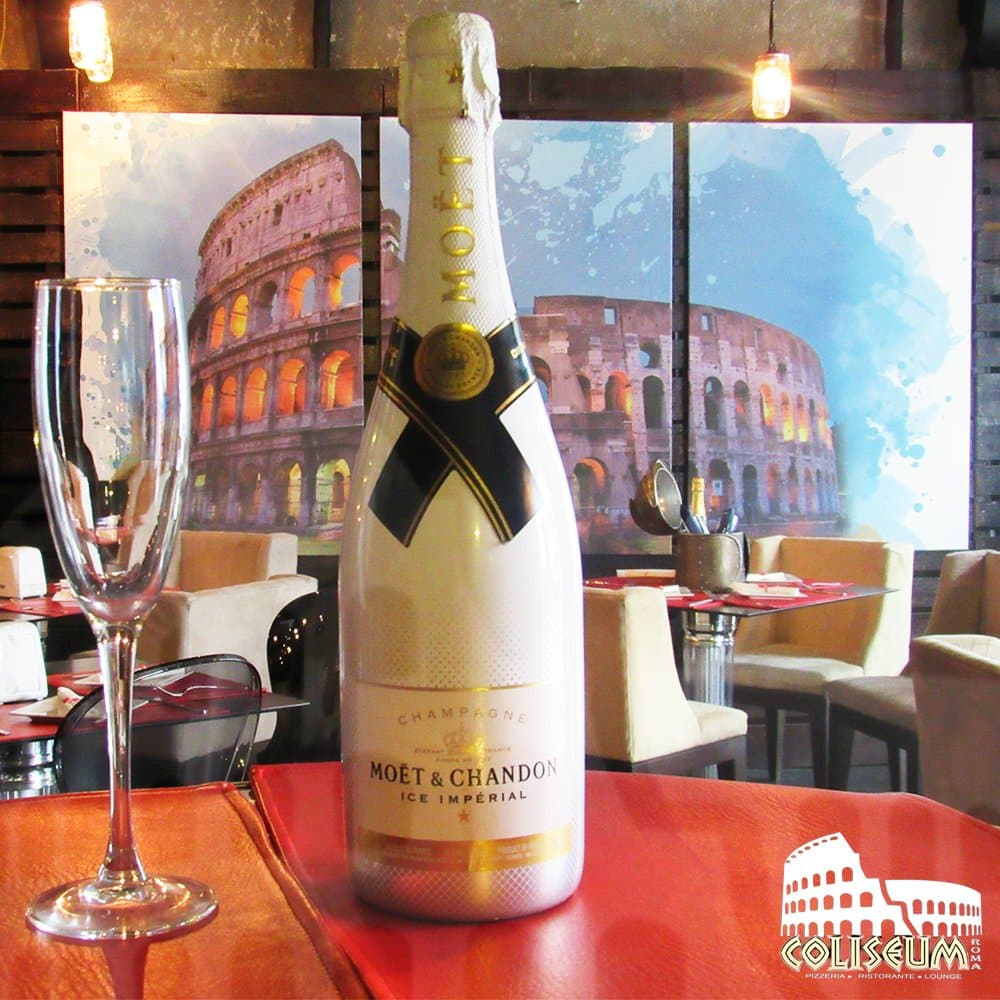 They have a very particular way of serving pasta, inside a focaccia bread in the shape of a star. Coliseum Roma Restaurant lets guests pick which type of pasta and sauce they want. Sauce option include Alfredo, bolognese or primavera with vegetables. Another option is adding seafood, lobster, shrimp or salmon. A big part of the menu is fish and seafood, taking advantage of how fresh it is in Panama.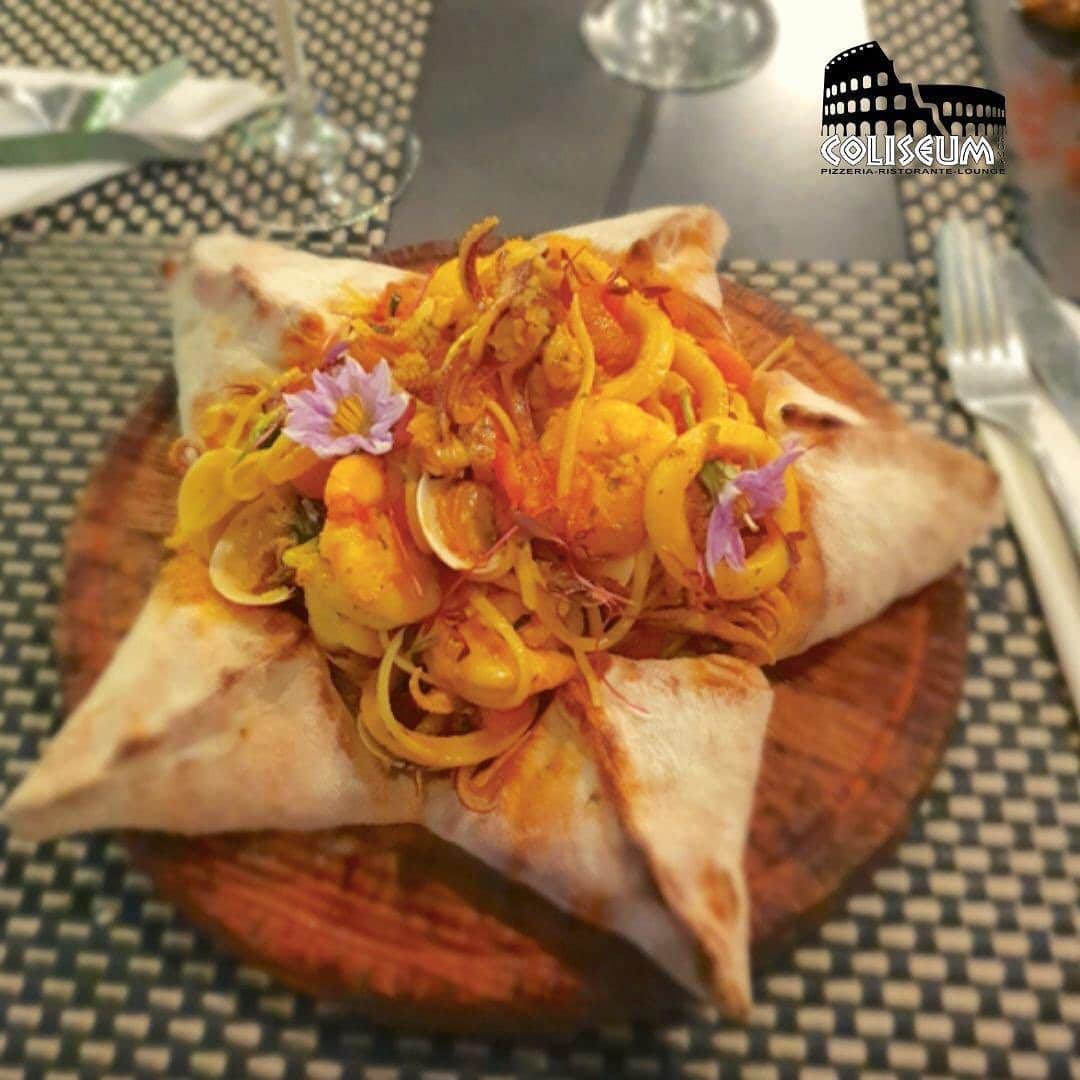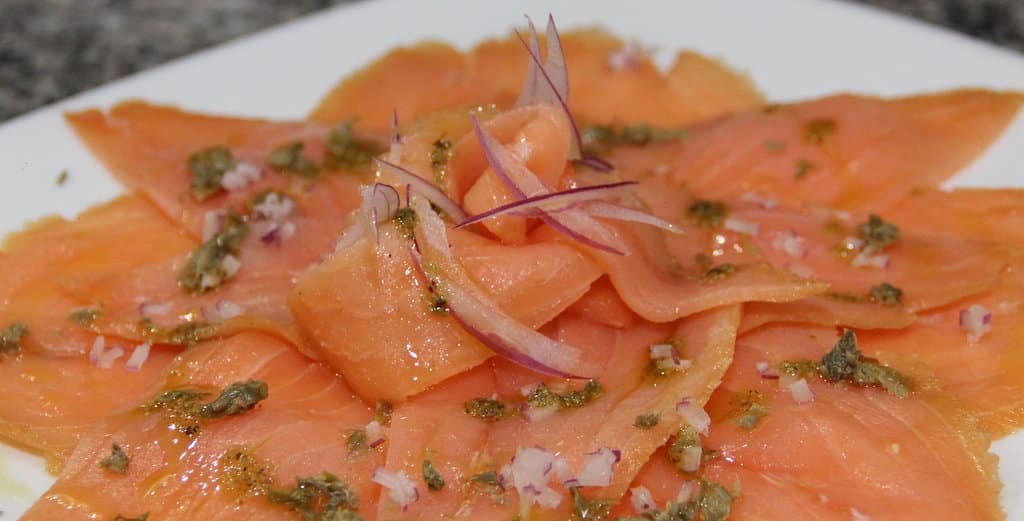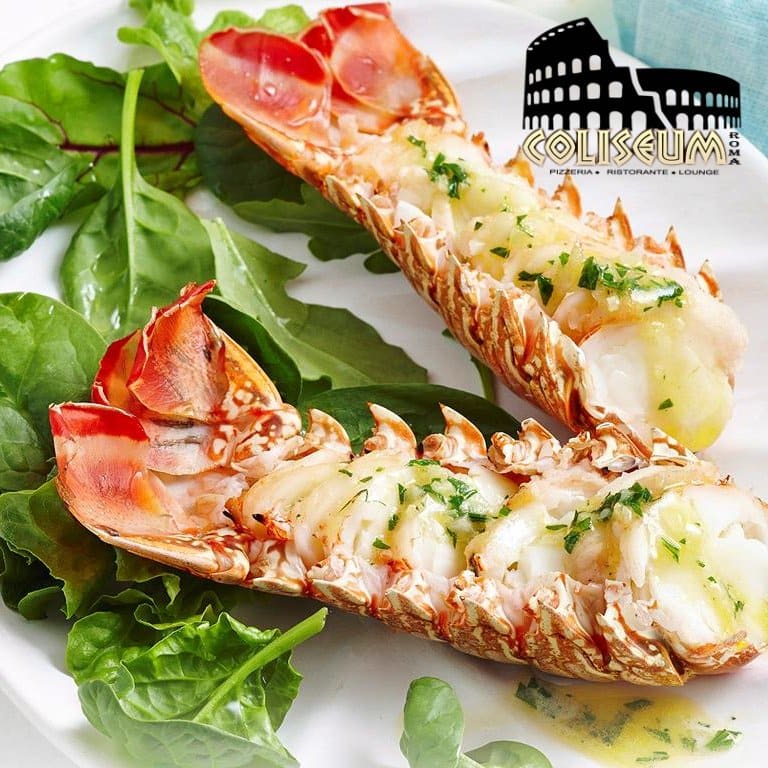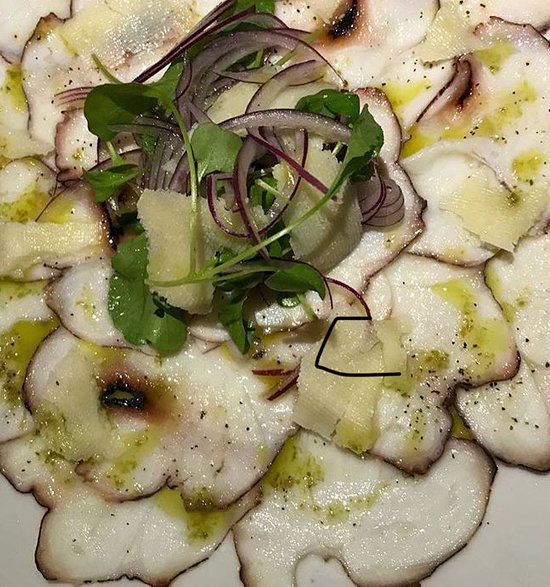 Every Wednesday they have open pizza, so diners can have as much as they want from a selection that includes Hawaiian, Margherita, Diavola, Mushrooms and Ham. They have plenty of options of pizza, served in eight or twelve inches. Some pizzas have the traditional red sauce, others have white sauce (pizza Alfredo) and they also have focaccia bread.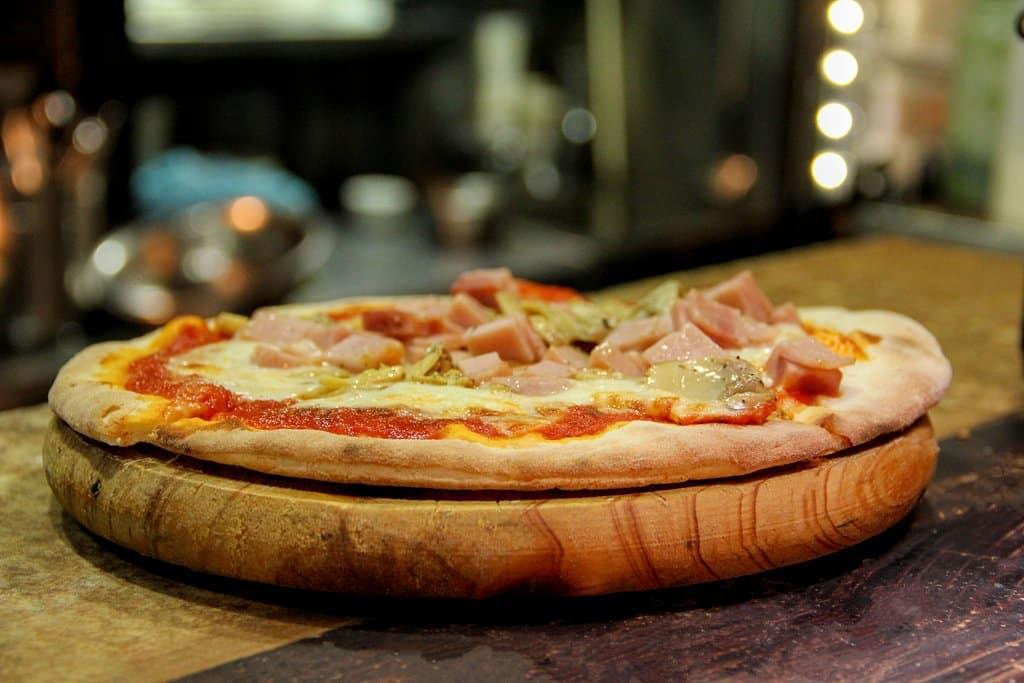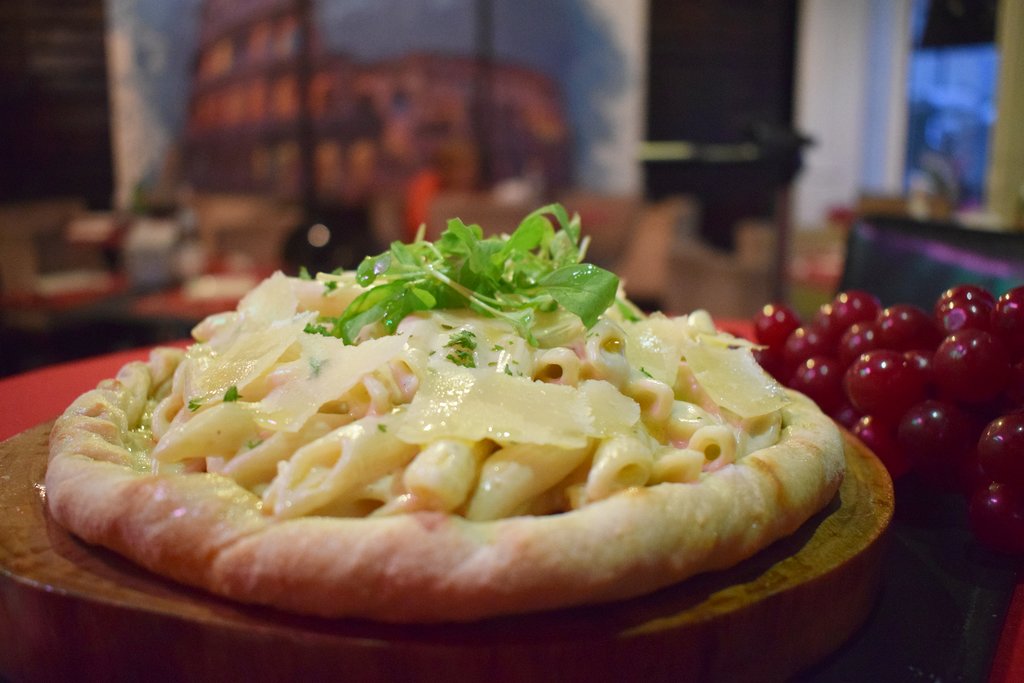 Other dishes at Coliseum Roma Restaurant are to share such a sausages and cheese table, rice a la marinera with seafood, surf and turf, mixed platter with meat and chicken or fried seafood platter. There is a section of the menu with all the house specialties. The menu also has sandwiches, hamburgers, wraps, soups and salads. After diner make sure to go to the top of the building for some partying at Gatto Blanco Rooftop Bar.